Have you recently bought an iPhone? Looking for a way to transfer all the contacts from your old Android to iPhone?
Then, you have just landed on the right spot. Here, you will be learning a handful of methods to transfer contacts from Android to iPhone.
For some methods, you need to have a Google account and an iCloud account. As an Android user, I am sure that you have a Google account. Start one iCloud account also.
Are you faced with the same dilemma I mentioned above? Then, it's time to take action.
How to Transfer Contacts from Android to iPhone?
We all know that the iPhone does not run on Android. Apple has its own mobile platform, iOS. So, transferring anything from Android to iPhone (let alone contacts) is not an easy row to hoe. And, to add the blow, iPhone lacks any direct way of sharing contacts.
That's why I asked you to have an iCloud account. It will make things far easier.
I am giving you three methods to transfer contacts from Android to iPhone.
Method One: Only Using Google Account
For this method, you don't need any third-party apps or accounts. The only requirement is a Google account that you used to use on your old Android.
Step 1: Pick up your Android device. Then, go to Settings.
Step 2: Scroll down to the bottom until you see Google under Accounts. And, touch on the same.
Step 3: You will see all your Google account connected with the Android on the upcoming window. Tap on any of them (don't forget which account you select).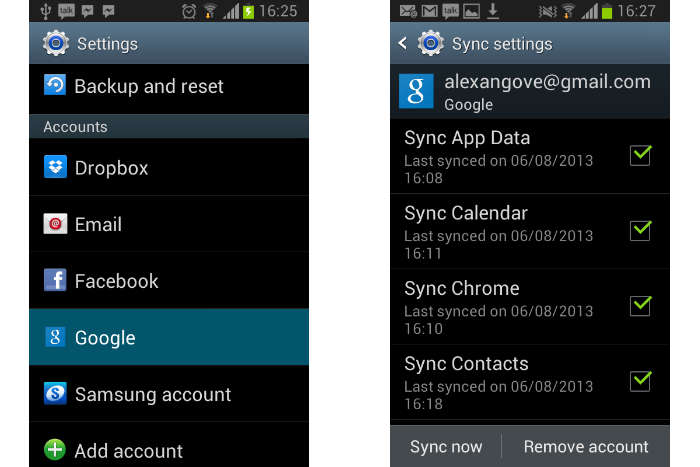 Step 4: Now, you will get a long list of checkboxes like App data, Calendar, Chrome, Contacts, Drive, etc. Tap on the fourth one that is Contacts. Your Android will start syncing the contacts with Google.
Step 5: After the sync process gets over, move aside your oldie and take up your brand new iPhone ( the process is the same for old iPhone though).
Step 6: Go to Settings and scroll down to get 'Mail, Contacts, and Calendars'. Touch on it to move further.
Step 7: If you haven't added your Google account there, just add it by choosing 'Add Account.'
Step 8: Choose Google from the next list of services. And then, you will be asked to enter the login credentials. (Make sure that you type the very same email id, which is in synchronization with Google on your Android).
Step 9: Then the next window asks you to choose the items you want to sync with. Don't forget to tick Contacts there. Tap Next.
Step 10: Wait some minutes to get it done. The time depends on how many contacts you have in your Android.
That's all. You have done it.
Method 2: Using iCloud Account
Let's assume that you don't have a Google account (rare case). And, you want to transfer contacts from Android to iPhone. In such a case, you can follow this fairly simple process to get the thing done without using a Google account.
Here, we need the help of a PC or a Mac. And, make sure you have an iCloud account.
Step 1: Take your Android phone and go to contacts.
Step 2: Get options. There must be an additional options button or key. Use the same.
Step 3: You can see a menu list in which we need to choose, Export to Storage. (The options vary from phone to phone, but there is an Export option on every phone).
(If you don't find one, you can select all contacts and just share it with the computer via Bluetooth or Wi-Fi.)
Step 4: After exporting all the contacts, send the same to your computer.
Step 5: Go to iCloud.com and login to it with your computer. You will get a home screen like this (see the image).
Step 6: From there, go to Contacts (the second option).
Step 7: You can locate a gear [] icon on the bottom left corner of the screen. Click on it to get additional options.
Step 8: Then, choose Import vCard. You will be asked to browse the vCard file here. Select those you have transferred to the PC.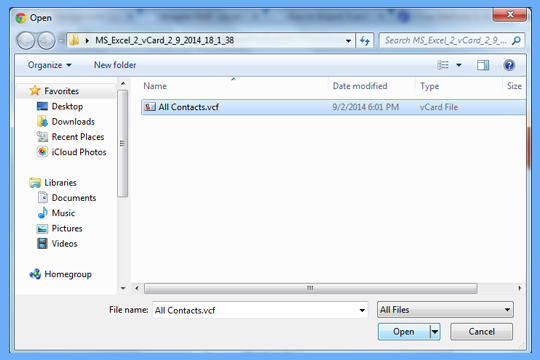 Step 9: Now, the action will be on the iPhone. Go to Settings on your iPhone and scroll down to Mails, Contacts, and Calendar. Tap on it.
Step 10: Touch on iCloud (on top). And you will get a bunch of items to be synchronized. Make sure to choose Contacts from it.
That's all. After doing all this, you need to be patient for a few minutes. Then, you can see all your Android contacts on the iPhone.
Method Three: Without Using The Internet
This is the easiest of all three. You don't need an internet connection here. The only requirement is that your Android SIM card should fit for the iPhone (either micro or nano)
Fingers crossed?
Check it out.
Step 1: Insert the SIM card into the Android phone and go to Contacts.
Step 2: Get additional options. You can see Move Contacts to SIM and Copy Contacts to SIM (or you see the option export to SIM). Choose any of them.
I recommend selecting the second. Why because the phone contacts on the Android will act as a backup in case the SIM gets defected.
Step 3: Remove the SIM and insert it on the iPhone. Go to Mail, Contacts, Calendars. Then, tap Import SIM Contacts.
Hurray!! You now know a far way simple method to transfer contacts from Android to iPhone.
Have You Done it?
I have given you three easy ways to transfer contacts from iPhone to Android. The third method doesn't need an internet connection too.
If you have any doubts about executing the above-given process, let me know it. I will be glad to solve the same. The comment form is waiting for you.
Do share this with your friends and followers on social media. Don't forget to tag those who own an iPhone.
Enjoy your weekend and check another one of our iPhone articles in here!