Facebook is updating and arming itself with the latest features every now and then. These last couple of days I was engrossed with Facebook articles and wrote quite a number of them.  Another addition to that archive is How to turn off chat for Specific Friends on Facebook. The specification is the new feature of Facebook and you can perform anything specifically for specific people. You can also create a specific friends list. Here is how to create a Specific friend list.
Now you already might know how to turn off Facebook chat, but how to turn it off for specific friends is a question, right?
If you've ever asked yourselves Can I turn chat on for just a few friends, or how to Appear Invisible in Facebook Chat, then let me tell you this is your solution!
What does Turning Off Chat for Specific Friends on facebook Mean?
Well, what it means is, your chat would be turned off, turned off for specific friends. So you will be shown offline only to those specific friends whom you select.
It won't turn off your chat in general, so apart from the friends you've manually selected, your chat status would be shown online.
This doesn't mean that those friends won't be able to send you messages. They would still be able to send messages, it's just that the status would be shown as offline, or in other words, you can say that you would be shown as "offline' to them.
When to Turn off Chat for Specific Friends on Facebook:-
Yeah, when should you use this feature?
It comes in handy when:-
You're busy, simple as that. When you're busy and don't want to talk to someone you can turn off the chat for the person.
The person is annoying:- It happens pretty often that the person, on the other hand, overloads us with queries and questions and that's just too annoying + it kills productivity.
When he's a client, and you've not finished their work. Well yeah you don't want to be "online" on Facebook when you've other important jobs pending, right? But then there might be some moments when you can't be online, so what you can do is you can turn off the chatbox for that specific client.
Turning off Chat for a specific Friend on Facebook is neither illegal nor immoral. It's an official Facebook feature, which Facebook developed because it's all too aware of the problems its users face.
Turning off the chat doesn't send any kind of notification to the person or an alert. This means they won't know that you've turned their chats off and hence you're safe. It is a one-sided act, you turn it off, for your own reasons and hence the other person would see you as "offline", but that would seem natural to him, no alert or suspicion.
How to Turn off Chat for Specific Friends on Facebook:-
Okay, so we're down to the interesting section as of now! Let me show you how do turn off Chat for specific friends on Facebook from a computer.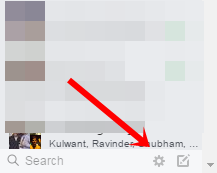 On the chat bar on the right side, click on the small "gear" icon.
Then click on the "Advanced settings" option.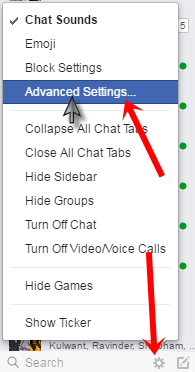 A popup would come up,  select the "turn off chat for only some friends…" option.
Enter the name of the person for whom you want to turn the chat off.
Click Save.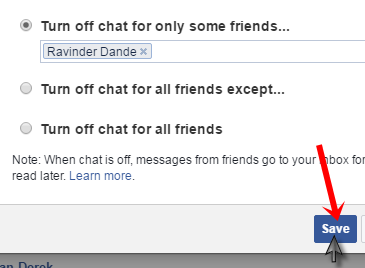 Method #2 to Turn Off Chat for Specific Friends on Facebook:-
If for some reason you think the above process is a bit too complicated, or not right to you just don't want to use it, here's another method to achieve the same results.
Click on the friend's name directly for whom you want to turn off the chat
Click on the small gear icon again.

And then click on the "Turn chat off for XXXX" button.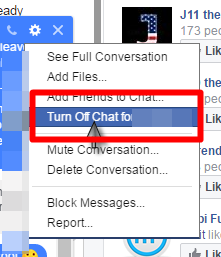 Done! Your chat status would be shown offline to the person. Apart from that, you can also block messages Without blocking the profile on Facebook.
How Do I Hide from Specific People on Facebook Chat:-
Another feature you can enable with Facebook chats is, hiding the person from the Facebook chat totally! I personally use it a lot because some people are just beyond my tolerance level.
This would also "mute" the conversations. Meaning you won't get any notifications from them when they send you a text, in order to check their chats you have to manually click on your messages.
So it's like totally making them invisible.
In order to do that, again click on the person named in the chatbox.
Go to the gear icon again.
And then click on "Mute conversation".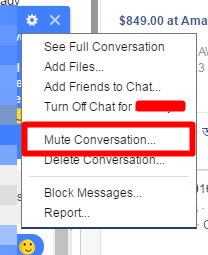 That's it! The conversation would be muted! And you won't be bothered by it again! Simple as that.
Final Words:-
So that was it folks on How to turn off chat for Specific Friends on Facebook. I'd say you can just ignore the messages of people when you wish to, cause at the end of the day it's your own Facebook account.
But nope, ignoring is sometimes just a bit rude, and might lead to bitter consequences, so it's better to pretend you aren't online.
That way, neither does the other person gets upset, (or even when they do, you at least have a plausible explanation) nor do you have to reply to their annoying messages.
So that should've answered your queries on How to turn off chat for Specific Friends on Facebook, right? I also covered how to Mute conversations, didn't I? You can also take a look at the hiding friend list on Facebook.
I'd love to hear if this piece helped you out! Also, do hit the share button if you think your friends might be foreign to this simple feature.