Facebook is the largest social media platform on this planet no doubts to that. And from the time it has been launched, it has come a long, long way. And so have it's designs, features and notifications. One such advanced feature it added was turning offf of notifications. And that's what I'm going to talk about here:- How to Turn Off Facebook Notifications.
Notifications are the kind of "messages" or alerts that tell you when something happens over at your facebook account. Not in the negative sense though, something happening just in general.
Facebook Notification-Details Insight:-
Worry not, this piece is totally about showing you how to stop facebook notifications. But before that, let me take you on a ride to the different kinds of Facebook notifications that there are.
What there usage is and what they mean. Cause notifications? There are a lot of them on Facebook.
Red Alert Notifications:-
Red Alert notifications are those notifications from Facebook which need your immediate attention, or convey something of utmost importance. For eg. the notifications you see in this form.
These notifications mainly are about your Messages, friend requests, or just general ones. So the point being, these are those which actually concern you, and thus are displayed promptly on your header bar. But that notification also from the unwanted people in your life. If you have some unwanted people on your facebook, Report them to facebook. Here is how to report someone on facebook.
They are called "Red" alert for a reason. Not just because they're important, but because whenever there's a notification. A Red colored bubble appears on the notification icons, hence the name.
How to turn off Facebook Red Alert Notifications:-
You can't entirely turn on these notifications. That's just a no-go.
However you can individually turn off almost all of the notifications which you receive. In order to do that, just click on the "notifications" button, and all your notifications would pop up.
Not just click on the small little arrow on the right side of the notification. And click on "Turn off notifications" button.

Email Notifications:-
Facebook sends all of the important notifications to you via E-mails too, right? In case you don't know, if you click on the "social" tab on your Gmail mailbox, you'd see it flooded with Facebook notifications.
See? All of those mails, "all" are from Facebook! No surprise you're looking for how to turn off notifications on facebook.
I've already talked about how to stop Facebook notifications, the red alert ones right? So let's talk a bit now about how to stop the Email notifications! Well yeah there's a neat process for that too. You can also delete the facebook notification if you wanted to.
How to Stop Facebook Email Notifications:-
In order to stop the Facebook Email notifications you need to go to your settings page. So click on the little downward arrow on your header, and click settings.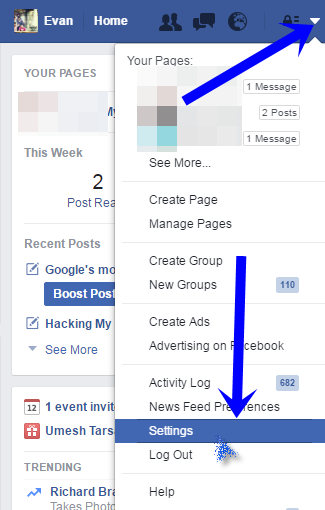 On the Settings page, click on notifications.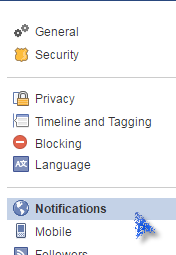 And then click on the "edit" button on the right side of the Email option.

And then click on the "third" option, the one says that "Only notification about important messages". This will bring up a popup, click on the "turn off" button to enable this.

Well that's about it. Nope your notifications aren't totally stopped, you'd still be getting E-mails, but now they'd be considerably reduced. And I'm talking 95% ! Which is about the same thing.
How to Turn off Facebook Notifications- Facebook Text-Message Notifications:-
These are notifications that flood your cell inbox! Well yeah facebook has this feature (and it's kind of advanced and good, and then it starts spamming!) which sends you text messages, free of cost to your cell phone about the notifications you receive.
Not just that you can even recieve messages on your cellphone inbox directly and reply to them from there without internet! Now the point is, this is a special kind of notifications, which isn't set up by default.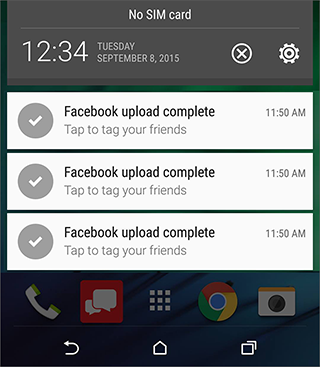 So most probably you set it up yourselves and now are unable to quit it, huh? That's what I'm here for.
How to Stop Facebook Text Message Notifications:-
Okay so here's how you do it.
Again click on that small little arrow on your header, and head to the settings page. (I'm skipping the screenshots because I already showed how to do it in the above section!)
So once you're on the settings page, click on the Notifications tab again.
Now click on the text message option on the right panel. I mean click on the "edit" button on it.

And after that, just click on the "off" button, and un-check all the boxes. Click save! Done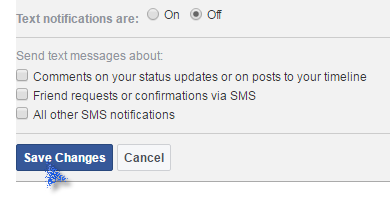 Over to You:-
So that was it folks, on how to turn off Facebook notifications. I'm pretty sure I shared the most commonly used notifications and how to stop them, right? You can also block messages without blocking profile.
Although there are other kinds of notifications, but they either can't be turned off, or are extremely important to you. The only notifications that can be turned off are the ones I talked about.
But still there's a chance that I might have missed something, if that's the case do let me know what you want to turn off on Facebook, and I promise I'll get you a promt solution.