Running a business on Amazon isn't easy. Even if you only sell a few things, you still need to think about a lot of things.
You need to do research on your products and keywords, keep an eye on your analytics, protect your stock, and keep in touch with your customers. It keeps getting longer.
Still, you don't have to worry about all of these things by yourself. You don't need to hire a lot of people either.
I'm sure you've heard about Helium 10 and Viral Launch, two of the best tools in the industry. But now you don't know which one to choose.
But when you look at things like price, features, etc., one will be better for your business than the other.
The purpose of this guide is to compare two of the top Amazon keyword research and product discovery tools currently available on the market: Helium 10 and Viral Launch.
We'll help you pick the Amazon seller tool that will help you the most.
Viral Launch vs Helium 10 2023: An overview
We know that you're probably here to see how Helium 10 stacks up against Viral Launch. Before we get into how the two tools are different, let's start with something simple.
Each one is briefly explained below, along with a summary of its pros and cons.
What Is Helium 10?
Almost three years ago, Helium 10 was developed for Amazon sellers. Guillermo Puyol and Manny Coats created it to help Amazon sellers learn more about key metrics like estimated profits and seasonal trends.
These metrics are used by sellers to figure out how well their products are selling.
The most important parts of Helium 10 are the ASIN grabber, the profitability calculator, the PPC Ads management, the index checker, the inventory protector, and many more.
Helium 10 has come a long way in the short time it has been around. It has helped more than a million Amazon sellers and brings in more than $4 billion each month.
What Is Viral Launch?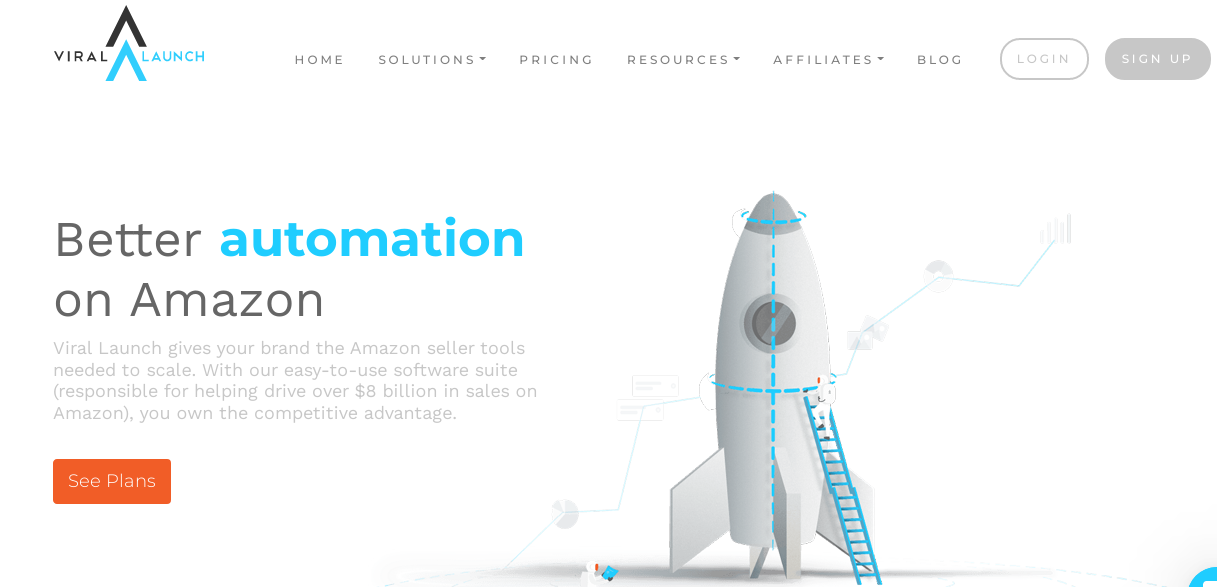 This tool has been around for a while. It was started in 2014 by Casey Gauss, who is one of the most successful people in e-commerce.
Since it started, it has been responsible for almost $8 billion in sales at Amazon. It has helped more than 10,000 brands grow, and more than 225,000,000 products have been tracked with its help.
Viral Launch provides a small business with an easy-to-use tool that can be used by Amazon FBA businesses of any size, despite its large reach.
Viral Launch is often compared to SpyFu and SEMrush. These two tools help users move up in the Google SERPs (Search Engine Results Pages).
Viral Launch works the same way, but its main goal is to help you reach the top of Amazon in your particular niche.
Amazon sellers use this tool for many things, like finding new business opportunities, staying ahead of what their competitors are doing, improving their product listings, and keeping track of how their business is doing.
Viral Launch vs. Helium 10 – Which is Better?
Okay, you should now have a good idea of what each tool is for. At first glance, these products may seem like they do a lot of the same things. But we're here to find out what makes them different.
Below, we'll talk about how Helium 10 and Viral Launch are different in a number of ways.
We'll cover everything you need to know, including product research, listing optimization, keyword research, pricing, inventory protection, and many .
Product Research

You won't have to spend hours and hours looking for new product ideas if you use Helium 10 or Viral Launch.
Instead, both tools have a lot of research features that can help you find the most profitable things to sell.
The most well-known thing about Helium 10 is the Black Box, a tool for researching products. With the Helium 10 Black Box, you can find things to sell in a matter of seconds.
With the Black Box by your side, you'll only find items that you're sure you can sell. Use the chance to sort through ideas on the Black Box by:
Product category

Amount of sellers

Review rating

Price

Number of images

Weight

And many more
The split testing tool on Viral Launch is a unique way to research products. This is the best way to find Viral Launch products. You can test different prices, product descriptions, images, and titles with the split testing tool.
You can put all of these things together and use what you've learned from this tool to create the best selling rates.
Viral Launch's split testing tool will give you an advantage over your competitors since many shops don't test their products before selling them.
Keyword Research
Don't only look in one direction when you're trying to find a good seller product. The one you choose shouldn't just be a great way to find new products.
Keyword research is one of the most important parts of running a successful Amazon FBA business, right after doing research on the products you want to sell.
The Misspellinator tool is included with Helium 10. This one-of-a-kind tool helps you get customers, even if they didn't do well in their third-grade spelling bees.
Let's say you sell hunting gear with camouflage. You can get your product to rank for "camouflage hunting gear" and "camouflage hunting gear" by using the Misspellinator.
Viral Launch also has some unique things to offer when it comes to researching keywords. It is possible to find keywords that are relevant to your Amazon listings by using Viral Launch's keyword tracking tool.
You can sort your search results by the number of similar products, the number of words, and the number of searches to find the best ones for your business.
Inventory Safeguards
It's exciting to launch a new product, but it also leaves you open to vulnerabilities.
Helium 10 comes with a tool called "Inventory Protector" that keeps your listings safe from couponers who try to use too many coupons and try to buy up all of your items.
Viral Launch doesn't have the same tool to protect your inventory, but it does let you run promotions safely. Use the Max Order Quantity setting to limit how much of one item each customer can order.
Navigation
Both Helium 10 and Viral Launch have simple menus that are easy to use. When you sign in to your own account, you'll be able to use all of the tools right away.
These tools are divided into groups like the ones below, so you can always find what you need quickly:
Keyword Research

Listing Optimization

Analytics

Operations, Marketing
Product Photography Services
When you buy something on Amazon, you probably want to know what it looks like. You might choose another listing if the picture is blurry, off-center, or just wrong.
As a seller, you want your ads to say as much as possible about your products. The Viral Launch offers product photography services to make sure that your products look good.
The team will give you interesting pictures that you can use to make your product listings more appealing. It brings together the skills of professional photographers and branding experts to make a compelling end product.
Helium 10 doesn't have anything similar, though. So, Viral Launch is better than Helium 10 if you want to make your listings look nicer.
Listing Optimization
Pictures aren't the only way to make your product listings more interesting. Both Helium 10 and Viral Launch offer services to make listings easier to read and more interesting to a wider audience.
Helium 10 has a number of tools for optimising listings, such as the Scribbles tool. With this tool, you can:
Make sure you've used the right number of keywords based on the number of characters you can use.

Retrieve old listing draughts

Bring items from your Amazon account in.

Make listings that are easy to find by using the best search terms for your niche.
Your listings can be optimized with the three tools provided by Viral Launch. By combining these three tools, you can determine your content's keywords automatically.
Reverse ASIN Search Features
When it comes to features for reverse ASIN search, Helium 10 comes out on top.
You can find out which keywords are ranking with the Helium 10 Cerebro tool. You can change your listings after using Helium 10 Cerebro and see your conversion rates go up.
Viral Launch also has a reverse ASIN feature, but it isn't as easy to use and doesn't give as much information about search volume.
Chrome Extensions
It's easy to improve your browser experience with the Market Intelligence Viral Launch Chrome extension. All subscription levels include this feature.
Viral Launch Market Intelligence allows you to access Amazon while at the same time viewing accurate market data. You don't have to keep going back and forth between tabs.
Good news: Helium 10 has a useful Chrome extension as well.
Competitor Tracking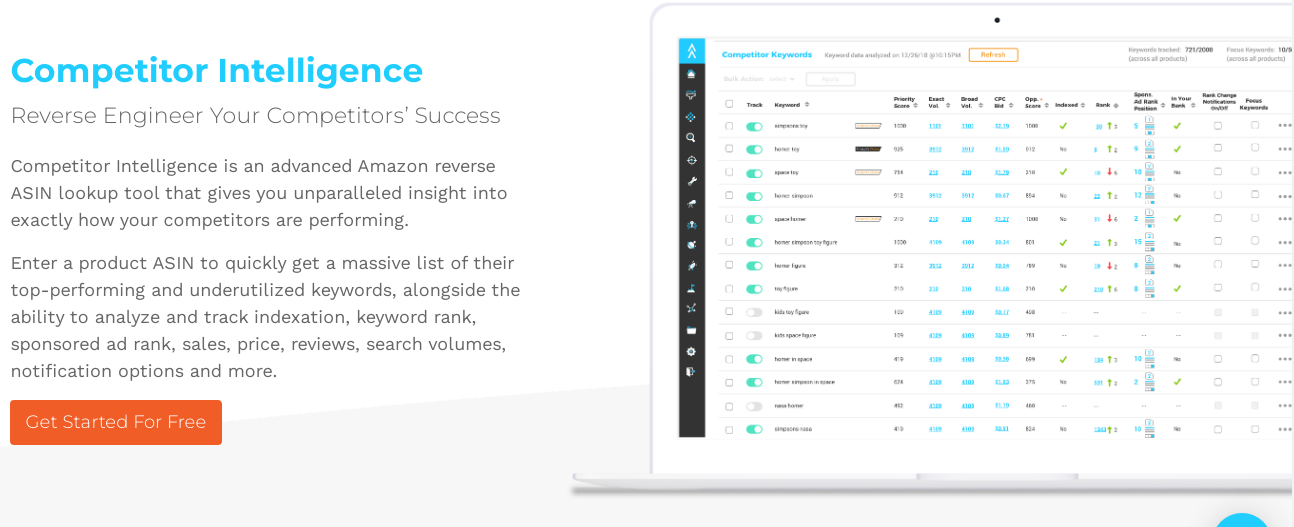 You won't be the only business on Amazon that wants to do well.
Your competitors' information can help you stay one step ahead of them using Helium 10's Market Tracker tool.
A bird's eye view of your niche is available with Market Tracker. Estimating Sales, knowing your position, and assessing the market as a whole are all possible.
Viral Launch can also help you find out more about your competitors. It provides accurate data about product trends and sales estimates.
You can look at both current data and data from the past to get a better idea of how your industry works as a whole.
Management Tools
The Amazon software you choose should make it easier to do day-to-day office work.
The Refund Genie is one of our favourite management tools from Helium 10. The Refund Genie lets you see your refunds and makes the process of getting a refund as an FBA seller easier.
Do you have a new product but don't know how to get it out there? Viral Launch offers launch services that work well. These services will help improve the sales of your product right from the start. You'll get more traffic from the outside and be able to make more money.
Marketplaces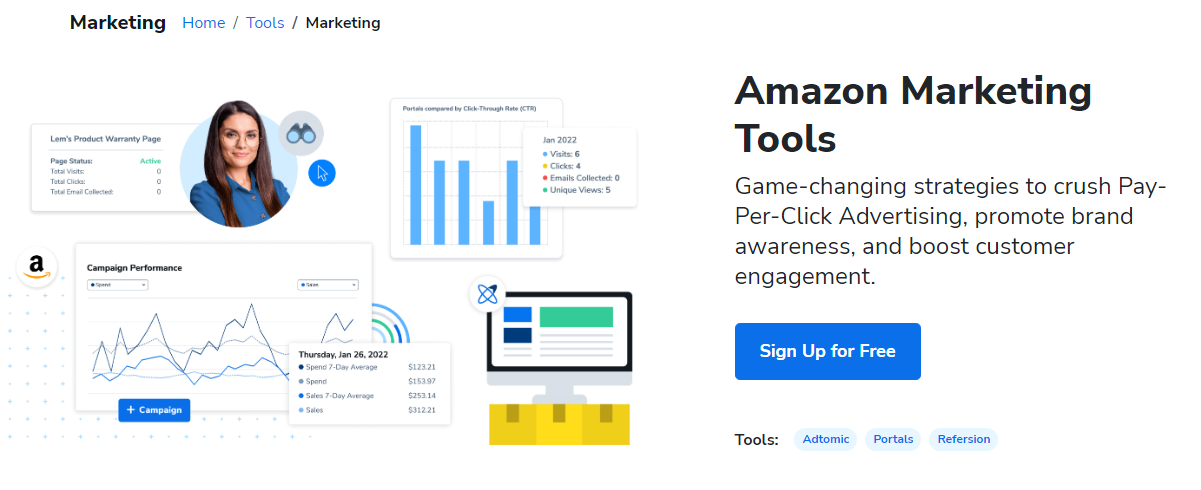 Both of these Amazon seller tools can be used all over the world. All Amazon sellers, no matter where they are in the world, can use these tools for researching products and keywords.
Helium 10 works with the Amazon marketplaces in the United States, Canada, the United Kingdom, the Netherlands, India, Italy, Mexico, Spain, France, Germany, and France.
Its competing keyword research tool works in the U.S., U.K., France, Italy, Mexico, Spain,China,  Germany, Japan, and Brazil.
Customer Support
We think that a keyword research tool is only as good as its customer service.
When it comes to customer service, Viral Launch is better than Helium 10.
Helium 10 doesn't have any kind of community that's actively using it. There is no phone number to call or a live chat box where you can send your questions.
Help will have to come from the Frequently Asked Questions (FAQ) sections and customer support tickets.
On the other hand, Viral Launch's customer service team is easy to get in touch with. Send an email or use the website's chat function to ask a question.
If you want a faster answer or to talk to a real person, you might want to call Viral Launch's support staff.
Ask any question you want, like how to understand search volume statistics or how to upgrade to a higher plan like the Brand Builder.
No matter which way you choose to talk to them, you'll always get a quick, enthusiastic, and helpful answer.
Free Long-Term Versions of the Tools
Forget about a free trial. If you are on a tight budget or are new to the Amazon business environment, you may have little interest in purchasing a seller tool.
Exist free versions of these tools' products that users can use to sell on Amazon over the long term?
As previously indicated, Helium 10 offers a free plan that can be used indefinitely.
There is no infinite free version of Viral Launch's product. After your free trial expires, you must decide whether to purchase a premium version.
However, this tool's website contains some valuable free resources. Free video courses are available, including "Amazon PPC Playbook" and "How to Sell on Amazon."
You may watch these instructional videos as often as you like and utilise the methods you learn in your Amazon business.
After a while of using these free versions and resources, you may become more selective.
You may demand additional features and a deeper understanding of the Amazon FBA ecosystem. Consider switching to a premium edition of either Helium 10 or Viral Launch at this time.
Quick Links:
Final Thoughts on Viral Launch vs Helium 10 2023
Even though you might dislike hearing it, there is no real way to resolve the Helium 10 or Viral Launch controversy. There is no more effective Amazon tool.
According to our experience and client feedback, no software is superior to others. Both solutions are appropriate for distinct purposes and satisfy the requirements of various Amazon FBA companies.
Decide which Amazon seller tool is best for you by considering what you need:
Viral Launch is your best option for a user-friendly Chrome extension, superior customer service, and product photography services.

However, if you're just starting out and need a low-cost option with dependable product research tools, Helium 10 is your best bet.
You can use this guide to determine which Amazon software is the right fit for your business, then make a decision based on your considerations!