Yotpo is the leading eCommerce marketing tool, and I am not just saying that to persuade you; numerous well-known brands use Yotpo.
And if you wish to verify my statements, you can do so by visiting their website.
Do you wish to know the price of Yotpo? You are in the correct location. You can continue reading to learn how you can grow your business and what other options you have if this is not the perfect tool for your online store.
Or you can put your trust in me, as this Yotpo review contains all the information you need about it.
Yotpo Review 2023
What is Yotpo?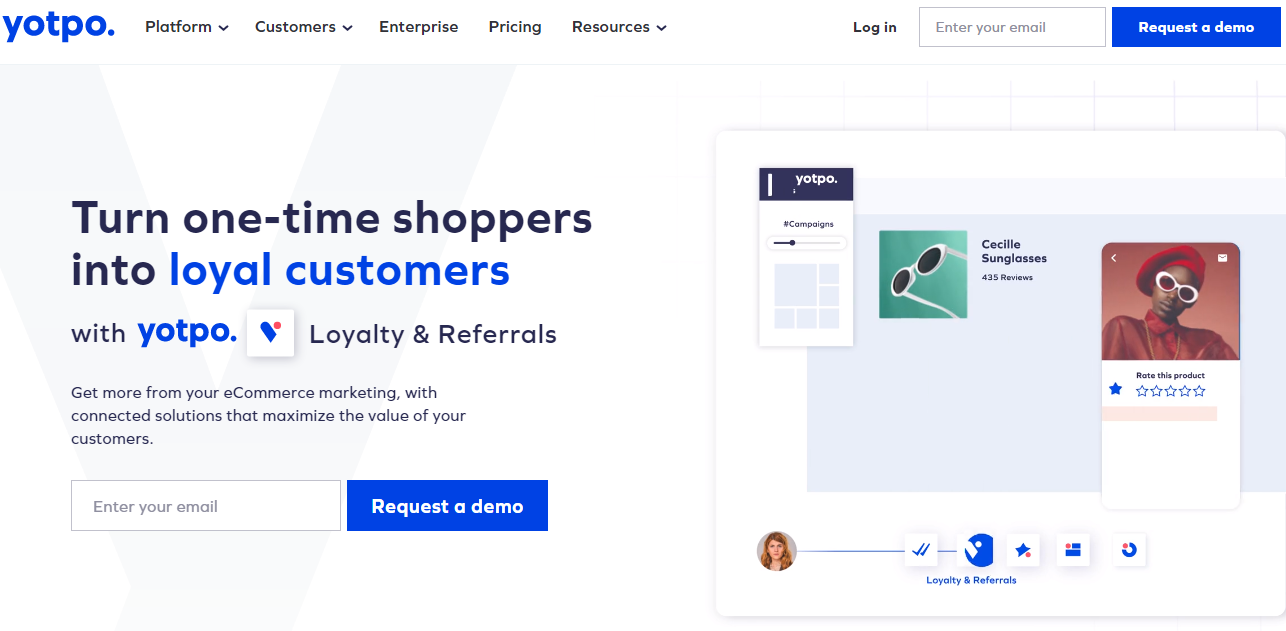 As stated previously, Yotpo is a complete marketing cloud and one of the most popular tools used by eCommerce stores and retail organisations.
This platform enables your customers to create product reviews, and what better marketing strategy for your brand is there than the experience of your customers?
This benefit will assist you in establishing a trustworthy rapport with your future customers and increase your sales.
The software's structured features include visual marketing, SMS marketing, loyalty programs, and referral programs that enable customers and brands to interact.
If you're looking for exceptional solutions for any campaign or need to engage your customers, this eCommerce marketing platform is what you're looking for.
In addition, Yotpo is a plug-and-play social solution for eCommerce businesses; it will simplify your tasks by collecting and managing data, emails, and social media interactions, among others.
In conclusion, Yotpo converts your buyers into loyal customers by enhancing their brand experience.
So, yes, it's not just a tool that enables your customers to write reviews and helps you attract more customers.
Yotpo Features
Yotpo has many wonderful qualities, but its features surpass them all. Find out from this review what features make Yotpo so popular and what else it can do for you besides customer reviews.
Reviews & rating generation

On-site conversion

Social Media Proof

Loyalty & Referrals

SMS Marketing
In order for you to get a sense of the big picture, I'll detail each feature individually.
Reviews & rating generation
Content generation is one of the many things Yotpo does for you; this tool helps you collect reviews efficiently.
Using e-mail forms and a mobile app that is responsive, you can quickly generate reviews. Every purchase can be converted into a review.
Additionally, you can generate reviews on-site by incentivizing visitors with custom widgets.
Yotpo's algorithms will identify quality traffic, which means the tool will display the appropriate products to the appropriate individuals in order to obtain the best reviews.
Customers can also rate your products, allowing prospective purchasers to interact with your actual customers and obtain prompt, dependable feedback.
Yotpo import reviews
Yes, by creating an import file, this tool allows you to import your reviews directly into your Yotpo account. Depending on your Yotpo plan, the number of imports per account is limited.
The free plan permits a single import.

The monthly limit for imports is five.

The annual plan allows for an unlimited number of imports, with a minimum of twenty reviews per import.
Yotpo Native Review Solutions
You do not need to create an import file if you utilise one of the platform's native reviews solutions. You import them into your account on Yotpo.
Shopify, BigCommerce, WooCommerce, Magento, and Volusion are the platforms with built-in review features.
If you are not using one of the previously mentioned platforms, you can still complete this step by importing a file.
This requires a spreadsheet application, such as Excel or Google Sheets. However, a very detailed guide is available on their dedicated support page.
On-site conversion
Yotpo provides the appropriate tools to help you increase your website's conversion rate.
This eCommerce platform is designed to help you optimise the user-friendliness and simplicity of your website's customer journey so that you don't lose customers.
Yotpo's Reviews Widget and Visual UGC Gallery are two assets that help you increase user engagement with your online store and convert that engagement into actual sales.
Yotpo provides you with a Conversion Dashboard that contains key performance metrics. You are gaining a comprehensive understanding of your online store and the customer journey.
SEO Tools
Yotpo offers all the SEO tools you need to optimize your website. However, only selected Yotpo plans offer them.
The purpose of these lines of text, which appear beneath each search result, is to provide customers with a preview of the page's content. If Google understands the content, these rich snippets can help users with specific queries by providing relevant information.
Yotpo website rating can be attached to Google Shopping ads and AdWords ads on all platforms. A customer will be able to identify highly rated sellers more easily as a result of this benefit.
Adding in-line SEO to non-hosted platforms is useful if a business wants to appear only on Google, since that search engine now crawls JavaScript content.
 Google Product Listing Ads
By showing customers images and details of your products, this option will increase traffic and sales to your shop.
Social Media Proof
There is no more persuasive way to gain customers than by combining beautiful photos, videos, and product reviews.
You can create photo and video galleries on your website to help customers discover your products, increase brand engagement, and alter the purchasing process.
Using the Visual UGC asset, you can bring the Instagram experience to your website and inspire other visitors.
Additionally, you can use the video content of your customers to build trust and engagement with potential customers.
The combination of textual and visual content is the ideal formula for gaining the trust of your customers and influencing them to make their first purchase from your online store.
Loyalty & Referrals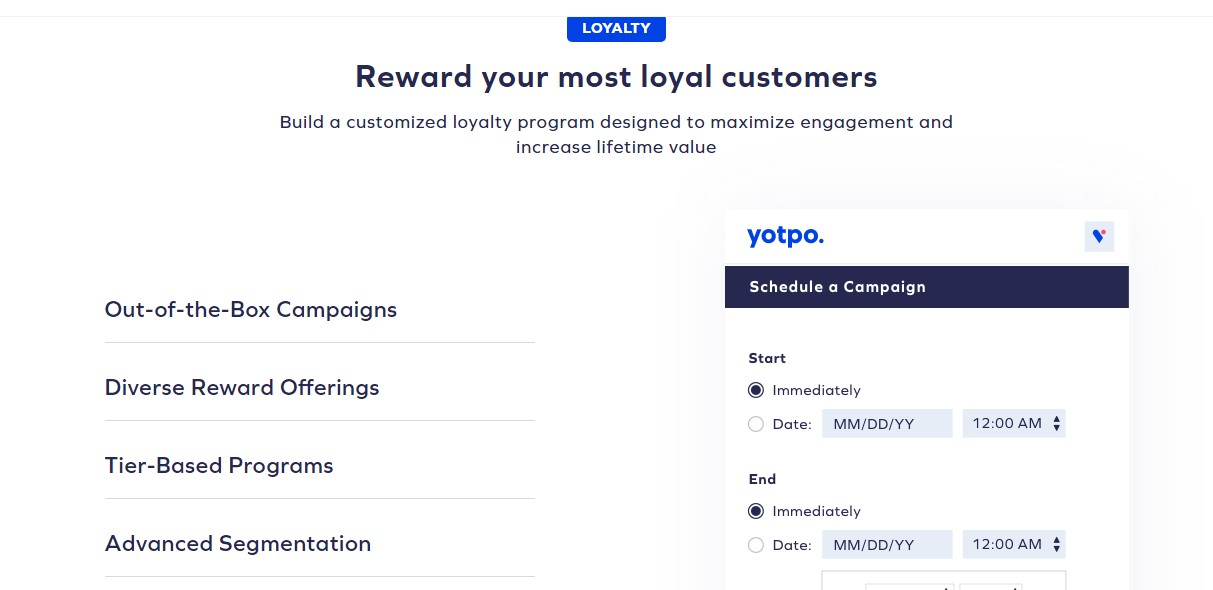 This feature allows you to create individualised programmes to retain and acquire new customers.
If you know which of your customers' actions have the greatest impact on your sales, you can reward them with points they can use to make purchases.
Yotpo offers a flexible rewards programme with multiple options to choose from.
In addition, you can allow your customers to be the voice of your online store. Customers can be rewarded for each additional referral made.
Create brand loyalty, and they will follow you anywhere. If you want this feature, verify that it is included in the plan you select.
SMS Marketing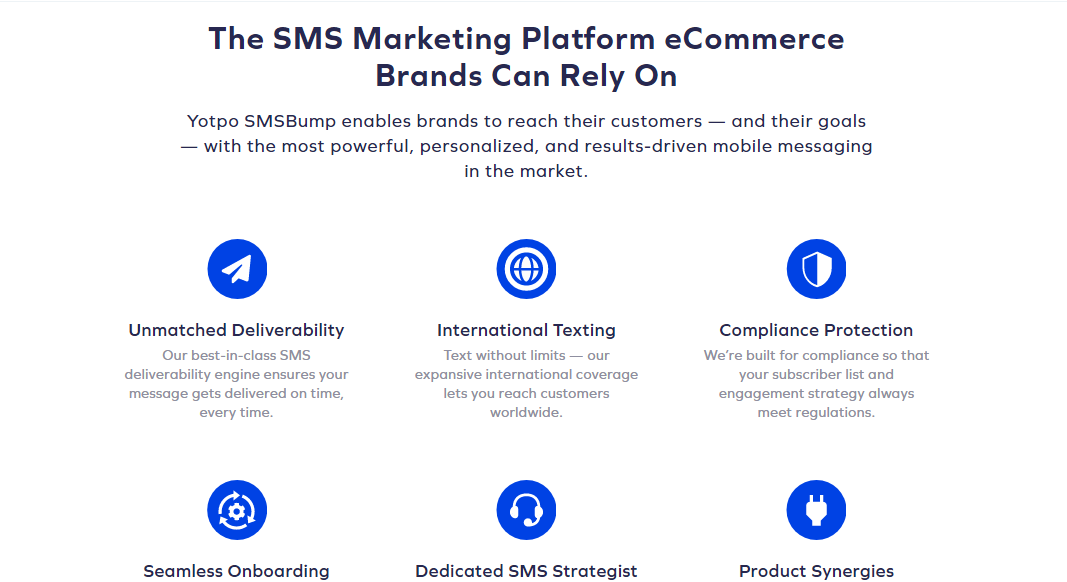 A well-timed, well-written message can work miracles for your sales. This is yet another advantageous feature of this eCommerce platform.
It takes only a moment to begin driving ROI by interacting with your customers through mobile messages. You can create personalised one-on-one conversations with customers based on their actions.
You can read on their blog how to conduct SMS marketing campaigns like a pro if you wish to learn more.
How much does Yotpo cost?
As shown in the table above, there are numerous Yotpo Pricing Plans available.
Pricing is determined by a number of factors, including customer reviews, visual marketing, loyalty programs, and referrals, but the most significant factor is the number of review e-mails sent.
Thus, pricing is essentially determined by each company's requirements.
There are also numerous Yotpo Free options, as well as a flexible custom plan that can be created by contacting the company and discussing your business's requirements.
In addition, the price depends on the benefits you select for the customised product.
A customer manager will assist him in maximising the utility of this tool. We only know for certain that the free one is always free and ideal for small businesses.
Even though there are numerous pricing plans, it is evident that Yotpo has tiered pricing. This means that the price will increase as the number of orders your company receives each month increases.
Is Yotpo Pricing cost-effective?
We believe the answer to be affirmative for a number of reasons. First, the company has developed a novel product that solves numerous business problems.
For instance, attracting new customers to your website is a breeze. Additionally, it is useful for retaining satisfied customers.
The Yotpo free plan is useful for e-commerce professionals to test the platform and determine if it's a good fit. If it appears useful, it makes sense to select a higher price tier.
The Yotpo app is well worth the money, and millions of happy users are testament to that.
Yotpo Integrations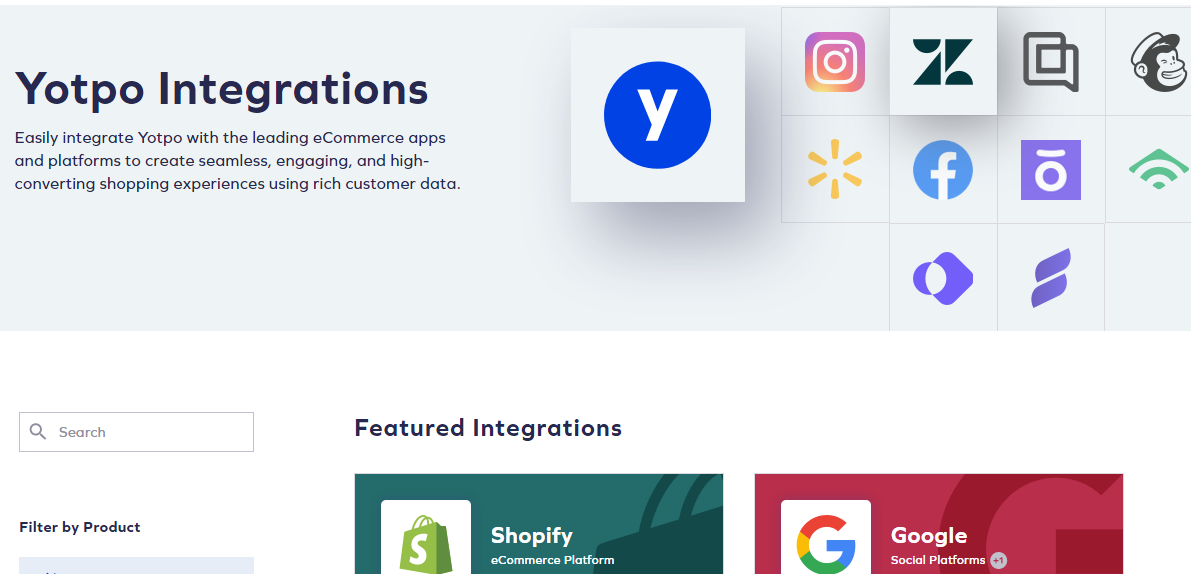 This review will also reveal that Yotpo can be integrated with a variety of eCommerce platforms and applications to solve various marketing issues.
With these integrations, you can take your online store to the next level and begin increasing sales.
eCommerce platforms such as Magento, BigCommerce, WooCommerce, Shopify,  Salesforce Commerce Cloud, and Volusion can be integrated with Yotpo.

Facebook, Instagram, Twitter, and Pinterest are social applications.

Others such as Zendesk, Walmart, AdRoll, etc.
On their website you will find a list of all integrations and a description of what each one does. However, I will now describe some essential integrations that people find appealing.
Yotpo – Magento integration
Never before has it been so simple to integrate Yotpo with your Magento store.
Yotpo is used by over 10,000 Magento stores, and you can begin collecting customer content such as reviews, photos, and videos during the customer's journey on the website to increase trust and sales.
Yes, it is simple because they provide dashboards where you can access feedback data and insights to gain a comprehensive understanding of consumer behavior.
In conclusion, this integration enables you to optimise your website to provide customers with accurate and valuable information.
Our user-friendly dashboards grant you access to feedback data and unprecedented insight into consumer behaviour and sentiment, allowing you to continuously optimise your website for maximum customer satisfaction.
The most recent version of Yotpo, version 2.2.3, is compatible with both Magento 1 and 2.
Yotpo – Klaviyo integration
If you want to reach the right people with the right content, you must begin incorporating UGC data into your email campaigns.
Klaviyo's integration with Yotpo employs a sophisticated AI algorithm to identify the top reviews.
After analyzing it, you will know which sentences are the most effective and those with the greatest conversion potential.
After integrating Yotpo with Klaviyo, review highlights are displayed in an in-email widget within your Klaviyo email templates.
Is it difficult to incorporate them? not even close! Once your Klaviyo Data Feed has been configured, you can add Yotpo's code to your Klaviyo email template and you're ready to go!
In addition, once the account is created, you can choose up to ten topics to promote in your Klaviyo emails.
Yotpo – Shopify integration
Yotpo is a plug-and-play Shopify app, so once you've added it to your Shopify store, you can immediately begin collecting reviews.
Additionally, you can import existing reviews from other platforms into Yotpo to increase conversion rates and drive more traffic.
Simply log in to your Shopify account, navigate to the App Store, select Yotpo, and install it with ease.
Quick Links:
Conclusion Yotpo Review 2023
Yotpo is a great tool for businesses that can obtain more customer reviews and an ideal eCommerce marketing solution for those who want to engage their customers more, acquire more, reward loyalty, and increase sales.
As previously stated, if you can earn their trust and allegiance, they will follow you anywhere.
The distinction between a business and a brand is as follows. This tool allows your customers to express their opinions via written reviews, as well as visual content such as photos and videos.
This may be the most effective marketing strategy for your online store because people trust other people regardless of how hard you try to attract their attention.
User-generated content is the foundation of a successful business.
Yotpo also helps you collect information about your customers' behaviour so you can better understand what they require from you to become repeat customers.
Moreover, Yotpo provides a multitude of tools to improve the customer experience on your website; this will undoubtedly increase your conversion rate.