Have you heard about Amazon book rental, if not this topic will teach you how to return Amazon book rental, what is Amazon book rentals and Amazon textbook return.
Amazon is the best platform to get every type of book on rent. Many students spent money by buying books from shops instead of using renting textbooks online.
You can save up to 70% on textbooks with Amazon book rentals Service. You will get every type of book on Amazon; no matter's you are a student or a business person.
The process of getting a book on rent and return it back is very easy. Just search the book you want then select Rent now after that choose payment and shipping, go ahead and click on checkout. You will receive your textbook in 3 to 5 days, and you should return the book in 30 days.
If you don't know how to order a textbook rental, just open the Amazon official website and follow the instructions. You can get any type of book from Amazon and if you don't know you can make money on Amazon, go here to see how to make money on Amazon.
Amazon Book Rental Terms & Conditions
When you order any book from Amazon, you may receive either a new textbook or a used textbook, based on the availability. If you get used book from Amazon, same rental conditions will apply as determined by Amazon for a new book.
It is not compulsory that you will get codes, CD, and other supplementary materials with the book. You may get or may not get, depends on the availability.
Excessive highlighting and writing in the text book will lead you to pay the full purchase price, and Amazon will ship the rental book back to you.
Any type of water damage, broken binding, fire damage and smoke damage are against the acceptable rental condition.
If you buy a textbook from Amazon on rent, you should return it on or before the due date. You have to return the book during the first 30 days. When Amazon receive the book, they will check it. If the book is not in good condition, then you need to pay the full purchase price of the textbook to Amazon.
Price vary by city or state because price selection depends on the seller, every seller has their own price for their product.
If you have credit balance in your Amazon account, you can also use a promotional balance or Amazon gift cards to pay the book rent.
If the price of the book is over 35$, no delivery charges will apply, You will get a textbook under 3 to 5 days after ordering.
If Amazon didn't get the book within due date or an earlier date, Amazon will extend  15 more days and charges will apply for these 15 days.
If you return the book within 30 days in the good condition then Amazon will give you full refund of the rental fee.
You can also renew the rental period for another semester or extend the textbook rental period for 15 days.
If you like the book and you want to keep it for life, you can easily get it by requesting a full refund for a book. If the due date is passed then you can't request for the refund. You should do it before the original due date exceeds.
Love reading on Kindle? Here is How To Download Kindle For PC for reading books.
You can't use the gift cards to purchase or extend the textbook rental.\
Also read: Helium 10 Review 
How to Return Amazon Book Rental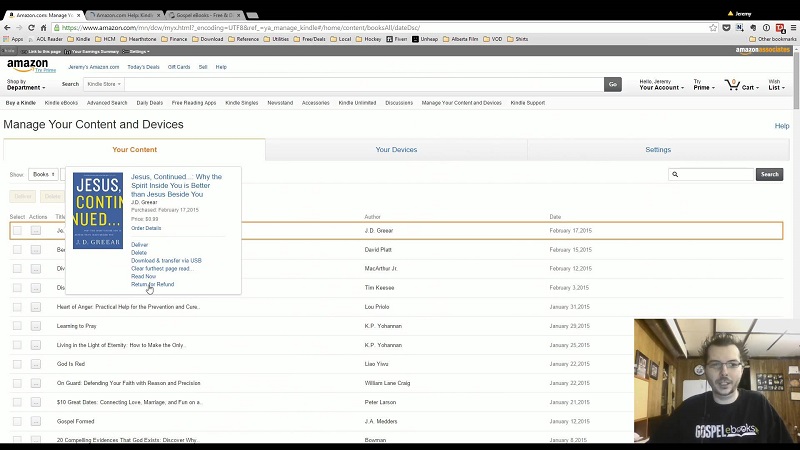 Step #1: You can easily return textbook rental after first 30 days, from your Amazon account. You won't receive full refund of the rental fee, if you returning book after the 30 days.
Step #2: Go to the Textbook rentals and then you need to select the book you want to return.
Step #3: After selecting the book, print the packaging slip.
Step #4: Now packing up the book you want to return and you should include the packing slip with book.
Step #5: Now if you use the return shipping label no return shipping charges will apply on you. So apply the return shipping label.
Step #6: If you want to amazon textbook return within first 30 days, just go to Return the item and click on the return items.
Step #7: After clicking on return items, choose the text book you want to return.
Step #8: Go ahead and follow the on-screen instructions.
Step #9: Now you get return mailing label option after that you have to choose one option refund, replacement or exchange to return the book.
Step #10: Now submit return request, after that you will get response of seller within 2 days, if you don't get any phone call or email you can submit A-to-z Guarantee claim.
Step #11: Now you need to print the label, if you select return label shipping option, it will be emailed to your Amazon account and use the Manage returns option to return your book.
Step #12: If you can't use printer then send your label to any of your friend who has access to a printer, then go to Manage Returns. Go a head and click on Print mailing Label and then email it to your same friend.
Step #13: Now pack your item carefully, insert some newspaper or bubbles with the textbook and include your return label with packing.
Final Words
Amazon is one of the best website to get textbooks on rent and to return textbooks easily. Instead of wasting lot of money, you can easily save money by using amazon book rentals. If your Kindle is not working for any reason, you can find a fix for the Kindle that is not turning on.
This topic explained each and every thing about how to order amazon book rental and what is amazon book return. Both getting a book or returning are very easy. If you want to get the full refund of the book you need to follow all the terms and conditions.