It can be hard to find the right email marketing software for your business. After all, a lot of these services have features that are similar.
So, when you're trying to decide between AWeber and MailChimp, it might seem hard to tell which one is more likely to help you succeed.
So, to help you, we've put together a detailed review. By looking more closely at the services each company offers, you can get a better idea of which email marketing software will work best for you.
In this article, we'll look at how AWeber vs MailChimp compare in all the important ways.
Aweber Vs MailChimp Overview
AWeber was started in 1998, and for more than 20 years, it has helped clients keep track of their prospects and customers.
It helps users load and manage contacts, build responsive landing pages, analyse results, and send high-quality emails.
Mailchimp's marketing platform has tools that are easy to use and help businesses grow. These tools are powered by AI.
In addition to sending marketing emails and automated messages, creating landing pages, targeting ad campaigns, viewing reports and analytics, and sending postcards, users can also sell online using the app.
What can you achieve with these marketing automation solutions?
Capture data using sign-up forms and import mailing lists.

Send your subscribers newsletters.

Use email autoresponders to send messages to subscribers.

Check campaign statistics such as open rate, click-through rate, forward rate, etc.
Who's the Target Audience?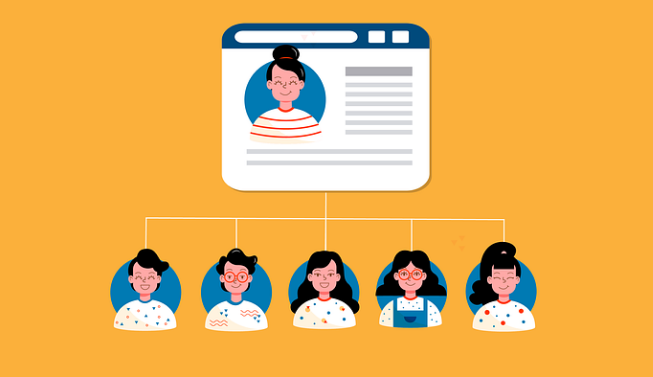 AWeber is a safe and smart choice for small businesses, bloggers, and entrepreneurs because it is stable.
Even though the user interface is a bit old and the navigation can be hard to figure out, the programme is easy to learn.
Because it can manage contacts, it's a good choice for niche businesses that need to gather specific information about their customers.
Mailchimp targets users of all levels. Because it is easy to use and based on data, it is a good choice for marketers who want to take a scientific approach to their campaigns.
And even though it has a lot of marketing tools, it started out as an email marketing service, so you know it has that knowledge built in. It's perfect for small companies.
Features Comparison
Automation capabilities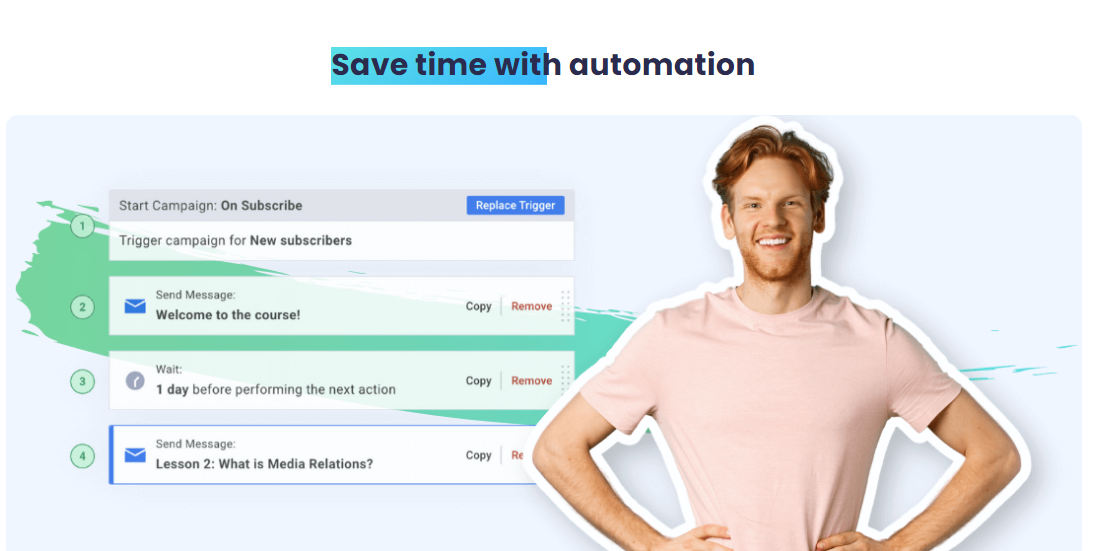 Automation can make it easier for you to connect with your audience and get more people to buy from you. So, it's a very important thing to think about when comparing email marketing tools.
Campaigns are what AWeber calls its automation tools. There are a lot of ways to change these campaigns, so you can make sure your messages are relevant to your subscribers.
But there aren't any more advanced options for this automation feature.
Mailchimp has a tool called "customer journey" that uses conditional logic to send the right emails to the right people. All you have to do is move the tiles around:
AWeber, on the other hand, only has this kind of "if x, then y" process in its tagging system for individual emails. So, it can be hard to get the same level of detail that Mailchimp offers.
Mailchimp has a bit more sophistication when it comes to automating tasks. AWeber, on the other hand, might be a better choice if all you want to do is set up a simple email marketing campaign.
It gives you simple, manual control over these things. The system for adding tags works well, but it will take some time to learn the rules and add the code.
Analytics
Every dollar counts when you run a small business. So, you might want to check to see if you are getting results with your email marketing campaigns.
When it comes to analytics tools, AWeber is all about making things easy to use. Your account dashboard will give you a quick summary of how well you've done.
These reports tell you the basics, like how many people open your emails. But if you want more in-depth information about your audience, you might find that they don't give you enough.
MailChimp, on the other hand, tells you more about your campaigns. It also works with Google Analytics to make reports that are more complete.
Mailchimp, like AWeber, will also divide your data into smaller groups. For example, you can look at everything from bounce rates to email providers when you look at your results.
If all you want to do is get basic reports, AWeber will do the job. But Mailchimp is a better choice if you want access to more detailed data that can help you improve your campaigns.
Design and email templates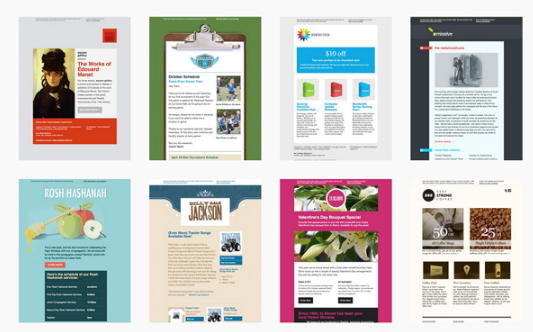 If you want your customers to read your emails, you'll need to make sure they're neat and easy to understand.
Because of this, you might want to use templates that have already been made for your newsletters.
But you might also want to be able to change the look of your emails to fit your needs. Let's look at what AWeber and Mailchimp have to offer in terms of design.
Available templates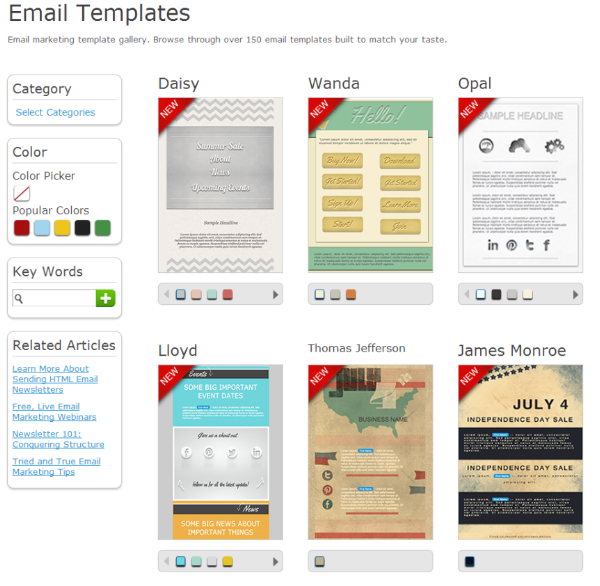 Templates can speed up your work and help you send beautiful emails that get people to buy.
So, when deciding between AWeber and Mailchimp, you might want to think about how many and how good these resources are.
AWeber has an impressive number of templates, with over 700 that work well on mobile devices. The colour, layout, and feel of each template are different.
Also, AWeber gives you access to more than 600 images that you can use in your emails. This means you won't have to spend hours taking your own photos or looking for them on other sites.
You can probably find pictures that go with the subject of your email. If you can't, there is also an integration with Canva that makes it easy to add designs from Canva to your emails.
On the other hand, Mailchimp only has a little more than 100 templates to choose from. Even though this seems like a small number, it's important to note that Mailchimp's designs are just as good as AWeber's.
Also, Mailchimp's templates tend to have more places where you can drag and drop things. This means you can make your emails more personal without doing more work.
Mailchimp lets you be more creative, but AWeber has more template options. So, the best choice in this category depends a lot on what you like.
Email editor
Using a template is the best way to send a quick email. But you might also want to change your messages so that they fit with your brand. Most likely, you will need a responsive email editor to do this.
Both AWeber and Mailchimp have an interface that lets you drag and drop items. But there are still a few small differences between the two. Let's start with the editor from AWeber:
AWeber focuses on being straightforward. You can drag things like videos or social networks from the menu on the left. Then you can choose each module separately to change what's in it.
This interface can be a little tricky, that's true. To put blocks exactly where you want them, you have to be careful about where you click.
If you don't like this, you might want to use a template. This makes it easier because the content areas you've already decided on are already blocked off.
Mailchimp's editor, on the other hand, is a bit easier to use:
A better understanding of how things will turn out can be gained by reading the text on screen.
An example of gray highlights is shown here at the bottom of the page, drawing your attention to conditional logic tags.
This can help people who aren't as experienced with editing. AWeber doesn't have any similar instructions.
In general, both interfaces are easy to use. Still, the fact that AWeber doesn't have labels makes it a little hard to get used to.
On the other hand, Mailchimp gives you helpful text that doesn't get in the way of your editing. So, Mailchimp is the best email editor and wins the crown.
Ease of use
Ease of use is another important factor to consider. When crafting your email campaigns, this can lead to a more efficient workflow and a better user experience.
Here's a comparison of AWeber vs Mailchimp in terms of usability.
User interface
Your user interface is where you keep track of your subscriber lists and emails. How you design and navigate can make or break how productive you are.
AWeber's interface is more like what you're used to. All of the options are labelled and put together in a neat vertical menu. You probably won't have a hard time getting used to this programme.
The editing feature of AWeber, on the other hand, is a different story. Even though it has a drag-and-drop editor, the interface can sometimes look a bit messy. Finding the tools you need can also be hard.
Mailchimp's layout, on the other hand, is more simple and styled. For example, you have to move your mouse over menu items to see where they take you.
But it shouldn't take you long to figure out how to get around. Mailchimp has a drag-and-drop editor, just like AWeber.
Still, it has better labels and less options that are hard to find.
The interface of each service has both pros and cons. Because of this, the best choice for you in this category will depend on what you like.
For example, if you like simple things, you might want to go with Mailchimp.
Customer support
Next, we'll look at the support services for each platform. You never know when you might need help making the best marketing plan.
AWeber has everything you could need in this area. You can call, live chat, or send an email to get help. On the main page, you can also check the server's status.
You can always look at the huge knowledge base if you'd rather not talk to a person.
There are fewer options available with Mailchimp. A chatbot and email help are the only options for the free option.
Paid plans come with live chat, but you'll need to add more features to get phone support. If you use Mailchimp and need help, it's much harder to get in touch with someone.
So, we suggest you think about how important customer service is to you.
Mailchimp's customer service will probably be fine if you're sure you can figure things out on your own. But if you want more help, AWeber might be a better choice.
Language Support
Mailchimp's website is only in English, but their customer service is available in both English and Spanish. There are articles about how to do things in English, French, Spanish, and Portuguese.
With the auto-translate feature, you can translate sign-up forms and marketing campaigns into more than 50 languages.
You can also translate campaign content by adding conditional merge tags or making a different campaign for each language that has been translated.
AWeber lets you send confirmed opt-in messages in many different languages, including Chinese (both simplified and traditional), Danish, Dutch, English, French, German, Indonesian, Italian, Japanese, and more.
But you can only use the account in English. This includes web forms, contact information, and notifications.
Winner: Mailchimp wins this feature over AWeber due to its better language support.
Quick Links:
Which one should you choose? AWeber vs Mailchimp 2023
Choosing a good email marketing service for your small business can be a very important choice.
If you're trying to choose between AWeber and MailChimp, you might want to look at what each company has to offer.
Even though we recommend that you weigh the pros and cons on your own, we think that Mailchimp is the best choice for most people.
Mailchimp is a great marketing tool for almost any small business because it has a lot of useful features, an easy-to-use editor, and the ability to track results.