Freelancing is expected to become the majority of the U.S. employment by 2027, with 58 million freelancers and counting.
Currently contributing over $1.4 trillion to the U.S. economy, the constant increase in the number of talented individuals taking up freelancing each year makes freelancers the frontrunners to become the majority of the U.S. labor within the next few years.
During the COVID-19 outbreak, businesses are increasingly relying on independent contractors to meet work demands. Consequently, the number of freelancing work, ranging from grocery shoppers to web developers, is more than ever.
Even if you've already developed an online portfolio, if you've been searching for freelance work, you likely know how daunting the procedure can be. However, this article will provide a list of the greatest freelance websites.
10 Best Freelance Websites to Find Work
The following are our top 10 freelance websites:
1. Fiverr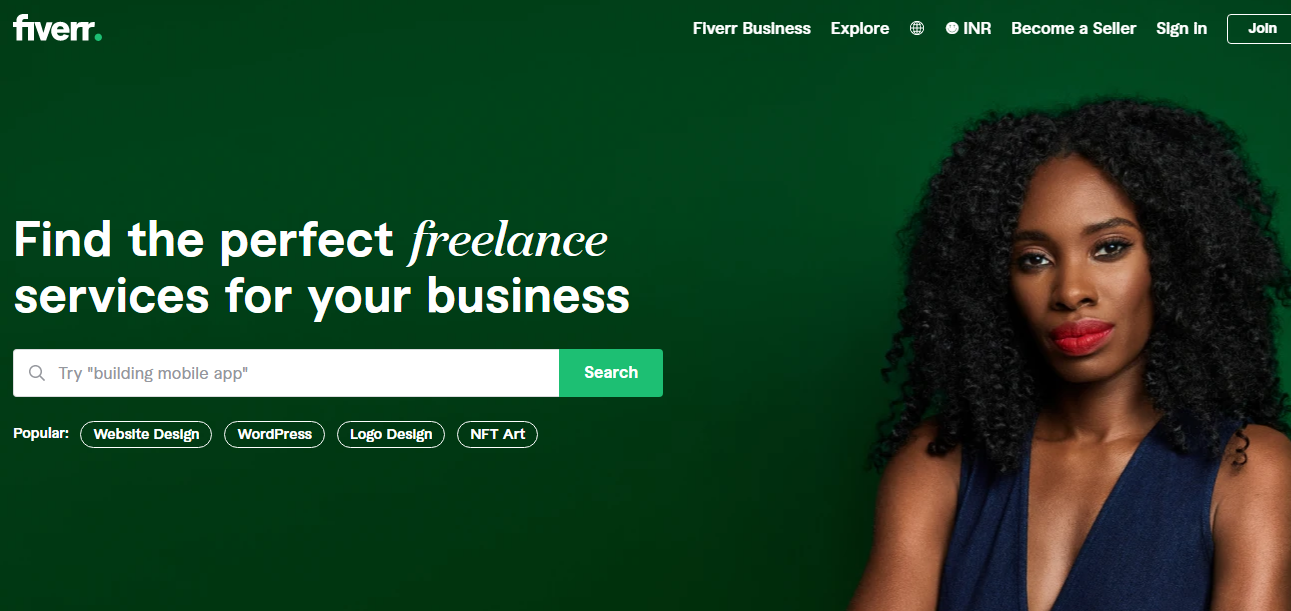 Freelancing type: web development, social media, digital marketing
Pros:

A wide variety of courses, free registration, and online registration

Cons:

High commission charges, lengthy payment process
Fiverr is a marketplace that links freelancers with business owners seeking digital project services, such as website design, content writing, and voice-overs.
This freelance website facilitates communication between independent contractors and business owners. Note that freelancers are referred to as sellers, their services as gigs, and business owners as buyers on the platform.
Instead of submitting bids, sellers can register for free, list their gigs, and set their own prices. Meanwhile, customers can simply peruse various categories to make purchases.
When a buyer purchases a gig, the system automatically charges and holds their account balance. The system will then deduct a commission fee before sending freelancers 80% of the offered amount.
Depending on the seller level of each freelancer, withdrawals can take up to 14 days. There are numerous payment withdrawal alternatives, including debit card, PayPal, and wire transfer.
With 3.42 million active buyers, Fiverr introduces a universe of sales opportunities. There are no hourly charges, only project-based, customizable pricing.
With an SSL certificate, sellers are guaranteed secure payments. Our customer service team is available round-the-clock to assist you.
2. Toptal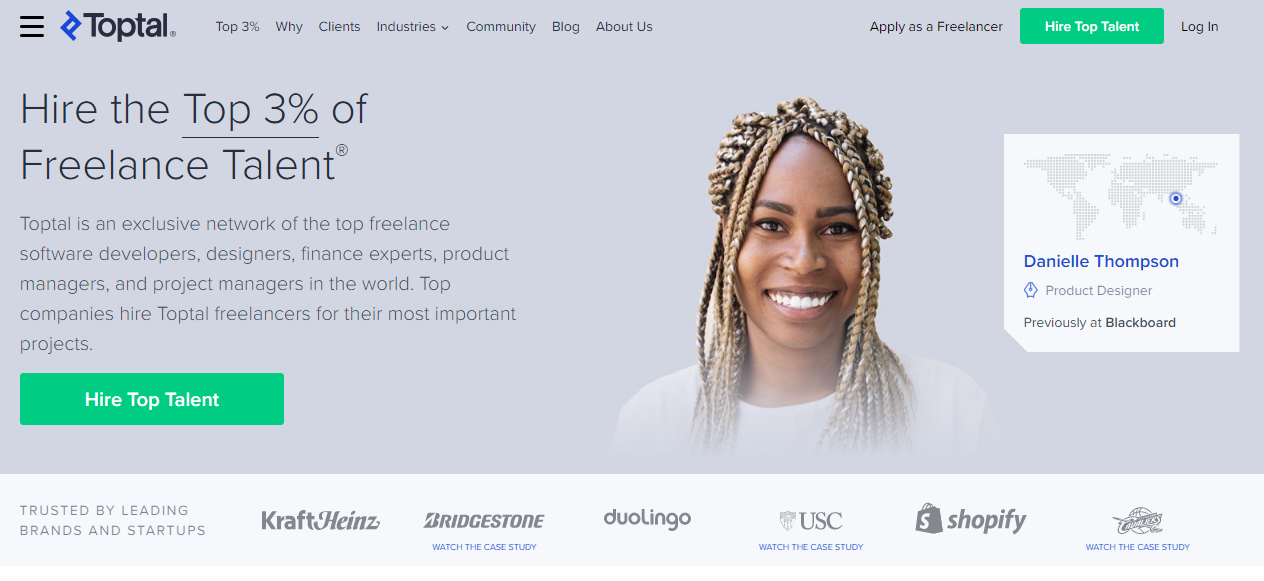 Freelancing type: financial consulting, software development, interim management
Pros:

top-tier companies and talent, free billing and payments

Cons:

Extensive screening process, only for big projects
Toptal is a platform that connects businesses with highly skilled freelancing specialists in their field. Web developers, finance consultants, web designers, and product managers are just a few of the freelancers working at Toptal.
Freelancer applications to Toptal must pass five screening steps, ranging from a comprehensive English evaluation to a project review. This procedure ensures that only the top 3% of candidates gain access to the platform.
After completing all of the steps, you will have access to a range of job postings from top clients and organizations, such as Airbnb and Motorola. However, if you do not pass the exam, your application will be put on hold for a few months.
Toptal features a specialized time tracking and billing solution known as TopTracker. With this service, freelancers will get the complete amount of their offer via Payoneer, PayPal, or a direct local bank transfer.
3. Jooble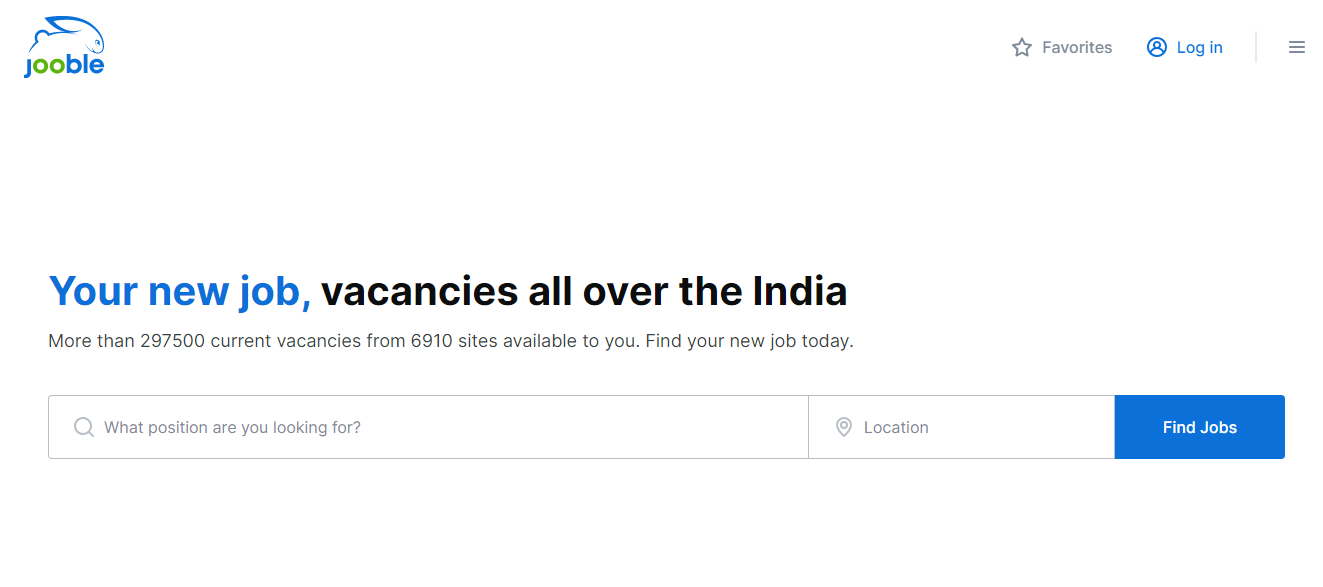 Freelancing type: copywriting, graphic design, data entry
Pros:

Job discovery centralized, email alerts, no registration needed

Cons:

No quick application – must apply from the source of each job opening
With Jooble, job seekers can find jobs from over 140,000 sources worldwide, including online job boards, social networks, freelancing platforms, and classified ads.
By combining multiple online job boards and freelancer platforms, Jooble simplifies the process of finding freelance jobs.
It is only possible to search for jobs in one region on Jooble. If you want to see available jobs in a specific city in your country, you can select it from the homepage.
Freelance work can be found on Jooble without establishing an account. Jooble's search engine can be used to find the desired position by entering the keyword. To find the perfect job, you can consider factors such as work experience, income range, and posting date.
You will be redirected to the original source of the job posting after selecting a search result on Jooble. There you will discover additional information about the job and how to apply.
Sign up for Jooble's email notifications if you want to be notified anytime a new job matching your desired keyword is discovered.
4. Freelancer.com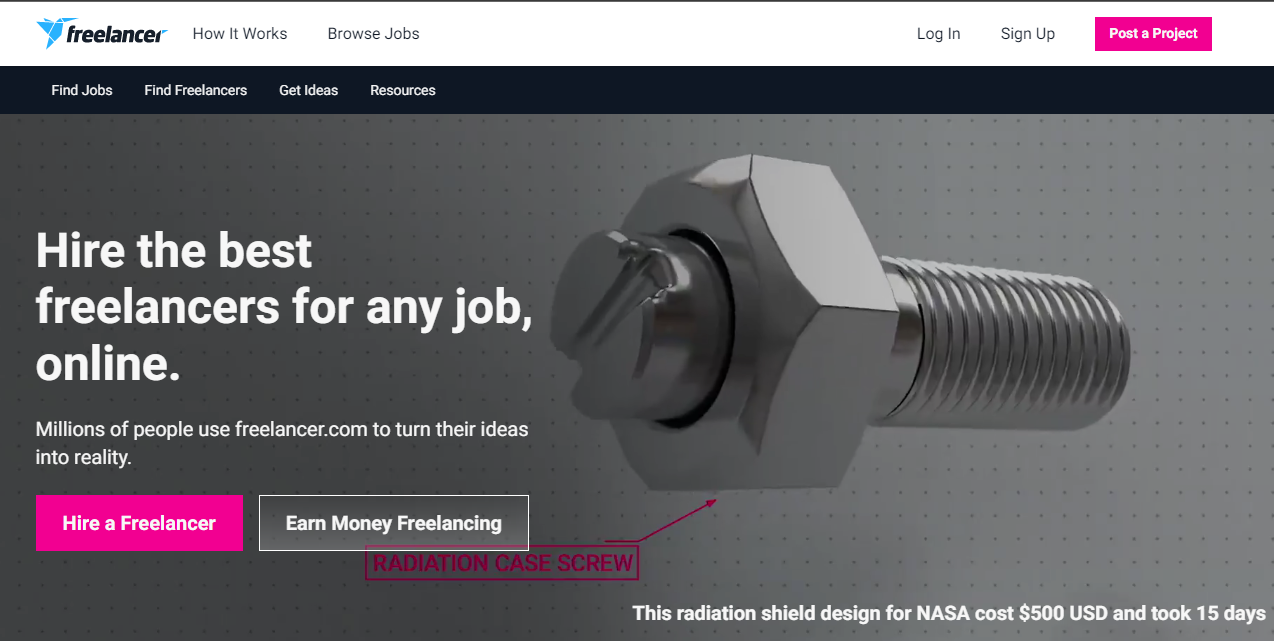 Freelancing type: translating content, developing websites, and marketing on social media
Pros:

Live chat, progress tracker, 24/7 customer support

Cons:

Complex interface, fake clients, and spam applicants
Freelancer.com is yet another freelance website where professionals and businesses from all over the world cooperate on a variety of projects. Due to the extensive spectrum of knowledge, clients may simply locate any type of specialist.
You can register as a freelancer or entrepreneur. To register as a freelancer, you must complete a brief registration form. Include your abilities, educational background, and work experience in your application.
In addition to projects, there are other competitions including visual or design work. Freelancers can benefit from these competitions by earning money and profile reviews.
After completing a project, each freelancer will be paid in full. However, 10% of your overall revenues from contests and fixed projects are deducted by the platform. As with most freelance sites, you can withdraw funds via PayPal or wire transfer.
5. Upwork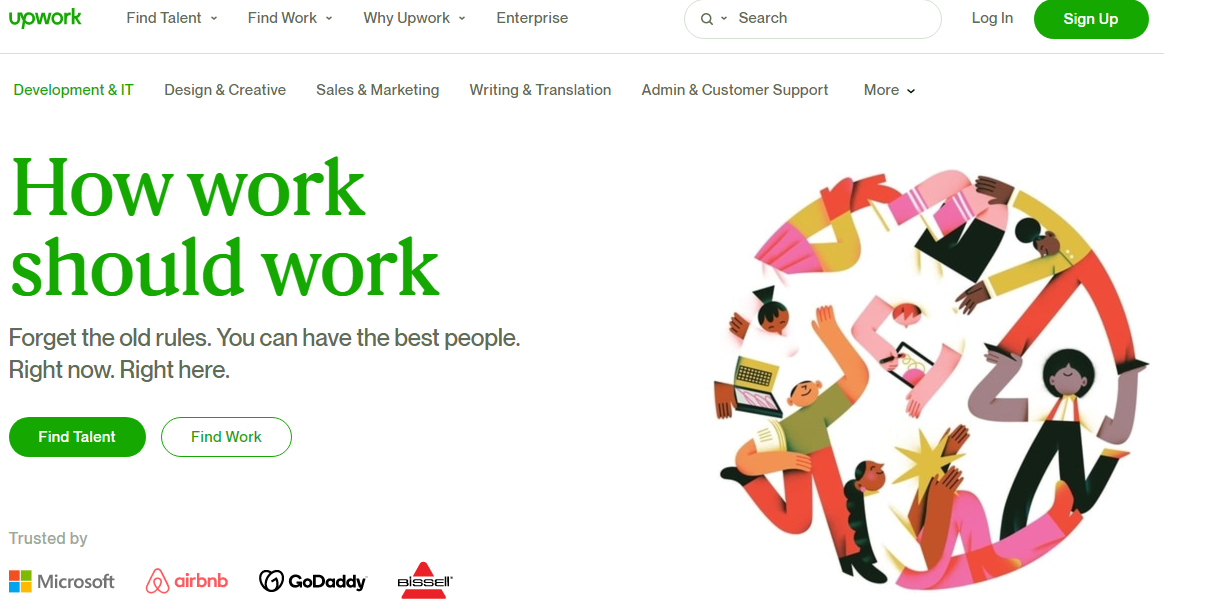 Freelancing type: marketing, programming, web design
Pros:

reputable clients, budget-based projects, payment protection

Cons:

a lengthy selection process and a high service fee
Upwork is a platform for freelancing that connects clients and freelancers from across the world.
The platform offers a variety of areas, including web design, software development, customer support, and accounting.
Besides posting jobs and engaging talent, clients can also purchase predetermined services from the job and project catalogs. You can also advertise your services on the job board if you are a freelancer.
To become a freelancer on Upwork, you must first create a profile. Include information about yourself, your skills, and your work experience. When bidding on contracts or pitching a project, keep in mind that clients will evaluate your qualifications based on a review of your profile.
With Upwork's sliding scale, the more you work, the less you are paid. For instance, the commission price begins at 20 percent for the first $500 invoice and subsequently decreases as more money is received.
There are multiple withdrawal alternatives, including wire transfer, PayPal, and direct deposit.
6. Flexjobs

Freelancing type:

content creation, transcription, writing

Pros:

30-day money-back guarantee, reliable customer support 

Cons:

Some premium jobs are not available on the platform
Flexjobs is a website that specializes on freelance, part-time, and full-time flexible and remote employment possibilities. There are numerous areas, including education and training, journalism, and writing.
Flexjobs verifies the legitimacy of every job posted on the website. It validates and screens all job openings, screening out scams and fraudulent businesses. In contrast to other online job boards, this freelance website does not have any adverts.
In order to find freelance work, people must sign up for a membership. There are four possible plans, beginning at $6.95 per week. Each subscription provides job postings, career advice, and free skills testing in addition to unlimited access to job postings.
Prepaid cards or PayPal can be used to pay for a subscription. There is a 30-day satisfaction guarantee, so if you are unhappy with the service you may receive a complete refund.
7. SimplyHired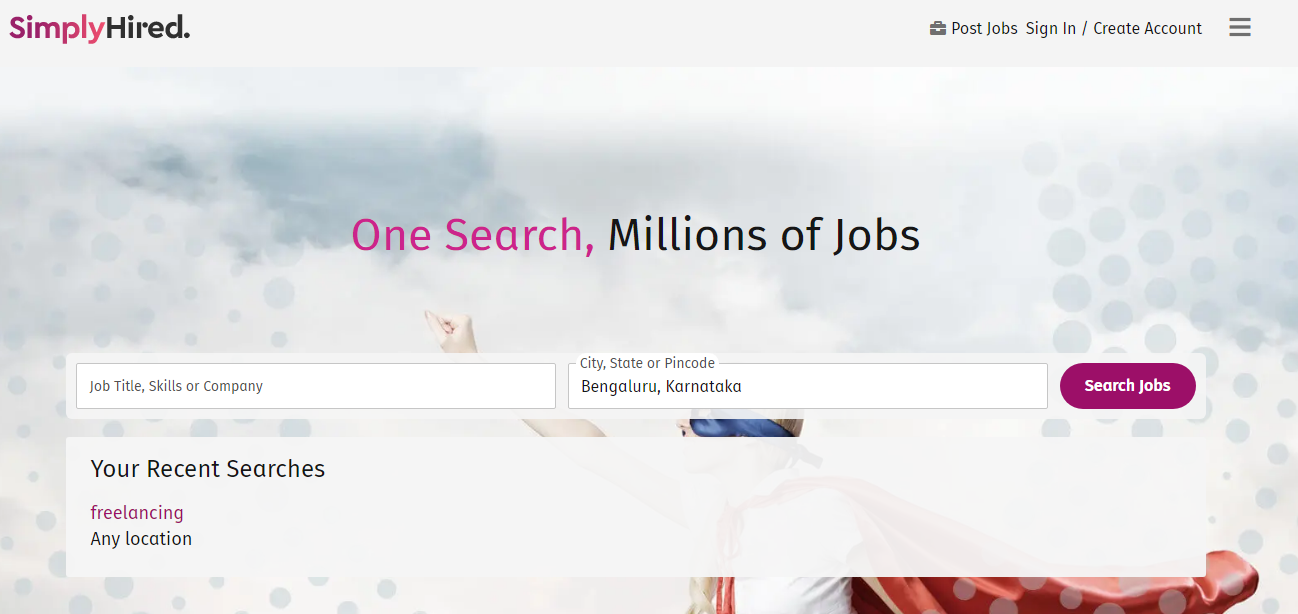 Freelancing type:

HR, finance, data entry 

Pros:

free job tools, helpful guides, email alerts

Cons:

Unreliable third-party spam
SimplyHired is a free job board where employers can post job openings. It also compiles employment opportunities from throughout the Internet onto a single page. The website's user interface is uncluttered, making it simple to browse jobs by category.
There are several options for freelance work in various industries, including finance and marketing. To find a certain position, simply type relevant terms into the search box. To obtain more relevant results, please include your city, state, or ZIP code.
Job-seekers can also access the corporate pages to learn further information, such as a pay summary, a list of available benefits, and employee reviews.
People can search SimplyHired without creating a profile. However, registering for an account will get you access to a variety of employment resources, including a wage calculator and résumé creator.
8. Guru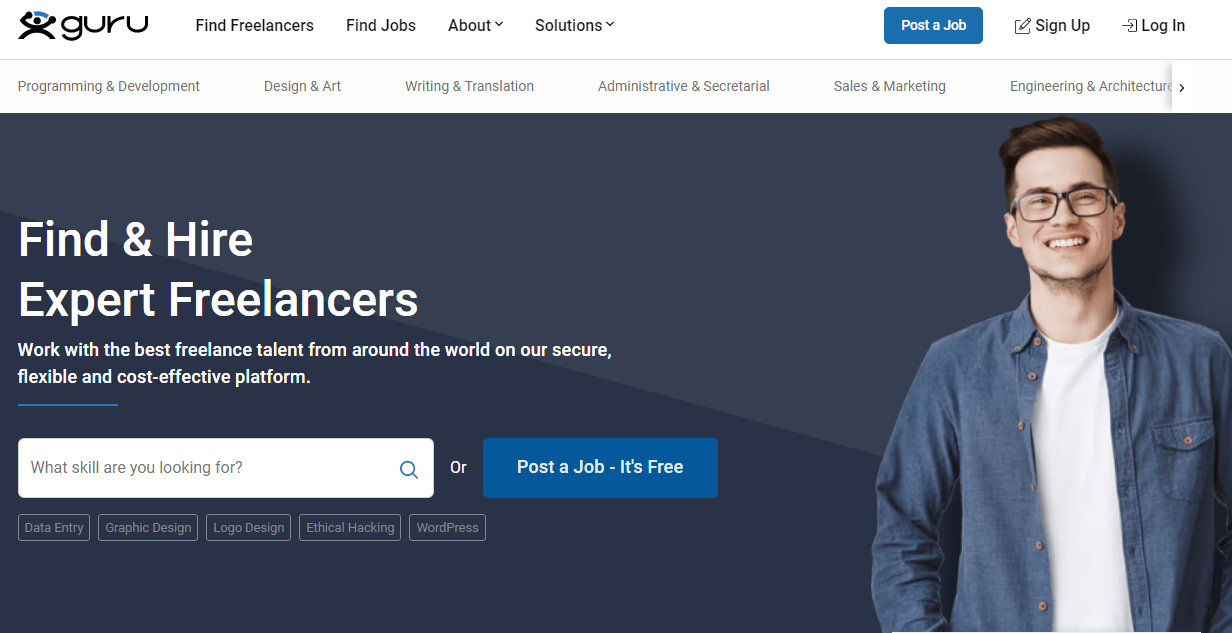 Freelancing type:

administrative, marketing, and programming

Pros:

customized job listings, secure payment, free membership

Cons:

The possibility of fake clients
Guru is a platform where freelancers and businesses from across the world may collaborate. Companies can employ a variety of professions, including programmers, graphic designers, and product managers.
This platform for freelancers makes it simple to view job postings and submit bids to clients. Begin by registering and creating a freelancer profile. The system will provide career suggestions based on your skill set and professional history.
Both long-term and short-term jobs can be bid on by freelancers at predetermined prices. In addition to PayPal and wire transfers, you can withdraw your winnings in many different ways. Freelancers are assured of timely payment through SafePay protection.
Every freelancer who registers on this website receives a complimentary basic membership. However, paid membership levels give more features to distinguish your profile.
9. LinkedIn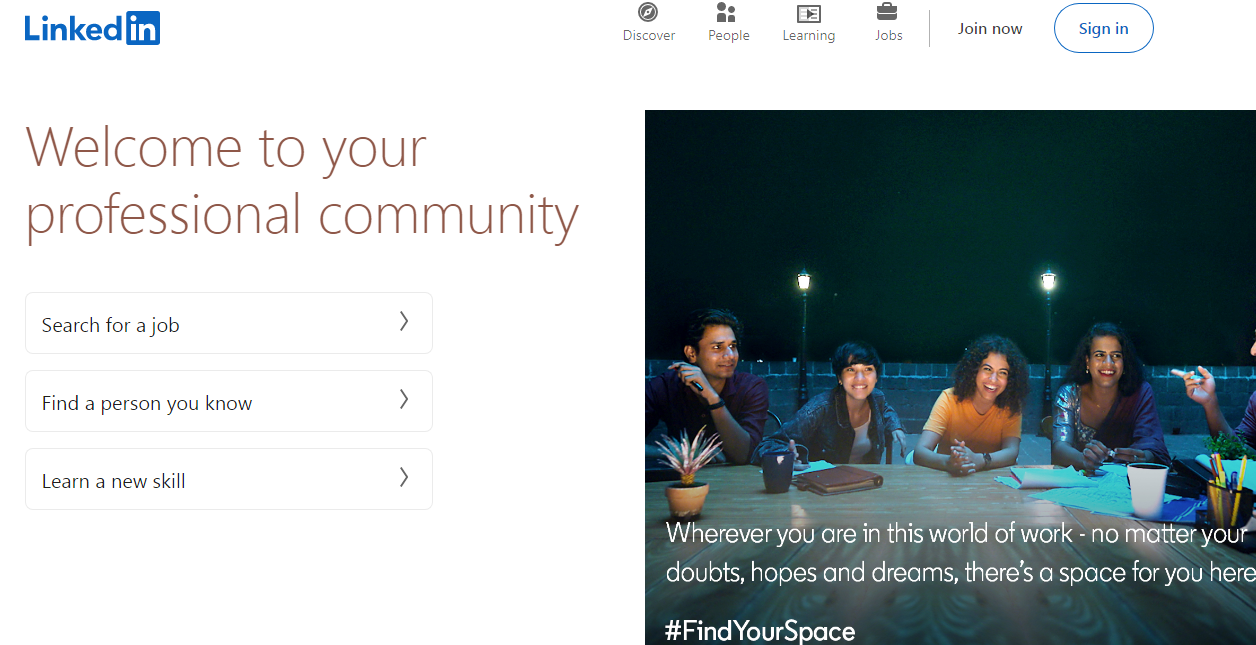 Freelancing type: writing, translating, graphic design
Pros:

opportunities to network, up-to-date news, cost-effective

Cons:

malicious content
LinkedIn is one of the most famous job sites that makes it simple to get employment in a variety of areas. It is also a social networking site where professionals can connect and communicate.
Simply register and create a profile to begin. Include as much detail as possible, including your talents, education, and employment history. A complete LinkedIn profile can increase employment possibilities.
Adding a new post might help increase the visibility of your profile. For instance, if you are a freelance writer, publish a post detailing your experience and upload your resume. Your profile may be discovered by potential employers, who may then make you an offer.
LinkedIn job ads are another excellent resource for finding freelance work. To find the required freelance position, you must utilize relevant keywords and sort the results by date.
10. Behance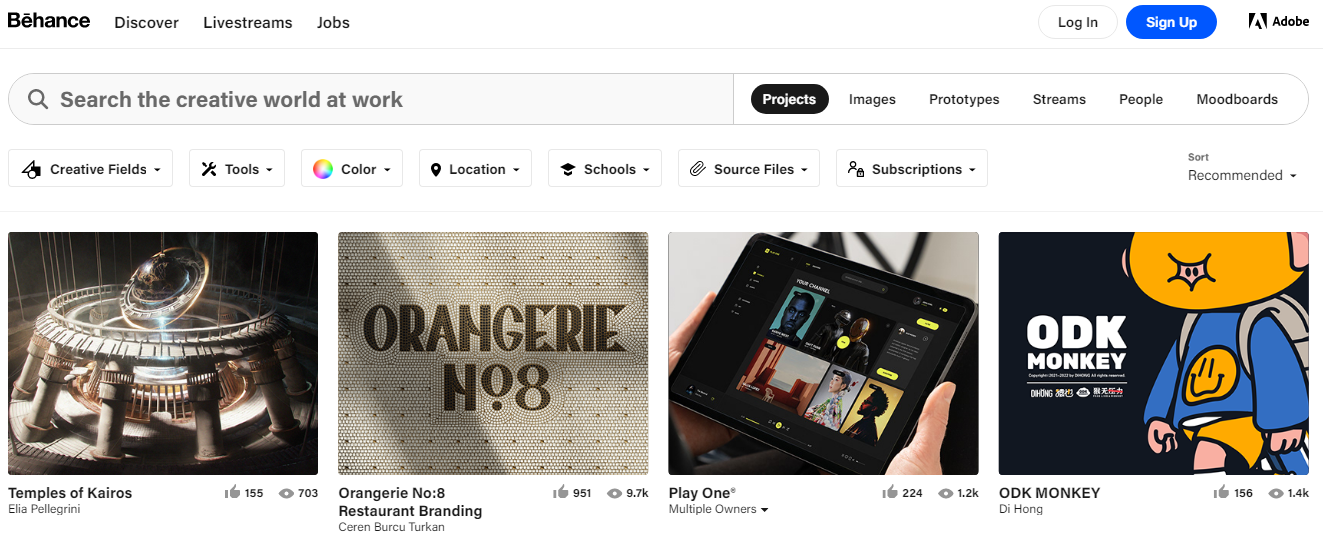 Freelancing type:

photography, illustration, web design

Pros:

broad audience, networking opportunities, individualized content

Cons:

Limited file size, competitive environment
Behance, unlike the preceding sites on our list, is a social network for creative talents. This website is used by people all around the world to create portfolios and share their creative work, ranging from animations and illustrations to website and graphic design.
Behance provides a venue for independent graphic designers, web designers, and animators to be discovered by potential employers. Sign up for an account and create a profile to get started.
As it is a networking site, the more profiles you follow, the greater the number of posts that will appear in your feed. It provides the opportunity to locate other freelance work options.
Behance also offers a job board. Every freelancer will receive a unique job recommendation based on their skill sets and category, making it easier to discover freelance work that corresponds to their knowledge.
Quick Links:
Conclusion Best Freelancer Websites 2023
Here is the 2022 list of the greatest freelance websites for finding work and making money online. Finding independent work need not be difficult. The majority of websites merely need you to create an account and profile.
However, before creating an account, make sure to double-check how each freelance website operates. Consider the payment system, manner of withdrawal, and service cost.