If you want to know how much Brilliant.org pricing costs, you've come to the right place.
Here, I talk in detail about how much Brilliant.org costs and what its different plans are.
If you want to learn about technology-related topics online, you've probably already heard of Brilliant.org.
Brilliant.org Pricing 2023
In the past few years, this online learning platform has been getting a lot of attention for trying to do the impossible: make learning about STEM subjects as fun as possible.
Sue Khim, who started Brilliant.org, had a personal "eureka!" moment when she was a child.
Khim and her dad did something every week. Khims's dad gave her different math puzzles while they were on long car rides together.
Young Khim was having a hard time with a very hard puzzle. When her dad saw that she was having trouble thinking, he said, "Try solving the puzzle from the outside in."
Khim still thinks that STEM subjects are interesting and mysterious, not hard to understand or scary. By the numbers, it seems like a lot of people want to learn STEM subjects in the same way.
In 2022, more than 10 million people had signed up to use the Brilliant site, and 2 million people used the Brilliant.org app every month. What is it about the site that makes it so popular? Let's find out.
What is Brilliant.org?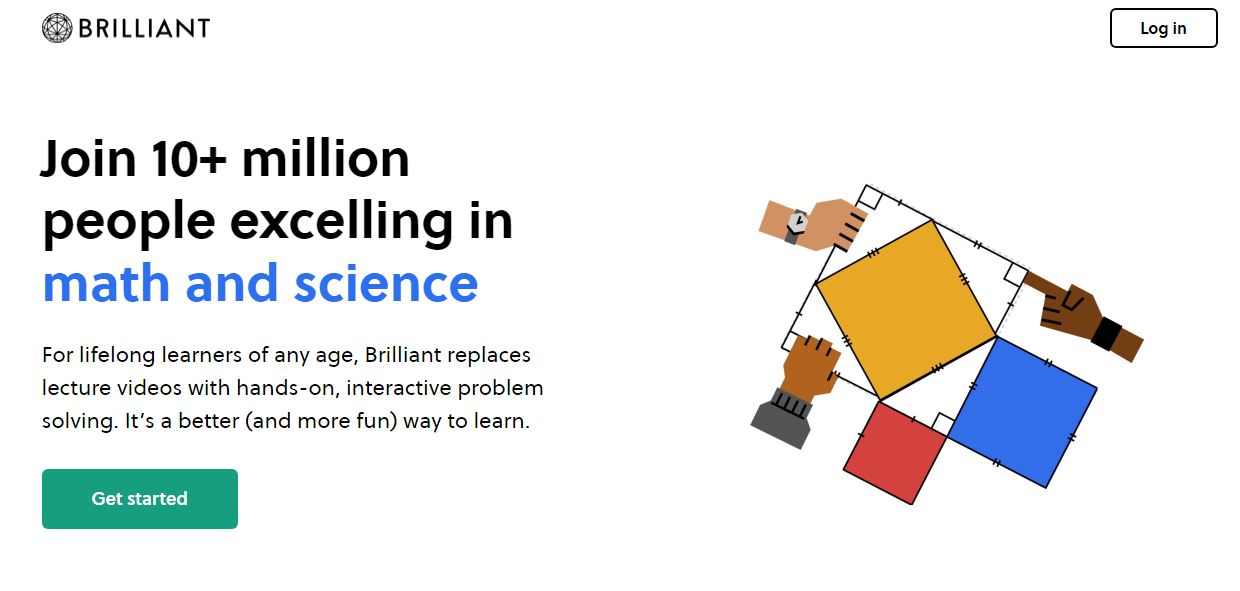 Brilliant.org is an online learning platform that is run by the community. It was started in 2012 by Sue Khim, who is known for being a leader in online education.
Forbes also put Khim on their list of "30 under 30 in Education" because of her work on Brilliant.org.
Brilliant.org has online classes in a number of STEM-related topics. At the moment, their catalogue has more than 70 courses on topics like neural networks, solar energy, and cryptocurrency.
Of course, these are just a few examples. In a later paragraph, we'll look more closely at everything that Brilliant.org teaches.
Don't get the wrong idea: Brilliant.org is not just a boring collection of video courses.
The people who made Brilliant.org know that it takes more than just watching hours of video lessons to really learn something new.
Especially when it comes to hard skills like quantum computing, linear algebra, or programming with Python.
It is for this reason that each lesson includes interactive quizzes, exercises, and daily challenges. All of this is done to keep Brilliant.org students as interested in their lessons as possible.
One of the most interesting trends in E-learning is the use of games. And Brilliant.org is one of the platforms for learning that has fully incorporated this idea into the way it teaches.
These memberships cost the following:
Free: $0.00

Premium costs $15 per month or $150 per year

Platinum costs $25 per month or $250 per year
Platinum membership is the way to go if you want to get the most out of what Brilliant.org has to offer. But no matter what level of membership you choose, you can be sure you'll get a good education at a price you can afford. 
How Much Does Brilliant.org Cost?

Brilliant.org is a non-profit group that helps everyone get an affordable education. Their prices are very fair, and they offer many different ways to pay so that everyone can get the education they need.
Brilliant.org has everything you need, whether you need help with math or science. In this article, I'll look more closely at the prices that Brilliant has to offer so you can get a better idea of what they have to offer.
It depends on the kind of expertise you need, of course, what the exact price will be. There is no monthly fee for a basic account, which allows you to ask one question per day and read the answers of other users.
An unlimited or monthly subscription plan is $49.99 or $79.99 per month for more detailed answers or longer conversations with experts.
Students can also get lower prices from Brilliant. High school and college students can get a monthly membership for $9.99 that gives them the same benefits as the basic account.
You can even apply for scholarships and other forms of financial aid to help pay for your membership to Brilliant.
So, if you've been looking for an easy and cheap way to get the education you need, Brilliant.org is the place to be.
With their low prices and large number of experts, you're sure to find what you need. So don't wait, sign up right away.
Brilliant.Org Premier Membership Price
As a member of Brilliant.org, you'll have access to all of their online courses and practise problems, as well as special content and features like forums, newsletters, and discounts that are only available to members.
The Premier Membership gives you access to all of these things and more, including the following:
Their team of experts will help you first.
-A one-year subscription to their twice-weekly newsletter with topics like math, biology, and computer science.
You can speak directly with other Brilliant users around the world in their private member forum.
You can't afford not to be a Brilliant.org member because the most basic membership costs less than half of what many other online course providers charge.
Brilliant.Org FREE Plan
Brilliant.org gives you access to a lot of content for free, including: over 1,000 practise problems, video lessons, articles, quizzes, and more.
The FREE plan is a great way to try out Brilliant.org and see if it's right for you. Plus, it's a great way to get better at math and science. So, why don't you just do it? Join the FREE plan right away!
Brilliant.org is the place to go if you want a full learning platform that will help you improve your math and science skills.
With its free plan, you can use more than 1,000 practise problems, video lessons, articles, and quizzes to help you understand key ideas in math, science, and other subjects.
Brilliant.org can help you reach your goals, whether you're a student who wants to get better grades or an adult who wants to stay up-to-date in your field. So why hold out? Sign up right away for the free plan.
Who is the FREE plan best suited for?
The FREE plan is best for people who are just getting started with online marketing and want to see how everything works.
It's also great for small businesses and entrepreneurs who don't have enough money yet to pay for a plan. With the FREE plan, you can make a website, get people to visit it, and see how everything works.
You can switch to a paid plan when you're ready to take things to the next level.
Overall, I would recommend the FREE plan to anyone who is just getting started with online marketing or to small businesses that are on a tight budget.
Sign up now to start making your website and getting people to visit it! You won't regret it. ​
Online reviews of Brilliant.org

Most of the online reviews of Brilliant.org are very good. People often talk about how well all of the courses on Brilliant.org are made to be like games and how great the customer service is on the platform.
Even though I didn't find any bad reviews, I did hear from some users who had trouble cancelling their subscriptions.
The customer service at Brilliant.org is known for being quick and helpful, so these problems may not be a big deal despite the fact I cannot confirm or deny them.
From what I've read in the reviews, the platform also lets you get your money back if you're not happy with the service or if you accidentally sign up for something.
Brilliant has a score of 4.6 on TrustPilot. Users of TrustPilot point out how well the customer service is run ( prompt responses, helpfulness, flexibility with customer requests, etc.)
The users also like the content that Brilliant.org has to offer.
Some of the best things about the content that Brilliant offers are the variety of courses, the fact that the learning materials are set up like games, and the fact that it can be used by a wide range of people.
Common Sense, which is the best place for parents and schools to get advice on technology and entertainment, has also written a positive review of Brilliant.
Emily Pohlonski, the Michigan Science Teacher of the Year for 2021, wrote a review of Brilliant.org for Common Media.
According to her, the platform provides high-achieving students with an excellent platform for interacting with each other and learning from each other.
So, if you're a teacher and you're reading this, Brilliant.org might be a new way to help your smartest students get to the next level.
Quick Links:
Conclusion Brilliant.org Pricing 2023
Brilliant pricing is a great choice for small businesses and new companies just getting started. It gives you the freedom to offer lower prices to your customers while still making money on each sale.
This can be especially helpful if you're trying to reach people on a tight budget who might not be able to buy your product or service otherwise.
There are a few things to keep in mind if you decide to use Brilliant pricing.
First, make sure your prices are low enough so that you still make money on every sale.
Second, keep an eye on the prices of your competitors and change yours to match. Lastly, be ready to offer deals and discounts if you need to bring in customers and keep your business going.
Overall, Brilliant pricing can be a great way to get your business started. Just make sure to do your research and set your prices carefully so that you can still make money on each sale.
If you're not sure if Brilliant pricing is right for your business, don't be afraid to ask a trusted consultant for more information.