How to Get the Middle Finger Emoji? It's one of the fastest coming up search terms on Google and hence I decided to scribble this post down.
Basically I'll just show you the simplest possible steps to get the Middle finger emoji on your Android devices. But hey, android is full of emojis already right?
So what's the big deal about this Middle Finger emoji?
In order to explain all of that, let me start with the basics.
What does the Middle Finger Mean:-
I can't be vulgar over here, so I'll just keep it simple.
The middle finger means the second finger if you count your fingers starting from the index finger on the right side, of your right hand.
But that's not why it took Android so much time to update itself with the emoji with Middle finger, in fact, the real reason is, showing someone the middle finger, is an obscene hand gesture, something that's of an extreme insult.
Love history?
Let me tell you, the middle finger gesture isn't a creation of our generation, or our grandparents either! Instead, it dates back to ancient Greece periods! I'm talking thousands of years back in history, that's where this gesture was born.
So enough with the chit-chat, let me show you how to get the middle finger emoji android.
How to Get the Middle Finger Emoji:-
So okay directly to the topic, there are quite a number of ways for you to get the emoji. One of the simplest ways is to learn how to update emojis.
And I'll be showing you that, but before that let me show you the simpler methods because chances are they will solve your problem already.
How to Get the Middle Finger Emoji on Whatsapp:-
So I'll just cover the basics steps for you to get the new emojis on WhatsApp. (If you get the emojis using this method on Whatsapp, you can use the same method for any other platform!)
Open your Whatsapp messenger, and bring the keyboard up and click on the emojis icon.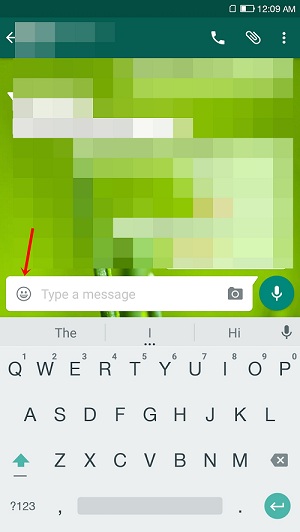 Now click on the Human face emoji.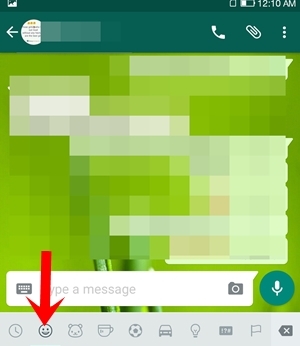 And scroll down. You should see the Middle finger emoji right there.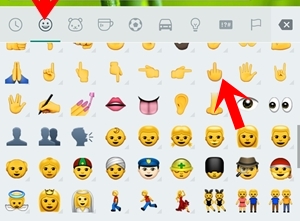 This means that your android version is up to date, and you have the middle finger emoji on your cell phone.
How to Get the Middle Finger Emoji Everywhere (Even Facebook!):-
You can't use the built-in Facebook emojis option to send a middle finger emoji to someone because Facebook recently removed the middle finger emoji from the platform.
So in order to get the middle finger Emoji, you'll have to update your emojis. And by doing so, you'll also be able to get this emoji anywhere else you want, on any platform of your choice!
So go to Playstore, and search for "Emoji Keyboard".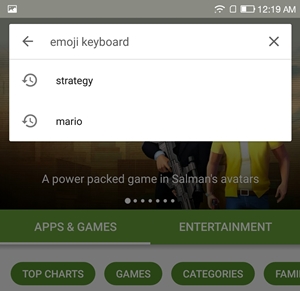 Then find and install the Top-rated Emoji Keyboard.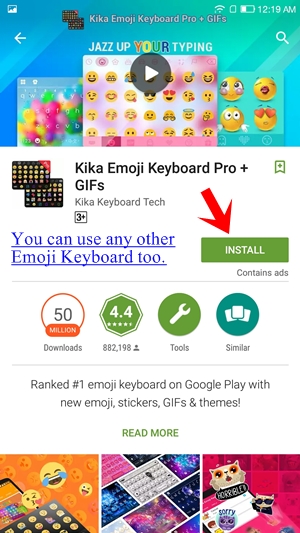 Everyone knows how to download and install simple apps from Playstore, so well there's no rocket science there. Once you've downloaded and installed the Emoji keyboard hit the open button.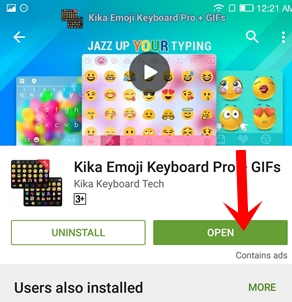 And then Enable the Keyboard. (The enabling process is slightly different depending upon your keyboard, but you can always enable it from inside of the app!)
So once it's enabled, just click on the emojis button while typing your next message, and you'll see the middle finger emoji right there.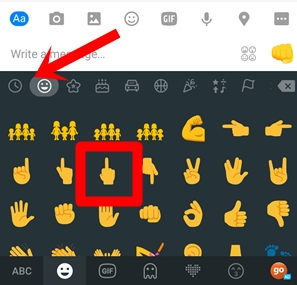 The Best Method -Middle Finger Copy and Paste Emoji:-
If you're too lazy to download the Emoji keyboard and your android version to isn't compatible with the middle finger Emoji, then there's a simpler method for you, and trust me it can't get any simpler.
I'll just put the middle finger emoji here, and all you've got to do is, copy-paste it from here to wherever you're sending it, simple as that.

Just Right-click on the picture and click on Copy Image.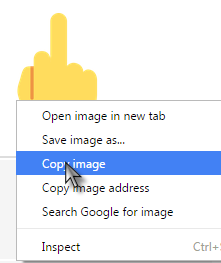 And then just go to your Facebook chatbox, and paste it like normal text. (Ctrl+V) or (Right-click  > Paste).
Done! The middle finger emoji would get sent!
The good news is that this method, that's the copy-paste method works EVERYWHERE! As the emoji is being sent as an "image" and not as an emoji, therefore you can use it at every single place/platform you can imagine.
And for that, you don't need to download anything or update your android versions. Instead, it's as simple as copy-pasting.
Final Words:-
So that was all I had on How to get the middle finger Emoji. I listed as many as three different methods, didn't I?
Updating the Keyboard.
Getting it on Whatsapp by default.
& Copy-Paste method.
I'm sure these should've helped you. If they did, I'd love if you show your support in the comments by leaving your feedback.
Or if you're still unable to get the middle finger emojis on your cell phones, do let me know. But if the above methods did work, you can help this article by hitting the share button.
Must Read: