Guys, I'm back with another massive interview; this time, it's with Shahid Javed, the man behind the camera for Rajnikant vs CID Jokes.
He is, in fact, the director of the RVCJ team and not Ankit Mor. So I messaged Shahid on Facebook and learned more about his RVCJ experience.
I inquired as to whether or not Shahid would be interested in doing this interview, and he enthusiastically agreed.
Now, without further ado, I present to you Shahid Javed's interview.
How Rajnikant vs CID Jokes Become Famous? 2023
Who are you and what do you do, to start? If you could tell me about your educational experience, I'd appreciate it.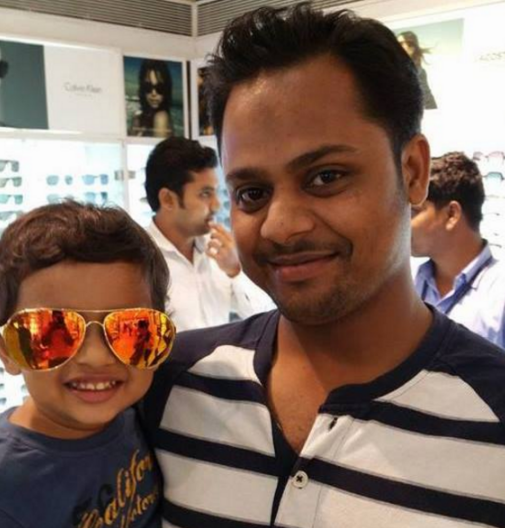 Honestly, there isn't much you can learn from me. Simply a husband and father who is constantly reminded that "DAMN, I am a DAD right now" by his wife and two children.
Seeing myself in this pose is priceless. I am the type of person who goes to inspirational figures for inspiration.
Plus, I have a certificate from an MBA programme! People today care more about your credentials than they do about your actual abilities.
Where did the inspiration for RVCJ come from? When you think about it, what was the primary motivation for that?
It came as a complete surprise. I hadn't anticipated doing anything like that.
Back when there were just a lot of them, I was introduced to Facebook, or more accurately, I was a "ORKUT" migrant who enjoyed reading humorous posts on the platform.
Back when the blockbuster film ROBOT by Rajinikant Sir had just been released, many social media groups, BBM included, were using quotes and lines from the film as content for their pages.
While Salman Khan was busy promoting his upcoming films like "Wanted" and "Bodyguard," the CID TV series was causing a stir in the business.?
Memes about these topics quickly spread across every Facebook page and in every Facebook group. The idea to combine them into a single page containing information about both was then presented to me.
And in that very instant, within those very brief three minutes, the most significant chapter of my life was written: Rajnikant versus the CID jokes.
I was just like any other sluggish guy who fantasised about having fantastic dreams while supposedly "NAPPING." The realisation that I was a Vella sparked many ideas for posts on my Page.
Who started RVCJ, you or Ankit More? Please if you could describe your journey with my audience?
This is a common query that has been asked numerous times. Even though I started RVCJ on 10.10.10, Ankit has played a significant role in shaping the organisation into what it is today.
In the first year of RVCJ, when I only had 30,000 or so members and posted exclusively 'TEXT Jokes,' which apparently had less potential for maximum reach, the community grew slowly but steadily.
Despite the gravity of the Facebook algorithm's importance, I failed to give it sufficient consideration.
Our page grew like a monster until Ankit, who had been finishing his MBA at the time, joined the team and began sharing memes with the greatest potential for virality.
He had a secure job offer from the PEPSI company, but he turned it down to pursue my goals.
It was a big risk for him to quit his job the day we commercialised RVCJ, when shows like PITCHERS were still just ideas on paper.
Mr. Harpreet Bajwa played a critical role in commercialising RVCJ by implementing top-tier SEO strategies on the website.
He has extensive knowledge in the field of information technology and holds a Bachelor of Technology degree, which he put to use as the MNC's Technical Head.
Going against the grain requires courage because it usually means trying something that is both dangerous and foolish. Taking calculated risks, however, is what life is all about.
In addition to these two, many others have helped us on our quest to become India's most popular Facebook page.
Content writers and meme artists are and will continue to be indispensable to the success of our business. Let's not forget the 10 million subscribers who have been supporting us from the start.
If you're already a subscriber to RVCJ, great; if not, we can't help you much. Our RVCJ family is now complete. It was a dream come true for 'JOKERS' like us when we became a full-fledged NEWS/MEDIA House.
How many directors do you have at RVCJ?
Here at the company, we have three Directors. Rizwana Ansari, my husband Ankit Mor, and Harpreet Bajwa.
Extreme acclaim has been showered upon RVCJ in India. What made you so popular that everyone is talking about you?
I believe we successfully established a rapport with the young people. More than 60% of our readers are between the ages of 18 and 35, as revealed by an analysis of our Insight.
Teenagers, college students, and office workers all share a common trait: they get extremely irritated by the end of the day.
To ease their stress, they would really appreciate it if someone could make them laugh and cheer them up.
It's not easy to tune in to your preferred channel while visiting Indian relatives. Some of Sidhu Paaji's "shayari" aren't that good, and you have to work for what you want.
In light of this, it was obvious that our page was the place to go if you were looking for clean, funny content.
I was wondering what were some of the initial difficulties were in establishing RVCJ?
The hardest part was making sure you were always in BALANCE.
Unfortunately, this is something that many modern startups lack, and as a result, they often end up screwing themselves over in the worst possible way.
BALANCE between doing meaningful work that matters to you and your personal life, as well as your professional or academic life, is a key factor in determining your level of success.
It wasn't easy for me to maintain BALANCE either.
Even I felt down when so many people (including close friends and family) urged me to get a "REAL JOB."
I didn't expect to succeed, but I convinced myself that I would and kept working toward my goal. Unexpected events are a part of life.
When your parents found out that you joined Facebook, how did they react?
A common response was "Go Get A Real Job." But I can't say I blame them for having such an outlook; if my child expressed an interest in acting to me right this minute, I'd probably be naive about it for a moment.
Having confidence in one's employment prospects is crucial. Yet, if this is what he enjoys and is passionate about, then it is preferable to let him soar rather than force him to rot in the name of 'JOB SECURITY.
You've risen to prominence quickly; how do you cope? You never know who might see you and want to snap a photo with you.
So, the reply to that question is both humorous and convoluted. I'm not as well-known as I might think.
While it's true that I get between 30 and 40 Facebook friend requests or Facebook Follower notifications every single day, that number is significantly lower than the one you're imagining.
Once people learn I'm the administrator of RVCJ, though, they frequently ask to take selfies with me—which is awesome.
Teens and young adults between the ages of 13 and 23 frequently message me for advice on how to maximise their time on social media.
As someone who wants them to succeed, but wants them to do so on their own, it's a pleasure for me to respond to their messages. Since I enjoy working, the pressure associated with fame is not a problem.
Where do you see RVCJ going from here? Do you aspire to become as successful as Buzzfeed?
Please continue to do interviews like this. (Chuckles) Our elders always tell us to plan ahead, but right now I'd rather enjoy the here and now. We have, indeed, defined the major objectives we hope to accomplish in the future.
The likes for Instagram, Twitter, and even Viber have our full attention. Maybe one of these will surprise everyone and become an instant classic.
However, there is one social media platform where we do not actively participate: YouTube. As a result, we plan to release our own Web series as well as a lot more video content in the near future. And it's very kind of you to put us on par with Buzzfeed now. Without a doubt, we appreciate the elements that contribute to our greatness and success.
I was wondering how you all deal with hate speech on RVCJ Facebook posts. How do you respond to the many hateful comments you've received?
When we were just a Facebook page, the hateful comments would really get under my skin.
But now that our business model is up and running and generating revenue, reading the hateful comments online makes me feel sorry for the people who post them.
If you don't give hate speech much thought, you won't have to deal with it. And I feel a sense of RELATIVE SUCCESS because I have accomplished a lot more than I could have expected just a few years ago.
After you've made it in life, the cruel words of others don't hurt as much.
I could easily earn or strike a deal for the sponsorship of my RVCJ Facebook page with the time and effort I spend responding to such people.
Where do you go to look for material for RVCJ? I'd like to hear your plan if possible.
Try to stay abreast of current events. Don't go into the situation with preconceived notions or expectations. Since their introduction, Twitter and Facebook's Trending charts have been extremely helpful.
These capabilities have been extremely useful in allowing us to create numerous pieces of viral content.
Posting about the Trending Topic with the right hashtags guarantees that your post will go viral. Every Facebook page that aspires to be as successful as us should use this as their general rule of thumb.
How can I improve my life so that I am as funny as Ankit Mor (the man responsible for the Rajnikant vs. Cid jokes)?
By continuing to act in a completely stupid manner. (Chuckles). Becoming like him isn't contingent on your being anyone in particular, which is itself a criterion for doing so.
Very perplexed, right? Pursuing something for the sole purpose of becoming like it is a surefire way to lose your unique identity.
Just be yourself. Aside from how you come across to others, consistency and a sense of humour are essential traits to develop if you aspire to emulate RVCJ's original founders.
Any profession worth its salt requires dedicated work, and this is no different.
How do you compete with pages that have millions of likes on Facebook?
You can't enjoy the here and now if you keep worrying about tomorrow. We thrive off of the challenge of our rivals.
Competitions are healthy because they push us to perform at our best. You could even say that we enjoy the challenge of competing.
To what extent do you guys have access to alternatives to RVCJ? Have any that you could give me?
Except for RVCJ, I can't find any other pages. Though we have broken RVCJ down into distinct sections, such as those devoted to sports, Hindi jokes, videos, and films, these are just the beginning.
How do you typically profit from RVCJ? Which is better: AdSense or affiliate marketing? Can I ask how much of a monthly salary you guys make?
The majority of our revenue comes from Google Adsense, at about 70%, while the remaining 30% comes from affiliate marketing, third-party display ads, and direct client promotions.
Several people have recently asked us how much 'MONEY' we make each month, and it's hilarious to see how many analytical websites have put our monthly earnings at 50–60 lakhs.
I'd rather not discuss our financial situation publicly, as it's more of a personal matter for my family and I. In spite of this, it is adequate for eking out a living in the real world. #KeepGuessing
In what ways can a Facebook page attract sponsors?
It's all thanks to me that I've been able to secure so many sponsors and Bollywood collaborations.
I'm the only one working on establishing connections with businesses in the hope of attracting sponsorship.
Despite having created my page myself six years ago, I rarely have time to post anything on it due to my heavy workload.
However, that is how time passes and how you develop. Doing something for my Facebook Page, which is now my LIFE, includes actively seeking out Bollywood and corporate tie-ups as part of my job.
To stay updated with the latest updates, bookmark this page and share this awesome interview on social media.
Quick Links: