Facetime is a video chatting software for Apple. Have you ever used Facetime on your PC or Android phone?
I am pretty sure that you haven't. Why because there is no Facetime application available for Android and Windows devices. Apple is very protective of its products.
Don't be desperate. There are many applications, which serve the very same purpose as Facetime. So, here I am sharing some of the best Facetime alternatives for Android phones.
How to Use Facetime for Android?
Still, do you want to get the above question to be answered?
Trust me. You can't use Facetime on any non-Apple products, let alone Android!! That's why I am here to give you some breathtakingly awesome Facetime alternatives for Android.
Whenever someone asks you ' How to use Facetime for Android,' let them know that Facetime is a unique application for Apple devices.
Ready to Facetime on Android? Here we go:
#1. Skype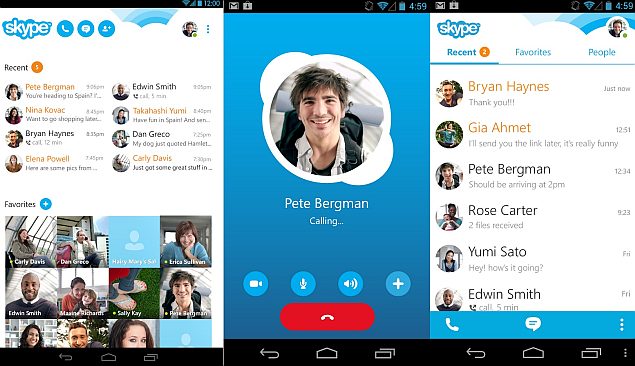 Skype is the best answer for how to use Facetime for Android. You might already be familiar with this. I use it often to chat with my online clients.
It has a broad user base all over the world. Since Skype is a subsidiary product of Microsoft, you can use a Microsoft account for Skype too. Skype is the best video chatting solution for even relatively slower internet connections.
The call quality is superb. If you have a good camera, video quality never sucks. Overall Skype is the better bet. With some extra bucks, you can make calls to cellular numbers also.
Skype is not an inbuilt application. You have to install the same from Playstore.
#2. Hangouts
Hangouts are the Facetime of Google. It comes preloaded on most Android devices. The only requirement is a Google account (everyone has one these days).
Have you ever heard of webinars? It's like a seminar conducted online. The medium of all the webinars I saw was Hangouts.
Unlike Facetime, you can use Hangouts on any platform. For Android, an app is available. The web version of Hangouts is preferred by computer users.
Apple allows you to use Facetime only when you are connected to a wireless network. But Google's advanced data latency management helps you to make calls on Hangouts even with a cellular data connection.
An iOS version is also available.
Don't ever search for ' how to use Facetime ' anymore.
#3. Viber
Viber has got an impressive fan base. Whenever I think of VoIP calls, this app always comes to my mind.
Don't judge the app with its icon. It may seem like a colour-swapped WhatsApp. But the level of service Viber is offering is just awesome.
I have used it even in a 2 G network connection. To my surprise, Viber performed well (Don't expect super-quality with a 2 G network).
Viber also offers video chatting services. But I would suggest using their voice calling service as it is very optimized to use less data. I never experienced a huge data loss (around 10 MB) even on the chat sessions longed more than 1 hour.
#4. IMO
IMO is another useful app with which you can Facetime on Android. I know I am giving you a handful of apps. Try to test all and preserve the one that suits you the best.
If you ever had a longer call on Skype, you might have experienced a call drop. But there are no such problems you can find on IMO. It works perfectly even with intensive applications in the background.
As ice on the cake, you can send beautiful stickers to your loved ones. The user-friendly interface of IMO needs no time get familiar with.
#5. Tango
See, here is another Facetime alternative to confusing you.
The best thing I noticed about Tango is its minimal interface. You can find all the essential buttons at the bottom of the screen. So there is zero chance to get a hand-cramp by sliding and tapping too many times to do a single task.
Do you use a slow connection? Then, leave every other app and download Tango right away. This is the best app that works flawlessly on slow networks.
Tango app is free to download for Android as well as for iOS (for iPod and iPad as well).
Do you want to know how much data facetime consumes? you can find out Facetime data usage report here.
Also Read:
Have You got Facetime for Android?
There is no sense in wandering to get an answer for ' how to use Facetime on Android'. I have given the reason already. The best thing you can do is select any of the apps from the above list.
You can not only make voice and video calls but also send messages and share files with them.
Just go to Play Store and search for 'app name' (replace it with the app you want to install). From the list choose the app and tap Install. That's all.
I think your query gets solved. If you still want to know anything, let me know it via comments.