Pinterest is valued at $11 billion at the moment, with over 2 million "product pins" every day! So no doubt you've been searching over the internet for answers to questions like How to Use Pinterest for Business?
Well, I can go on with facts like Pinterest has over 3 billion searches per day so yeah I do not need to tell you that it's the next big thing when it comes to your business exposure, right?
Not to mention the longer, much longer shelf life your pins get on Pinterest. A recent study showed that Pinterest pins come up 3-4x more times on the feed stream continuously compared to the highly competitive Facebook or Twitter news feeds.
Now when I say "Pinterest for business" I mean it as a source that doesn't just get you to hit in the first couple hours or minutes, but instead as a long-term source of traffic and possible leads.
Now a common question, Why Pinterest works? It was never meant to be used as a "business" tool, right? It was just a calm, casual social network, but still, you see so many business-driven accounts and posts on Pinterest.
The simple fact that our brain processes visuals 60% faster compared to text is what's responsible for the explosion of Pinterest as a business sanctuary.
How to Use Pinterest for Business?
The first and foremost step you're going to have to take if you're going to take away even a small slice of the potential Pinterest holds is you've got to create a Pinterest business account.
Yeah, I bet not a lot of you knew Pinterest has them too huh? Well yeah, it does! Now that's an edge right there. It's a section Pinterest has created especially to let its users promote their business, so no doubt there are going to be couple perks right? Like:-
Analytics
Save button
Promote Pins
Widget builder etc
These are just some of the tools you get access to but well you're getting the idea.
Or, you can also convert your current profile into a business account directly without losing the pins or creating a new account.
Converting Current Pinterest Profile into Business Profile:-
In case you already got a normal Pinterest account you can convert it directly to a business account. Just go to a Pinterest business page.
There you'd find the option saying "convert". Just click on it.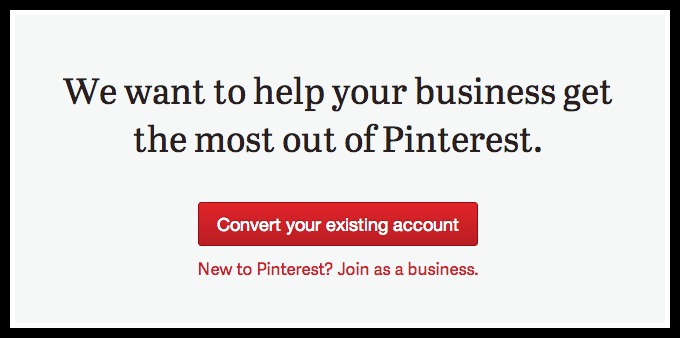 You'd be asked to log in and enter some personal information which isn't really that complicated. Just enter your business' name, business type and you're done!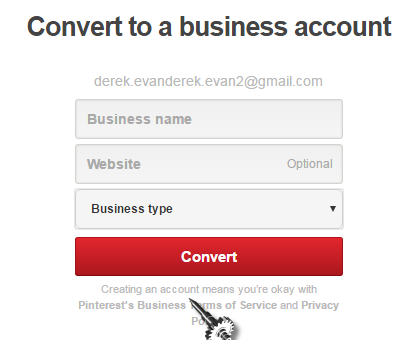 Optimizing the Profile for your Business:-
Now that you've got your Pinterest business account up and running, let's move towards some basic changes/upgrades you should make to your account to make the most out of it.
Upload your business logo as the profile picture.
Add a Website.
Try to use your business name in the Pinterest username so that you get an optimized URL.
In the bio section, try to get some keywords you're trying to rank for.
That's pretty much about it. Once you've completed the profile, let's have a look at how to use the features.
Rich pins are the feature I use and love most about Pinterest's business accounts. They're additional information, interactive buttons on Pins which let people do various things or inform them about something.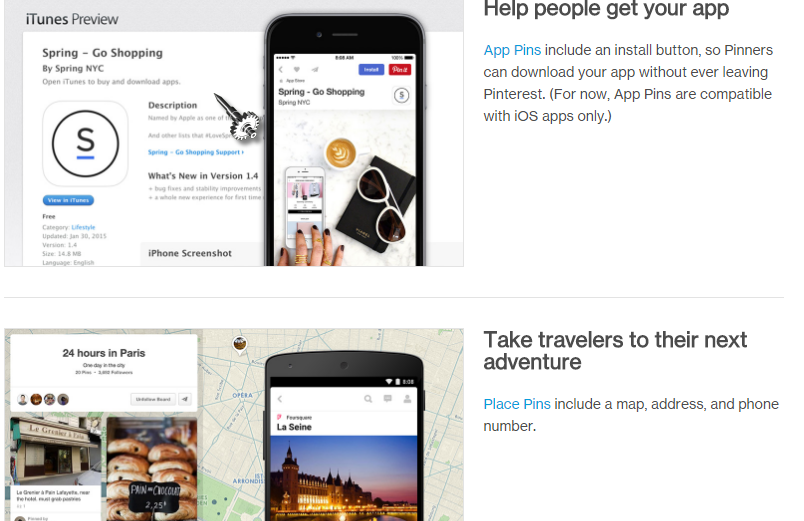 Like if you've got an App, you can directly let people download it by using an App Pin on it with a "download" button.
There are 6 types of Rich pins supported at the moment:-
App
Movie
Recipe
Articles
Product
Place
They all have different functions and uses but they all let you add something to the pin, hence they have a mad kind of conversion and engagement.
Brand Oriented Boards:-
Pinterest offers boards as you probably already know, what you don't know is these boards are actually promotional gold-mines.
Pinterest uses an interlinked algorithm, so here are some tips which will help you explore your audience reach:-
Create boards that contain "keywords" which people actually "search". For eg. "Evan's Bakery" is a really good keyword but people don't search for it, rather "Best Baking Tips" has a much better search number. So go for it, and then add your "branding". Something like "Best Baking Tips by Evan's Bakery".
Here are some real-life examples of what people actually "search for" and the types of keywords you should be using.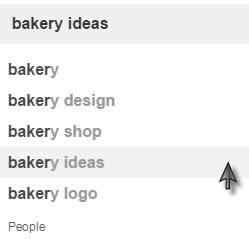 Curate other "similar" and related content on your boards. This will gain you more "interested" followers without you actually needing to create something new! (And luckily it's totally legal!)
Build Influencer Relationships:- A good relationship goes a long way! I can't even begin to explain the potential just one single share from an Influencer has. It can reach thousands, and re-pins will convert it into millions! So for anyone considering Pinterest as a "business" opportunity, even if you're a beginner wondering How to Use Pinterest for Beginners , influencer relationships are a must.
Final Words:-
So that was all I had on How to Use Pinterest for Business folks. Hope this piece shed some light on how you can get professional Pinterest business account and how to use it to your benefit. If it did, I'd love to hear your feedback in the comments section.
Also do let me know if you've got some more ideas related to the topic, or if you've got some doubt lingering around your brains related to the topic.