Throughout the last decade, Udemy has transformed from a fledgling startup to one of the leading digital learning platforms. With more than 35 million students around the world and 130,000+ courses available in over 50 languages taught by 25,000 instructors, its impact on how we learn and teach cannot be denied.
As we look forward to 2023, it's evident that Udemy will become an even bigger player in online education, continuing to expand and provide new opportunities for users across all industries.
In this blog post, we'll explore current and projected user metrics such as student count per country & course offerings alongside instructor growth trends throughout the next year. Let's take a closer look at what these stats show us about Udemy's future success!
Udemy Statistics for 2023 (At a glance)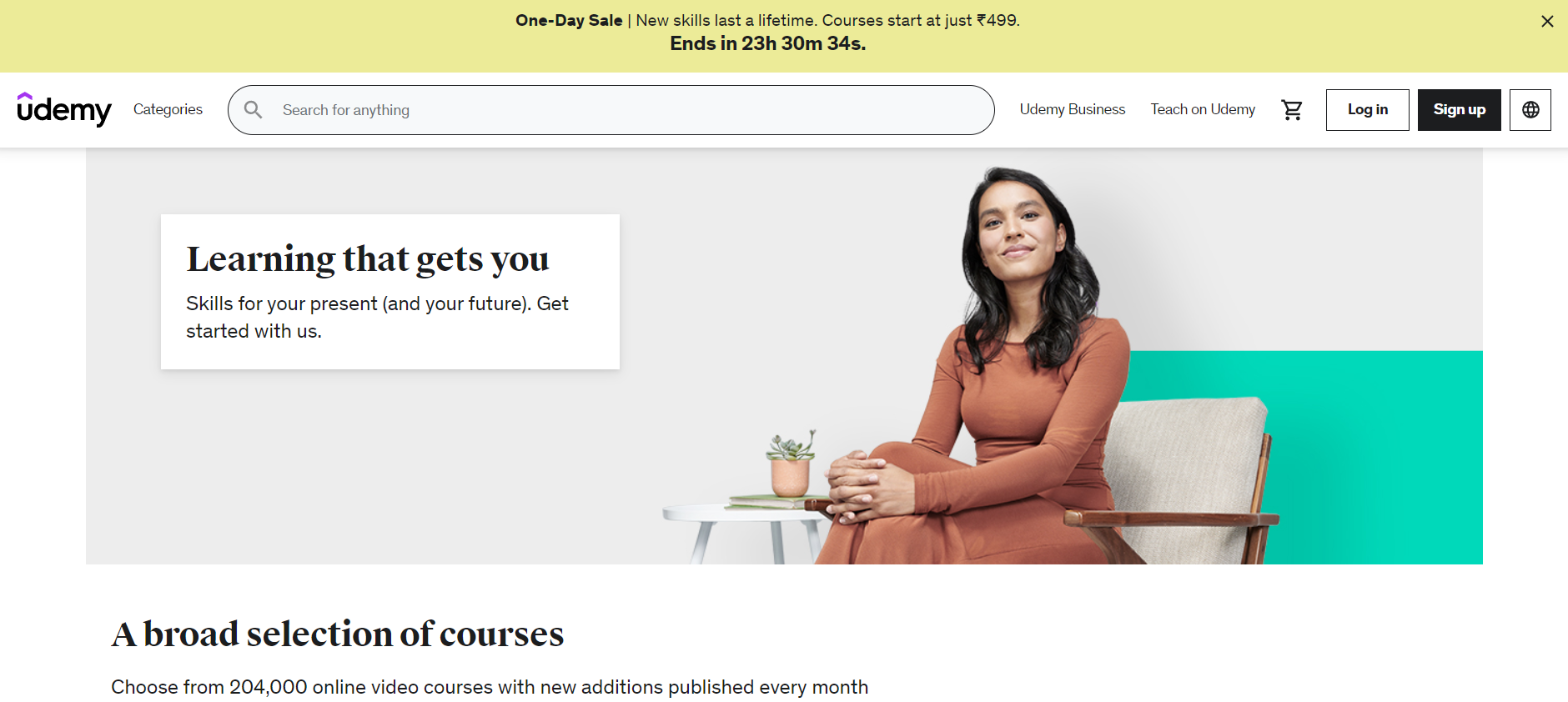 Udemy, the online learning platform, seems to be making waves in the education sector. Since its launch in 2010, it has seen a steady growth in its user base, reaching 30 million students globally as of 2021.
It is expected that Udemy will continue to grow in the coming years, with experts predicting that by 2023, it will have around 50 million users worldwide.
The platform offers a wide range of courses, from traditional educational disciplines such as Mathematics and Science to specialised courses like digital marketing and web development. With each passing year, more specialised courses are added to their catalogue and the number of instructors teaching on the platform increases.
In 2021 alone, Udemy had over 65 thousand active instructors who have published over 130 thousand courses. This number is expected to grow further in 2023 with more than 80 thousand instructors providing content to over 150 thousand different courses.
Udemy has also gained recognition from various independent sources across the globe as an effective online learning platform. For instance, Business Insider included it on their list of "The Best eLearning Platforms of 2021" while Learning Solutions Magazine recognised Udemy's online academy for Excellence & Innovation Awards 2020 and 2021. Moreover, various research studies have demonstrated that Udemy provides quality content for learners of all ages and backgrounds.
This growing popularity is most likely due to its affordability – most courses cost less than $200 dollars – but also because students can learn at their own pace or even access unlimited course material with some subscription plans offered by Udemy.
Additionally, learners can also get access to certificates upon completion of certain courses which could help them gain recognition in their professional field or boost their career prospects.
It is clear that Udemy has been successful in establishing itself as an effective online learning platform which caters to a vast international audience with its quality content and easy accessibility options.
Now with nearly 50 million users and more than 80 thousand instructors worldwide projected for 2023, it certainly looks as if this trend will only continue in years ahead.
Ranking Udemy Statistics
Udemy is an online learning platform that allows users to create, share, and take courses on a variety of topics. As one of the largest educational platforms in the world, it has become increasingly popular with learners and instructors alike. In this article, we will provide an overview of Udemy's ranking system and how it can be used to measure success on the platform.
At its core, the Udemy Ranking System is based on engagement metrics from both learners and instructors. These include such things as course completion rates, ratings, comments, reviews, etc.
The ranking system uses these metrics to assess relative performance among courses by genre or category. This allows instructors to get a better understanding of how their courses are performing relative to others within their given field. It also helps learners find courses that may be more relevant to them and their learning needs.
The Udemy Rating System also takes into account other factors such as user activity levels (e.g., number of login sessions), course popularity (how many people have enrolled), instructor engagement (e.g., number of lectures delivered), total sales (how much money each course has generated), etc.
All these pieces of data are combined into a composite score that is then used to generate rankings for individual courses within a specific category or genre. Rankings can range from 1-10 with 1 being top and 10 being bottom in terms of overall performance on the platform for that given period or quarter.
The rankings are updated regularly so instructors can track progress over time and make necessary adjustments if needed. They also provide important feedback loops for instructors who want to gain insight into what works best for different types of students or markets they may be targeting with their courses overall.
Furthermore, most courses on Udemy offer lifetime access which means users can review material at any time regardless if they are actively participating in it or not; this gives instructors even more flexibility when making changes based upon student feedback through the ranking system itself over time too.
Finally, while rankings help give an indication of how successful a particular course is doing on the platform overall, they should not be taken as an absolute indicator of success nor should they dictate whether or not people decide to purchase a particular course because there are other factors involved such as pricing strategies and promotional campaigns that could affect user behavior too when making decisions like this one ultimately comes down personal preference more than anything else really!
Udemy Courses Statistics
Udemy is a leading online learning platform that offers thousands of courses in various categories. It provides students and professionals alike with convenient access to the latest information and skills they need to succeed in their fields. With more than 50 million users, it's no wonder that Udemy has seen such an incredible success rate over the past few years.
In 2019, Udemy released its annual statistics report, offering an overview of how well its courses were doing. Here are some of the highlights from the report:
1. Udemy had more than 50 million users in 2019, up from 40 million users in 2018.
2. During this time, there was an average of 10 new courses being added each day – totaling over 130,000 courses at the end of 2019! The number of active instructors also grew to 80,000 during this time period.
3. In terms of engagement, students spent 6 billion minutes learning on Udemy – that's 300 centuries worth! On average, learners completed 2 courses each year and took 45 minutes per course per week on average.
4. Many students were able to find success with their new skills – 35% reported getting a raise or promotion after completing a course on Udemy! Additionally, 44% reported that they started a new career or business as a result of taking Udemy classes.
5. The most popular subject for Udemy users was Business & Finance related topics with 17% of all enrollments dedicated to those areas alone! Other popular subjects included IT & Software (15%), Office Productivity (8%), Personal Development (7%) and Design (6%).
6. Nearly 75% of all enrollments came from outside the United States – showing just how international the reach is for these courses! India took top spot with 16%, followed by Brazil (6%), Mexico (6%), Turkey (5%) and Germany (4%).
7. Students also showed preference for mobile devices when taking their classes; mobile accounted for 38% of enrollments while desktop made up just 34%. Tablets also saw some popularity accounting for 28% enrollment share during this time period as well!
8 . Finally, one major statistic from 2019 was that around 85 billion hours were spent learning languages on Udemy alone – almost double what it was back in 2018! This shows how powerful language-learning can be and how much potential it has moving forward into 2020 and beyond!
These statistics show just how successful Udemy has been over the past year – not only did user numbers grow significantly but so did engagement levels and popularity among certain topics & skill sets.
Mobile devices have become increasingly important in terms of enrollments which shows just how important it is to keep up with technology too – something many instructors will need to stay aware of as they continue creating new content throughout 2020!
Finally, language learning remains incredibly popular with millions upon millions spending huge amounts of time mastering different languages every single day – highlighting yet again why it's one area where you should never stop learning more and improving your knowledge base.
Quick Links
Conclusion: Udemy Statistics for 2023 (Users, Instructors and More) 
Udemy is a powerful platform with a lot to offer users, from high-quality courses to experienced instructors. With over 24 million students and 130,000 courses, Udemy is one of the most popular online learning platforms available today.
If you're thinking about starting or taking an online course, Udemy is definitely worth checking out.