Are you looking for an easy way to earn extra income online? If so, consider becoming a Walmart affiliate. With the Walmart Affiliate Program, you can share links and make money off of products sold on their sites such as walmart.com, jet.com, and complementary brands (i.e Sam's Club).
From fashion and electronics to home decor and groceries, there are hundreds of items available that could help you generate new sources of revenue when people purchase through your link!
In this blog post, we will be taking an in-depth look at the program including its benefits, how it works and a few tips on setting up your links for success.
Walmart Affiliate Program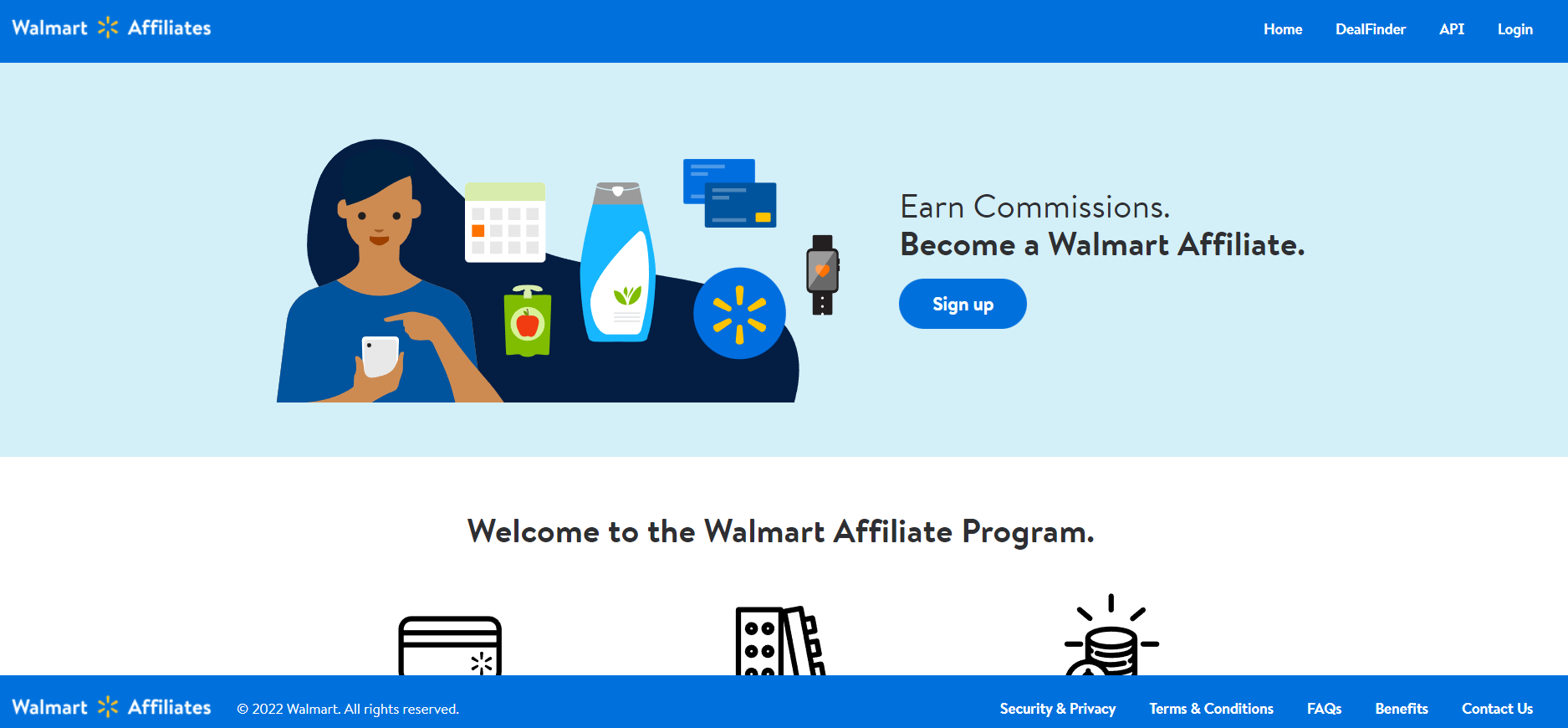 Walmart's affiliate program is a business opportunity that allows entrepreneurs, influencers, and website owners to earn commission by advertising Walmart products and services on their website.
With Walmart's Affiliate Program, affiliates can advertise more than 10 million products available in Walmart stores, including apparel, electronics, toys, and home goods. The program offers competitive commissions and discounts to encourage customers to shop at Walmart.
The Walmart Affiliate Program is open to anyone with a website or blog that meets certain criteria for content and traffic. Once accepted into the program, affiliates receive access to exclusive tools and resources that allow them to promote their product offerings from the world's largest retailer.
Affiliates can develop creative campaigns using text links, banners, product feeds, video content and more. All of these tools are available for free through the program's official website.
In addition to offering an array of promotional materials, the affiliate program also provides tracking analytics that allow affiliates to track performance in real-time.
This enables affiliates to adjust strategies on the fly in order to maximize sales potential. Additionally, affiliates will receive full support from a dedicated team of account managers that are available 24/7 if any questions or problems arise during promotion efforts.
Affiliates also have access to special deals that offer higher commission rates than normal as well as exclusive discounts for customers who purchase through their link.
This provides another layer of incentive for customers looking for savings when shopping with Walmart online or in-store. Additionally, all orders placed through an affiliate link can be tracked directly so there is complete transparency regarding what commissions have been earned.
Overall, the Walmart Affiliate Program is a great way for entrepreneurs and influencers alike to monetize their websites while promoting products from a trusted brand like Walmart at the same time.
With no start-up fees or monthly charges associated with joining the program, it's easy for anyone with a website or blog to take advantage of this opportunity without having any financial risk involved whatsoever!
Walmart Affiliate Program Key Features
Walmart has long been a major player in the retail landscape, consistently offering shoppers a wide array of products and services at competitive prices.
Now, with its Walmart Affiliate Program, the big box retailer is giving customers another way to save money while also taking advantage of an innovative online marketing opportunity.
The Walmart Affiliate Program allows merchants to leverage its huge audience of loyal shoppers by advertising and linking to Walmart.com pages.
When shoppers click on the affiliate link and make purchases through Walmart's website, they can earn commissions on those sales. This makes it easy for merchants to monetize their digital content while helping drive sales for Walmart at the same time.
The program is incredibly easy to use: once registered, affiliates simply add links to their digital content that are directed towards Walmart product pages.
If someone clicks on these links and ends up making a purchase from Walmart, the affiliate receives a commission for that sale. It really is that simple!
What's more, all it takes is one click from an affiliate link for a shopper to end up at a product page on Walmart's website – no extra steps necessary.
In addition to being straightforward and easy to use, the program also offers plenty of features designed to help affiliates maximize their revenue potential.
For instance, it provides extensive tracking capabilities so that affiliates can closely monitor the number of clicks generated by their promotional materials as well as track conversions (i.e., how many shoppers actually made purchases after clicking through).
The system also includes customized reporting tools so affiliates can view performance metrics in real-time or generate reports around specific time periods – allowing them to keep better tabs on their progress and make informed decisions about where they should focus their energy next in order to maximize profits.
The program also gives access to exclusive coupons that affiliates can share with their friends, family, or followers through social media channels like Facebook or Twitter – this helps incentivize people further down the purchase funnel and increase conversion rates even further!
Plus, there are helpful tools available such as an RSS feed generator which enables users to generate dynamic product lists directly from Walmart's catalog – making it convenient for them to create attractive product galleries for their websites or blogs without having to do any manual coding or web design work themselves!
Last but not least, all affiliates have access to 24/7 customer support from both dedicated account managers as well as technical specialists who are always ready to assist with any questions related to setting up campaigns or troubleshooting issues related to them so users never have to worry about being stuck without assistance when they need it most!
Of course, there are other programs out there but none offer such comprehensive features as what you get when using the Walmart Affiliate Program – making it truly stand out among competitors!
Quick Links
Conclusion: Walmart Affiliate Program: Best Thorough Guide 2023 
The Walmart affiliate program is a great way to earn money by referring customers to their website. By becoming a member, you can share links and banners on your own website or blog, and receive a commission whenever someone clicks on them and makes a purchase.
The more people you refer, the more you'll earn! So if you're looking for an easy way to make some extra cash, why not sign up for the Walmart affiliate program today?