Are you looking for a reliable and user-friendly data science platform to hone your skills? Look no further than DataCamp. As one of the leading coding platforms in the industry, DataCamp provides plenty of valuable resources to its users that can help them expand their knowledge base.
In this review, we'll take an in-depth look into what DataCamp offers, why it stands out amongst other platforms, and how users can best use the services provided by this platform.
Whether you're new to coding or you're a seasoned pro with years of experience behind you, let us provide insight on whether or not choosing DataCamp is right for YOU!
DataCamp Review: In a Nutshell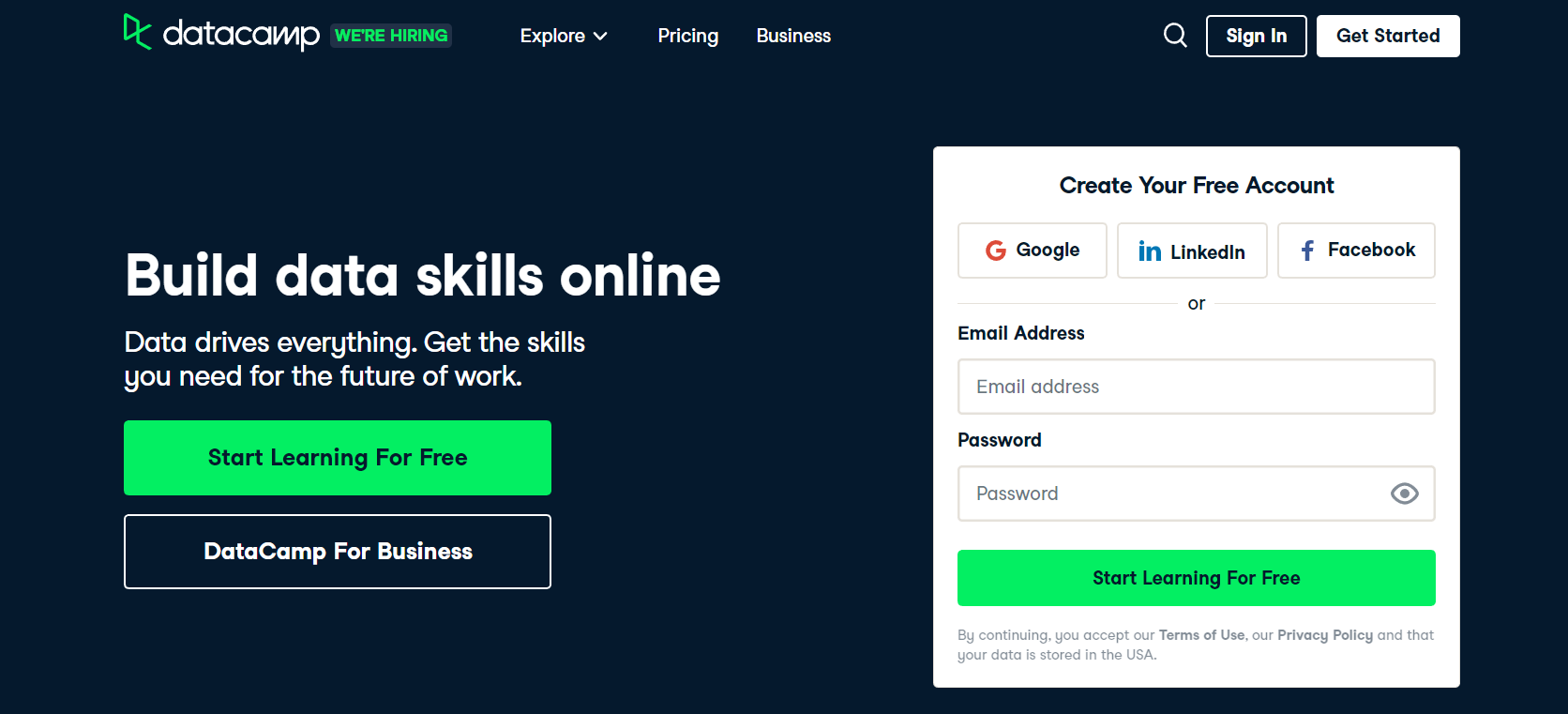 DataCamp is an online learning platform for data science and analytics, providing courses and tutorials to help students learn programming languages, statistical concepts, and data visualisation tools.
The platform offers a wide range of topics for learners to explore, from beginner to advanced levels. DataCamp's interactive courses allow users to learn at their own pace with easy-to-use coding challenges, projects, quizzes and helpful feedback from mentors.
DataCamp's comprehensive library of courses covers topics such as R programming, Python programming, SQL Programming, Machine Learning and more.
Each course includes video lectures that introduce concepts in detail along with code examples that allow learners to practice skills learned in the lectures.
For each course, there are also assessments which allow users to test their knowledge and develop a strong understanding of the material covered in the class.
The platform also provides data visualisation tutorials which provide powerful tools for creating interactive visuals using popular libraries like ggplot2.
These tutorials can be used to create compelling visualisations such as histograms, scatter plots, line charts and more. Additionally, DataCamp offers hands-on practice challenges which help students apply their knowledge of data science concepts quickly and accurately in real world situations.
In addition to its library of courses and challenges, DataCamp also provides a community forum where learners can connect with experienced professionals who can answer questions about topics discussed in the lessons.
The forums are moderated by both moderators from DataCamp as well as members from the community giving users access to both expert advice and user experience when needed.
DataCamp has been praised for its focus on helping users learn by doing through interactive exercises rather than simply reading lectures or watching videos passively.
It is a great resource for those looking to start out in data science as it allows them to quickly get up to speed on various techniques without investing too much time or money into expensive textbooks or classes at universities or colleges.
Additionally, it is an excellent source of supplementary material for experienced practitioners who want to stay up-to-date with new developments in the field or brush up on existing skillsets.
Overall, DataCamp is an excellent online learning platform for those wishing to pursue a career in data science and analytics or simply gain a better understanding of these fields through self-study using their easy-to-follow tutorial videos and practical exercises.
With its comprehensive library of courses covering everything from basics such as R programming all the way up to machine learning techniques combined with its active community forum populated by experienced professionals, it is one of the best resources available today for anyone interested in advancing their understanding of data science related topics or breaking into this rapidly growing field altogether.
Working On The Datacamp Platform
Working on the DataCamp platform is an exciting way to learn and refine data science skills. It provides a comprehensive set of courses, projects, and resources for those looking to develop their understanding of data science.
DataCamp offers courses in a variety of different topics including introductory courses on Python, R, SQL, and more. These courses provide comprehensive instruction on each language as well as providing exercises to test your knowledge.
After completing these courses one can then move onto projects which are meant to apply the skills learned in the coursework. With over 70 projects available for beginners through experienced users, DataCamp provides a range of challenges to hone your skillset.
In addition to its library of courses and projects, DataCamp also provides additional resources such as practice exercises and interactive tutorials.
The practice exercises serve as an extra layer of knowledge by testing your understanding with questions that cover a variety of topics from basic syntax to complex concepts.
Meanwhile, the interactive tutorials provide explanations for concepts related to specific topics within the language being taught. With these tools combined, you are sure to broaden your knowledge base quickly and efficiently!
DataCamp offers its users access to additional services such as career paths which allow them to track their progress across multiple languages and related technologies.
This service assists users in quantifying their progress while seeking employment or advancing within their current organization. Additionally, they also offer job search tips such as resume-building advice or guidance on how to ace an interview with ease!
Overall the DataCamp platform is an extremely helpful resource for anyone looking to learn data science quickly and effectively. By providing users with access to easy-to-follow lessons, challenging projects, and additional resources like practice exercises and interactive tutorials they can ensure they stay ahead of the game when developing their data science skillset.
Furthermore by giving users access to career paths as well as job search tips they can easily keep track of their progress as well as make sure they have everything they need when it comes time for them to take that next step!
DataCamp Key Features
DataCamp is one of the leading online learning resources for data science and analytics. With a comprehensive library of courses, tutorials, exercises, and projects, DataCamp provides instructors and learners with the best online experience to learn data science.
Here are some of the key features of DataCamp that make it an ideal platform for data science education:
1. Customizable Curriculum – DataCamp offers its users the ability to customize their learning experience by creating specific curricula tailored to their interests and goals. The curriculum builder allows users to choose from over 200 topics and select which ones they want to study in order create their own personalized data science program.
2. Interactive Learning Environment – In addition to conventional read-and-watch methods, DataCamp also offers interactive coding challenges that allow you to practice your skills using real-world scenarios. The platform also includes real-time feedback on your progress as well as hints and solutions when you get stuck so you can stay motivated throughout the course.
3. Hands-On Experience – Through guided projects and case studies designed by industry professionals, users can gain hands-on knowledge in data analysis and machine learning while working on problems relevant to their field. Projects come with starter code, instructions on what needs to be done, and additional resources such as videos and case studies with helpful tips.
4. Continued Professional Development – By completing certain assignments or getting certified in various online programs, users can build strong portfolios showcasing their abilities which can help them stand out during job interviews or finding new opportunities within the industry. DataCamp also has career resources for guidance through job hunting as well as networking events that bring together recruiters from top companies looking for talented individuals ready for the challenge ahead of them!
5. Supportive Community – DataCamp's thriving community of instructors, peers, mentors, alumni networks provide learners with invaluable support throughout their journey in data science learning from start to finish or even beyond depending on each individual's goal! All members have access to discussion boards where they can share experiences or ask questions about any topic related to data science regardless if it was covered during a course or not!
6. Updated Content – To ensure its content stays up-to-date with industry trends, DataCamp regularly updates its library of courses with new topics by collaborating with some of the biggest names in tech like Microsoft Azure, Google Cloud Platform products (GCP) etc., so users never miss out on the latest releases in technology while they learn!
Overall, no matter what stage a student is at in their data science education journey–from the total beginner who just started exploring data science concepts/tools all the way up to advanced practitioners looking for more specialized knowledge.
DataCamp provides a wide range of resources and tools which makes it a great platform for anyone who wants to further develop their skillset or even kickstart a career change into this incredibly rewarding profession!
DataCamp: Pricing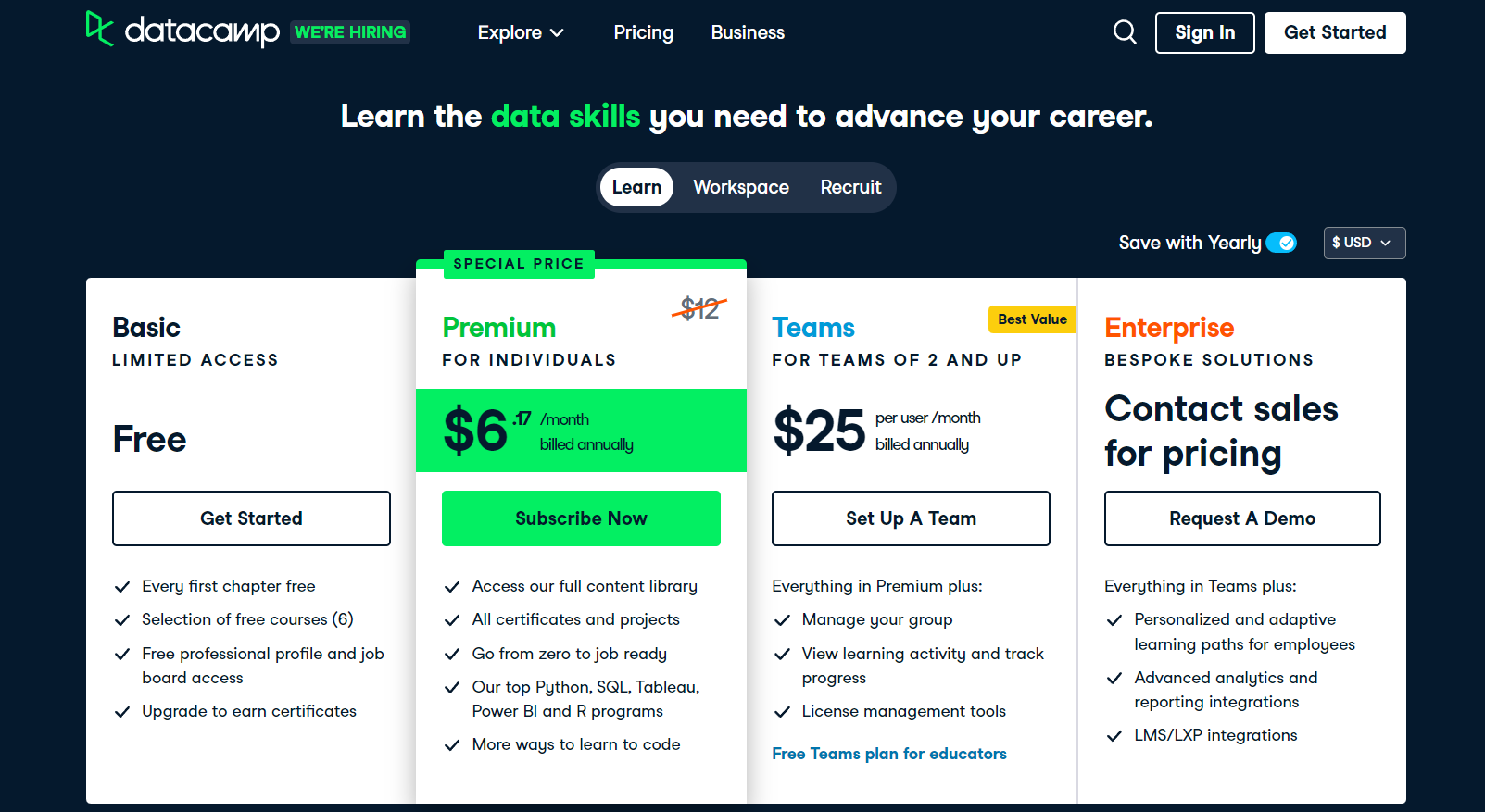 DataCamp is an online platform that helps people to learn and develop data science skills. It provides courses, practice exercises, and interactive coding challenges that help users learn to analyze data, build models, and create visualizations.
DataCamp offers a wide range of pricing options for its services. Depending on the type of plan chosen, users can access different features and resources. The three main plans are Basic, Professional, and Enterprise.
The Basic plan is free and includes access to DataCamp's library of more than 300 courses and practice exercises for learning core programming languages such as R and Python. This plan also includes access to 10 interactive coding challenges so users can test their skills in real-world scenarios.
The Professional plan starts at $25 per month with annual billing or $29 per month with monthly billing. This plan includes all the features available in the Basic plan plus access to extra courses, such as machine learning algorithms, deep learning frameworks, big data tools, SQL databases, data visualization libraries, and more.
Additionally, this plan gives users unlimited practice exercises so they can hone their skills in coding challenges for any topic related to data science.
Finally, the Enterprise plan is tailored for larger businesses with multiple employees who need access to DataCamp's resources. It starts at $999 per year with additional discounts available depending on the number of members in the team or organization.
In addition to all the features available in the other plans, this option provides organizations with premium support services from DataCamp's team of experts who can help answer questions related to analytics projects or provide guidance on how best to use DataCamp's tools for specific objectives.
Additionally, this plan grants enterprises access to special feature requests such as custom course development or private project hosting on DataCamp's servers which can help reduce costs associated with setting up a personal infrastructure environment for analytics projects.
For individuals who may not need all the features provided by either Professional or Enterprise plans but would still like access to some premium content from time to time; DataCamp also offers one-off course purchases priced separately from its subscription plans starting at $19 per course depending on difficulty level and instructor ratings among other factors.
In conclusion, no matter what stage you are in your data science journey DataCamp has a pricing option that fits your needs whether you are an individual learner looking for free content or an enterprise looking for comprehensive resources tailored specifically for its activities.
There is something here for everyone at every budget level making it easier than ever before for anyone interested in developing skills related to big data analytics or artificial intelligence technologies without breaking the bank!
Quick Links
Conclusion: DataCamp Review 2022: Should You Choose This Platform?
DataCamp is one of the best online learning platforms for data science and analytics. It offers a wide variety of courses, has an intuitive interface, and provides excellent support to its students.
If you are looking for an online platform to learn data science or analytics, DataCamp is definitely worth considering.