Choosing the right online learning platform can be a difficult decision. Two of the most prominent and highly-regarded platforms are Udacity and Coursera, both renowned for offering top-notch courses created by leading universities across the globe.
However, before you decide which one is right for your needs and goals, it's important to evaluate each platform separately in order to determine which may better suit your unique ambitions.
In this detailed blog post, we'll explore how Udacity and Coursera compare on various criteria such as course selection, pricing options, user experience, instructor qualifications, and more — helping you make a well-informed decision about whether Udacity or Coursera is best for you!
Udacity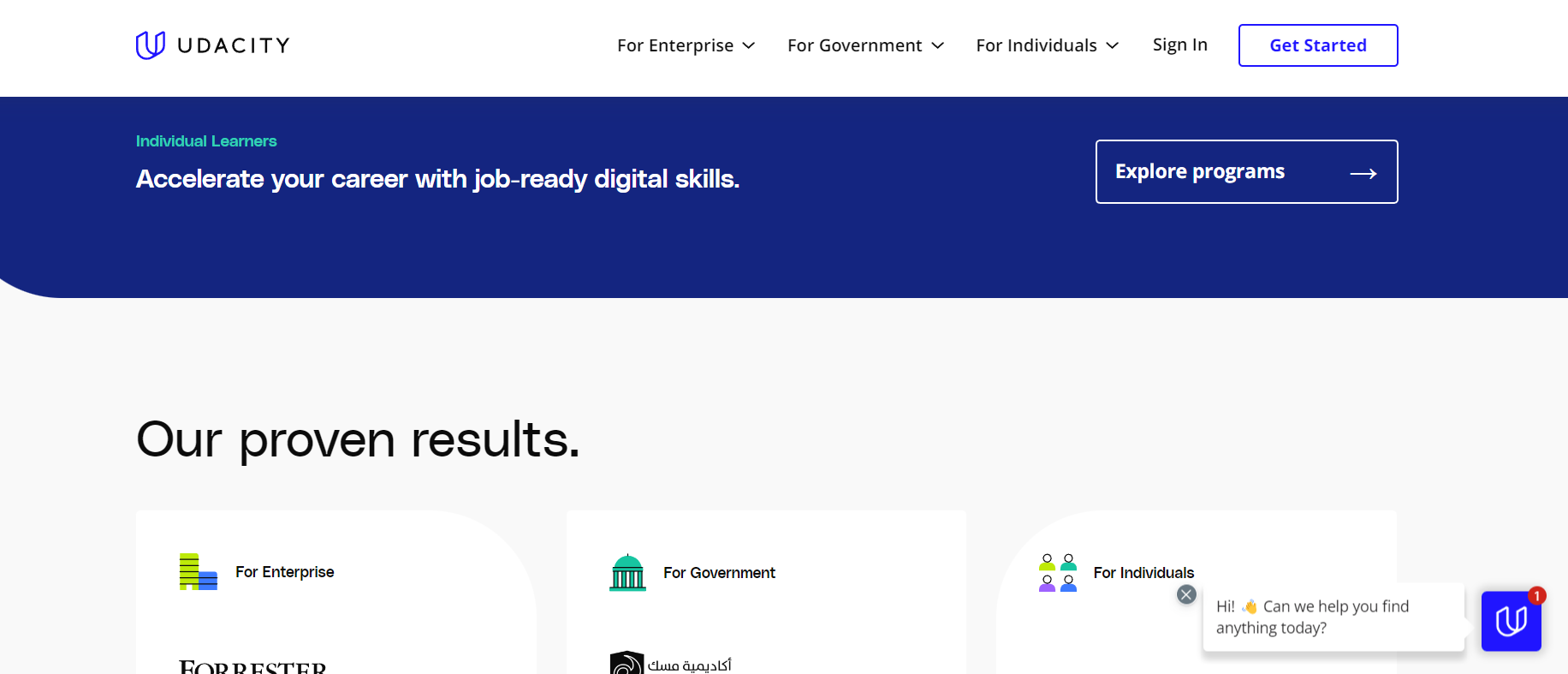 Udacity is an online education platform that provides interactive and engaging learning experiences for learners around the world. Founded in 2011, Udacity has since grown to become a leader in the field of technology-driven education.
With over 200 of its own courses, covering topics from web development to artificial intelligence, and more than 800 partner courses from top companies such as Google and IBM, Udacity offers something for everyone.
Udacity's mission is to bring accessible, affordable, engaging, and world-class higher education opportunities to everyone. Their courses are designed with a focus on cutting-edge technology that puts the learner in charge of their educational journey.
They believe that a person's background or experience should not limit their ability to learn technology skills and advance their career.
The company's curriculum was developed by leading experts in the tech industry who have extensive teaching experience in coding and software engineering.
But they don't stop there – they also offer personalized mentorship support through experienced engineers and mentors who provide tailored guidance throughout one's learning journey.
Additionally, students can access valuable resources like video tutorials and a student community forum for peer-to-peer support when needed.
In addition to its main course offerings, Udacity also provides several additional programs such as Nanodegrees (short-term technical credentials) and Career Services (guidance on resume building, interviewing skills, etc.).
These programs help bridge the gap between traditional classroom learning and the real-world application of knowledge and skills gained from Udacity courses.
Udacity has established itself as a popular choice among aspiring tech professionals looking for an alternative route into the industry without having to go down the traditional university route.
The company has estimated over 12 million enrolled students with more than 3 million graduates worldwide as of 2020 making it one of the most successful online education providers today!
For those seeking a more immersive approach to learning can opt for Udacity's "nanodegree plus" program which gives students access to career coaching sessions with engineers from top companies like Google or Apple as well as hands-on project feedback from mentors who will provide personalized guidance throughout your journey towards certification.
This option helps bridge the gap between textbook theory and practical application which is often necessary for success in today's competitive job market.
On top of these features mentioned above Udacity also offers numerous free courses on various topics including Artificial Intelligence, Machine Learning, Cloud Computing, Developer tools, Data Science, UX/UI Design & much more!
With free materials available it can be easier than ever before to kickstart or upgrade your knowledge in any specific field you might be interested it!
Moreover if you decide you want pursue any given topic further you can always upgrade your subscription at any time allowing easy scalability based on your needs & preferences!
Coursera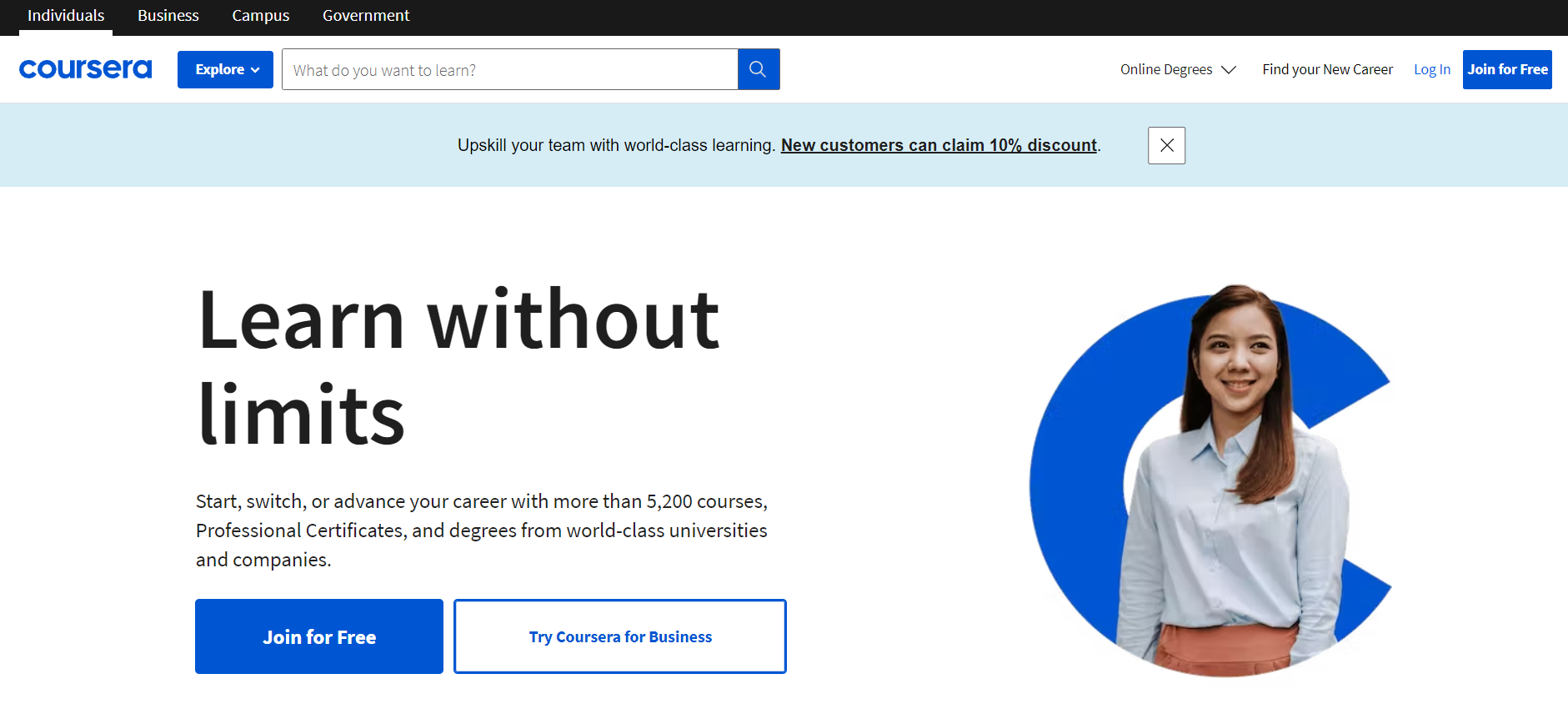 Coursera is a leading online learning platform providing courses and programs from top universities, companies, and organizations around the world.
Founded in 2012 by two Stanford computer science professors, Coursera has grown rapidly to become one of the largest providers of higher education on the internet.
The platform offers over 4,000 courses covering a wide range of topics including business, engineering, data science, medicine, humanities and social sciences.
Each course is designed to provide students with an in-depth understanding of their chosen subject. Courses are typically taught via video lectures accompanied by readings and quizzes for assessment.
The majority of courses offered on Coursera are free to enroll but some feature additional elements such as graded assessments or certification if desired.
These paid elements enable participants to verify their knowledge through obtaining a certificate of completion from Coursera and in some cases receiving credit towards undergraduate or graduate degrees from partnering universities.
The company also provides expert-led specializations which consist of multiple courses focused on specific skillsets such as web development or data analysis.
At the end of each specialization students must complete an intensive capstone project which allows them to apply all the skills learned throughout the program in a practical way.
Coursera also partners with large employers such as Google and IBM to offer professional certificates designed to help people gain access to employment or career advancement opportunities.
The certificates cover topics such as digital marketing and salesforce development and are geared toward helping individuals build job-relevant skills quickly while they learn on their own schedule from anywhere in the world.
In addition, Coursera offers online degree programs from leading universities around the world such as Imperial College London and The University of Pennsylvania which students can complete 100% online for a fraction of what it would cost for an equivalent course taken at the university level.
These degree programs are designed using best practices in education technology so that students receive a quality education without having to compromise their lifestyle by attending college full-time or taking time off work.
Finally, Coursera makes its content available globally thanks to partnerships with local organizations in countries across Asia, Europe, Latin America and Africa that help translate course material into different languages allowing people all over the world access quality education regardless of geographic location or language barrier they may face.
These features make Coursera an ideal destination for anyone looking for flexible learning opportunities whether they wish to build specific job skills or obtain higher qualifications without taking time off work or relocating somewhere else for college study.
With an ever-expanding library of courses across multiple disciplines, there is something for everyone at every level regardless of previous academic background making it easier than ever before for anyone with internet access to get ahead in life through education technology provided by Coursera.
Udacity vs Coursera: Key Features
When considering an online learning platform, it is important to weigh the pros and cons of each. Two of the most popular platforms are Udacity and Coursera, both offering students a wide range of courses to explore.
Here is a comparison of some key features that both platforms offer in order to help you decide which one best suits your needs.
1) Cost
Both Udacity and Coursera offer free courses, however, Udacity also provides more expensive options such as its Nanodegree programs.
These involve project-based learning for specific topics such as artificial intelligence or self-driving cars and come with personalized coaching, access to a network of professionals, job search assistance, and more.
The cost varies depending on the Nanodegree program but can be anywhere from $399 to $899 per month. Meanwhile, Coursera offers various specializations that include multiple courses related to one field (e.g., data science).
They tend to be less expensive than Nanodegrees at around $39-$79 per month.
2) Course Variety
Udacity has a smaller selection of courses available compared to Coursera due to its focus on technical topics such as computer programming, web development, and data science.
This makes it especially suitable for those looking for more specialized topics in these areas or wanting more one-on-one guidance through their Nanodegree programs.
On the other hand, Coursera offers a much wider variety of courses ranging from arts & humanities to business & finance and much more between them.
This makes it ideal for those who want a broader selection of topics or would like to experiment in various aspects before committing to something long-term like a Nanodegree program.
3) Course Quality
Both platforms offer high-quality content with videos, quizzes, projects, and other interactive elements included in many courses. However Udacity stands out when it comes to providing feedback; for instance, their guided projects allow students receive detailed remote code review feedback from experts instead of only being graded on correct/incorrect answers like with many other online resources.
This allows them to get deeper into coding problems while also improving their skills faster by taking advantage of expert insight from industry professionals who have seen similar issues before.
Additionally, Udacity's Nanodegree offerings provide live support from instructors which can significantly accelerate learning progress if students have questions or run into any issues when completing assignments or projects.
Finally, all the materials developed by both platforms use industry standards so regardless of which one you choose you can expect excellent course quality overall.
Who Should Choose Udacity?
With the incredibly high demand for individuals with technological skills, Udacity has become a popular educational platform for those who want to stay ahead in their technology-oriented career path.
Udacity offers a wide range of courses that can give students the technical knowledge and practical experience they need to stay competitive in the job market.
With its comprehensive selection of course topics and its emphasis on providing quality instruction, it's no surprise that Udacity is becoming increasingly popular among students seeking to boost their employability.
So who should choose Udacity as their online learning platform? The first group of people we should consider are those who are already working in the tech industry but want to stay current with the latest technologies and trends.
With Udacity, these individuals can take courses across a variety of tech topics such as AI, machine learning, data science, cybersecurity, web development, and more. These courses provide an opportunity for professionals to develop new skills or sharpen existing ones so they can remain competitive in their field.
Another group of people who could benefit from Udacity are recent college graduates looking for a way to stand out from other applicants when applying for tech jobs or internships.
By taking courses at Udacity prior to graduation, these students can gain valuable experience that will help them make a compelling case when they interview with potential employers.
Additionally, these courses demonstrate commitment and resourcefulness which are two qualities that employers highly value in an applicant.
Udacity also offers several degrees and Nanodegrees® programs which may be particularly attractive to students who don't have access to traditional on-campus education options due to financial constraints or geographical limitations.
These programs provide students with great flexibility since they often don't require any mandatory physical presence at a university campus or testing site; instead, students can take classes online at their own pace during nights or weekends if that works best for them.
Additionally, the affordability of many of these programs presents an attractive option for those wishing to gain technical qualifications without paying exorbitant tuition fees associated with traditional campuses.
Finally, experienced professionals who find themselves at career crossroads can also benefit from taking courses at Udacity in order to explore different opportunities within the tech sector or switch industries altogether.
For example, a marketing professional might consider taking introductory programming classes as part of their re-entry into the tech world after being away for some time — helping them obtain relevant certifications and knowledge needed for certain positions in this field.
Who Should Choose Coursera?
Coursera is an online learning platform which offers a vast range of courses, specializations, and degrees from top universities and industry leaders. With more than 190 partners worldwide, including some of the world's foremost universities such as Stanford, Yale, Princeton, and the University of Pennsylvania, it's no wonder why Coursera is gaining in popularity.
Anyone from students to independent learners and professionals can benefit from Coursera's offerings. Here are a few reasons why you should consider choosing Coursera for your educational needs.
First and foremost, Coursera provides high-quality education at an affordable price. Many courses on the platform are offered completely free of charge, with some of the more advanced courses costing only a fraction of what they would cost in traditional university settings.
This makes it a viable option for those who might otherwise not be able to afford higher education, or who may be hesitant to invest a large chunk of money into something that isn't certain to pay off in the long run.
Second, many courses on Coursera come with specific goals in mind such as earning certificates or completing projects that employers value highly.
This helps give you tangible results for your effort – you have something to show for your hard work after completing each course on the platform.
Additionally, if you choose to purchase one of their Specializations or complete a full degree program (all available on Coursera), you will receive an official certificate from the partnering institution which can help boost your resume and open doors to new employment opportunities.
Finally, Coursera also provides flexibility by allowing you to study anytime and anywhere as long as you have an internet connection. This means that even if you have a busy schedule due to work or family commitments, it is possible for you to pursue further education without having to travel or juggle multiple things at once – all while still receiving quality instruction from world-renowned instructors!
The platform also includes discussion forums where learners can interact with both their peers and instructors alike; this allows them to get feedback on their assignments quickly and ask questions when needed without having to wait before getting answers like they may have had to do in brick-and-mortar classrooms.
Overall, anyone looking for an accessible yet comprehensive way of pursuing higher education should most certainly consider choosing Coursera as their learning platform of choice.
With its wide array of courses offered at flexible times along with low costs compared to traditional universities, there's no doubt that this popular online learning provider has much more than just an impressive lineup – it has something for everyone!
Quick Links
Conclusion: Udacity vs Coursera 2023 — Which One Is Better & Why? Guide
Which one is better for you — Udacity or Coursera? If you're still not sure, take a look at our in-depth reviews of each platform to help you decide.
And if you'd like some guidance on choosing the right course for your needs and learning goals, our team of education experts can help. Just schedule a consultation today.