As anyone who has built a website knows, there are endless choices when it comes to choosing the best theme for your site.
In my search for the perfect theme, I've come across two of the most popular themes available today: Divi and Generatepress.
After trying both over the past few months, I've gathered a lot of insight into what makes each one unique and how they compare overall.
In this blog post, I'm sharing everything I have learned about Divi vs Generatepress so you can decide which is right for you!
It mainly focuses on performance and tries to give the best user accessibility which stores all the codes like javascript, and HTML in a small space for faster loading speeds.
🚀Divi vs GeneratePress: Quick Expert Summary
Divi and Generatepress are popular WordPress themes but have different features and benefits. Divi is a drag-and-drop theme that is very user-friendly and easy to use, even for beginners. It includes a visual builder so that you can see what your website will look like as you're creating it.
Generatepress is a lightweight theme that is designed to be fast and efficient. It includes a customizable header, footer, and several layout options.
If you're looking for a user-friendly theme with plenty of features and you're looking for a lightweight theme that is fast and efficient, Generatepress may be the better choice.
Ultimately, the best WordPress theme for you is the one that meets your needs and helps you create the website of your dreams.
Both Divi and Generatepress offer a wide range of options when it comes to designing your website. With Divi, you can use the visual builder to create custom layouts without having to touch a single line of code.
Generatepress also offers a visual builder, but it's not as user-friendly as Divi's builder. Divi is the better option if you're uncomfortable working with code. However, if you don't mind working with code, then Generatepress gives you more control over your website's design.
Why I Recommend Divi
Popups and social network sharing can help you increase conversions.
A drag-and-drop builder is incorporated to design a website from the ground up.
Creating a professional company website with a distinctive appearance is more probable.
You'd gain lifetime access instead of having to renew every year. It comes with a number of plugins that you may use to create a one-of-a-kind site for brand exposure.
Check out the following points to see why I prefer Divi to GeneratePress as a WordPress theme.
You will have complete creative control over the site, allowing you to tailor it for your company's logo.
There are over 800 ready-made templates to choose from; choose the best one and get started developing.
Why I Recommend GeneratePress
Take a look at the reasons why you should buy the GeneratePress theme!
It's a lightweight theme with little coding for a better user experience and better Google results.
It's simple to utilize with page builders like Elementor to create beautiful company websites.
The cost is quite low, making it ideal for novices.
You may download the free version to try out the features before upgrading to the premium version.
Even the free templates are well-coded and of great quality.
Why I Recommend Divi Than GeneratePress
Check out the reasons below to see why I think the Divi WordPress theme is better than GeneratePress.
You will have full power over the design of the site so that it fits your business's name.
Popups and sharing on social media can help you get more people to buy.
It is more likely to make a skilled business site that looks different from others.
You would have access to life instead of having to renew every year.
With the drag-and-drop maker, you can make a website from scratch.
There are more than 800 ready-made templates to choose from. Pick the right one and start creating.
It works with a number of apps so that you can build a unique site to promote your brand.
| | | |
| --- | --- | --- |
|   | GeneratePress | Divi |
| Is the free version available? | Yes | No |
| Pricing | Starts at $59/yr | Starts at $70/yr |
| Customer 24/7 support | Yes | Yes |
| Money back guarantee | 30 days | 30 days |
| Readymade templates | Over 40 premade templates | Over 800 premade templates |
Divi vs GeneratePress 2023: Overview 
Divi Overview
Divi is a decent choice if you need the page to be distinct and ingenious as if something out of the box without any specific software installation or need to code things.
Everything is perfectly customizable and is easily accessible to users to operate and design.
The Divi demo library contains a plethora of beautiful shop layouts that you can add to your project with a single click. Complete shop styling is a piece of cake with the WooBuilder.
Everything can be changed quickly at the front end. All available demos were created using the Divi Builder, which is discussed further below, as well as Elementor Pro, which is widely regarded as one of the best page builders available.
GeneratePress Overview
In terms of speed and simplicity, GeneratePress takes the lead. With a speed rating of 9.8/10, pages load lightning fast. Hence, it is compared to one of the fastest on the internet.
Let's read further between Divi vs GeneratePress and see who leads the competition.
GeneratePress vs. Divi: A Comparison of Their Features
| | |
| --- | --- |
| GeneratePress Features List: | Divi theme Features List: |
| Compatible with WooCommerce | |
| Access to a theme builder built on blocks. | |
| WordPress theme that isn't too heavy. | |
| | Access to 100+ full website packs |
| GeneratePress can be put on up to 500 websites. | |
| Your material can be translated into more than 30 languages. | |
Divi vs GeneratePress: Pricing Plans
It is not necessary that a costly theme will be a promising one or that a low-cost theme would have issues or limited features. It anyhow depends on your budget and benefits which one to choose.
Divi
Divi has two pricing plans one which is billed annually and the other which is a single purchase plan. Let's have a look over the services provided by Divi under the subscription.
The annual subscription comes at $70 per year and the lifetime subscription comes at $199.
Divi, Extra, Bloom, and Monarch access.

Hundreds of website packages

Constant Product updates

Premium support

Unlimited website usage

Risk-free guarantee
If you are checking out for a long period deal and are a proficient business proprietor or a business marketer. Divi would be preferable over GeneratePress.
Divi proposes a 30-day money-back promise if the performance and assistance do not assure you.
Divi has a special discount of 20% on the exclusive offer.
GeneratePress
GeneratePress offers two pricing plans for customers to choose from. Both offer the same services and premium features.
The YEARLY plan costs $59 and is renewed yearly, allowing you to take advantage of all the new features and improvements.
The LIFETIME (ONE TIME PAYMENT) plan costs $249 and is a one-time payment allowing you to enjoy GeneratePress.
Regardless of which plan you choose, we offer a 30-day money-back guarantee if you are unsatisfied with their services.
Divi Advanced Gradients
Let's start with the two most recent features that demonstrate Divi has by far the greatest things. Anyone who has used Photoshop, Corel, or comparable picture editing software will be able to create gradients in every color of the rainbow.
The same feature is currently available in Divi as Advanced Gradient Builder, which provides limitless gradient options. There is currently no theme that includes this, but they will undoubtedly replicate it. They do this with all of Divi's inventions.
Divi vs GeneratePress: Plug-ins And Extensions
Divi: WooCommerce can be quickly and easily integrated with Divi. Users will find that it is simple to establish an online shop as a result of this feature.
Shop page layouts for Divi also come pre-built with shop modules, allowing customers to organize their products into categories such as highlighted, on sale, and other similar categories.
In addition, you get several important plug-ins with the purchase of Divi, including Extra, Bloom, Monarch, and the Divi Builder.
The Divi builder is the most important plug-in since it gives Divi's drag-and-drop capability and, as a result, makes it possible for users who are not developers to design websites of high quality.
GeneratePress: GeneratePress connects with WooCommerce in a seamless manner, which means that users may also use GeneratePress to set up an online store, just like they can with the other two themes that are being contrasted in this article.
In addition, GeneratePress has excellent integration with Yoast SEO, EDD, BuddyPress, and WPML respectively. Because this theme also supports bbPress, customers are able to start a forum from their website effortlessly. This is the primary unique selling proposition (USP) of GeneratePress.
Divi vs GeneratePress: Design Module
Choosing from various designs and with more than 50 different elements to design the page one can create a completely different and enticing page with Divi.
Designs can be personally saved for reuse and modifications can also be made anytime after publishing the page.
Divi
Divi has more than 800 pre-designed formats and 404 templates with no-cost access to icons and pictures.
Many more characteristics like animations, magic color, filters, bulk editing, code editing, keyboard shortcuts, border editor, and many more are also easily accessible.
GeneratePress 
On the contrary, GeneratePress has a modest and sophisticated design with understandable and simple formatting tools.
One can customize the topography of the page by wielding the customizer but to access all the characteristics we need to buy the premium version.
We can compose custom-made formats by controlling margins, padding, and sidebar. To begin with, GeneratePress offers you more than 25 pre-designed and completely constructed sites to specify from, where few of them are also compatible with Elementor and Beaver builder.
Sticky navigation, mobile header, menu icons, and Header merge are also included in the settings.
Verdict
When it comes to designing Divi is a clear champion in this case as it covers more modules of designing with a modern look and straightforward editing, and customization efficiently.
Divi vs GeneratePress: Faster loading
It is known that we might lose a lot of traffic because of longer loading times.
GeneratePress
GeneratePress gives a light and sleek theme with less than 30kb size. As for performance, GeneratePress took loading speed as a serious problem and it delivers a very fast loading interface. GeneratePress doesn't even have render-blocking problems as it employs advanced Vanilla Javascript to enhance the page
Divi
The design and features used in Divi are advanced compared to GeneratePress; it occupies a larger space and the loading speed gets reduced.
Generally, it is recommended to use separate plugins with Divi like WP Rocket and CDN to boost the performance.
Even after speed optimization, Divi has a low-speed performance.
Verdict
Hence GeneratePress loads lightning-fast and is a sleek and light theme compared to Divi.
Divi vs GeneratePress: User Access Interface And Ease Of Use
This is a crucial factor in building and designing pages efficiently. Most clients always recommend themes that deliver easy user access and design interface. Still, professionals tend to take up complicated ones that give them a more elegant and unique page design.
Divi
Divi provides you full access to edit, custom, construct, and model the webpage with your own distinct ideas.
The creators wanted to furnish an outstanding user experience with this theme and hence a total and brief description is given for every single function so that a rookie can effortlessly understand all the tasks and can build everything from the beginning. 
The live preview customizer lets us edit and design by viewing the actual preview.
GeneratePress
GeneratePress is easy to understand and is actually very simple to use all the tools. The pro version also offers modules with different tools and settings.
It is 100 percent simple for beginners and is perfect for non-coders as everything can be accomplished without the use of a single line of code.
It is also included with the hook feature to actually edit directly with the CSS or HTML code of the specific area.
Verdict
GeneratePress leads Divi when it gets to the simplicity of access as it has simple and precise settings. As compared both are on the same page regarding what users have recommended GeneratePress when it comes to easier options.
Which is best for SEO? Divi or GeneratePress:
Divi
The popular WordPress theme and page builder, Divi, includes helpful features and optimizations for improving search engine rankings. Divi offers a user-friendly interface that makes it easy to create SEO-friendly content.
You can customize meta titles, descriptions, and keywords for each page and post, which is essential for improving your search engine rankings. Furthermore, Divi allows you to generate clean and well-structured HTML, which can positively impact your site's SEO.
Although Divi has some SEO capabilities, using an SEO plugin like Yoast is recommended for advanced features such as content analysis and search engine optimization suggestions.
Website speed is an important factor in SEO. You mentioned that Divi's visual page-building capabilities can be resource-intensive.
To ensure that your website loads quickly and doesn't affect your SEO performance negatively, it is crucial to use a dedicated hosting service and a caching plugin.
A dedicated hosting environment can provide the necessary resources to handle Divi's demands, while a caching plugin can help store and serve your website's pages more efficiently, thus reducing load times.
GeneratePress
GeneratePress is a highly SEO-friendly WordPress theme that's popular among website developers and digital marketers. Its clean and efficient code helps search engines easily crawl and index your website for superior SEO.
GeneratePress has a minimalist approach towards JavaScript and CSS modification files, making them notably smaller in size compared to other themes.
This results in faster loading times, crucial for SEO rankings and an excellent user experience. Faster loading pages help to improve SEO and reduce bounce rates, keeping visitors engaged and satisfied.
GeneratePress can integrate schema markup into your website for improved search engine visibility and customizable schema objects to fit your content needs.
Finally, the distinctive and sleek design of GeneratePress enhances the browsing experience for users.
A visually appealing and user-friendly website encourages visitors to spend more time on the site and engage more with its content. This ultimately lowers bounce rates, which is another factor that search engines take into account when ranking websites.
Divi vs GeneratePress: Drag & Drop Builder
In any page builder, one of the vital tools is the drag-and-drop builder. It simplifies your work by giving you all the tools you prefer in front of you in a bar that can be moved anywhere on the screen and all the required elements, and blocks are already given in the drag-and-drop builder box.
Divi
Divi has a separate drag-and-drop builder and a special visual editor rather than a conventional WordPress editor.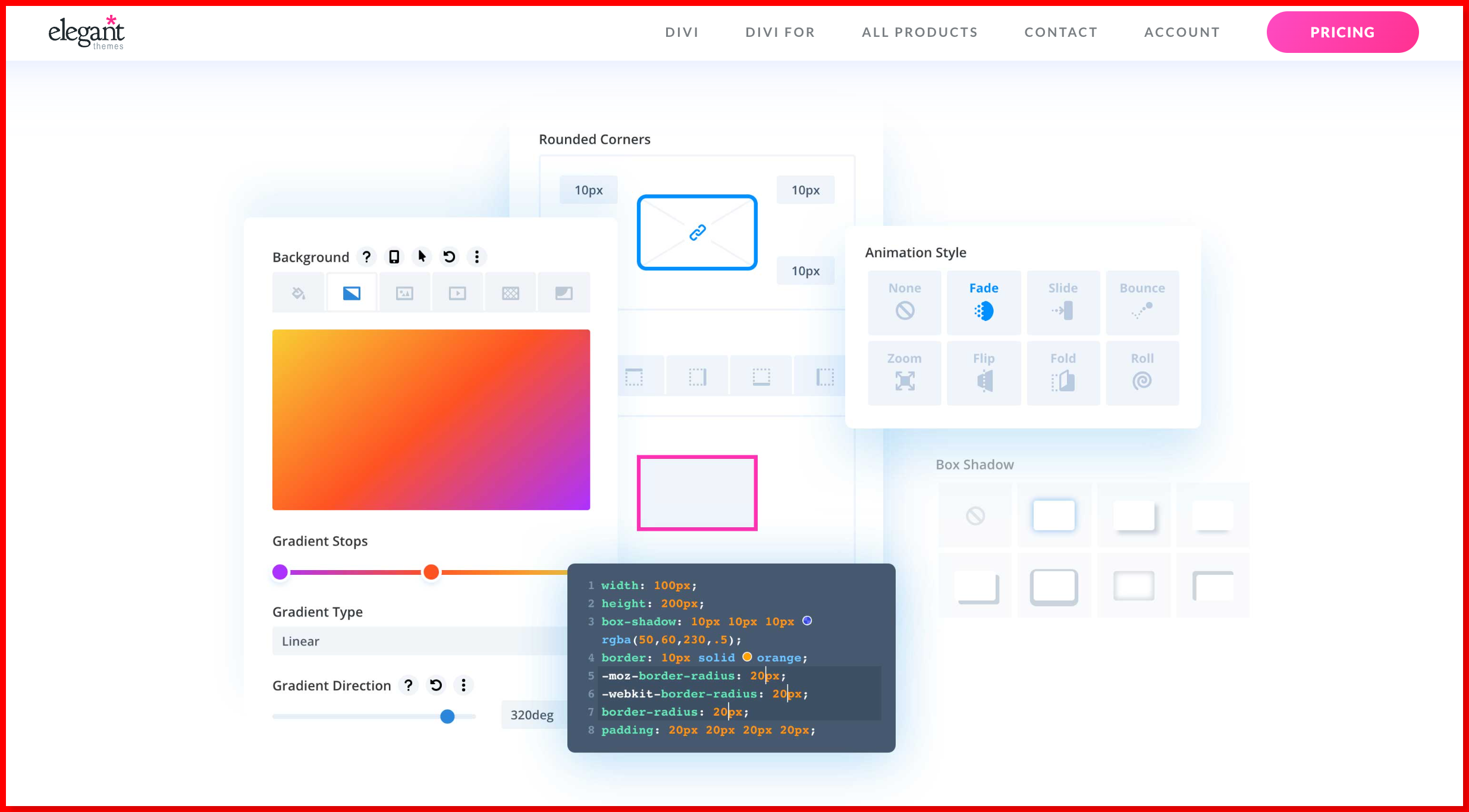 Which helps to give incredible and extraordinary designs. The options are simple and straightforward to understand. One can undo and rework your design anytime.
GeneratePress
GeneratePress has a very simple and small page builder with not many choices. If you need an unrefined and simple drag-and-drop builder.
GeneratePress is the most advised one. To use the drag-and-drop page builder premium access to GeneratePress is required.
To use the drag and drop builder it must be enabled in the sections option.
Verdict
With the drag-and-drop page builder one can put in several sections, media file boxes, content boxes, links, and images.
One can decide and customize your own layouts and compose them in your own manner to develop a remarkable and elegant page.
Divi is a clear victor in this case when contradicted to GeneratePress due to the availability of numerous customizable options and ease of control.
What Is The GP Premium Plugin?
The GenerateBlocks plugin and the core block editor are used to create themes in GP Premium 2.0. Do you want eye-catching page heroes, personalized post meta, or personalized sidebars and footers?
GeneratePress offers a completely free version of the theme. Some modules, such as Site Library, Colors, Typography, WooCommerce, Menu Plus, Import/Export, and others, necessitate the purchase of the premium version, which starts at $4
Customer Reviews of GeneratePress and Divi
We all might face different problems regarding sites irrespective of the site. We need a group of experts to solve your problem via mail, chat, or call. 
Divi Customer Support
Divi provides a live chat service. The customer care executives are knowledgeable and you can receive quick assistance and get instant solutions through live chat.
You can ask your queries on Divi's Facebook group where you can get suggestions from hundreds of professionals and past and experienced clients
They also have a community forum where queries get resolved easily as there is already a number of questions asked from previous users and sufficient replies from other people and customer support.
What do other people think of the GeneratePress and Divi themes? Let's find out.
Divi, which is part of Elegant Themes, on G2;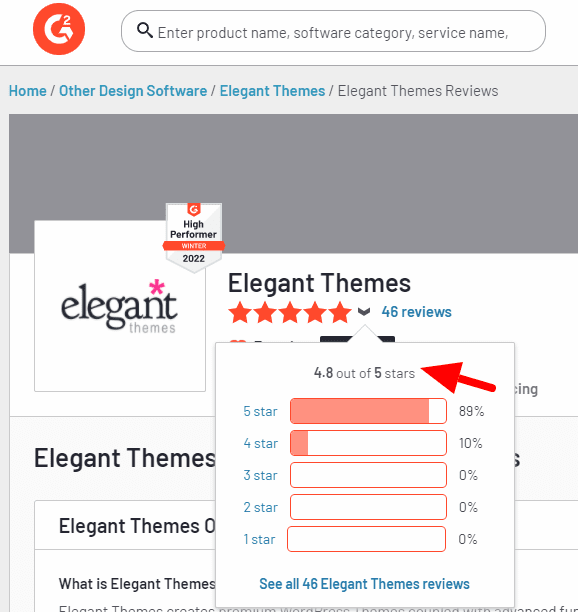 Elegant Themes got 4.8 out of 5 stars on G2, which is a great score.
Divi (part of Elegant Themes) On TrustPilot;
As you can see, over 18,000 users on TrustPilot gave Elegant Themes a perfect score of 5 stars.
GeneratePress Customer Support
Similar to Divi, GeneratePress has quite a quick response. You can seek help from the GeneratePress forum and contact form. They try to reply as soon as possible with an explanation of your query.
In fact, the lead developer himself offers solutions to the questions.
GeneratePress On WordPress;
As you can see, over 1200 customers gave GeneratePress a 5 out of 5-star review on the official WordPress website, which is amazing.
GeneratePress On TrustPilot;
As you can see, GeneratePress got an average review of 3.6 out of 5 stars on TrustPilot.
Verdict
Both provide excellent customer support and it's really tough to make a decision on which is better. Hence, it's a tie between both Divi and GeneratePress.
Woocommerce Support
The business of online shopping is becoming increasingly popular as a result of the many advantages it offers, including the elimination of travel expenses and wasted time, the removal of restrictions imposed by geographic location, and the provision of thorough product information and comparisons.
Check out the specifics of the eCommerce support offered by Divi and GeneratePress if you run a WooCommerce business and are in the market for a terrific theme to use in the construction of your online stores.
Divi
Using a Divi theme, you may set up an online store and sell products without incurring any additional fees. Yes, the Woocommerce plugin that is offered at no cost is compatible with the Divi page builder.
It is more practical to display an endless number of items in your stores so that customers can quickly browse and make purchases of the goods.
The characteristics of WooBuilder are as follows:
It provides nine pre-made demos to assist you in the construction of successful internet stores. The Woocommerce modules allow for the creation of product layouts as well.
Check out the various available modules. You will appreciate having complete control over the design! Simply rearranging the modules will allow you to design a one-of-a-kind product page that will result in increased sales.
GeneratePress
Installing and activating the WooCommerce add-on is required to get the settings to enable in the GeneratePress Premium plan to make use of the eCommerce functionality included in the GeneratePress theme.
After activating the "Wocommerce" option found in Customize > Layout > WooCommerce, you can begin making adjustments to the appearance of your online stores.
You will now have access to the General, Shop, Single Product, Color, and Typography settings, allowing you to personalize your eStores further.
Due to the extensive nature of the Woocommerce settings preferences provided by the GeneratePress theme, you can tailor the appearance of your online businesses to meet your specifications precisely.
Why Choose Divi Over GeneratePress
Why GeneratePress or Divi? Let's discuss the pros of both themes.
GeneratePress Benefits
Here are three GeneratePress perks.
1. GeneratePress's theme builder is block-based
Block-based themes use WordPress' block editor. GeneratePress's block-based theme builder lets you create site footers, page heroes, author boxes, 404 pages, and more.
2. Customizable easily
GeneratePress is easily editable. You can modify GeneratePress even with no technological expertise.
3. WordPress theme speedy
GeneratePress is a SUPERFAST WordPress theme. It's responsive and lightweight, which speeds up page loading.
Divi's Benefits
Elegant Themes' Divi theme has several benefits.
1. Visual page builder
Divi's visual page builder, Divi builder, is why most people use it. The Divi Builder replaces WordPress' conventional post editor with an easy-to-use visual editor.
2. Site layout bundles
Divi includes approximately 1700 layouts in 240 website layout kits. These website style kits are pre-designed templates that may be installed and altered immediately.
3. Use Divi on unlimited websites.
Here's why you should choose Divi: Divi provides "unlimited website use." With a Yearly or Lifetime Plan, you can use the theme and plugins on infinite websites.
Divi vs GeneratePress: The Best Marketing Feature
Marketing Features Divi
Email support:

We can easily construct a list with custom fields which enables us to obtain information from our contacts.

Price tables:

We can easily make convincing and appealing sales pages for your merchandise. Everything can be easily arranged by pricing tables and the entire information is stored without any hassle. 

A/B split test: All the content is A/B tested with the inbuilt tester available in Divi and the most fitted design and content are chosen for better output and to stimulate the rate of conversion.
Contact form builder:

 Wielding the modern features one can handily create a contact form with lots of inputs and pre-designed forms such that you don't need to make everything from scratch.
Marketing Features GeneratePress
GeneratePress doesn't offer any marketing features 

Hence Divi is a clear winner in this case. 

To implement Marketing schemes we specifically need to use hooks, CSS, or PHP codes to comply with the requirements.
Divi vs GeneratePress: Social Media Access
Having authority on social media demonstrates to your readers and search engines that your online establishment is legitimate, and as a result, you get more trust from those audiences. Which theme should you use since it makes it simple to promote your social profiles and incorporate share buttons into the content of your website? Let's see!
It supports social media plugins like 
Facebook

Google

Twitter

Gmail

Reddit

Pinterest 

AOL

Yahoo mail and many more
It deals with more than 30 social network plugins.
GeneratePress doesn't offer any special type of social media plugins. They depend on external plugins to utilize a social share. 
Quick Links
FAQs: Divi vs GeneratePress
👉 Which one is better, Divi vs GeneratePress?
Divi is better for professionals and comparing the SEO's, it clearly dominates GeneratePress. Whereas GeneratePress is a compact theme and is adequate for novices with simple settings and ease of usage.
👉 Which one should I consider between Divi vs GeneratePress if I want to get more traffic on my site?
GeneratePress is recommendable as it has faster loading speed which people glance for and is more SEO friendly compared to Divi. Hence, it is advisable to get GeneratePress for more traffic on your sites.
👉 Which one is recommended to use for better designing and out of the box look between Divi vs GeneratePress?
As seen in the features we can clearly tell that Divi is a promising option as it covers more modules of designing with a fresh look and simple editing, customization efficiently.
Conclusion: Divi vs GeneratePress
I saw that both Divi and GeneratePress are great choices for creating a modern website. If you're focused on design first, then Divi's user-friendly interface and variety of customization options will be to your advantage.
Alternatively, if building a high-performance site is your priority, then the secure and fast loading capabilities of GeneratePress will make it ideal for the job.
At the end of the day, we all have differing needs when it comes to website development, so it's important to find what best suits you.
When I'm in search of a functional yet beautiful website design, Divi is my chosen platform. Give it a try and see which works best for your needs! Both are equally compatible with the Yoast SEO plugin.