I've been using the Divi theme for my website for quite some time now, and I'm absolutely in love with it.
It's easy to customize, provides endless options when creating different layouts, loads quickly on both desktop and mobile devices, and is very affordable too.
Plus, support from the team of developers behind its development has always been excellent.
In this Divi Theme Review I'll be discussing why you should choose the Divi theme as your new WordPress theme – from what features it offers through to how user-friendly it is – so if you're considering a change soon then make sure to read up!
Divi Theme Review: Pros & Cons
For those who are still not convinced, or for those who are still debating whether or not Divi theme is a better option as compared to hiring a third-party designer, let us have a look at a summarized pros and cons list:
Pros

 

Cons

✔️

A versatile companion for your needs

✖️

Lengthy learning curve

✔️

Divi Builder

✖️

Loading time

✔️

Your feedback will not go in vain

✔️

Excellent Customer Support

✔️

Great Value for money
What Is Divi? 
With Divi, you can create a website in minutes, without having to touch a single line of code. The Divi theme is a WordPress theme that comes with a drag-and-drop page builder.
This means that you can easily create any type of layout you want without hiring a web developer. The Divi theme is also mobile responsive and SEO friendly, so you don't have to worry about those factors either.
One of the best things about the Divi theme is its ease of use. As mentioned before, it comes with a drag-and-drop page builder, which makes creating layouts super easy and fast.
Even if you've never created a website before, you'll be able to create a beautiful website with Divi. Plus, there are plenty of resources available if you ever need help or get stuck while building your site.
Another great thing about the Divi theme is its flexibility. With Divi, you can create any type of website that you want.
Whether you want to create a blog, an eCommerce store, or a portfolio site, Divi can help you bring your vision to life. Plus, Divi is always updating its themes and adding new features, so you know that your site will always be up-to-date.
Divi Theme Key Features: 
Divi is a theme provided by WordPress which has a lot of features to offer and is very useful and of much use to all customers.
1. High-Quality Content Templates
The template library and the page builder tool are two of the main focuses of the Divi software. It is easy to make a custom WordPress website design from the starting on till the end and it will be nothing but interesting to do it.
For others, there are predesigned content templates that are likely to play an important role in their choosing their theme.
Even if you are one who needs a certain amount of help with creating your website from scratch, Divi provides a large variety of templates of the best quality and are from the WordPress theme. 
2. Divi Library Templates
You can make completely custom designs from the start with the Divi Builder, but you don't have to because Divi comes with a huge library of templates. These are already-made themes that you can import and then completely change using the Divi Builder.
At the moment, Divi has 187 layout packs with more than 1,383 pre-made themes that you can choose from. A "layout pack" is a group of themes that all have the same theme. For example, there are a lot of designs that help you make a website for a restaurant:
You can also save your own drawings so you can use them again in the future. Or, you can save parts as "Global Modules," which lets you use the same template in more than one place and make changes to all of them by just changing the original template.
3. Drag And Drop Content Editor
At Divi, it is easy to make changes to your templates or to create new content designs from the start. Over the last few years, this tool has been updated quite often and has therefore served as the best and most impressive page builder available for WordPress.
4. Reusable custom content
The global modules feature here states that anything that you create at Divi can be saved there through your site. Even if you make the slightest of changes like editing or customizing.
Also, read:
5. Divi ePanel
You can obtain some fairly crucial information applicable to any website through the ePanel. You can adjust your site's logo, favicon, navigation bar, MailChimp API key, AWeber authorization code, and how social network accounts are displayed on your website under General Settings.
By using the navigation tab in ePanel, you may change the quantity and kind of pages and categories on your websites and build the ideal navigation for them.
Ad Management makes it simple to manage the banner sizes and display advertisements on your website.
In addition, you can control your layout settings and add any more code with integration, attain the required level of SEO, and read the theme's documentation—pretty standard things on any great theme.
6. Portability
Divi is highly portable therefore making it easy to send files and other assets between other WordPress websites.  If you're onto creating several websites, Divi provides a lot of time-saving features that can help you make your workload much less and still more efficient!
7. Ease of use
All of this new functionality, power, and creative freedom comes with a cost, though, and that is the steep learning curve of the new user interface.
The Divi Builder is not bad in any way, but the way it works is very different from the way WordPress works by default. Because of this, if you want to get the most out of the page builder, you will need to learn a new way to work.
Even so, this is to be expected since you now have so many more options. But it's important to mention this because you might not be able to do everything you want in the Divi Builder until you spend some time getting used to the new interface.
8. Interface
The first thing anybody looks for while choosing the perfect tool for website building is its user interface. It is of the essence that the interface is simple yet attractive, accessible, and effortless and that the user can navigate through it without any obstacles or overwhelm.
WordPress theme sees to it that the user gets the most out of every feature and reaches maximum productivity.
So when it comes to Divi's interface, you can expect nothing short of inspiration. Divi's users experience an elegant design that is both hassle and confusion-free, polished, smooth, and above all, rapid and instant in response. 
You will see while using the theme that it is so simple to work with that it practically guides you to your next steps.
Older versions of Divi were not that user-friendly or light to work with but Elegant themes have improvised impressively and have put a lot of thought into its functionality.
Using the Divi Builder is a breeze and a testimony to its ease of use. To use it to build pages, all you have to do is plan a basic structure and then drag and drop elements of your choice.
If you click on the + sign, you can add website elements, customize them and proceed to the next. If you want to get an idea of how it works, you can use the free demo that it offers. 
Elegant themes always give priority to building something that works well for everyone rather than just the people who know it all. They ensure maximum productivity with their creation of that a user-friendly program that does not work the same way as WordPress.
Therefore, if you're used to WordPress, there's a lot that you might have to change or adapt to. There's quite a bit of a learning curve with Divi. But with the number of features that will be made available to you, I'm sure it'll be worth it.
9. Drag & Drop Page Builder (Divi Builder)
A plugin with drag-and-drop privileges, Divi Builder makes it easy for you to construct websites without going anywhere near code.
Even if you've never built a website before, you can see your vision come alive with this intuitive drag-and-drop page builder. This largely reduces the time taken on a website and can help in designing pages effortlessly. 
This builder does most of your work for you. From pre-designed modules, you can choose any of your likings and add them to the page. You can then customize them based on what page you're building, its requirements, and its aesthetics. Basic knowledge of the computer is enough to create your website! 
The control and design of your content and what your page looks like are totally up to you. The editing interface works wonders. All modules can be added and edited right on the front end of your screen which makes it easier to see exactly what you will get.
Reusable Custom Content: When you use a module and customize it to your liking you can also save it for later and use it for your next page or website. This becomes a part of the Divi library and is a great time saver. It is an impressive tool for designers and creators.
Portability: Easily shift layouts, elements, etc. between WordPress pages.
Full creative control of everything from design to structure to customization is up to you.
10. Divi Theme Builder
Divi has been updated quite a few times to tap into its full functionality. Divi 4.0 brings with it the Divi Theme Builder. I've read all about Divi Builder which allows you to design and customize pages yourself.

But with the Theme Builder, you can now alter the header, footer, page templates, and almost anything on the website! What more do you need?
The best part? Once you've familiarized yourself with Divi builder, the same tools are used for the theme builder so you don't have to go through any more learning.
In terms of usage, it isn't much different from the usual page builder. With the update, there's a new option of 'theme builder' available on the dashboard. Here's where most of the new stuff can be found. 
Templates: A template is a basic structure of what your page will look like and which can then be applied to all such pages in the future. You can choose primary layouts, design, and other elements and place them on your page.These will be saved and automatically applied to the next page you create. Any module can be used in the template, even those not usually chosen. Templates can be made for any type of page.
Conditional logic: What if you want to apply your template only to certain parts of your website? This can easily be accomplished by conditional logic where you can set rules and exceptions.
Custom Headers and Footers: You can custom-create your headers and footers while availing the variety of over 40 modules with Divi. You can make them default templates for your website and then customize them. The website will display your new design.
11. Divi-specific Plugins
So, this is a bit specific, but if you buy Divi on any plan, you can use the Bloom and Monarch plugins.
Bloom is a plugin for WordPress that lets people sign up for your newsletter. It can help you get more leads and keep your visitors' attention for longer. It lets you put the opt-in form just about anywhere on your site, even in pop-ups, which you shouldn't do. It works with MailChimp, HubSpot, AWeber, and a lot of other email marketing services.
The scope of the Monarch plug-in is much smaller. Mostly, all kinds of social networks can be added. You can put the Share This buttons wherever you want. Easy and helpful.
12. Customer Support
When the Divi theme was first launched, the major complaint by users was the lack of dedicated customer support. The only way to get your issues addressed was by posting your queries on discussion forums online and then keep checking up, to see if there was a response.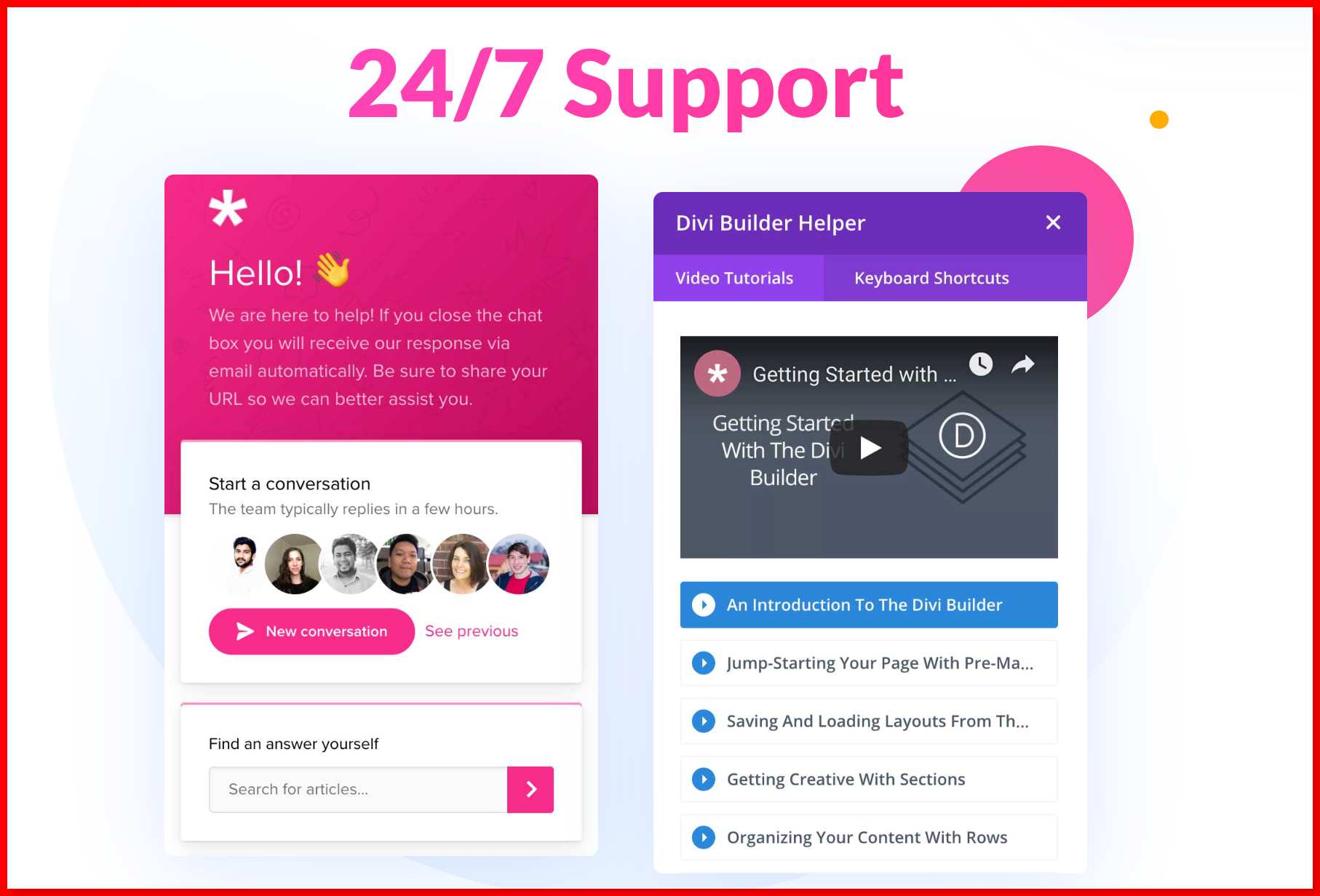 A major complaint about this approach was the slow response time and sometimes lack of an answer at all.
Along with their frequent updates and enhancement, Divi Theme addressed these concerns and set up a dedicated 24/7 customer support chatbot on their site. Let us have a look at the various options of customer support at your disposal:
Messenger Support Channel
All you have to do is access this service is log onto your account on Elegant Themes and type in your query into the messenger bot that pops up on the lower right-hand side of your screen.
You will then be given a ticket, and your answer will be directly mailed to you. The response time is extremely good, and the replies sent are packed with information, which will help you out.
So, what exactly gives Divi Theme an edge over its competitors? An interesting feature offered by the Divi theme is the ability to customize every single nook and cranny of your website, to your liking.
The best part? You can do this all by yourself, without any complex coding knowledge! Isn't that the cherry on top? 
There are 46 content modules, powered by Divi builder, dedicated to each element on your website- this can be something as small as a slider design, or something as prominent as audio videos and images.
You can mix and match as per your liking, just by dragging the module you want to change and dropping it over the content you want to customize.
You are free to experiment and change your website design, as many times as you like. The customization is not limited to aesthetics alone, you can even customize the working of the content module you want to change. Just drag and drop the content module, and you are the Picasso of your website! 
13. Customizable
With the Divi theme, you have the liberty to customize and design anything of your wish. There are more than 100+ templates, and you exercise control from the font size to the basic template layouts.
 Divi Themes avails you with a hover option, where you can create wonderful hover effects. This option helps you to convert your modules into vivid and synergetic components. It is easy to use and simple in its interface.
All the design settings are individually supported with transitions that are at your power to customize on hover seamlessly.
You will face no problem in making responsive websites whatsoever with Divi Themes. Although it has a default responsive setting. But they are one step ahead as they allow you to customize and edit your responsive designs on your mobile device, tablet, and desktop.
You can switch among different views and outlays along with a highly effective visual builder. You fashion the appearance of your website and play with it to suit your purpose.
Add Text Fonts And Styles
Every popular website you search on the web today is unique. The difference is made by permuting and combining different fonts and styles. A specific genre of website demands a certain way of presentation.
With Divi themes, you can pick up any font from a menu of 100+ fonts, and if you are not satisfied add any font of your preferences. You can resize the font according to your requirement. 
Modify Controls And Effects
You can actually empower yourself to modify the components of your page on the page itself, and that would conventionally have been done by graphic design software such as Photoshop or Sketch.
You can navigate throughout your page, adjust the different elements, and transform and edit them. You are free to scale, rotate, or convert origin in a hassle-free way. A smooth interface makes all these conversions and modifications a child's play.
14. 1000+ Pre-Made Website Layouts
You have the option of constructing your website from scratch using Divi, or you may install one of the more than 1,000 pre-made layouts.
That's correct, purchasing Divi will get you access to more than a thousand free website layouts. Install the layout from the Divi library, and then modify it until your eyes pop out of their sockets.
Every week, brand new Divi layouts are released, which means that you will always have access to fresh ideas to use when developing websites that are out of this world.
The best aspect about the layouts is that they come with a large number of royalty-free photos, icons, and illustrations, which allows you to get started immediately.
There is something for everyone to choose from because Divi website layouts are available in a wide variety of categories, including header and footer layouts, navigation components, content modules, and many more.
It doesn't matter if you're developing a website for a restaurant, agency, online course, business, eCommerce, professional services, or anything else; Divi offers the perfect layout for your project.
15. Built-In Split Testing
Testing is one of the finest techniques to determine whether or not your website is successfully able to attract the interest of its users.
A/B testing is a type of marketing experiment that allows you to split your audience to test different varieties of a campaign or, in this case, a website, and decide which one performs better.
In other words, A/B testing allows you to determine which website is more successful.
If you're interested in gaining insight into how well your website performs, the robust split testing mechanism that comes included in Divi can be of assistance.
You can test out several variations of your page by showing it to different visitors on your site and analyzing the results. The results of the test are shown in an intuitive dashboard that highlights important facts such as click-through and engagement rates.
16. Divi Theme Security
Though I all know that WordPress also seems to have some other security glitches. And these security concerns have ever been increasing along with the increase in its user list. WordPress users are becoming more and more vulnerable and concerned about their data. 
Divi also has its glitches but the great news is from the Elegant Theme itself. They thrive to provide the quickest response to any security issues which arise. They provide prompt updates and systematic details on how to mend any flaw.
Generally, Divi themes deploy safe and secure digital codes to manage any defect which is yet not done by many other products the wordpress security company Sucuri certifies Divi themes safe by an entire code audit.
How User-Friendly is Divi? ☂
Divi is a paid theme that you can't find in the theme list on WordPress.org. To get Divi, go to Elegant Themes, sign up for the club, and download the ZIP file that has Divi in it.
Once you have the ZIP file, you can install it on your WordPress homepage by going to Appearance > Themes > Add New > Upload Theme.
Once the theme is turned on, you can go to Divi's main settings. In the sidebar, it has its own menu where you can find a link to the settings panel.
The settings panel gives you a lot of ways to change things, but you don't have to change them all at once if you don't want to. You can start by making a new header for your website, which is a great way to get to know Divi.
With Divi, it's simple to make a new site. First, make a new page and make it the first page by going to Settings > Reading > Front Page. Then go ahead and change the page.
The page builder in Divi works the same way as those in Beaver Builder and Elementor. Divi's page layout is made up of rows, columns, text blocks, and sections.
With Divi, you work with rows, sections, and text blocks to build a page. To start, change your site and click the "Use The Divi Builder" button.
When the Divi Builder comes out, it will only have a few features. To make the process easier, you can choose a style from the choices that Divi gives you. The '…' and '+' buttons at the bottom of the screen can be used to load these layouts.
Divi has more than 1,900 different page styles that are organized so that they are easy to find. Even though you can't look at a layout before adding it to your page, this isn't a big deal because choosing a design layout is usually one of the first things you do when making a page.
Importing a plan works smoothly. Just click on the style you want, and it will be imported right away.
At the bottom of the page is a menu that lets you see what the device will look like. It lets you switch between laptop, tablet, and phone views and zoom in and out so you can see the whole page.
The outline view is also available. It focuses more on the order and settings of the content blocks than on how each one looks. When working on bigger pages, this view can be helpful.
The main builder interface is easy to use, with choices for parts when you hover over them and the ability to edit text by clicking on it. Formatting can be done with standard text-processing tools.
You can drag rows and parts around to change their order in any way you want. You can do more with Divi than just change the styles that are already there. There are many other tools to check out.
Divi is easy to learn, especially if you want to make a website that looks good. Importing and changing plans that are already made is a good place to start.
Once you understand how Divi works, you can use its features to your advantage. But keep in mind that Divi is more than just a WordPress theme; it is a full software package. It might take more time and work to fully learn all of its features.
If you need help, Divi has helpful literature that was made with the average user in mind.
Divi Theme Pricing Plans: 💸 
1. Yearly Access
To reap the advantages of the Yearly subscription and access to the basic features you have to pay  $70/year. This is the lowest rate that Divi Themes offers.
With this basic version, you get access to the features of Divi, Extra, Bloom, and Monarch. You have no limit on the number of website packs. 
You have a wide range of choices for different templates in a well-organized template library. It comes with a super-efficient support system and highly detailed product updates. And all this comes with a " Risk-Free Guarantee".
 If you are a little doubtful and yet you are determined to try it, this is the best price you can go for.
2. Lifetime Access
For reaping the best long-term benefits you can choose the Lifetime subscription at the cost of $199.It empties only a considerable sum once from your pockets and wrenches out the best for your business.
This does not have any new features or add-ons though if you want to keep your work simple yet extensive for as long as possible you can certainly go for this. Though you get lifetime updates and a long-term support system. In the long run, the sum of money invested is completely extracted through business profits.
Who can use Divi?
Freelancers: Divi Theme Builder is a user-friendly tool that allows freelancers to quickly and easily create unique, responsive designs for their clients. The drag-and-drop feature eliminates the need for coding, allowing freelancers to focus on design and functionality.
Website Owners: Even without technical expertise, website owners can use Divi Theme Builder to personalize their site, enhance its aesthetic appeal, and optimize user experience. It offers a range of templates and modules to meet diverse needs.
Agencies: With its comprehensive design options and client-friendly features, Divi Theme Builder is a great choice for agencies. It facilitates the efficient development of multiple websites, each with a distinct, professional look.
Design Professionals: Divi is also ideal for graphic designers and other design professionals aiming to create visually stunning websites with great functionality. The theme builder's flexibility and customizability cater to their creative needs.
Quick Links
FAQs: Divi Theme Review 2023
👉Is it possible to use the Divi theme on multiple websites
Absolutely! Both the yearly and lifetime licenses let you use the Divi theme on an unlimited number of websites, at no added cost. At a later date, if you decide that you want to create a new website, or change the current one, you can do so with no added cost.
👉 Is getting Divi theme's lifetime membership a good idea?
This is completely in your hands. For a beginner, you could choose the cheaper yearly plan, and get personal experience on whether or not the Divi theme is the best option for you. Later on, if you find yourself hooked, you can switch over to the lifetime license. A lifetime license is also beneficial for those who are planning multiple websites soon. This is because, once your yearly license expires, you will also lose access to the Elegant Theme updates and new features. Divi theme also offers a month-long money-back guarantee in case you change your mind.
👉Is using the Divi theme easy for everyone?
Yes. The Divi theme is very easy to use for everyone.
Conclusion: Divi Theme Review 2023
Divi theme is the theme builder equivalent of beauty with brains. With a combination of beautiful looks and a huge number of customizable templates and modules, the Divi theme is the full package!
You do not require even the slightest bit of coding language, to create your website or blog. For those who want to just have a go at designing their website, the Divi theme is a great option.
Gone are the days when you have to coordinate with and hassle over a third-party creative theme.
Divi Builder helps you save plenty of valuable time, and fashion a beautiful, user-friendly website with a great interface, at an affordable price. With the Divi theme, you are in control! So, what are you waiting for? Let the creative juices flow!
I am sure that you now have a good idea of the Divi Theme and the other alternatives that are available on the market. So I am sure you will get right on to utilizing one of these for the betterment of your business!