These last couple of days I'm so engrossed with Facebook titles that I explored it to its deepest core. There's almost no piece of information related to Facebook you might not find here on Knowledgecage.
One similar addition is this post:- How to ask for someone's Phone number officially on Facebook.
Now well let me tell you Facebook is going through one or another kind of update or feature addition every time. Recently it added this feature which lets you ask for people's Phone numbers, addresses, birthdays and almost any other information.
It's not always necessary that the information you are looking for is available on the profile, and that's where this How to Request Someone's Phone Number On Facebook guide should come in handy.
When Should You Use this Feature:-
Keep in mind that it's not a way to magically find out the number of someone on Facebook. So if you've been looking for answers to questions like How Do I Ask A Girl For Her Phone Number On Facebook?
You're on the wrong page. Although this article can indeed help you get the number of a girl, only if the other person wishes to! In short, you should use this feature only if you know the person personally, or are confident that the other person is interested in sharing their number with you.
How does this "How to Ask for Someone's Phone Number Officially on Facebook" Work?
Well if you're thinking that Facebook would magically show you the number of the other person from its database, you're wrong. What this option/feature does is, it lets the other person know that you're interested in getting their number.
When you ask for their numbers, they'd get a notification telling them about it, and then if they're interested, they can share their numbers with you.
So let me repeat again that if you landed on this page looking for answers to How to ask a girl her number on Facebook, I suggest you get off the page right about now.
It's worth mentioning that you can ask the phone number of only those people, who are on your friend's list already. If someone is not in your friend's list, the Ask for phone number option doesn't work, it doesn't show up in the first place.
How to Ask for Someone's Phone Number Officially on Facebook:-
In order to ask for someone's number on Facebook, you need to head towards their profile. That you can do either by searching their name on the search box or clicking on their names from the chatbox.
#1:- Searching for their names on Facebook.
#2:- Clicking on their names in the chatbox.
Both the actions would take you to their profiles. Once you're in their profiles, click on their "about" section. This section holds all the information regarding their contact info/relationships/education and everything.

Now you need to click on the "Contact and basic info" button.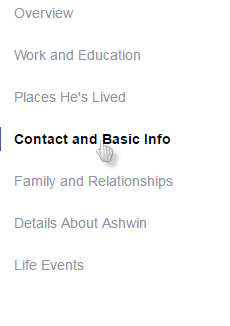 Once you click there, you might get direct access to their number in case they've shared it publicly. But if they haven't, you'd see an option that looks something like the below screenshot, and says "Ask for Mr. X's Phone Number".

Yeah, you guessed it right, that's where you need to click.
Once you click there, a small "note box" would come up, here you can ask for the number or leave a note to let the other person know why you're asking for their numbers, and click "Send Request".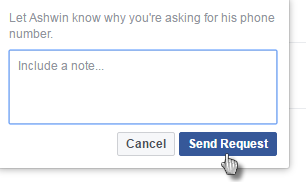 Done! The other person would get a notification about the request and if he/she wants, can share the number with you.
How to Ask For Someone's Email Officially on Facebook:-
Now that I'm talking about asking information officially, I just thought it's good enough if I include this section too, right?
In case you're trying to contact someone and are in desperate need of their Email accounts, Facebook allows asking for that too!
Well, repeat the steps as in the previous section till you reach the "Contact and basic info" page.
Once you're there, you can see a neatly placed button saying "Mr. X's Email". Just click on it.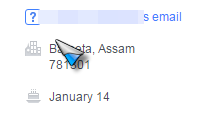 Again fill in the note box and let them know about your intentions, and if they're willing, you'll be granted what you wish for.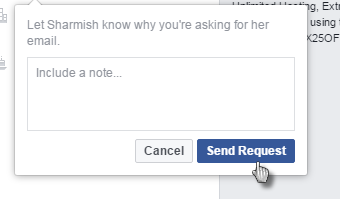 Final Words:-
So that was all I had on How to ask for someone's Phone number officially on Facebook. Now with the official option to ask for the numbers, things are rather easy so I don't suppose you should be facing any trouble.
But if you do come across some of them, feel free to use the comment box and I'll get back to you at the earliest possible. Also, if the piece helped even the tiniest bit, I wouldn't mind you hitting the share buttons, keeps me motivated.