This couldn't get any better, I mean this exactly is the kind of topic I can write the whole day on, and still not feel tired. So yeah let's talk a bit about the mechanism and manufacturing infrastructure that makes a man, into a blogger. Well straight and simple, what I'm sharing in this piece is how to become a blogger.
Well, I have been 6 long years in the industry, meaning I have been in this industry since I was 13, so yeah I think even if I have not collected anything else I did collect what a blogger means.
Who is a Blogger?
Hey, ever wondered who is a blogger exactly? I mean as the name suggests, anyone who blogs, is a blogger right? Well yes, but no.
There are two typical categories of blogger, I mean two categories I can broadly classify the bloggers into.
The first one, of course, is a hobbyist blogger, a well meaning blogger who owns blogs just for the sake of their hobby and that they are not looking into making any serious profit out of it.
You might be a travel guy and you might want to share your story out with the world, well you are a blogger, you might be a cook and you would want to share your recipes with the world well you are a blogger again, but well there is a difference between you and the professional blogger.
A professional blogger is a blogger who takes it up as a profession, and he makes a living out of blogging. (well all the stories you heard about working and earning from home, they were not fairy tales, not all of them at least.)
Well, people often confuse professional bloggers with people who are masters in a field, I mean you can be a hobbyist blogger, and you still might be a master in what you share. If you are a great cook you can share your secret recipes and you need not be a professional blogger.
On the other hand on a daily basis, I meet at least a couple guys who seem to try to take blogging as a profession, but they are not masters on the topics they are covering so well it's clear that you don't need to be a master in something to be a professional blogger.
But well yeah then again comes the difference of maintaining the blog and professionalism, I mean if you are just a hobbyist blogger you would not give a lot of shit to search engine queries, keywords or how your blog looks like.
Yeah you might do it on a personal level but that is not something you would spend a fortune on,  on the other hand, if you are a professional blogger you do need to worry about Search Engine Optimisation, look and feel of your design, the speed, and a lot of back-end stuff like the themes, the plugins, the CDN's, etc.
So I can say that the hobbyist blogger is a lot cheaper than being a professional blogger but then again being obvious blogger doesn't pay you while being a professional blogger can make you a fortune.
How to Become a Blogger?
Well becoming a blogger is not really that hard, becoming a professional blogger is. Well, they all start from the same originating point.
So either you want to be a professional blogger, or a just a hobbyist, there are couple things you're going to need for sure, there's no other way around them.
Well let me list the basic requirements (No, they don't cost a fortune!)
Domain. (Something so that your visitors can find you, for e.g., Knowledgecage.com)
A server (In order to store the files, the text, audio-video needs a place to be uploaded, right?)
A CMS:- WordPress or Blogger. (Both are totally free.)
What? Looking for the fourth requirement? You're good to go, nothing else required! (I just like to play around a bit you know, sorry if it annoyed you.)
How do You Start a Blog?
Well as I already said, you're going to need the two things we talked about. Well, I'll be soon (Like maybe in the next 48hours), writing a detailed guide on how to buy a domain name, but for now, let's give you a sneak-peek, and well that should be enough to get you started for now.
You need a domain, and that you can get from Godaddy or Bigrock. Well, the pricings are similar, not a lot of difference, so you can go with either one of them.
Just head over there, key in your Domain URL. (I'll be taking Godaddy for an example.) Now click on Search.

If the domain is available, you'll see it's available, so just proceed. If it says it isn't available, just think of a different URL. So well see my domain is available, Now, I just click on Select, and then Proceed to cart.

Then finally, you need to click on Proceed to checkout.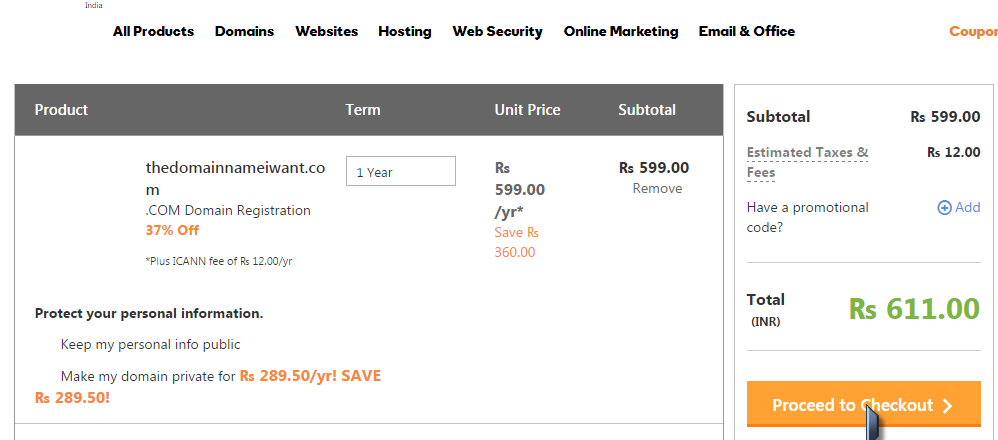 Once that's done, you've got your domain, yeah that was all that you had to do.
Okay so now you need to get the servers , well it's just as easy as getting the Domain, you can get one from Bluehost, or Hostgator or any other company you prefer.
Just go to Bluehost and select your plan.(See? They're dirt cheap).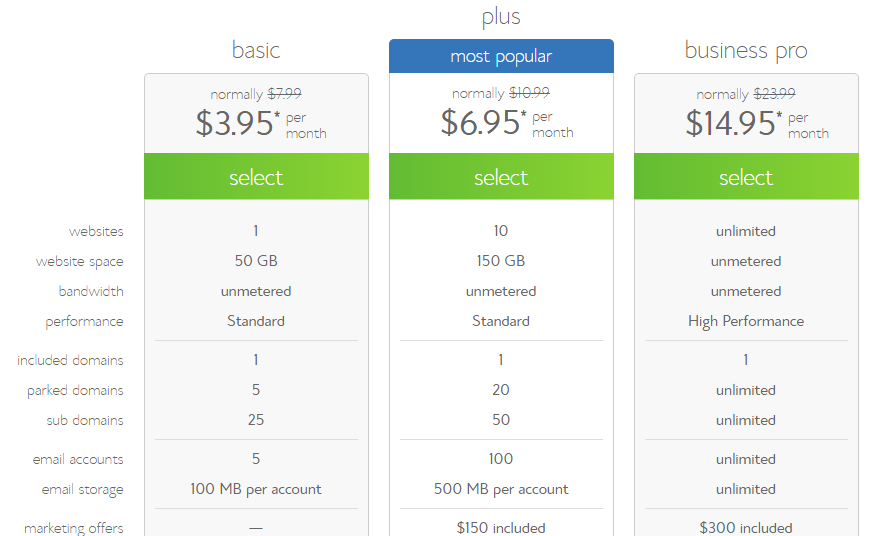 Well once you've got your plan, just proceed to payout and make the payment. (I'm not listing out a step by step process mainly because this is a "how to be a blogger" oriented post, and not it's technicalities, and secondly because buying this is easier than buying goods off Amazon)
Once that's done you're good with the servers too.
So now, all you need is WordPress, right? Well it's easier than most people think, and WordPress is advanced enough, so all you need to do is, search for Softaculous on your Cpanel (Softaculous is the "home" of all apps and CMS's on the Cpanel).

And then, find WordPress in it, and click install.

Done! Well yeah, your site is ready. Now you can just log in to your WordPress and start writing new posts, by clicking on Add new from the dashboard.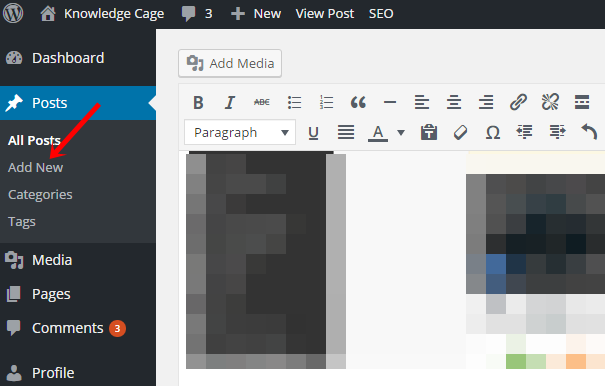 Congratulations, the blogger within you was just born!
How to Start a Blog for Free on Blogger:-
You can go with Blogger Blogs too, they are free, means well they don't need servers, so all you'd need to buy are the domains.
They are owned and operated by Google, so well there are quite a number of restrictions, that's the reason this is not my first choice, but still, you're free to go with them.
All you need to do is, head over to blogger.com and signup for a free account. Or if you have a Gmail ID, you can just log in.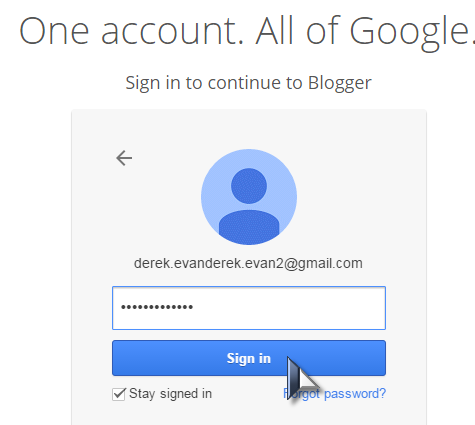 Then click on New blog option.

On the popup that comes over, select your Blog Title, and URL.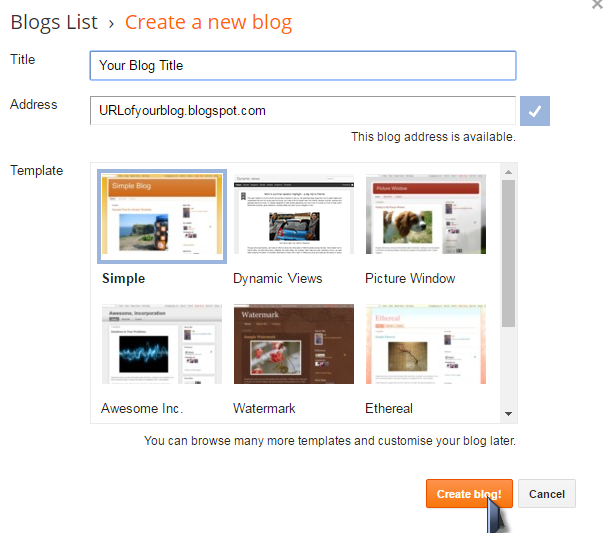 Once you've done that, your blog is ready! Just click on the small pen icon on the screen to start blogging!

How to Make Money Blogging?
Well, there are over 50 ways to make money off a blog. But well not all of them are as easy, or straightforward. So let me make it easy for you.
Adsense: – Well it's the most popular method right now to make money. All you have to do is, set up Adsense on your blog, and you get paid for every time a user clicks on it.
Affiliate Marketing: – Well, it's like you can write reviews and promote someone else's products. Like maybe an e-book, a digital software or something, and you get paid a % of it for each sale.
Third-Party Ads: –  You can sign up on sites like Buysellads.com (It's the only one I've ever used), what they do is, they connect you with advertisers, who want their banners advertised.
You put them up on your site, and you get paid for a certain number of impressions. Say you get paid $100/10000 impressions or something like that, so yeah that's how it works.
These aren't all the methods, I'm pretty sure you can think of a lot more ideas and methods to make money off your blog, but these are the ones who've made a reputation for them in the industry, can be trusted, and yield results.
Wrapping it Up:-
So yeah that was about it, I mean if you ever wondered how to become a blogger, this piece must have solved your queries, huh?
Also, I shared those tiny little tips on how to make money blogging, so that might come in handy too, right? If you ever get stuck somewhere, just leave a comment, blogging is exactly my thing so I'm here to any kind of questions you might have.