Are you considering pursuing an educational program but want to explore options beyond Coursera? With the right resources, it's easier than ever before to obtain a quality educational experience.
Taking into account cost of tuition and course availability, we researched some of the best alternatives to Coursera so that you can find the perfect learning pathway for your needs.
In this post, we'll explore several courses offered by popular websites including Udemy, Khan Academy, and edX which offer competitive routes for gaining valuable knowledge without breaking your budget. Read on for more information about these top-notch online learning destinations.
1. Codecademy
Codecademy is a revolutionary learning platform that provides students with the opportunity to learn coding languages online. It has become one of the most popular online learning resources, thanks to its interactive approach and comprehensive range of courses.
Codecademy was founded in 2011 and currently serves over 45 million learners worldwide. It offers an array of programming language courses, from beginner-level HTML/CSS and JavaScript to more advanced Python, Ruby and Swift.
All these courses are designed for self-study and are accompanied by detailed instruction videos and helpful tips from experienced coders. 
The platform also offers various projects for learners to get hands-on experience, as well as Q&A sessions for learners to ask questions about concepts or code snippets they've encountered during their studies. 
In addition to having courses on specific programming languages, Codecademy also offers courses on web development tools such as Git, ReactJS and NodeJS; game development tools such as Unity 3D; data science tools such as R; and software engineering tools such as Linux command line.
Furthermore, the platform also provides career paths that help learners prepare for the job market with guidance from industry professionals. In other words, Codecademy does not just teach coding languages but also helps users apply them in their future careers. 
The platform's pricing structure is flexible too: you can choose between a free membership or a Pro membership ($19.99/month). The Pro membership unlocks exclusive content including real-world projects, personalized guidance from mentors, peer-reviewed projects portfolio building support, live help from experienced developers while coding and weekly group mentoring sessions with industry professionals. 
Overall, Codecademy is a great alternative to traditional education platforms because it offers detailed instruction materials combined with interactive exercises that make learning fun and engaging. Additionally, its flexible pricing structure makes it accessible to any kind of learner regardless of their budget or skill level.
2. Skillshare
Skillshare is an online learning platform that offers thousands of classes across a wide variety of subjects, including business, design, photography, and more. It has become one of the most popular alternatives to Coursera due to its ease of use and comprehensive range of courses.
Skillshare offers over 25,000 diverse classes from recognized industry professionals and experts in their field. Many classes are available for free or at a discounted rate when students sign up for a subscription.
With careful selection and proper utilization, users can save money on professional-level training compared to other online course platforms like Coursera.
The Skillshare user experience is focused on fostering community engagement by allowing users to ask questions directly to instructors as well as engage with other members in the community through comments and account interactions.
Users have access to various tools that help them stay organized and track their progress throughout each course so they can easily pick up where they left off. Also, all courses include free materials such as worksheets, templates, and tips that help students master each skill faster than traditional learning methods. 
In addition to courses related to business skills and creative pursuits such as graphic design or photography, Skillshare also provides options for learners interested in developing a career or sharpening their resumes.
Through Skillshare's Career Paths program, students can take classes related to web development or coding while exploring job opportunities related to their interests at the same time. 
Overall, Skillshare is an excellent alternative for those looking for an affordable way to learn new skills or advance professionally. With its extensive library of high-quality courses taught by experienced professionals, engaging user experience that encourages collaboration in the learning process, helpful tracking tools, and offer of career resources – Skillshare is an ideal option for those seeking an effective way to gain new knowledge without breaking the bank!
3. Udacity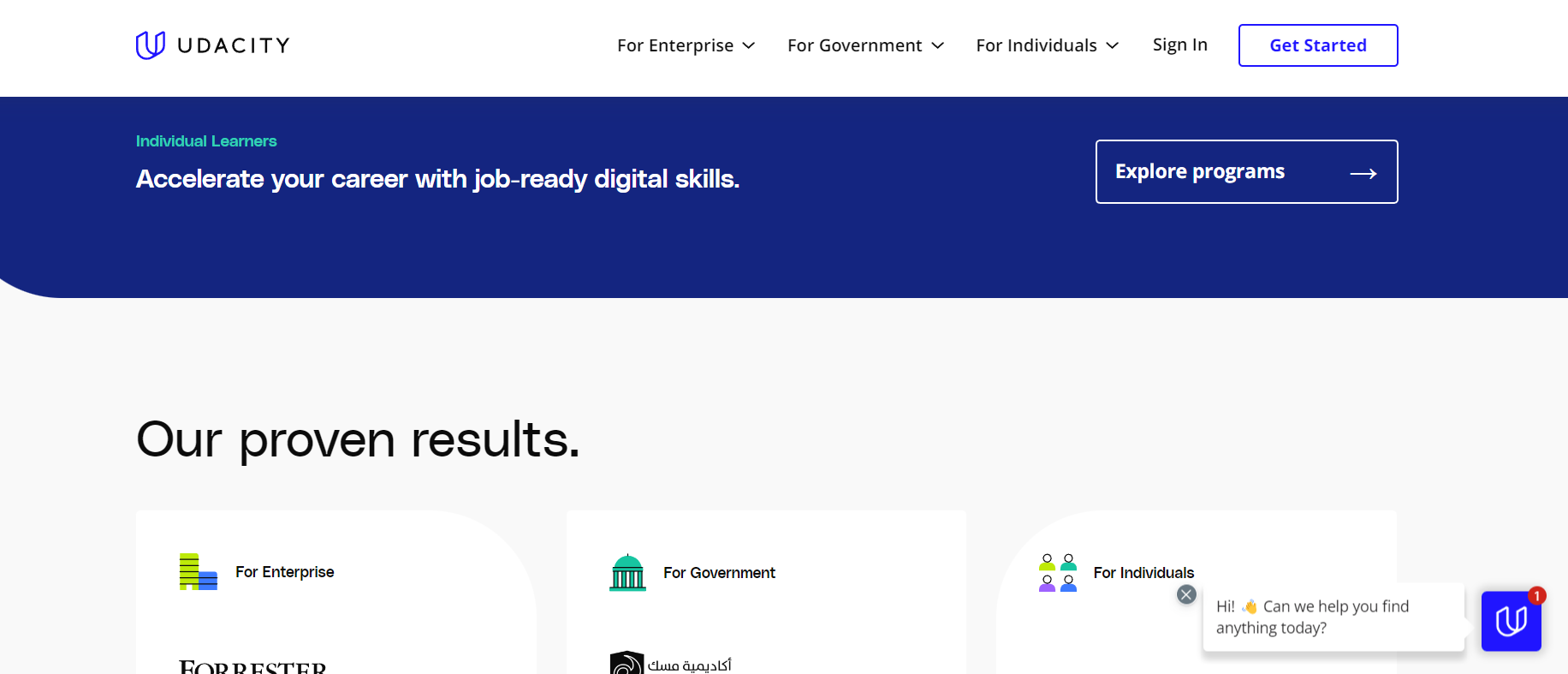 Udacity is a well-known and popular educational platform offering students the opportunity to access courses in programming, data science, artificial intelligence (AI), cloud computing, and more.
Founded by two Stanford University professors in 2012, Udacity has quickly become one of the most sought-after online learning destinations for aspiring technology professionals.
It provides comprehensive curriculum that covers topics like web development, mobile development, robotics, machine learning, virtual reality (VR), and digital marketing.
Udacity offers many advantages over traditional education programs. Firstly, its courses are designed by industry experts who have a deep understanding of the latest technologies.
Thus students get access to quality content that can really help them advance their technical skills. Moreover, students can find answers to their questions on forums provided by Udacity and benefit from mentorship sessions with leading professionals in the field through its career services program.
Furthermore, as regular course updates ensure learners stay up-to-date with technological developments in their chosen disciplines. In addition to this, Udacity also provides a "nanodegree" program that awards candidates a certification upon successful completion of the course material. 
The nanodegree program is highly beneficial for those looking to jumpstart or progress their tech career as it enables them to learn at their own pace and gain valuable industry experience while building relevant skillsets such as web design, software engineering or AI programming.
The program is accredited by leading employers such as AT&T and Google making it an attractive option for job seekers looking for employment opportunities in these areas. 
In conclusion Udacity offers many advantages compared to traditional education programs due to its focus on providing high quality content from experienced industry experts along with cutting edge technologies like VR and AI programming which can give learners an edge when entering the competitive world of tech jobs.
The nanodegree program further enhances this experience by allowing enrollees to build much needed skillsets required in today's market while gaining valuable certifications from prominent employers providing them with the best chances at success in finding meaningful employment opportunities in today's world economy.
4. Udemy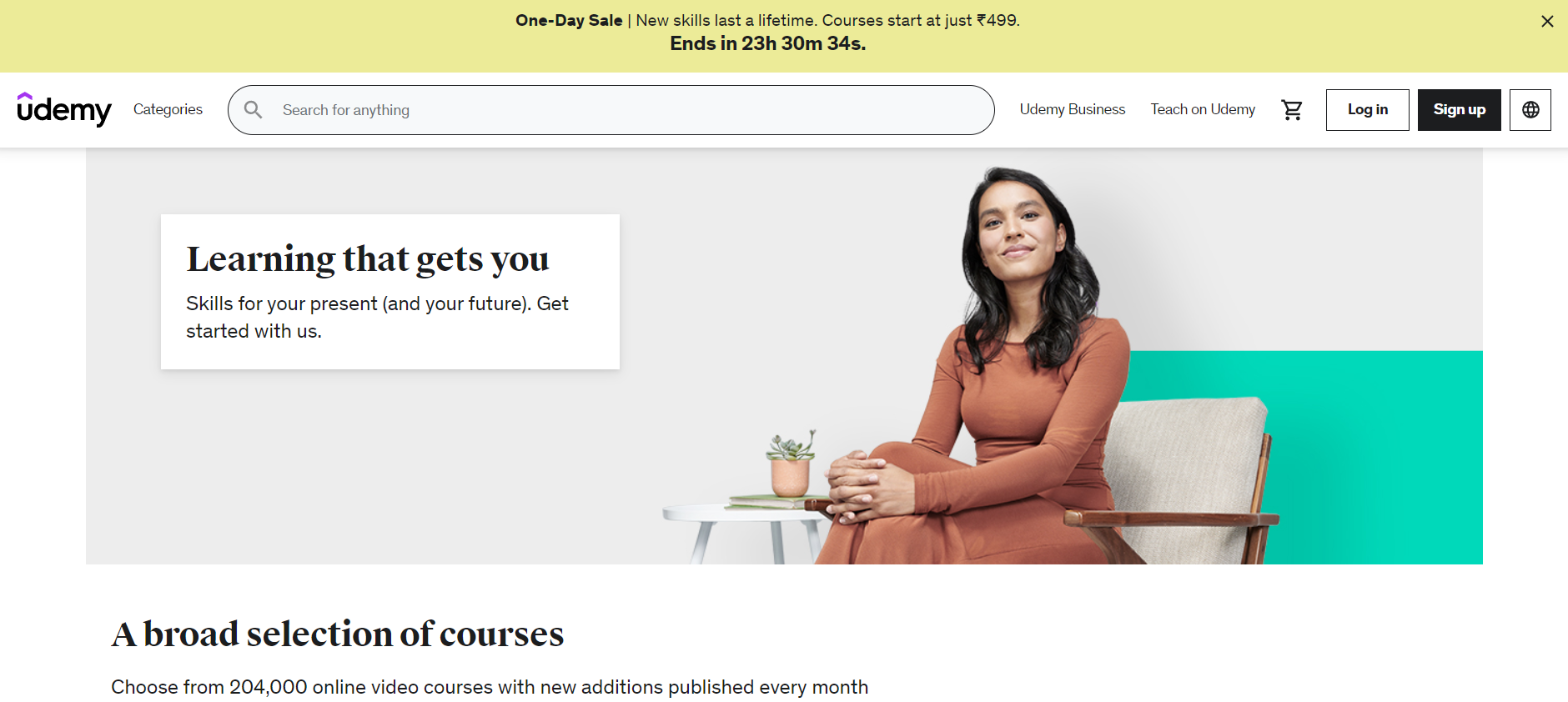 Udemy is an online learning platform that has quickly surged in popularity as a great alternative to Coursera. It offers more than 55,000 courses taught by experienced instructors, and covers a wide range of topics including business, tech, health & fitness, personal development and language learning.
Unlike Coursera which focuses on university-level courses, Udemy provides courses for beginners right through to advanced learners. It also has an interactive learning experience with videos, quizzes and practice tests.
Udemy's courses are usually broken down into smaller modules or lectures that can be taken at the learner's own pace. In addition to video content and interactive quizzes, some of its most popular features include downloadable materials such as slideshows and PDFs, which allow students to better absorb information from the course.
Students don't need any prior knowledge before enrolling in any of the courses offered on Udemy; all the skills required for each course are provided within the curriculum.
The platform also offers a range of different packages aimed at helping students get the most out of their learning experience. Its discounts and coupons are especially appealing for those who want to save money while still getting quality education.
Udemy also provides support services such as live chat and customer service during live sessions with instructors or customer care representatives if they have questions or encounter any technical issues while taking a course.
Additionally, it allows users to earn certificates upon completion of course programs which can be printed out or shared online via LinkedIn profiles or other social media platforms. This makes Udemy an attractive choice for those looking to boost their career opportunities by adding credentials to their resumes. 
Overall, Udemy is a great alternative to Coursera that offers high-quality education in various topics delivered by experienced professionals at an affordable price point and with flexible learning options.
It is suitable for both beginners and advanced learners alike who want comprehensive yet cost-effective courses with certificates at the end of them.
5. Pluralsight
Pluralsight is an online learning platform that offers a wide range of courses and learning materials. The company has quickly grown to become one of the leading providers of online education, providing courses in technology, creative, and business skills.
With more than 6,500 courses from over 1,000 industry experts and authors, Pluralsight provides a comprehensive selection of content for learners at all levels.
Content includes high-quality videos created by experts in their respective fields as well as interactive coding exercises to help learners practice their skills. Additionally, Pluralsight offers various learning paths that allow users to track their progress through an entire course or topic. 
The platform also has several features to help speed up the learning process. For instance, Skill IQ helps users gauge their current level of proficiency across various topics by taking an assessment test.
This allows them to identify gaps in their knowledge and focus on the areas where they need improvement. The Knowledge Check feature gives users instant quizzes upon completion of a lesson video so they can assess their understanding before moving onto the next concept. 
Pluralsight also provides access to its library through its mobile app and personal learning plans that allow users to customize their experience based on specific goals—such as getting certified or advancing within a job role—and track their progress over time with reports and notifications. 
Finally, Pluralsight's subscription plan allows users to access all of its content without worrying about due dates for completing multiple courses simultaneously or being locked out after completing all available options; learners simply have access to everything provided on the platform for as long as they maintain an active subscription plan.
This makes it easier for learners who don't want to commit to longer-term commitments but still want access to high-quality content from expert instructors.
Quick Links
Conclusion: Best Coursera Alternatives To Consider In 2023 Best Guide
Overall, there are many great Coursera alternatives to consider in 2023. While each has its own unique features and benefits, all of them offer a high-quality education that can help you reach your goals. So, whether you're looking for a more affordable option, or one with more specialized courses, there's sure to be a Coursera alternative that's right for you. Have you tried any of these programs? What was your experience like? Let us know in the comments below!