Microsoft offers various learning classes and certifications that can help you get ahead in the workplace. Whether you're looking to learn a new skill, earn a new certification, or simply stay up-to-date with the latest technology trends, Microsoft's expansive library of courses is sure to have something for everyone. Looking toward next year?
Here we'll look at some of the best Microsoft learning classes to explore in 2023 – both free and paid – so you can set yourself up for success!
Microsoft Office Essential skills by Udemy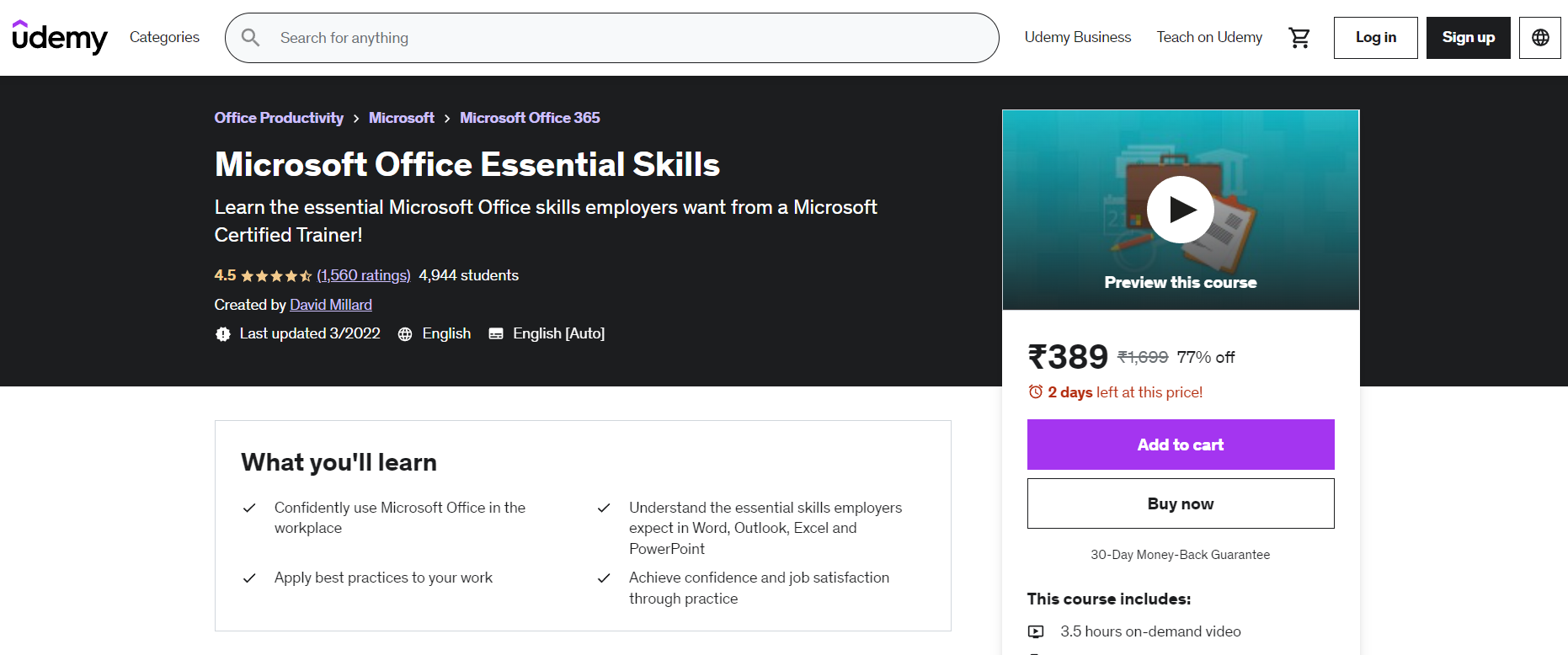 Microsoft Office Essential Skills by Udemy is a comprehensive training course that provides an introduction to Microsoft Office, including Word, Excel, PowerPoint, and Outlook.
It covers the basics of each program and helps users develop the essential skills needed to be successful in their day-to-day operations.
The course starts off by introducing users to the basics of Microsoft Office—how to manage the ribbon bar, create documents in Word, work with data in Excel, perform calculations in Excel, produce presentations with PowerPoint, and use Outlook for emailing and scheduling.
It then progresses through intermediate topics such as formatting documents with Word styles and track changes, creating pivot tables in Excel for data analysis and visualizations, automating processes with macros in Excel and PowerPoint, working with comments and notes in Outlook, mastering Outlook calendars for meetings and events management, etc.
It also includes sections on advanced topics such as creating custom formulae in Excel to automate complex tasks and performing database functions using Access. Throughout the course students will gain an understanding of how to operate within these critical applications more efficiently. 
In addition to the core curriculum of this course there are supplementary materials which include additional resources such as cheat sheets containing common commands used within Microsoft Office applications.
There are also practice exercises throughout the lessons so students can apply what they have learned right away. This is especially helpful for users who need a refresher or want to build up their knowledge base before taking a certification exam such as MCSA: Office 365 or MOS: Microsoft Office Specialist certifications. 
By completing Microsoft Office Essential Skills by Udemy you will have developed a comprehensive skill set that will help your organization's efficiency across its entire operation.
You will learn tools that save time on mundane tasks while also discovering techniques that allow you to leverage your data more effectively than ever before—all from one course!
Level Up Your Microsoft Office Skills by Pluralsight
Level Up Your Microsoft Office Skills by Pluralsight is a comprehensive online learning course for those looking to improve their knowledge of the Microsoft Office Suite.
This course focuses on all versions of the popular productivity suite, from the latest release, Microsoft Office 2019, to older versions such as Office 2016 and 2013. Through this program, learners gain access to 40 hours of expert-led content covering topics like Excel, Word, PowerPoint, Outlook, and more.
In this course you'll be exposed to some of today's most up-to-date tools and techniques used in these programs. You'll learn how to create winning spreadsheets with Excel and analyze data using formulas.
You'll also learn how to produce high quality documents with Word and craft impressive presentations with PowerPoint. Finally, you'll get a good grasp on managing your time effectively through Outlook while staying informed on the latest news or events via information networks.
The learning path features over 50 hands-on exercises that allow learners to put their newly acquired skills into practice right away. With guidance from experienced instructors throughout the entire program, users can rest assured they are building a solid foundation in their Microsoft Office knowledge base.
Plus, there are four bonus courses focused exclusively on Outlook for those who need more in-depth training on that particular program.
In addition to its comprehensive curriculum offerings, Level Up Your Microsoft Office Skills by Pluralsight also provides users with exclusive content related to the ever changing updates of Microsoft office applications so they stay ahead of the curve when it comes to mastering industry standards and best practices in productivity within an organization or business environment.
Furthermore, after completion of this program users can expect real world rewards such as improved job opportunities and salary increases due to an enhanced understanding of commonly used software in today's business world. 
Overall Level Up Your Microsoft Office Skills by Pluralsight is an excellent learning opportunity for anyone interested in improving their understanding of current productivity suites available – especially those focused around the Microsoft brand – while preparing them for future success within various career paths related to IT or digital projects management within modern organizations.
Microsoft Office Time-Saving Techniques by Udemy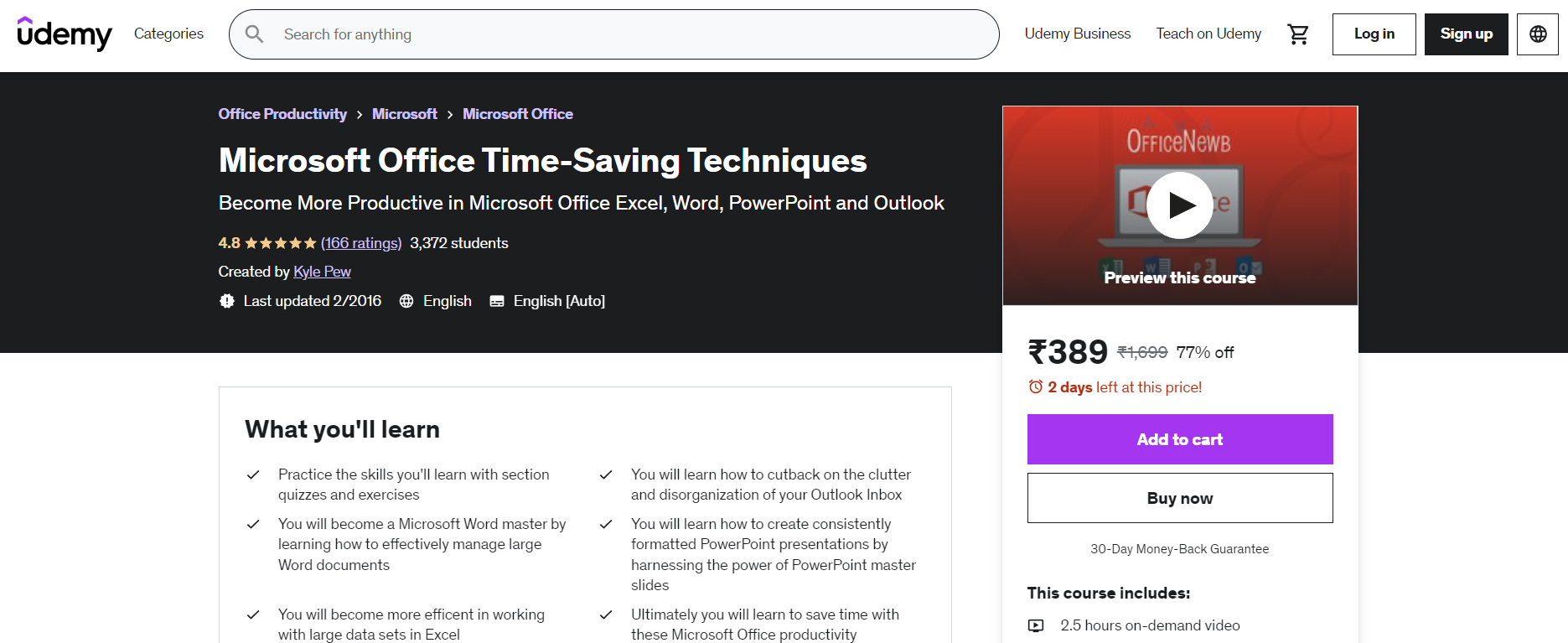 Microsoft Office Time-Saving Techniques by Udemy is an important course for those looking to increase their productivity and time-management skills in the workplace.
The course covers a variety of topics that can help you work smarter and not harder, including how to make the most of Outlook, Excel, Word, and PowerPoint. 
You'll learn about techniques for using Microsoft Office applications effectively. This includes how to use templates, formulas, and shortcuts to work more efficiently.
You'll also learn how to customize programs such as Outlook so that it works best for you. With these skills you'll be able to optimize your workflow and save time on mundane tasks such as data entry or formatting documents. 
The Microsoft Office Time-Saving Techniques course also offers advice on organizing information in a way that will help streamline processes and keep your desk uncluttered.
You'll learn tips on creating systems that make it faster to manage projects, track deadlines, and collaborate with colleagues. This way you can maximize the efficiency of your team or organization and get more done in less time. 
The course also provides guidance on how to prioritize tasks and develop strategies for tackling them quickly without getting overwhelmed or sidetracked by distractions. Additionally, you'll gain insights into how other organization leverage technology to improve their overall productivity levels. 
Overall, the Microsoft Office Time-Saving Techniques by Udemy course is essential for anyone looking to become more productive in their day-to-day life by leveraging the power of Microsoft Office applications such as Word, Excel, PowerPoint, and Outlook. With this knowledge you'll develop sharper analytical abilities that will help you work smarter rather than harder while improving your team's effectiveness too!
Microsoft Office Suite by GoSkill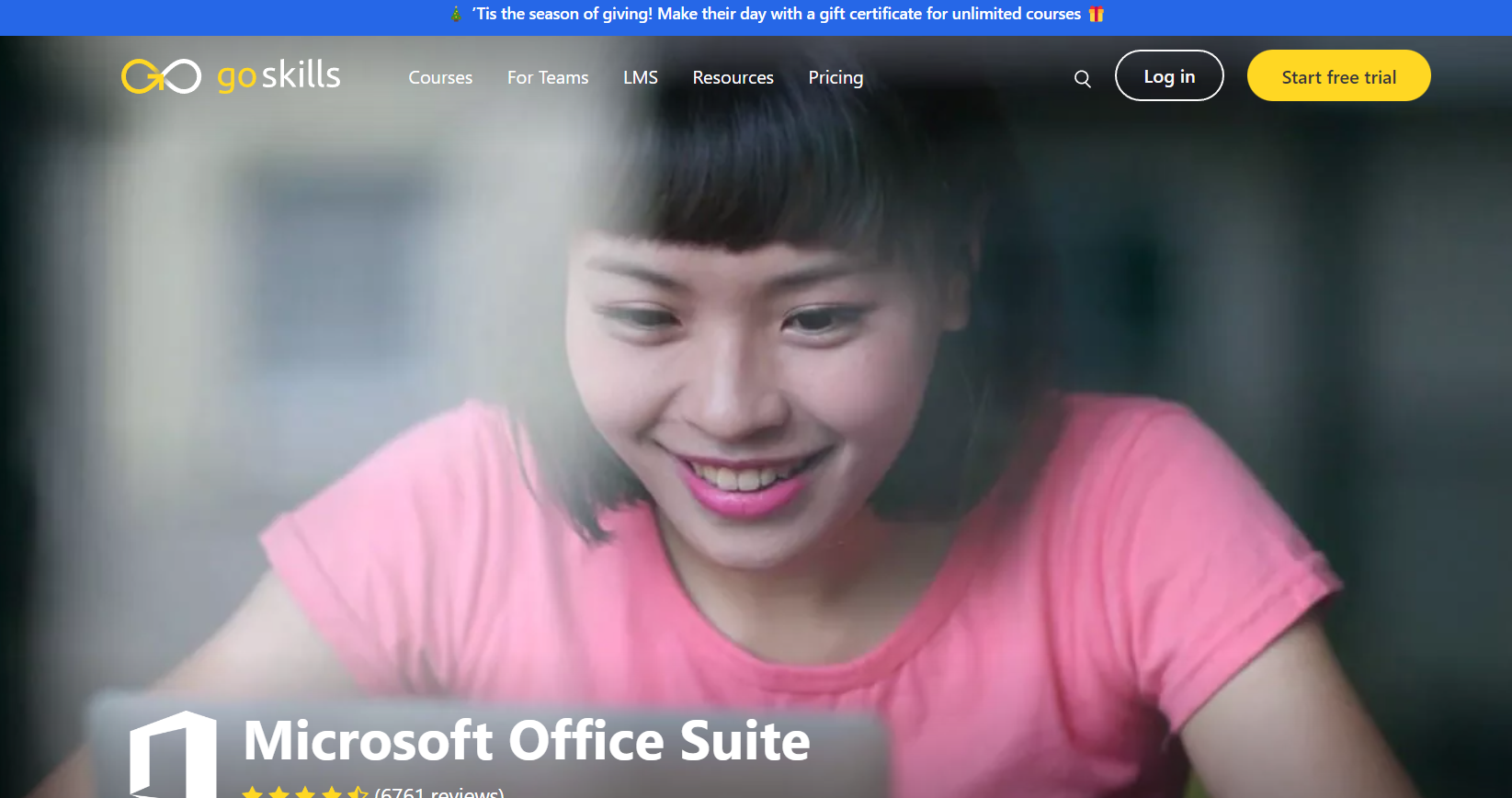 Microsoft Office Suite by GoSkill is an advanced learning platform developed and powered by Microsoft, offering world-class training in a range of Microsoft products.
From basic word processing to complex data analysis, this suite offers everything a modern business needs to stay competitive. It provides interactive courses, practice tests and assessments that help users develop skills for their particular job or career.
The core of the suite is the Office Suite Online course. This course covers all the essentials of Microsoft Office, such as Word, Excel, PowerPoint and Outlook.
It also includes popular topics like SharePoint, OneNote and Access. The course covers topics like creating spreadsheets; making presentations; managing emails; working with text documents; designing slideshows; formatting tables and charts; creating databases and queries; working with macros; using formulas; integrating data from external sources and more.
With its hands-on activities, quizzes and evaluation tools, the Office Suite Online course develops practical skills for today's digital workplace.
The suite also includes specialized courses tailored for specific roles or industries. For instance, the Business Intelligence Essentials course helps users become proficient in creating dashboards for data analytics needs such as forecasting sales performance or customer trends.
Similarly, Advanced Excel Training helps users become proficient in working with large datasets and performing complex financial modeling tasks.
In addition to training courses available through GoSkill's Microsoft Office Suite platform, they offer additional resources including webinars on key topics like artificial intelligence (AI) applications in the enterprise and cloud security best practices.
As well as official certification exams so users can validate their knowledge on a range of different Microsoft products or services such as Windows Server Administration or Exchange Server 2016 Configuration Exam (Exam 70-345). 
For businesses looking to stay ahead of their competition in terms of technology adoption, Microsoft Office Suite by GoSkill provides comprehensive learning opportunities designed to ensure even inexperienced users gain the necessary expertise required to get up to speed quickly on modern technologies such as AI applications or cloud computing solutions.
Its range of courses cover all levels from beginner to expert which makes it a great choice for businesses wanting to optimize their productivity without breaking their budget.
Quick Links
Conclusion: Best Microsoft Learning Classes To Get In 2023 New Guide
In order to get ahead in your career, it is important to invest in yourself and continuously learn new things. With so many Microsoft learning classes available, it can be hard to know where to start.
Thankfully, we have compiled a list of the best Microsoft learning classes to take in 2022 so that you can stay ahead of the curve. Whether you want to learn about Excel or PowerPoint, there is a class for you. So what are you waiting for? Sign up today and start learning!