The iPhone came with a really nice Rams-inspired calculator by default. The iPad users are left to wonder where is the calculator on iPad? Often, they are found asking why isn't there one on the iPad by default? A calculator on iPad is a basic requirement and still, Apple has not thought about it.
It is required to perform the basic arithmetic operations on numbers like addition, subtraction, multiplication, and division to the more sophisticated ones, including roots, exponents, trigonometric, etc.
Because math is hard and the iPad doesn't include a built-in calculator, there are many options for calculator app for iPad available in the App Store. Some of these apps have very interesting features, while others are rather plain.
There are both free and paid apps available and users can choose according to his or her requirements.
The iPad still lacks some of the basic apps to be built into iOS like a dedicated Dictionary app, a calculator for iPad and weather apps. Users often ask 'Why do we need to download apps to perform such basics tasks?'
Weather and calculator are actually too basic of functions to leave to a third party to solve and not include in iPad OS out of the box. The first iPad was launched on April 3, 2010 and still it is lacking these basic functions.
If Apple thinks that by not including these apps into the device, they are motivating people to try the App Store then that is the weirdest thought because:
People are going to use the App Store anyway and you don't need such senseless tactics.
These functions are too basic to leave out of the default OS.
It needlessly worsens the iOS experience over where it should be.
I am sure that Apple developers must be debating this matter internally, but the side that is winning the argument so far have better debaters in their kitty.
How to Get Calculator on iPad – Various Options
Till the time calculator on iPad is not an inbuilt app, we have to visit the App Store and download iPad calculator app. There are many options available there and let us analyze a few of them.
Digits, the Calculator for Humans
This app is a paid one and also a favorite of App store staff. This universal app makes calculating fun and intuitive with its fantastic look.
Digits keep a digital tape (or printout) of everything you calculate. It is a wonderful calculator app for iPad, which allows the user to switch between tapes and easily find others using the beautiful tape browser.
You can print out these tapes using Airprint and Bluetooth keyboard support is also available.
If you are the one who wants to calculate using bright and beautiful buttons with great designs then this is an app for you. This user-friendly app has both the regular calculating mode and the scientific mode.
The brightly designed buttons make it look great and there is a no-frill approach attached to it, which makes it a perfect buy.
There are buttons in it, which assist in complex calculations along with support for multitasking.
This amazing app is free of cost and works for both iPad and iPhone. Using this app, you can write any maths equation you want on the screen and MyScript will convert numbers into text.
It is as easy as writing on paper and answers are presented in real-time. You can choose any type of variable to solve through this app and MyScript never fails. In fact, it works incredibly fast.
Calculator for iPad – Calc Pro HD Free
Calculator for iPad – Cal Pro HD is again an amazing app for iPad. It comes with an option of five calculator modes and five display options along with retina support and 11 supported languages.
This gives you immense flexibility to build the type of calculator that you think is perfect for your requirements.
The basic app is free and there are in-app purchases. There are many options to buy, including a unit converter and loan calculator. It is the perfect app for those who want a calculator customized according to their requirements and don't mind spending a bit to get one.
Calculator HD for iPad is another fantastic app for iPad. The calculator app features basic, scientific, note, and tape calculators. So, if you are looking for a single app for four different calculators, you should go for this.
The name itself suggests that it is free to download. It is a simple app, which is very pleasant to use and can be used in portrait mode for the basic calculations.
The only downside a user may find with it is that it is ad-supported and so at times it might get irritating, but there are in-app purchases that can remove the ad if you want. It also has an option of paid version where you get a larger screen and seven different skins.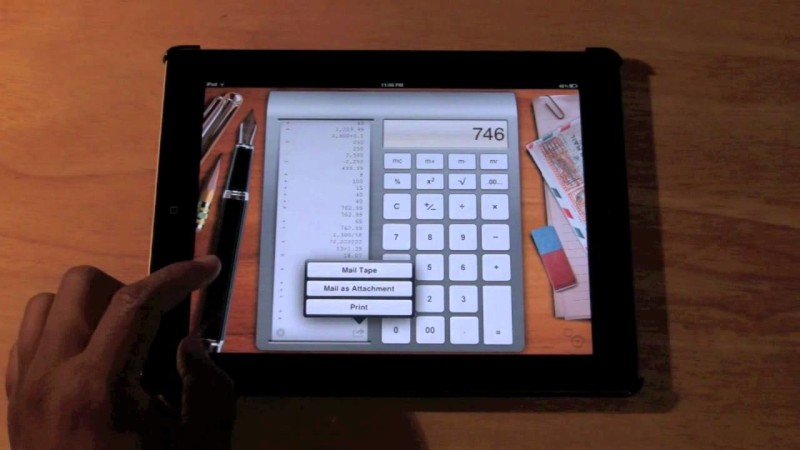 Calculator Hero is a good-looking iPad calculator app available for free at the App Store. This has both the basic mode and the scientific mode and you can toggle between the two as and when required.
Calcbot — The Intelligent Calculator
Calcot is a polished, universal calculator app, which can be bought from the App store. It has an audio feature that makes you feel as if you are operating an old-school calculator. The live history feature makes you look up previous calculations with ease.
The calculations also display what you just entered, so you do not risk entering the same number twice.
The iPad is a great piece of hardware, but it is the apps that make it perfect. Whatever little things are missing in it can be complemented beautifully by downloading these apps from the App store.
There is a myriad of must-have iPad apps available, which cover all aspects and facets of life. Everything that you could possibly need is catered for. All you need is to find the one that suits you the best and get it on your device.