CamelCamelCamel and Keepa both track the prices of Amazon products.
With these trackers, customers can find the best deals on their favourite items. Amazon raises the prices of its goods a few weeks before a big holiday.
Amazon cuts the prices when the sales start. Price bumping is good for sellers because it helps them make more money. During each sale, they can sell a lot of items.
Since prices are raised a few days before a sale, the sellers don't lose money. They can sell the items at the price they were originally sold for.
Prices will, of course, be different for each item. You might sometimes sell the items for a little less than you bought them for. It's a win-win situation for everyone.
You will be able to sell most of what you have to sell as a seller. On the other hand, when customers save money, they're pretty happy about it.
CamelCamelCamel vs Keepa 2023
What is CamelCamelCamel?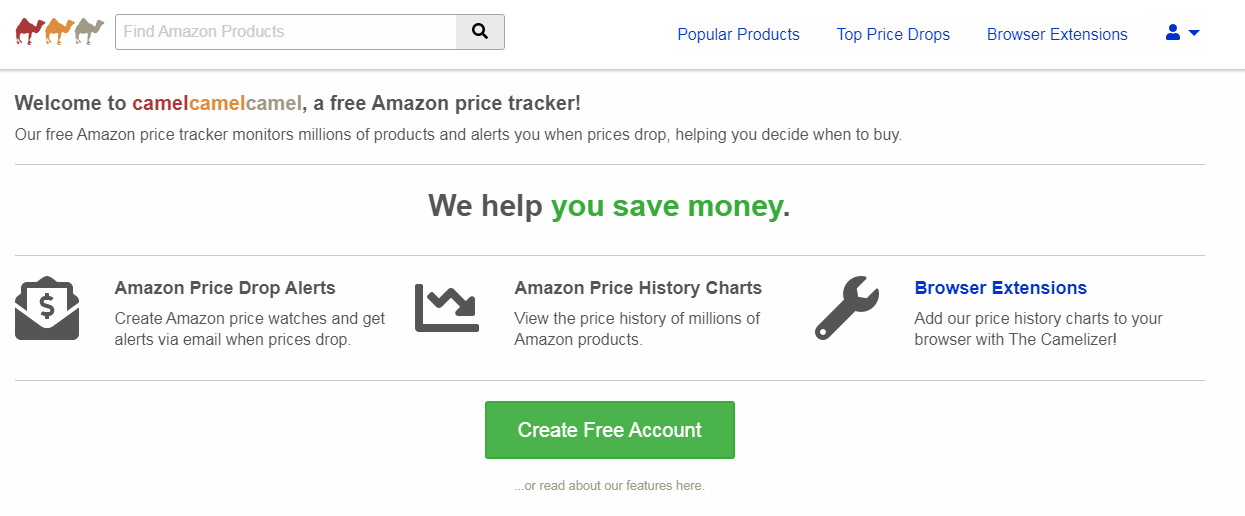 CamelCamelCamel is a price tracker for online shopping.
In 2008, developers put the software on the market. It keeps track of all the millions of things that have been sold on Amazon.
If you sell things on Amazon, this tracker is just what you need.
As a seller, this tool will help you learn more about the market. You can see how prices have changed over time.
If you know how much something costs, you can either raise or lower the price.
The price can change depending on how much people want it. If you want to sell something on Amazon, you need to look at the prices. You can do that with CamelCamelCamel.
Using CamelCamelCamel is quite simple. You can use the price tracker in three different ways. First, you can add the extension to your web browser.
It works with Safari, Google Chrome, and Firefox right now. You only need to add the extension to your browser.
The next step is to check out the product you like on Amazon's website. Click on the CamelCamelCamel extension browser once you've chosen the product.
You can see everything about the product right away. You don't even have to leave the Amazon website.
You can use CamelCamelCamel in another way by going to their website. Then, put in the product you want to find. Once you type in the product, you'll get all the price information about it.
A unique tool called Bookmarklet is also part of the software. You can click the Bookmarklet button when you are on Amazon.
When you click on the button, you will be taken to the product page on the CamelCamelCamel website.
You will be able to see everything about the product's price. You can check the lowest price, list price, pricing history, and other related information.
What is Keepa?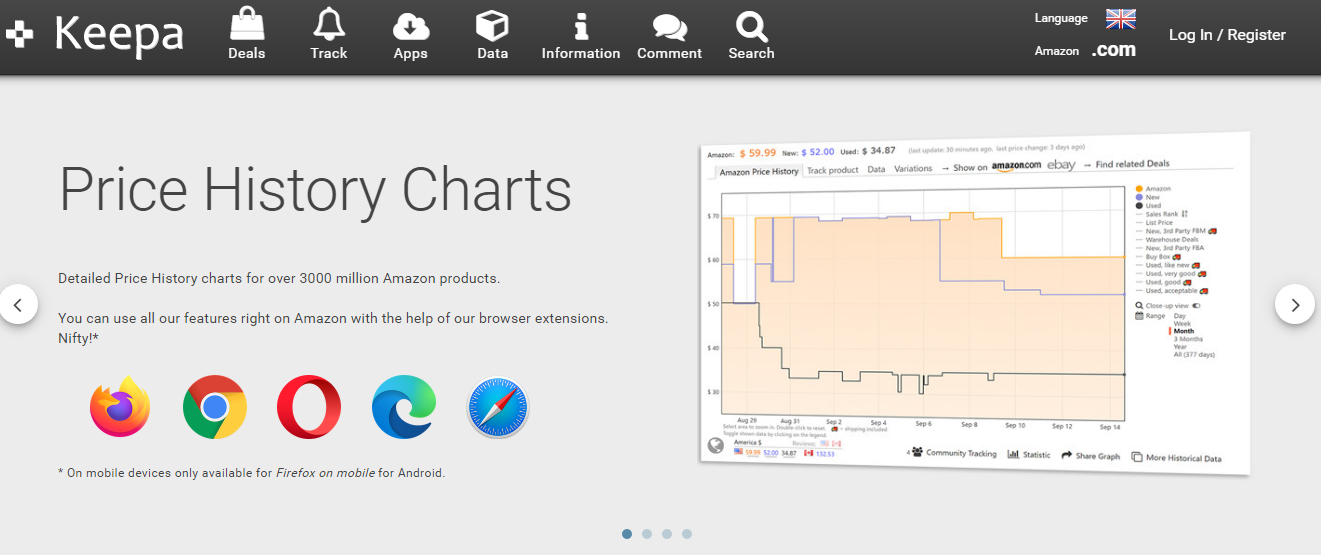 Keepa is an exceptional price tracker for products. It was introduced in 2017.
The company's headquarters are located in Europe. You may examine the price history of products with Keepa.
Additionally, you may view the best bargains, price decreases, and other price-related information.
Keepa is available for free. If you desire thorough reports, you can upgrade to the commercial edition.
There are numerous subscription options available for selection. You may choose the one that best meets your needs.
If you do not desire to purchase the tool, you can use the browser extension instead.
Additionally, sellers can access the website and use the tool without cost. Keepa's graphs and reports are extraordinarily thorough. It does a price analysis on a vast database of products.
Keepa's database currently has 1 billion goods. Keepa has the highest amount of items among all product pricing tools.
The software can be utilised in two ways. First, you can visit the Keepa website to review the product specifications.
The second method is to install browser extensions. Keepa provides an extension for a wide variety of web browsers.
You can activate the extension on Google Chrome, Mozilla Firefox, Microsoft Edge and Opera.
The extension is not compatible with Safari. You can always download one of the browsers listed above and install the extension.
Keepa gives the user with various features. For instance, you can study and modify your graph history. You can also receive price decrease email notifications.
Comparison: CamelCamelCamel vs Keepa
Sales are advantageous for both vendors and buyers.
Using product trackers, you may analyse the cost of each individual product. Keepa vs CamelCamelCamel allow you to track the pricing of all items.
Additionally, you may view the price fluctuations over the past 30 days.
Similarities 
Keepa and CamelCamelCamel offer an assortment of browser extensions.

You do not need to create a Keepa or CamelCamelCamel account to use these services.

Both product trackers are mobile and desktop compatible.

CamelCamelCamel and Keepa provide access to seller prices in global markets.
Differences 
Keepa offers both a free and a paid version. CamelCamelCamel is entirely free. Keepa subscriptions are available for 39 Euros per month. Other pricing options may be advantageous.

CamelCamelCamel analyses the prices of products in ten countries. Some of these countries include Italy, Canada, France, the United States, and China. Keepa compares the prices of products in multiple countries.

Keepa offers Opera, Google Chrome, Firefox, and Edge extensions. CamelCamelCamel supports Firefox, Safari, and Google Chrome extensions.

When it comes to databases, Keepa comes out on top. It monitors over 1 billion products. The database of CamelCamelCamel contains 10 million products.

Keepa allows you to track a limited number of products. There is no such limitation with CamelCamelCamel. You can track an unlimited number of products.

Keepa also analyses eBay product pricing. This service is unavailable at CamelCamelCamel.
Which one is better for me?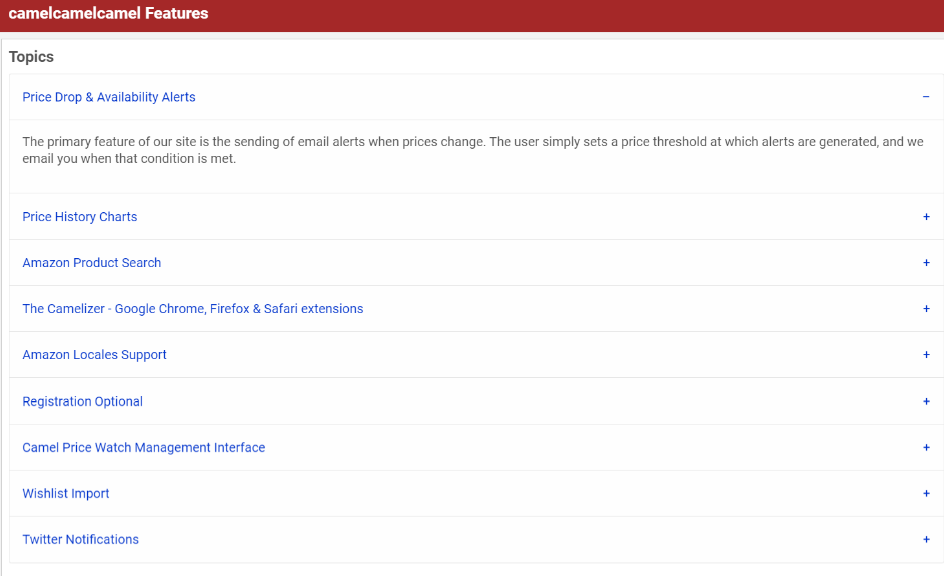 Keepa has a comprehensive product database. They are able to compare about a billion items.
Keepa offers amazing charts and graphs. Keepa is for you if you are comfortable with spending money.
CamelCamelCamel should be used by anyone who wishes to utilise the product tracker for free. Both provide correct info. The primary distinction is the product database.
Keepa maintains a massive database. It is regarded as far more precise than CamelCamelCamel.
Both of these applications are excellent alternatives to Jungle Scout and other Amazon pricing trackers.
However, Keepa is the clear victor. It is far more precise. Keepa compares data from all Amazon sites, whereas CamelCamelCamel compares data from only 10 countries.
CamelCamelCamel is ideal if you are selling a product in a single country. However, if you are a global vendor, you should choose Keepa. This is an excellent long-term investment.
You will be able to monitor product prices across the globe. As the holidays approach, prices can be increased.
Using Keepa, you will know precisely when the sales begin. When this occurs, you can significantly reduce the prices of your products.
As a vendor, you must purchase a reliable product price tracker. Keepa is an advanced platform. It is designed primarily for sellers. Customers are pleased with Keepa's upgraded version.
They can easily utilise the pricing graphs. Additionally, Keepa has an excellent user interface. A first-time seller can easily interpret the graphs. You do not need to be an expert in finance to read the pricing charts.
CamelCamelCamel is also great. Its database contains more than 10 million products. CamelCamelCamel is an alternative to a product tracker if you don't wish to invest in one.
There is also a free version of Keepa. However, CamelCamelCamel is better if you're going to use a free tool.
Quick Links:
Conclusion CamelCamelCamel vs Keepa 2023
Both Keepa vs CamelCamelCamel are excellent tools.
They are equally appropriate for people who enjoy shopping. If you are a seller, however, you should choose Keepa.
It has an enormous database. Using Keepa, you can acquire pricing information from around the globe.
CamelCamelCamel has advantages as well. The "Bookmarklet" feature is exceptional. This feature is available for free.
The best course of action is to utilise both tools and determine which one produces superior results. There is no requirement to spend money on a price tracker.
When selling a large quantity of products, it makes sense to invest money. By investing in a price tracker, it is possible to increase sales. Frequently, sellers employ a combination of both methods.
Each tool has benefits and drawbacks. You may choose the one that best suits your needs!