If you are a graphic designer or you just want to edit a picture. You should know how to convert RGB to HEX and vice versa.  This is because; somewhere down the line you are going to need these. So, if you want to know how to convert RGB to hex then you are in the right place.
In this article, we will show you how you can convert RGB color code to HEX in easy and simple steps. Also, we will make you aware of the basic differences between the commonly used color codes.
So, let's get started:
Understanding color codes.
In the digital sphere, there are generally four types of color codes and those are PMS, CMYK, RGB, and HEX. In this section, we will tell you the basic difference in all these. So, let's get started:
PMS: It stands for the Pantone Matching System and is widely used for printing purposes only. It serves its best when exposed for use in the stationery products. Ideal for one or two color jobs but however, it is also used to do the jobs for four colors too.
The colors are standardized colors and are patented products of the Pantone Colors. There are over 1,755 of Pantone colors which are being widely used by various business organizations and firms for their brochures and graphics needs. The color swatches are exclusively produced by the Pantone colors only.
CMYK: It stands for Cyan, Magenta, Yellow, Black. This color code is actually a four-color combination. The resultant colors are a product of the accumulation of tiny transparent dots of four colors Cyan, Magenta, Yellow, and black.
As compared to the PMS which is actually a single solid color all throughout, CMYK is not the same. CMYK is also used for offset and digital printing. This color code is ideal for offline brochures, poster cards, and documents.
RGB: It has a wide acceptance when it comes to the onscreen graphics. The perfect examples are our own computer, Televisions and mobile devices. The colors in this color code combination are actually a mixture of three colors namely, Red, Green, and Blue. The values range from 0 to 255.
RGB stands opposite the CMYK color combination as it works in accordance with the additive process.
HEX: HEX color codes are of great use for web designers. It is actually a six-digit combination of hexadecimal values which corresponds to its RGB value.
How to convert RGB to hex?
Method 1: Using a scientific calculator.
Step #1:  This method works best if you are using a system with a Windows operating system because it has an inbuilt calculator with "scientific" and "programmer" mode.
In order to open the calculator, you need to type "calculator" at the start section or go-to accessories and then click on the calculator. This will open the calculator for you and if you have the calculator window in front of you then you are good too to the next step.
Step #2: Now, in this step, you require clicking on the "View" tab which is located at the top left corner of the window. Clicking on it will result in a menu from which you have to select the "Programmer" mode.
Alternatively, you can also consider using the "Alt + 3" keyboard shortcut for getting into programmer mode.
Step #3: For instance, if you want to convert RGB (34, 124, 56) to hex then you should follow the instructions as mentioned. Now, you have to enter the first number in the corresponding field.
Once done with the mentioned, you are required to click on the radio button next to which "Hex" is written. Clicking on it will convert the entered number to the corresponding hex value.
Like 34 will have a corresponding value of 22 in Hex. You need to jot down these values somewhere as we will need these values in our final step.
After these, you are required to do the recent activity with the remaining numbers also. Like 124 will have a value of 7C in hex and 56 will hold a value of 38 in hex.
Step #4: Now, in this final step, you have to concatenate or accumulate the numbers which you have jotted down in the previous step. So, the number which we took for the illustration purpose comes out to be as 227C38.
Now, to get the hexadecimal number all that we have to do is to add a "#" symbol in front of the number and the corresponding hex value for RGB (34, 124, 56) comes out to be #227C38.
Method 2: Using web-based services.
There are many online web-based services which lets you convert RGB to hex and that too for free. Most such services are extremely easy to use. For your ease and convenience, we will be listing some of those services here. So, here we go:
1: www.rgbtohex.net: This platform takes input as the values of Red, Green, and Blue and then converts it into its corresponding hex value. You can enter the values from 0 to 255 in the respective fields and after clicking on the convert button, you will get the converted values.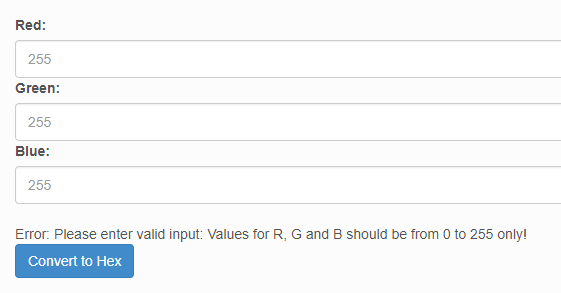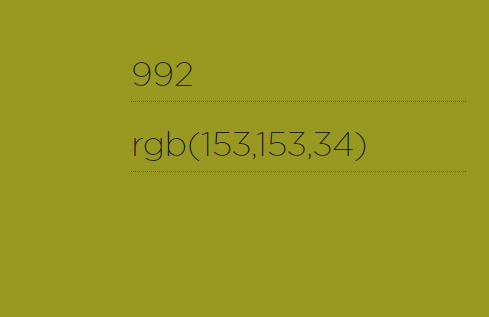 2: www.webpagefx.com/web-design/hex-to-rgb/: A yet another platform to convert RGB values to hex and vice-versa. This platform actually provides an intuitive method to convert the required. The background color of the web page changes in accordance with the converted values in the corresponding fields.
Wrapping up.
This wrapping up section brings us to the end of this tutorial cum guide on "How to convert RGB to hex?" We hope that we were efficient enough to satisfy your curiosity about this topic.
We firmly believe that we have left no stone unturned while getting into the nitty-gritty of the topic and making you understand the entire concept of it. But if you still have any queries regarding converting RGB to HEX then feel free to drop your query via comments below. We will try our level best to resolve that.
Moreover, if you found this article helpful and worthy, do show your love by sharing it socially.
Thank you for crossing by and giving it a read.