Have you ever created a Twitter account? Chances are great you created it for the sake of boasting and never came back till date. In such a scenario, you are missing something unique from the cyber world.
Let me tell you some facts about Twitter now.
It was started in 2006 by a team of four (Jack Dorsey, Evan Williams, Biz Stone and Noah Glass) people. The very purpose of it was (is) to allow users to share their thoughts only using 140 characters. Twitter got massive popularity in a short span of time.
Today, it has about 500 million users. As a Twitter user, you can follow anyone. And anyone can follow you. You can see tweets (140 characters) of those you follow.
It is also possible to send direct messages to users. Twitter provides something that you can't get from anywhere. It has no alternative.
That's all about Twitter.
Now, we can get back to our original topic, how to delete a Twitter account? There are no options available to delete Twitter account right away. The only solution is to deactivate the account and wait about 30 days to get it deleted.
Here we go.
How to Delete Twitter Account?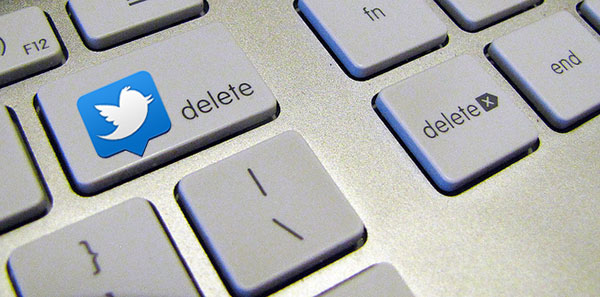 If you don't want to have the current account, you can delete it and start a new one. In case you wish to change the username and email, don't go with this option. You can change it within the settings section.
Are you sure that you want to delete the Twitter account? If you are, proceed with the following steps.
#1. Visit www.twitter.com. There is an option to log in. Click on it after inserting a username, email or phone no. and password. You will be logged in to your Twitter account.

N.B.:- If you want to delete the Twitter account, the password of which is forgotten, skip to the end of this article to recover your password. There are no delete options to be done outside the account.
#2. You will be lead to the home of your Twitter account. This is where you can see tweets of the people you follow. There is a top navigation bar which has Home, Notifications, Messages, Search bar, Your Account Picture and Tweet Button.
Click on your account picture from that.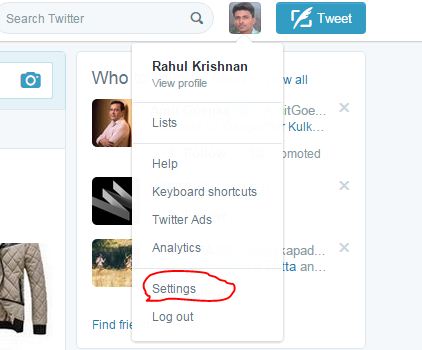 #3. Now you can see a drop-down menu with several options. Click on Settings which is placed just above the Log out option.
#4. The upcoming page is the complete solution to all your Twitter problems. Locate the left pane. You can see many options there such as Account, Security and privacy, Password, etc.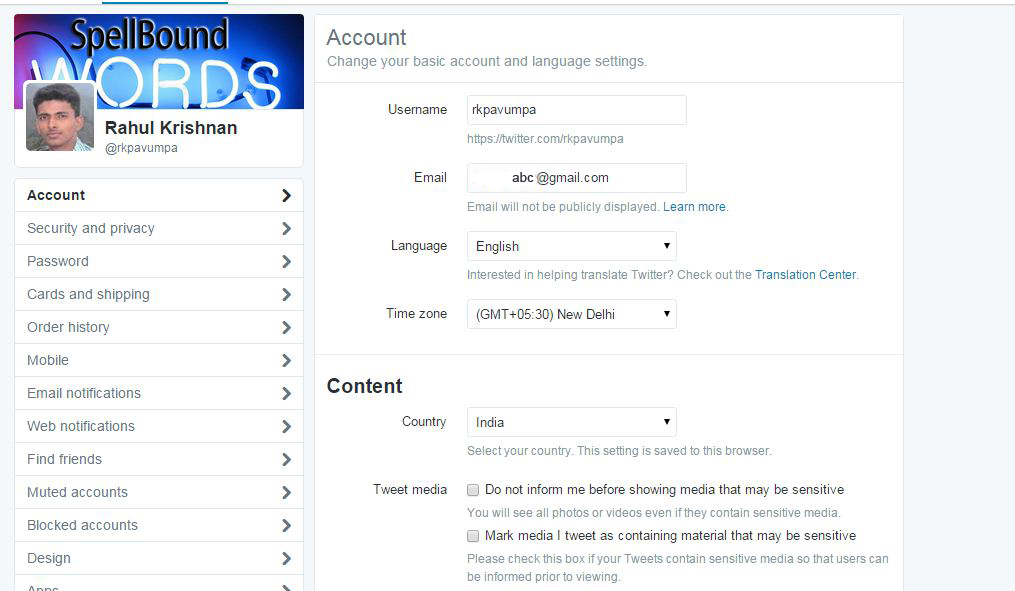 You don't have to select anything from there. Why because you are already in Account settings, that is where we should be.
#5. If you want to create a new Twitter account with the same email id of your current account (that is going to be deleted), you need to change the email right away. It will take almost 30 days to get an account completely deleted.
Within this period, you will not be allowed to create a new account with the very same email. So, we have to change the email of the account that will be deleted.
For that, check out the second option. You can see Email and a field with current id (for example [email protected]). Change it to another email id ([email protected]). That's all. (see above image)
Now, no Twitter account uses [email protected]. So, you can start a new account with the same email regardless of the time taken for deletion.
#6. You don't have to follow #5 if you are not going to create a new account using the same email within 30 days.
Now, it's time to take action. Scroll down to the bottom. There, you can see 'Deactivate my account' just below the blue Save changes button.
Click on it.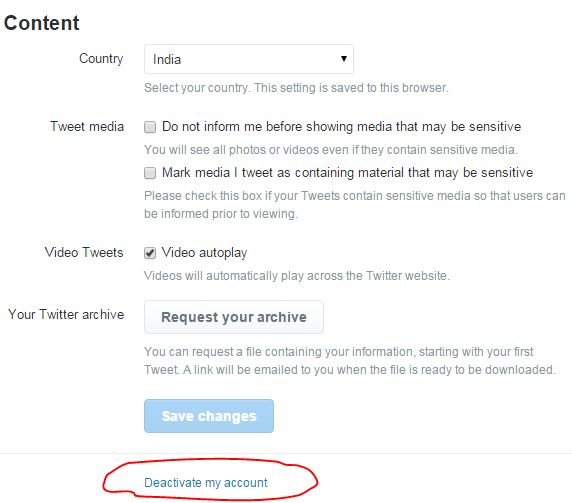 #7. Now, you will see a page like this where you can read some instructions. If you are very sure about your decision, don't hesitate to click on the bottom button.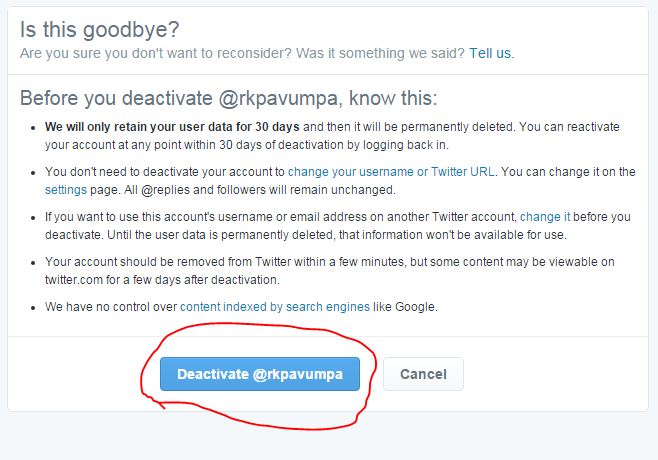 Hurray!! You have done it. See, how easy it's to delete your Twitter account.
P.S.:- If you totally forgot your password of the account you want to delete, click on the Forgot password link under the Login button on the Twitter homepage or go here. You will be asked to enter your email, phone number or username. After doing that, you will get a reset password link via email.
Then, proceed with the above steps to delete a Twitter account.
Is it Easy to Delete Twitter Account?
I think you now know how to delete a Twitter account. It is not a Herculean task.
Anyway, what if you want to get your account back even after following the above steps? You can just log in with old details (if you have changed your email, log in with a new id). It is possible to log in within 30 days after deactivation.
After 30 days, Twitter will remove your account fully.
That's all I have to say now. Have a second to share this post. If you have any doubt, just scribble as comments here.