If you have ever wondered how to download movies for free on Android phones, then reading this article can help you answer that!! This article is going to cover all free movie app for Android and the procedure to download the movie for your Android phone. You can also download free music on the iPhone. See the detailed blog post.
For a movie lover, it is always challenging to download free movies for Android that are already optimized for mobile devices. You can also download movies on iPad/iPhone. Here is how to download movies on the iPad.
Downloading movies is actually not as tough a task as it seems. All you need to have a little knowledge regarding the apps and sources that provide free downloading for mobile devices.
Just keep reading the article and answer your all-time query like How can I download movies for free to my Android phone.
How to Download free Movies for Android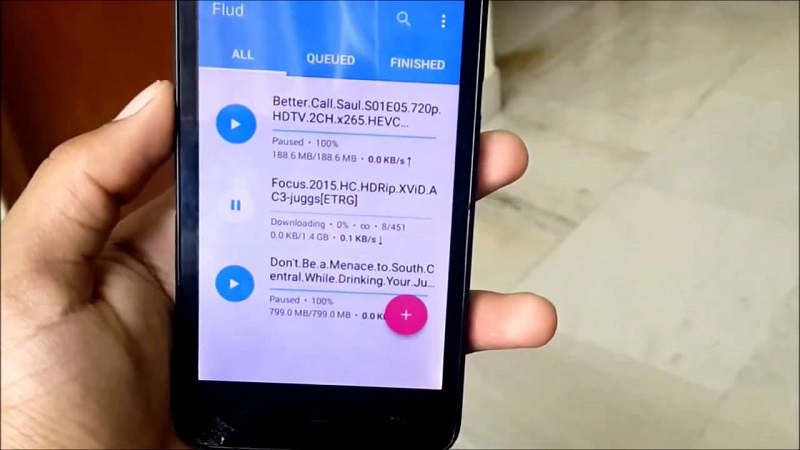 No matter how fond of we are of watching movies but, we often fail to get the best resources to download movies on Android phone. Either, that or we have to compromise with the quality of the picture or we end up spending our hard earned cash.
But today, the method we are going to show you is one of the best methods to download free movies for android. With this method, you won't have to pay anything to download the movies neither would have to compromise with the quality. Yes, the method we are going to share today is absolutely working and the best method to download movies.
Apart from that method, we will also discuss some apps that allow free movies downloading.  Let's find out, what are the apps and methods I'm talking about.
One of the best methods for downloading movies for android is using Torrent.
Torrent is commonly known for downloading all type of files over the computer, but very less number of people know that we can use the same method to get free movies on Android as well.
But let me tell you, you can not download movies or any such file directly from the torrent. Rather you will need to first download a software, which is better known as a torrent client.
Once you download the torrent client then only we can download movies using the same. There are a number of torrents clients out there like uTorrent, BitTorrent, utorrent, Flud and a lot more. You can use any of them. The downloading procedure in all the software is almost same.
But in this article, we will cover a torrent client called Flud. Flud is a simple and beautiful BitTorrent client for Android. It offers Magnet link support, unlimited bandwidth, user-friendly interface, and a lot more features are there.
The procedure to download Flud is given below.
Go to google play store on your android and make a search for

Torrent

in the search bar. After making the search y

ou'll get a number of

BitTorrent

clients, simply click on Flud.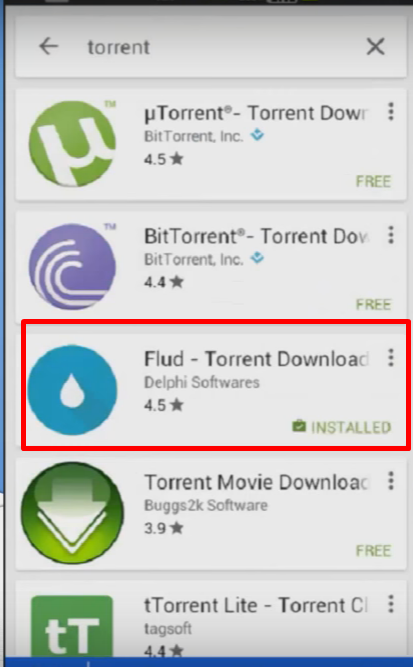 If you don't want to use flud, you can go for Utorrent as well, the procedure for download is almost same.
Once the torrent client is downloaded and installed, we are ready to download the free movies on Android. Let's see how can we download a movie using the torrent client flud. The procedure is described below.
To download movies, we don't have to go to the torrent websites, we can search for movies directly right from the app. Let's check out how:
Simply go to the app by tapping on its icon in the app menu on your android screen.

Once done, tap on the search bar and type the name of the movie you want to download and press the search button. You'll be immediately redirected to the google search results.

In the google search result, you will see hundreds of links. I would recommend you to go for

Torrentz.eu.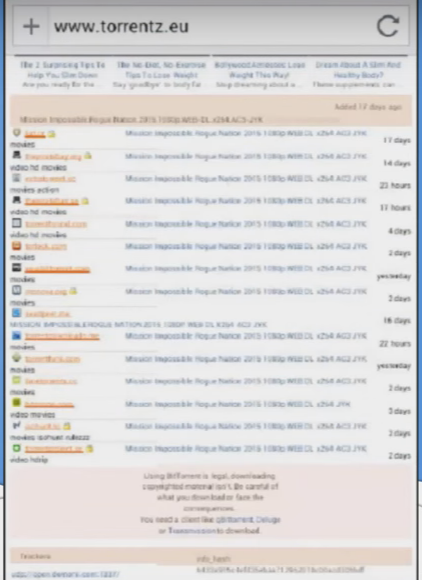 In the Torrents.eu you will a list of website which offers the same movie you searched for. You will have to click on any of the websites. Once done follow the next step.
Following the previous step, you will see a 'Download torrent" button along with the movie info. All you will have to do is click on it and download the torrent file.
After the downloading is completed,

open the downloaded file. When you open the file, it will be directly opened in the Flud software.

Now to start downloading the movie, you will have to tap on the plus sign provided on the top of the screen. As sooner you do this, The movie will start downloading right away.

That's all. Now, wait till the downloading get finished. Depending on the file size and internet speed, the downloading time may vary.
So this is how you can download free movies for android. The steps are very easy and followable. Follow all the steps clearly and get your favourite movie downloaded right on your phone.
Apart from the above method, there are some other apps too, that provides free movie downloads for android device. One of the apps is AVD Download Video. AVD that is android video downloader is an absolutely free app to download videos and movies.
Another app is Google Play Movies. This is also one of the great apps to download movies for android phones. This app also allows you to watch movies and TV shows. Moreover, some other apps like Paramount Movies, MediaTap – Video Downloader are also good apps that can be considered to watch and download movies on the android phone.
However, the method I described above is best among all. But if you are not comfortable with the procedure I described, you can consider apps like Cinema box, MegaBox HD not only allows downloading but also streaming and provides good quality. Internet has made things really easy, from music to movies, you can also watch LIVE TV online. Here is how to watch TV Online.
With this, we have reached the end of the article I hope you must have enjoyed reading it and have found it useful. If you find any difficulty, you can drop your comment in the comment section.
And if you have any other method, do let us know. Also, try sharing it on your social media accounts. We will highly appreciate your efforts. For more such articles like this be sure to click on this link!