You might have read many cool Photoshop tutorials, right?
Most of them deal with pictures that you don't even get to know Photoshop animation. That's why I have crafted this guide to help you out.
I know you are aware of a number of Photoshop tricks that woo your friends and relatives. Even if you are a complete beginner in the software, you will never face any issue in bringing this tutorial into practice.
Are you ready to find out the steps to animating in Photoshop? Here you go!
How to Animate in Photoshop?
As I said earlier, you don't have to rack your brain here. I have explained each step in a comprehensible manner down below. All you have to do is following them without fail.
There are two methods through which you can animate in Photoshop. The first one is using a part in a video whereas the second is using a series of pictures. I am going to show you both of them here.
Also Read: – How to Whiten Teeth in Photoshop?
How to Animate in Photoshop using Video?
For your convenience, I have divided the process into different parts, which you can read down below.
Step 1: First, you have to find a video whose part you are going to turn into a GIF animation. If you don't have any apt video on your computer's hard disk, you can find many from the web, especially on YouTube.
Step 2: Once you decide the video, the next step is trimming down to the same to a few seconds. I recommend you should limit the duration to a maximum of 3 seconds. The lengthier the video, the heavier your GIF animation file will be.
Hence, it would be inconvenient to handle the file if you don't cut the clip to 3- 4 seconds.
Oops! Don't you know how to trim a video? You can use any video editor (including the in-house Movie Maker). You can use an online video cutter as well.
Step 3: Now, you have to import the video file into Photoshop. You can't really right-click on the file and choose Open with Photoshop. There is a particular method for importing video files into it.
Don't worry! It's just like the easy Photoshop tutorials you had read.
Open Photoshop software first. Most probably, you have an icon on the desktop. If not, follow Start >> Search for Photoshop.
Once it gets opened, go to File >> Import >> Video Frames to Layers. You will get an error message if you don't have QuickTime 7.1 or higher. So make sure you have a proper QuickTime player installed on your computer.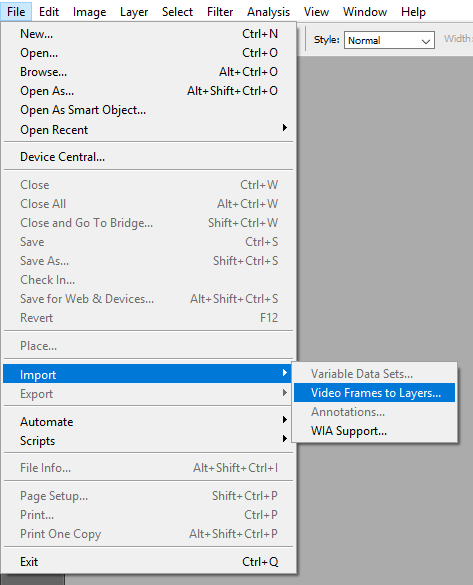 After choosing Video Frames to Layers, what you get is a browse dialogue box. You should select the required video file (the one you trimmed earlier) here.
N.B – You must ensure the video file is in AVI, MPEG, MPG or MOV format. Or else, you can't change it into an animation as QuickTime doesn't support the rest.
Step 4: As soon as you finish with the selection, you will be asked whether to import from the beginning to the end or selected range only.
If you choose to go with the second option, Photoshop will present a new window before you, in which it presents the video as a series of still images. You can also find two sliders there.
The first slider determines the beginning of your GIF animation whereas the second one determines the end. You have to set them correctly to get an impressive animation. Choosing a short duration helps it decrease the size of the output file.
Don't forget to click the OK button after you set the sliders.
Step 5: You have to wait for a few seconds to minutes according to the size of the video file. The higher the size, the longer the waiting time will be.
Only one step is remaining to be done now. Follow File >> Save for Web & Devices. Alternatively, you can use Alt+ Shift+ Ctrl+ S as well.
Don't hesitate to choose GIF 128. You will see a number of options there. If you like to experiment, you can try all of them. But don't experiment with the file format because GIF is the animation image format.
Also Read: – How to Photoshop Pictures?
That's it. Let's look at the second method now.
How to Animate in Photoshop Using Images
If you have a series of pictures that would make a good animation, you can try this out. With perfect layer creation, you can consider this as one of the best Photoshop text tutorials too.
First, open Photoshop and follow File >> Scripts >> Load Files into Stack.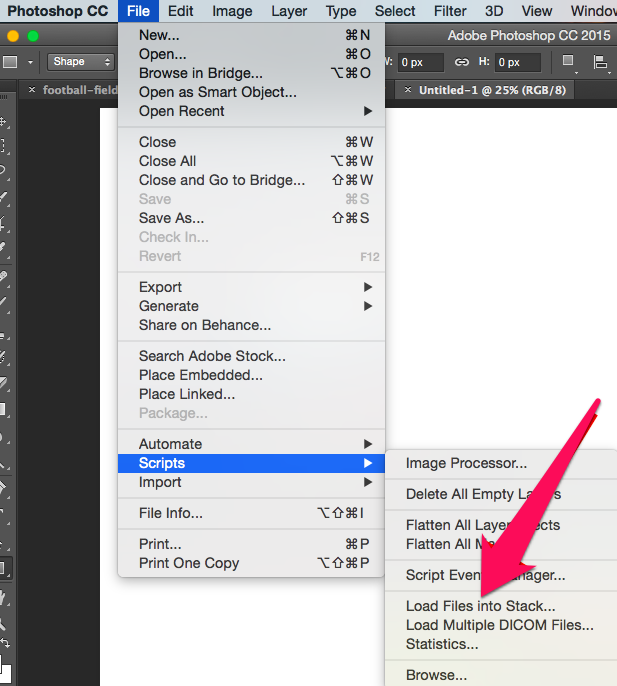 Then, you will see a new window inside the main one. A drop-down menu is available there with Folder and Files as two options. If you want to select the entire images from a single folder, choose the first one.
In case you want to be selective about the pictures, you can go with the second one. I recommend going with the first. You have to create a new folder and move all the necessary images into it.
Once you finish selecting images, you have to open timeline from Windows>> Timeline. And then choose Create Frame Animation.

Then, Select >> All Layers and, press on the button at the right-top corner of the timeline and choose to Create New Layer for Each New Frame. Open the same menu again and, click on Make Frames from Layers.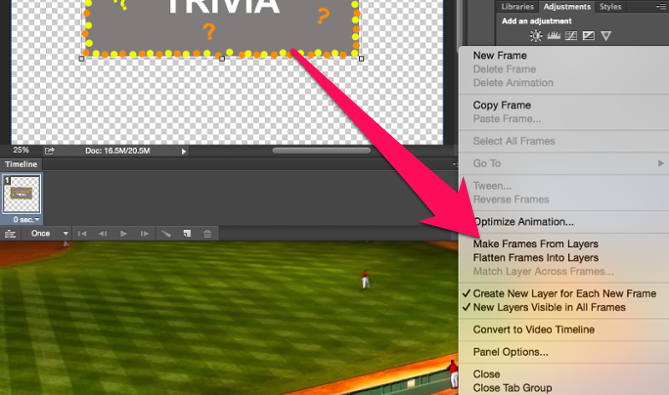 You can choose the duration and looping time. Finally, File>> Save for Web & Devices to save the GIF animation.
Also Read:- How to Add Fonts to Photoshop?
Wrapping Up
I hope you now know how to create an animation file on Photoshop, don't you?
The first method seems easier and I recommend you should use it unless you are craving to create an animation from a series of pictures. Truth be told you can create your own layers and make an animation from those.
Do you have any doubt regarding this article? Don't forget to ask the same during the comment section down below. I will be more than glad to help you out.
And, don't hesitate to click one of the share buttons here to help us spread the words