If someone bothers us on Android, we block that number. If someone irritates us on Facebook or Whatsapp, we know how to deal with them. But what you do when you get continuous annoying emails on Gmail??
Can you block someone on Gmail?? Let alone blocking, do you even know such feature exists??
Gmail is one of the best email service providers we all know that. But there are many features offered by Gmail which can enhance our user experience, but we have no idea about them. See these posts for changing Gmail photo and Gmail Password.
One of such features is blocking feature. Many people desperately want to learn how to block emails on Gmail, but in the lack of a proper guide, they keep tolerating unwanted emails on Gmail.
If you are also one of those, who are continuously getting inappropriate emails on Gmail and want to learn how to block someone on Gmail, then I'm sure reading this guide may help you.
Below, I've mentioned multiple ways with screenshots, which you can follow to block people on Gmail.
Do you want to retain customers use email and sms marketing? Then consider using a CRM solution such as Glenatap, that can help you easily retain your customers.
How To Block Emails On Gmail
Blocking email address is a not so known yet very useful feature of Gmail. There are multiple ways you can block people on Gmail. One is by using a chrome extension, which creates a filter on your Gmail account and lets you block people.
Another way is to manually create filters. Let's see what are the steps involved.
Method 1. How to block Email on Gmail by blocking a sender
This is the easiest method to block someone on Gmail. If you block someone following this method, all the emails coming from that person will go to the spam folder. Here's how to do that.
Go to your Inbox.
Open the email came from the user you want to block.
Now on the top right corner, click on the More option i.e down arrow.
In the list of options provided, one of the options is Block(Name of the sender).
Just select this option and the sender would be blocked.
Method 2. How to block an email on Gmail by a chrome extension
This is yet another easy method to block a sender on Gmail. You just need to install a Chrome extension and things will become very easy to you. This extension will create a block filter for you, and you just need to click the block button. Follow the below steps to see how this method works,
Just install Block Sender extension on your Chrome browser.
Now open the email of the person you want to block.
As sooner you do this, you'll notice a new Block button on the top.
Click on this block button and the sender would be blocked.
Easy right?? Now I'm telling you the manual way of creating filters in the method 3.
Method 3. How to block an email address by creating filters
Although, above two methods are enough to block someone on Gmail, but if you want to create a filter manually, you can do that by going to the settings.
You should learn to create filters because this way you'll be able to create filters for a particular user not only to block emails but to make some emails important, spam and many other options are there. So, let's see how to create a filter on Gmail to block emails from certain people.
Step 1. The first and foremost step is to log in to your Gmail account. Enter your Gmail credentials and sign in.
Step 2. Once you are on the home page, move your cursor to the top right corner and click on the gear icon
. On clicking the gear icon, a list of options will abruptly open. One of these options is Settings, just click on that.
See the below screen in case of any confusion.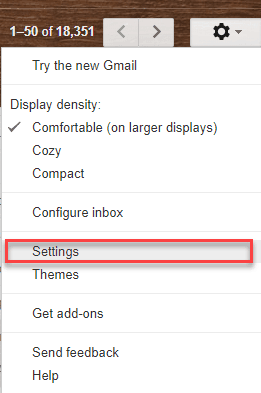 Step 3. On the settings page, you'll see many options on the menu bar. Now you need to click on the option Filters and Blocked Addresses. If you can't locate the option, just see the below screenshot which I've grabbed for you!
Step 4. On clicking Filters and Blocked Addresses, you'll see the following screen. Now click on Create a new filter option.
Step 5. As sooner you click on this option, a new window will be prompted to fill the details to create a filter accordingly. On the first field i.e From, enter the email ID of the person you want to block.
Rest of the options can be left blank. Once done, just click on Create filter with this search.
Step 6. Once clicked, you'll be redirected to the new window, which is the most important step of the guide. Here in this window, you need to select which type of filter you want to create for that particular user.
For instance, if you want to block that person, just select the option Delete it. It means every time you get the email from that ID; the emails will automatically get deleted without even letting you know.
Similarly, if you want to mark the emails important coming from that particular ID, just Always select
Once the option is selected, click the Create filter button at the bottom, your filter would be created.
And if you want to unblock the person, and don't want the emails coming from that user to get deleted automatically,
Go back to Filters and Blocked Addresses page.
Under You'll see the emails Ids on which filters have been applied.
Next to that email ID, you'll see the Delete option, just click on it. The filter would be deleted.
If you are an Android or tablet user and want to know how to block an email address in Gmail on Android, then let me inform you the method to block a person on Android or other devices is extremely identical. If you are looking to block someone on Whatsapp, here is how to block people on Snapchat.
Go to your inbox, open the email, touch the menu icon and
 select Block [sender].
The locations of the Block [sender] may vary from device to device.
So, that's it for the guide. I am hoping you got all the steps clearly. If you still have any doubts regarding how to block emails on Gmail, you can ask in the comments section below.
Try this Thrive Ovation Testimonial Management Plugin to manage emails on WordPress.
Quick Links