Have you ever got an m4a file? Chances are your music player doesn't support m4a file type, and you might have tried to convert m4a to mp3.
That's why today I am here with a tutorial on how to convert m4a to mp3. Even if most of the modern music players support m4a files, most of the people prefer mp3 because of its convenience.
Are you ready to know the process of m4a to mp3 conversion? Here you go!
How to Convert m4a to mp3?
We all know that there is no big deal in converting a file into another format. But some converting tools do not support all formats. On such an occasion, it will be a painful experience to wander all over the web to find a way to convert m4a to mp3.
Since 2007, all the music you purchase from iTunes is only available in m4a format. If you are a Mac user, chances are you are looking out for a way to change m4a files to mp3 in order to be used in your other devices (like feature phones).
Before going deep into the conversion part, I invite your attention to some details on m4a.
What is m4a?
The file extension m4a is mostly an audio file type encoded with Advanced Audio Coding aka AAC. The AAC encoding is a lossy compression, but a user can't feel the difference.
Comparing with the mp3 file of the same bit rate, m4a has more clarity and less file size. The files having m4a extension are unprotected while the protected audio-only files have an m4p extension.
Convert m4a to mp3
I have divided this guide into two parts of which the first part includes an online method that you won't have to download any software and the second section is an offline way using a desktop tool.
With that being said, let's just get into the process of converting m4a to mp3 using the online method.
Method 1: Convert m4a to mp3 Online
A number of online files converting tools are available on the web. The only thing you should do is to search for 'convert files online' or 'online file converters'. But the real issue is not all the online converting tools support every file format.
As we have to convert a file of not-so-common extension into MP3, the selection of a website is pretty much important.
Are you ready to know how to change an m4a file to mp3 one? You can find the online solution here.
Step 1: As I said earlier, plenty of websites are out there that offer the file conversion facility. I have found one with a discrete m4a to mp3 conversion. But it doesn't mean the site I discovered is the only online tool to help you convert m4a files to mp3 ones.
Click here to visit the conversion web page.
Step 2: Check the image; this is the first thing you see in the browser window. Here, you need to browse and upload the m4a file.

For that, click that Choose files button seen under Step 1 label.
Step 3: When you are done with the file selection, click Convert files to the drop-down menu. There you will see a bunch of extensions including mp3, Wav, WMA, aac, Ogg, acc, etc.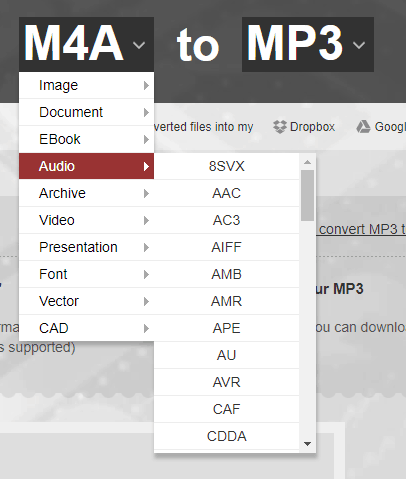 As you want to convert the file to mp3, you should choose it without any fail. Wrong selection of extension results in the desired file extension.
Step 4: The only way you can download the converted files is via emails. If you don't provide a valid email address, it will be impossible for you to carry on with the process on the website.
So, provide a legitimate email address.
Step 5: The task is almost done. The only thing left to do is pressing that Convert button.
You can see the file name, size, and status on the bottom of the action bar. In the case of wrong selections, you can remove them right away.
Hurray! You have converted an m4a file into mp3 online.
Now, you are going to know of an offline method.
Method 2: Convert m4a to mp3 Offline
By default, no operating system provides a file converting utility (correct me in the comment section if I am wrong). So, you must install a third-party desktop app to get it done.
I have been using the same converting software for about four years now, and it never let me down at least a single time.
Follow the steps given below to convert m4a to mp3 offline.
Step 1: The first thing is downloading and installing FormatFactory. You can download it from here. After the download gets finished, go on with the installation like you would with any other software.
Step 2: Now, open it up. You will see a window like the one given below.
On the right-hand side of the screen, the options to choose the extension of the output files are available. You should choose mp3 from there after clicking the Audio tab.
Step 3: A new dialogue box will get opened in which you must insert the files for conversion. Choose the add file button to get a file browsing box opened. You can choose files there. It is possible to add multiple files.
There are options to alter output settings and change output folder as well.
Click OK after the selection of files.
Step 4: Now that you will be back to the real FF screen. It displays your selected files on the right side. Just click Start at this time so that the conversion process gets started. (If the source file is massive, you can turn on the 'shut down' option on the bottom).
That's all. You will get a small notification near the taskbar saying the conversion is finished.
Wrapping Up
I hope you now know how to convert m4a to mp3. Do you think it is a big brainer? No, I know you don't.
The website and software mentioned here are my personal choices. You can use any other converter with m4a to mp3 facility to get this done.