While surfing the internet, websites will leave a little bit of information, which are known as cookies, and they are stored on your computer. These cookies will allow your browser to remember your login details or the site preferences. It's pretty easy to enable and disable them. So here is How to Enable Cookies in Safari
No matter whatever website you visit on a regular basis, you might like to remember that you have already been there before, so you do not have to type in your login details again and again. To complete this job perfectly, you'll need to enable the cookies in your browser settings.
Cookies will help you improve your browser experience; these cookies might be a heck and privacy concern because these are used to store all your personal data. But you can clear Cookies anytime from the browser. Here is how to clear cookies on Mac.
That's why, as of 2015, new rules have been put in place to ensure that the people visit a site will have to be informed that the site visited by them operates on cookies. With that information in mind, let's now take a quick look at how to turn on cookies Safari.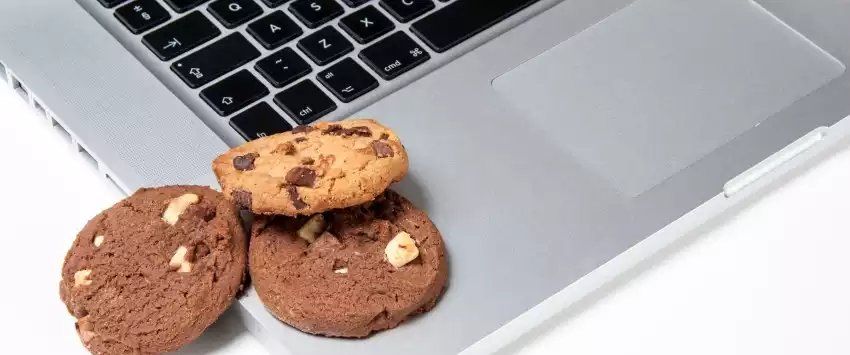 How To Enable Cookies in Safari
Cookies are all always of small files which Safari saves to the memory of your PC to make your further web browsing experience more convenient and personal.
A Cookie often contains your personal information and preferences such as usernames, addresses, passwords and more. Just follow these steps to enable cookies in Safari on your computer. If you are using any other browser on Mac, you can see this to enable cookies on Mac on a different browser.
How to Enable Cookies on Safari Version 5.1 and Higher
1.Open Safari browser on your screen.
2.Click on 'Safari'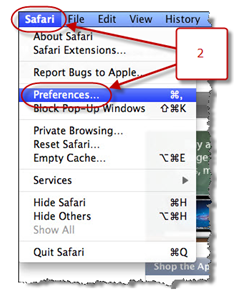 3.In the Menu Bar, select 'Preferences.'
4.From the Preferences Window, click on 'Privacy.'
5.Select the 'Never' in the section labelled as 'Block Cookies'. In order to prevent these types of parties from needing access to your personal data and preferences, select option 'From Third Parties and Advertisers'.
6.Then click on close button 'X' which will save your new settings for Safari Cookies.
Enabling Cookies – Safari 5.0
1.Just like in 5.1 version, open Safari browser.
2.Select 'Safari' from Menu
3.Go to Menu bar, select option 'Preferences.'
4.From the Preferences toolbar, Click on 'Security.'
5.Select option 'Always' next to the section labelled as 'Accept cookies'. If you don't want to third-parties and advertisers to have access to your preferences and personal data, select 'Only from sites I visit'.
6.'Close' to save the new settings made for Safari Cookies.
How to Enable Cookies Safari v4.0:
1.Open Safari browser
2.You can find the 'Cog' icon on the top right corner of the screen toolbar. Select it.
3.In the menu bar, select 'Preferences.'
4.Then you can find the security tab from the top right. Just choose the Security tab.
5.Select 'From those sites I visit or Allow' which will enable the cookies in every case and the second option will do it for the sites you visit.
6.Please close the dialog box by clicking on 'X' which you can find on the top right corner of the box. Now you're all done.
How Do I Enable Cookies on iPhone, iPad Touch or iPad:
Click on 'Settings' from your device home screen which will look like an icon of 2 little gray gears.
Please scroll down a bit to find option Safari. Just tap on it.
Tap on the 'Accept Cookies' which will open a new screen that will give 3 options. Always, never or from visited. Tap on 'From Visited' to limit only cookies to websites you have visited. But this will be modified version of the process.
You are all done by selecting 'Always'.
Safari features privacy settings that affect what data your computer accepts from websites. Just follow the instructions which are given below to ensure that data from the websites is not blocked:
Enable Cookies – Safari 8 or 9:
In the window like below that opens, click on Privacy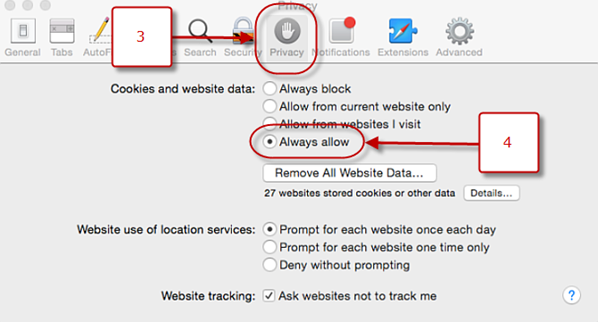 Select Always Allows option under Cookies and website data heading.
Close the Privacy window after the job is done.
Enable Cookies – Safari Version 5.1 through 7:
Click on Privacy, in the window that opens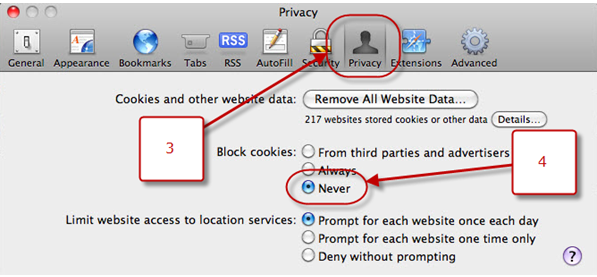 Under Privacy, select Never, which will be under Block Cookies heading.
After the job is done, close the Privacy window
Enable Cookies – Safari 5.0 or earlier:
 Click on Security, in the window which opens.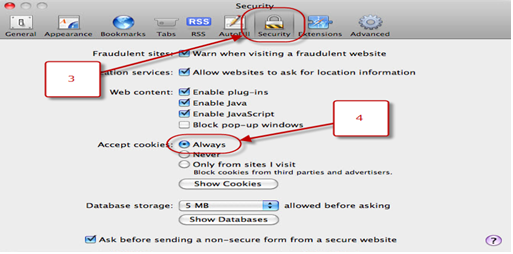 Go to 'Accept' cookies heading and select the option Always
Then close the Security window.
Note: If you ever don't want to set accept cookies to always, you can always make the domains used by Pearson websites (Top Sites) to allow cookies from those website addresses.
 How to Accept or Reject Cookies in Safari:-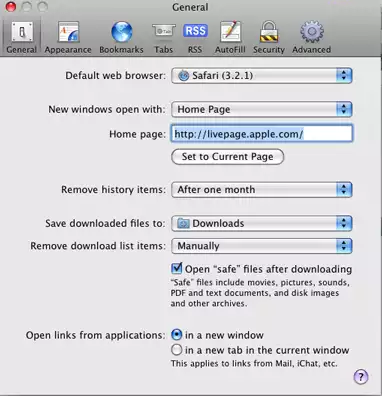 Cookies are the small files with which websites automatically saves small bits of information in our computer's hard drive. These cookies contain information like your preferences or your personal data like date of birth which the site will use on your further visits. In Mac OS X Snow Leopard, It let you choose whether this to accept these all cookies (by default) or to disable these cookies altogether. You can set Safari browser to accept all cookies only from the sites which you like to. To change the plan of acceptance of cookies, you need to follow the below steps.
Choose Preferences in the Safari Menu Bar:-
After that, the Preferences dialog box appears.
Click on the Security toolbar button by which Safari displays the preference settings.
Radio button can be chosen to show how Safari shall deal with cookies
Below are your choices
(1) Don't ever block the cookies entirely,
(2) You need to always accept all the cookies, and
(3) Only the Sites you navigate to that allows the sites like Snapdeal.com to work capably without allowing a barrage of illegal cookies.
(Optional choice) Currently, if you want to view the cookies on your computer, click Show Cookies button.
Sometimes you need to take care of things manually if the cookies on a particular site are blocked like you need to provide a password in the site which used to be automatically read from the cookies.
To save changes you make, click on the Close button by which your cookie settings are updated
So this how to enable cookies on Safari, this was our simple tutorial on How to Enable Cookies in Safari, this is a pretty easy tutorial if you follow all the steps properly.