Your heartbeat starts beating fast when you see that your expensive iPhone is dropped in water. At that time, what would you do? When your iPhone got wet, it should be treated as an emergency.
Any delay would cost you hundreds of dollars and surely you want to lose your hard-earned money.
In such a situation, your mind must be boggling with "how to fix a water damaged iPhone" without wasting time. You may spurt from being getting hurt if you are lucky enough to fix your iPhone on an immediate basis.
If you really want to avert any further harm to your water damage iPhone then this article will act as a guide to you that helps you out in case your iPhone fell in the water.
How to Fix a Water Damaged iPhone
#1. Turn off your iPhone
Without wasting any single second, take your iPhone out of the water and turn it off by pressing the button on the top of it until you see the power off the slide. Switch off your iPhone, if you see that your iPhone is already switched off then don't try to turn it on.
Switching your iPhone off is the first and the foremost step to avoid any harmful water damage.
It could be crucial if you keep your iPhone switched off for some days after that event. Water is not that much harm to your iPhone as the electric short circuits that run the circuit board of your iPhone.
As you take out your iPhone from water, dry it off with a good soaking towel or another piece of cloth that has good water absorption capacity.
If you are thinking of drying your iPhone with a hairdryer then keep that idea out of your mind. The heat will damage the iPhone that you can't repair beyond.
#2. Put your iPhone in Plastic Zipper Bag
As you soak your iPhone with a towel, take out a plastic zipper bag. Fill this bag with raw rice or silica gel packets. Now, put your iPhone in the bag with raw rice. Make sure it is fully submerged in the rice. 
If rice or silica is not available to you at that moment then you can put the iPhone in a well-ventilated and dry place.
Make sure you have taken out the air from the zip bag before placing it in a dry place. You can also use a regular bag if you don't have any access to the zipper bag. At that time, you surely don't want to waste your time to go to the market in order to buy zipper bags or silica gel packets.
This homemade method is quick, easy and helps you out in case you dropped iPhone in water. Now keep your iPhone stay in the rice and zipper bag at least for 24 hours to 48 hours. In this way, your device should have dried up completely.
Water damaged iPhone possesses a great risk of damage if you try to turn it on.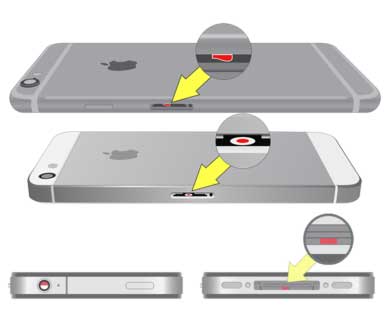 #3. Check the Red Indicator
There is a Liquid Contact Indicator (LCI) in all iPhones. In case, when iPhone got wet and came in contact with the circuit board then this indicator is activated and glow bright red.
So when you take out your iPhone from rice then check the red indicator whether it glows red or not. If you see the white or silver color of the indicator, then there is no water damage to your iPhone. If it is blinking red, then you are out of luck and your iPhone is damaged with iPhone.
#4. Recover iPhone Data
In some cases, the iPhone can be saved from water damage. If you were fast enough to take out your iPhone from water, and by turning it off and dry it up by following steps said above, then you might not have to restore your iPhone.
When it comes to damaged iPhones and to recover you're lost data then there are many ways to bring data back to the iPhone via iTunes or iCloud.
Recover Data via iTunes
A water damaged iPhone can be fixed, and data can be restored if you have synced the iPhone with iTunes. Just connect it to iTunes and you will recover the last backup that you had made on iTunes.
Recover iPhone via iCloud
If your iPhone had iCloud backup enabled before dropping the iPhone in the water, then you can easily backup your lost data from iCloud. With iCloud, you can recover the data like notes, contacts, messages, photos, and calendars. All you need to click the restore button from iCloud backup.
There was a great risk of damage when you dropped iPhone in water that may lead to loss of your precious data. Therefore, backing up your data regularly is the best solution to keep iPhone data safe.
Final Words
Now since iPhones are used by millions of people across the globe. iPhone is equipped with advanced technology with many advanced features.
It not only acts as a communication device but also as a camera, music player, personal computer, web browser and much more.
Actually, it is a small handy device which makes us on the go always. It is like a world to us. Be it water damage or any other damage, our world will stop there if any loss happens to the iPhone.
Therefore, it is always important to protect your electronic device from water or anything else that can cause great harm to it. Accidents can happen anytime; it does not matter how careful you are.
iPhone is aqua-phobic as Apple has not yet incorporated waterproofing methods even with its latest models like iPhone 6 or iPhone 6S.
I hope this article serve you the best answer to your question "how to fix a water damaged iPhone" immediately at home. At last, all I have to say that there is no ensured method for fixing water damaged iPhone, there are a couple of things you can do to give it the most obvious opportunity with regards to survival.