Do you want to make money from blogging?
How can you make money from blogging?
What topic should you blog about to make money?
You've come to the right place if you're asking any of the following queries. This comprehensive guide to making money from blogging will teach you all you need to know to get started.
A few years ago, blogging was just another hobby that some people pursued in addition to their full-time jobs. Blogging functions in much the same way as it did in the past, though a lot has changed.
In the year 2021, blogging has become a rich internet business, and many people are beginning blogs to participate in this great sector.
Can You Make Money From Blogging?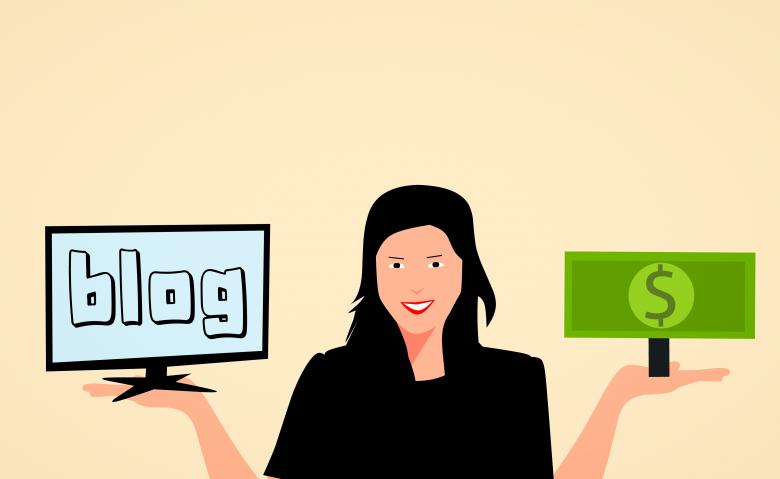 ABSOLUTELY!
Some professional bloggers earn considerably more than executive-level jobs on an annual basis. Blogging is now considered a mainstream profession and is developing at a rapid rate. So, if you're interested in learning how to make money blogging, you've come to the correct place. 
How to begin?
You must first create your own blog before you can think about making a lot of money from blogging. Creating a blog has never been easier, thanks to the internet's rising power and reach, as well as advanced CMS platforms like WordPress, Wix, and Joomla, which have made blog creation a breeze.
To begin producing money, you must first come up with a concept for your blog and a name for it. Consider the themes you'd like to write about frequently. After that, go to Hostinger and join up for the WordPress Starter plan. You may lock in an affordable rate of $3.99 per month for four years, even if you don't have much of a budget. 
After you've chosen your hosting plan and created your account, the setup wizard on Hostinger will take care of the rest.
Select WordPress as your platform of choice after entering some information about your site and your level of site-building experience. You won't have to do anything because Hostinger will install WordPress for you once the setup is complete. After that, you may either choose a template for your website or start from scratch.
Last but not least, you must choose a domain name. A free domain is offered with Hostinger's WordPress Starter hosting plan (and higher levels as well). Just remember to enable WHOIS privacy. A few dollars more for improved privacy and security can be well worth it.
And with that, your blog will be up and running!
What should you do after creating a blog?
The following step is to write and publish your first blog entry. Once you've published a few pieces and begun to receive some traffic, you may begin to monetize your blog in order to earn your first bucks.
To generate money from ads and affiliate marketing, you'll need to set up for a Google AdSense and an Amazon Associates account. After successfully delivering significant traffic to your site, you may also sell your own items and services.
IN A NUTSHELL
Here are the key things that you need to do before you start making money from blogging:
Choose Your Niche

Name Your Blog

Join a web hosting company like Hostinger or BlueHost.

Create a Blog Design

Make a list of blog topics that are interesting to you.

SEO-Optimize Your Blogs

Become a Google AdSense user.

Make an account with Amazon Associates.

Make a Product or Service Available for Purchase (Optional)
Income streams for making money from blogging
You can monetize your blog through a variety of strategies. You can choose the strategy that best suits your style based on your level of blogging and the type of blog you have. Check out the end of this article for solutions to several of the most often asked questions by bloggers like you.
Sign up to an Ad Network like AdSense or Media.net
The easiest and most generally utilized approach for monetizing a blog is through ad networks. You must have a blog to be accepted into these ad networks. Advertisements are displayed automatically based on the context of your article and user interest.
Most new sites employ these techniques to monetize since they provide ongoing revenue. Because the advertisements are of great quality, they have no negative impact on the user's experience.
If your blog receives less than 300 daily views, you can utilize one of the alternative ad networks listed here.
Direct Advertisements
AdSense is without a doubt the best ad service for bloggers, however, it does have certain limitations. The most significant constraint is the amount you are paid each click. If you are able to obtain direct adverts, you should use them instead of AdSense units.
The simplest method to get started with direct advertising is to experiment with different networks and create a page on your site named "Media-kit or Advertise with us" to keep track of fresh opportunities. The ShoutMeLoud marketing page looks like this.
To handle the advertising, you can use a plugin like WPAdvancedAds. The best method to do it is to use Google applications to generate a professional email address like [email protected].
Affiliate marketing
Because a single transaction is worth a lot more than a single contextual ad click, affiliate marketing is one of the best ways to make money. Most bloggers do these days, and it's one of the most lucrative methods to monetize a site.
The most well-known Affiliate marketing marketplaces where you can participate are:
Amazon Affiliate program

PartnerStack

ShareASale

Awin

ImpactRadius

Commission Junction
Affiliate marketing also has the advantage of being compatible with any blogging platform, including Squarespace, Wix, Medium, and LinkedIn. All you have to do is share your unique affiliate link for the product you're recommending, and when someone buys it, you'll get a large percentage of the selling price.
Native Advertising
Native advertising is one of the most popular and effective ways to monetize your blog. It may bring in a lot of money for news and career blogs in particular. Some of the best native advertising options that you can try are:
Taboola

Outbrain 

Mgid

AdSense 
Paid/Sponsored reviews
Paid reviews are a fantastic way to boost your monthly revenue. You can easily earn $10 or more with a small review post. Here are a few websites where you can find paid reviews and sponsored content:
Famebit (For YouTube channels)

Tomoson

Revcontent

Izea Pay per post
Sell Digital products (eBooks, Blueprints)
You'll note that prominent bloggers' business models revolve around selling their own items, such as eBooks. You only need to pick a topic, write an eBook about it, and sell it on your site or on Amazon. Once you've mastered the process, you can make a decent livelihood selling eBooks online.
Having your own product to sell is also a great method to make money in the long run. Compiling your articles into a well-structured book and selling it on your site or other platforms like kdp.Amazon.com can help you generate money. This will also help you earn author credibility.
Launch an Online Course
Thanks to technological advancements, anyone can establish an online course, and if you offer a one-of-a-kind course, your odds of reaching your $ 1 million objectives are extremely high. To design and sell your online course you can utilize sites like.
Teachable

LearnDash 

New Kajabi
Offer Services based on your skills
Depending on your skills, you can offer a range of services like article writing, logo design, SEO, and other services. In truth, it is quite easy to start your own business. All you have to do is create a page on your blog and mention the services you offer. For maximum visibility, make sure the link to that page is prominently displayed in your blog's navbar.
Make it as easy for your audience to contact you and learn more about your services as feasible. You'll come up with a bunch of fresh ideas to improve your service's sales process as you deal with your initial few clients. In reality, some operations will be automated, such as payment and follow-up.
How much money can you make from blogging?
Every month, a professional blogger can make up to $10,000. A blogger can make between $300 and $400 per month on average. Celebrity bloggers can expect to make between $20,000 and $30,000 each month. Over the last few years, blogging has become a serious profession for many people in India.
There are several levels of blogging, much like any other profession (doctor, lawyer, financial advising), with earnings ranging from $1000-$2 million per year. How much money you can make is solely determined by a few criteria, including:
Which niche are you going to choose?

How much time do you spend learning and putting what you've learned into practice?

How much traffic does your blog receive?

What digital marketing strategies do you use?
Other aspects such as consistency, your network, personal drive, and goals all play an important role. However, your niche and digital marketing skills can help you progress quickly in the blogging world.
Quick Links
FINAL THOUGHTS
Bloggers in India used to have to rely solely on AdSense to make money from their blogs. If you were unaware of the different ways to make money from blogging, now is the time to start using one of the methods outlined above.
Are you a newbie who wants to get started right away? Because Adsense does not pay well, you may choose to start with sponsored content rather than Adsense. So, take the first step now, and you'll see a light very soon. If you're serious about long-term outcomes, don't be concerned about making a quick buck.