Annoyed by the Gogletab.com homepage. You might have installed it because it sounds similar to GoogleTab, Right. Well, it happens. Anyway, if you are looking for how to remove Gogletab in Google Chrome, then you are in the right place.
So, let's start:
How to Remove Gogletab in Google Chrome?
To begin with, let us first tell you what gogletab.com is? It is a fake web page with a suspicious nature. It has a look-alike very similar to the famous search engine Google. This is why many of us do not question its presence.
The reason why you may want to remove it from your system is that once your system is affected by this Gogletab, you may get annoying redirections and your system might get exposed to vulnerable sources.
It is a kind of internet virus which many times gets into your system through dubious installers and other sources.
One may also call it adware which often hijacks your browser. Gogletab may not delete anything from your system but is a potential threat to your system, undoubtedly.
Once you have it on your system, you will see malicious redirections, pop-ups and annoying ads on your browser. The bottom line is that once your system has it, it completely ruins your internet browsing experience. This is why it becomes necessary to get rid of it.
So, in this article, we will tell how to get rid of Gogletab.com from Chrome and other browsers. So, let's get started with it.
Method 1: Disabling Suspicious Extensions.
Step #1: The very first method includes removing all the suspicious extensions from your Chrome browser. They are the mightiest source for Gogeltab.com to enter your system.
So, to get access to the extension panel, you are first required to launch your Chrome browser. To do so, double-click on the Google Chrome icon and this will launch the Chrome browser for you.
Once done then you are now requested to move on to the next steps for further proceedings.
Step #2: Now, you need to click on the three dots icon positioned at the top right corner of the browser. From the menu which follows up, you are required to select "Settings." This will open a new window for you.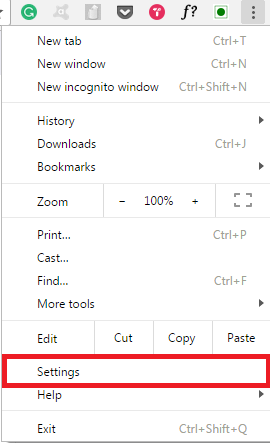 Step #3: In this step, you need to navigate to the left pane of the window and then select "Extensions" from there. This will lead you to a window where you will have all of your extensions out there.
Now, what you need to do is to look for any recently-installed suspicious extensions. Once you have identified them, then you now need to delete them by clicking on the trash bin like icon just next to the name of the extension.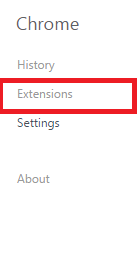 Alternatively, you can get straight to the extensions window by using this shortcut which goes as "chrome://extensions/".
It may happen that even after doing the above-mentioned steps, you are not able to get rid of the Gogletab.com extension from chrome.
This is just a probable method in case the Gogletab.com adware has entered into your system through the extensions. If it has then this method will surely work out. If not then you are requested to look for our next method.
Method 2:
Many times, it may happen that any installer concerning Gogletab.com has modified the target field of the Google Chrome target shortcut. To check it, you need to follow the following steps:
Step #1: In this very first step, you are required to locate the Google Chrome shortcut on your system. Once done, you are now required to make a right-click on it and from the menu which follows up; you need to select "Properties" which is the last option.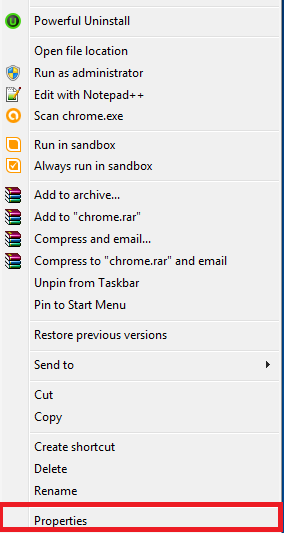 Now, look for the next steps for further processes.
Step #2: After the first step, you will have the properties window in front of you. In the particular window, you will have the "Shortcut" tab open by default. This is all that we require.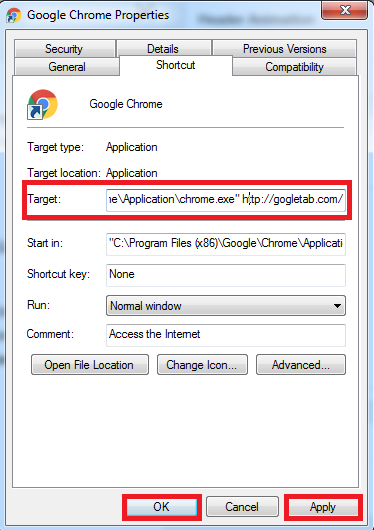 You now need to locate the target field. Once you've reached there, then you now need to examine the target field carefully.
If ever the target field is modified by any Gogletab.com installer then you will see some occurrence of www.gogletab.com after "C:\Program Files (x86)\Google\Chrome\Application\chrome.exe".
To get rid of it, you need to delete any such instances and once done, click on "Apply" and then OK.
Method 3:
If both of the methods don't work for you, then you should give this method a try. In this method, we will reset the settings of Google chrome and change the default homepage also. So, let's begin with the process:
Step #1: If your browser is injected with Gogletab.com then your default home page or search engine would be it only. So, in order to get rid of it, you should change the default search engine settings.
To do that, you first need to go to the three dots icon at your extreme right corner and click on it. Once done then select settings from the menu.
Step #2: Now, navigate to the search section and click on the "Manage Search Engines.." button.

This will lead you to a window where you will have the list of available search engines. Since you have Gogletab.com on your browser, then you may see it as the default one. Go on and select any other engine which you like and then click on "Make default."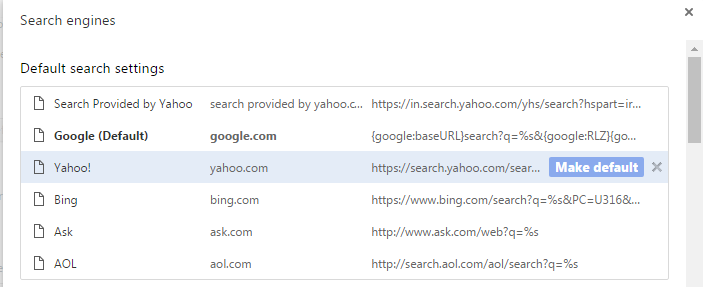 This will change your default search engine for you.
Method 4:
You can alternatively use the chrome cleanup tool. For that, you can follow the following link, download, install and run it. This will help you to get the needful.

So, this was all about How to remove gogletab in google chrome? We hope that this might have helped you in your quest of how to remove Gogletab.com homepage?
If you liked this article, then do let us know through the comments section. We would love to hear from you. Also, share this article amongst your peers.
Thank you for crossing by and giving it a read.
Stay tuned and keep visiting for more.