There can be a lot of situations where we feel the need of resetting MacBook pro to factory settings. Maybe it's because we are facing some trouble with Mac OS X and want to restore it, or maybe it's because we have found something better and want to sell it. Anyway, reason notwithstanding, the major highlight of today is how to reset MacBook pro. If you have Macbook air, you can see How to reset the MacBook Air.
So let's see how can we reset MacBook pro. But first a word of warning. Whenever you feel the need of factory reset MacBook pro, you can easily do that by restoring your mac. Restoring refers to the erasing out all the data you have on your system and reverting it back to the state it was when you purchased it.
In this article, I will let you know the simplest ways to make MacBook pro factory reset that too in very less time. Now moving to the article and let's learn how to reset your MacBook pro.
How To Reset MacBook Pro
Sometimes, when the system is not working properly or even after putting in a lot of efforts, you can't seem to fix the problem. In such a case, deleting all the data and restoring session can prove invaluable. Or sometimes when your machine is chalk full of viruses and you want to wipe out the hard drive then you are going to reset MacBook pro, right?
Moreover, if you are experiencing issues on your MacBook pro, persistent laggy performance and encounter lots of errors then resetting MacBook pro is the only solution that comes to mind. And probably it is the best solution to get rid of such problems. Now you might be wondering how to reset MacBook pro. Let me tell you can do that by the factory reset.
To restore MacBook pro, the method I have described is most prominent and easy to follow. I am quite sure after following the guide, you will be able to restore your MacBook pro easily. Now let's see how can we do that.
But before following the steps make sure you back up all your data because certainly there are strong chances for all your data being wiped from the system. And once they are formatted you won't be able to get them back. So in order to store important data keep a backup of them on any external drive. Otherwise, if you are ok with the losing data then you can follow the given method and skip this step. If you have any important program files in draft, make sure you save the files. If there is any unwanted programs installed on your Mac, you can uninstall the program.
The steps by step guide to reset the Macbook pro is given below.
Step 1: First of all, go to the apple menu and restart your system. Now simply wait for few seconds to shut your system properly and get restarted. During the restart process, press and hold ⌘ Command+R("command" and "R" keys at the same time and hold it). Once you do that recovery function will be loaded. Once the recovery function has resembled on the screen, you can release the keys.
Step 2: Afterward, you will be taken to the "Mac OS X Utilities" menu. Here you can make various important and needful changes accordingly.
Step 3: Now all you have to do is to select Disk Utility. Once you are done selecting the option, click on continue button. The disk utility will start loading and the screen will resemble with the list of your hard disks.[The procedure may vary a little and be slightly different depends on which OS x you are using ]
Step 4: Under the Macintosh HD disk, click on the Erase tab. (As I said earlier the option may be with a different name, s0 if you don't find Macintosh HD, select startup-related information and then erase.)
Step 5: Now, look for the 'format' option and set it to Mac OS Extended (Journaled). This option is required to install the OS X operating system. So be careful while selecting this option.
Step 6: Once done click on Erase button from the bottom right. This process may take a few minutes to finish the procedure. Once finished go to the Disk Utility menu and click Quit Disk Utility and you will be taken to the recovery menu.
That is it you are almost done all the data has been wiped out from the system. Now let's head to the steps to reinstall MacBook pro.
Reinstalling MacBook pro
Step 1: Now once you are at the Recovery menu, you will see an option to Reinstall OS X. Click on it and confirm it by clicking on it if you really want to do it. To continue, you may have to go through some confirmations before the installation begins.
Important: Make sure your system is connected to an internet connection. In order to download and install OS X, internet connection is a must-have.
Step 2: Once the installation process has begun, you will see a welcome window where you will have to agree to the Terms and Conditions and select the location. Once you are done with that, you will have to specify the hard drive you would want to install OS X to(If you don't select any, by default it would be selected you just erased). Look at the image below.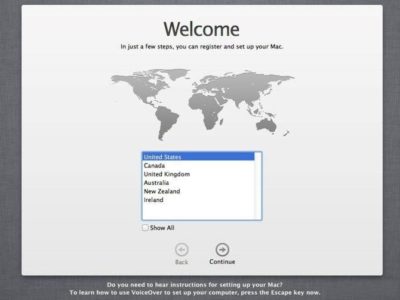 Step 3: Installing may take few minutes about 40-50 minutes. Wait until the installation is finished. Afterward, you will be asked to enter your Apple ID to verify the acquisition if you've upgraded after purchasing the computer.
With the last step, we are done. At last, you will need to install the programs and restore your backed up files in the newly restored system.
I hope you have got all the steps completely. And you should have solved all your queries and doubts like how do I reset a MacBook Pro, and how to reset your MacBook pro etc. If you have the latest Macbook, you can use Siri on Macbook. Check out the provided link.
If you have any queries or doubts regarding the steps explained above or have any suggestions do share via the comment box. We are just a click away.