How to Switch from Aol to Gmail? Well if that's what you are looking for (and I know you are, or else why would you be on this page), then let me tell you, you're at the perfect place because that's what this piece is about.
In fact, this piece might almost be late because I shifted from AOL to Gmail years ago, but the thought of sharing how easy the process of How to Create a Continuous Forward From AOL to Gmail is occurred to me only today.
Now before giving you the steps, let's look at some of the very basics of the article.
Why Would You Want to Switch From AOL to Gmail?
Of course before the "how" the "why" is only natural. Do you even know what AOL stands for? I bet you don't, well back in the days when the internet was a new-born baby, around 1985 AOL stood for "America Online".
A pretty brandable, simple and elegant name, right? Now here's what happened, they started distributing free installation discs around the time, you install the discs, and you're a customer even before you know.
Of course, this marketing stunt went viral and AOL dominated the industry in now time. But hey let's be practical, it's not 1985 anymore, is it? So, of course, you need newer, more developed, "better" options, right? Something where Gmail seems to fit pretty easily.
Well if the above common general reason wasn't enough, here are some more reasons why I figure out How to migrate to Gmail from AOL.
Ads:- AOL has lots of them. Yeah, it might seem like a back idea 30 years from today, but hey right now when there are options like Gmail which offer a zero-ad interference and a much better user-experience, why would anyone stick with them?
User Experience:- I won't explain this to you, because if you're an AOL customer, you already know what I'm talking about, don't you? Gmail is like Windows 10 compared to AOL if we take it to be windows 98. It's like Core i7 compared to atom processors and I can go on.
Negative Market Rep:- Well, AOL has been sued multiple times now over billing and other issues, and it's here in this industry for a long time, and hence it has a lot of reputation, now, unfortunately, most of it is going south with all these lawsuits, hence, of course, I'd want my email to end with [email protected] instead of [email protected] anyday.
So okay enough with the sweet-talk, I'm not saying at any instance that AOL is shit, or it's not worth your time. It was a great tool, as long as it lasted, the team did a great job, all I'm saying is, it's good but there are better options simple as that.
How to Switch from Aol to Gmail?
So okay let's get you what you came here for. In case you're wondering that you've been a long time with AOL now and it would be messy to shift, well trust me it won't be.
I've got answers to questions like How to Forward AOL Mail to Gmail? And How to Forward AOL Mail to Gmail and they're pretty simple.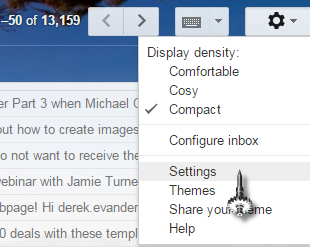 Login to your Gmail account and go to settings.

Now click on "Accounts and Import".

Now click on the "Import mail and contacts" button.

This would open a popup where you've got to type the AOL email address from which you're trying to import your mail and contacts. In short, just your old AOL email ID>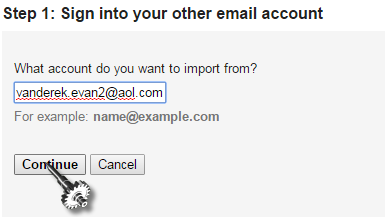 And then on the next screen, you need to authenticate AOL by entering the password.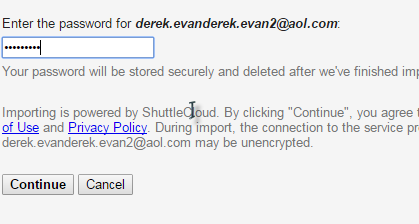 Now, just tick all the data you need, the mail, the contacts and everything else, and don't forget to check the "import new mail for the next 30 days box" to automate the process.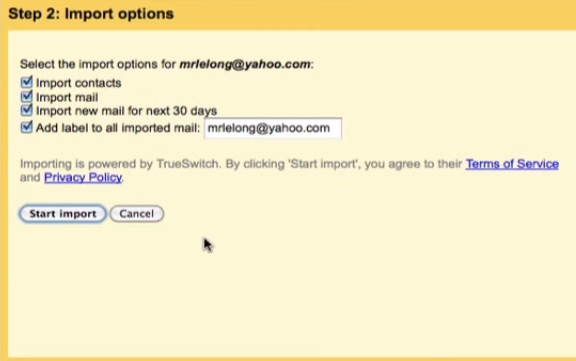 Done! You just click on save and you're done.
Now all the E-mails from this AOL account would get copied alongside the contacts to your Gmail account. Not just that, any and every mail that appears in your inbox for the next 30days would also get automatically get pushed to your Gmail account.
What to do after 30 days?
Good question, after 30 days, you can either repeat the process to extend it to 30more days, or a much better, the professional option would be to, just mail all your contacts something like "Hey I shifted my Email from AOL to Gmail, you can reach me now at [email protected]".
This would let them know that you aren't using that email anymore and they won't send E-mails there anymore.
Final Words:-
So that was all I had folks on How to Switch from Aol to Gmail? I tried my best to make this piece as simple and straight-forward as possible and as far as my thinking goes, I did a pretty good job right? I'm sure you're gonna be thankful once you've moved your contacts and mails back from AOL to Gmail.
But if you are still stuck somewhere or some step didn't work out, feel free to drop your problem in the comment box down there and I'll sort it out.
Although if you've any other option to switch from AOL to Gmail you can let me know of it in the comments too and I'd love to include it here in this piece.
And finally, I wouldn't mind if you hit the share button and spread the word around for this piece.