Your computer getting attacked by a virus is a very common phenomenon. Downloading files from suspicious sources, and clicking links from people you don't know makes your system more prone to viruses. And the most common way followed by people, to avoid these viruses is using Antivirus.
Antivirus is nothing but a simple program that helps protect your computer against most viruses and other malicious software like worms, trojans, adware, etc. They keep your computer healthy and free from viruses. In short, antivirus is used to safeguard a computer from malware.
However, Microsoft comes in with some built-in antivirus tools into the Windows Operating System. It is known as Windows Defender. It is a free full-featured security product for Windows users. It doesn't require any installation and is well integrated into Windows.
If you attempt to install another anti-virus program, you have to disable Windows Defender in order to avoid any clash between the functioning of the two programs.
Once you have disabled the function of Windows Defender on your system, if you wish to re-enable it you have to do it manually. There is no automatic feature pertaining to this. Let's take a look at the process of how to Disable/Remove Windows Defender in Windows in detail.
Enabling Windows Defender
In case you have any antivirus software installed on your computer, you need to uninstall it. As soon as you install it, then on restart, Windows Defender will turn on automatically and protect your Windows PC. In case this doesn't happen, you have to do it manually.
Take a look at How to Enable or Start Windows Defender manually:
1. Click the Start menu and type "Defender" into the search bar. You can also use the key combination of the Windows Key and Q. Tap or click on the Windows Defender to launch the program.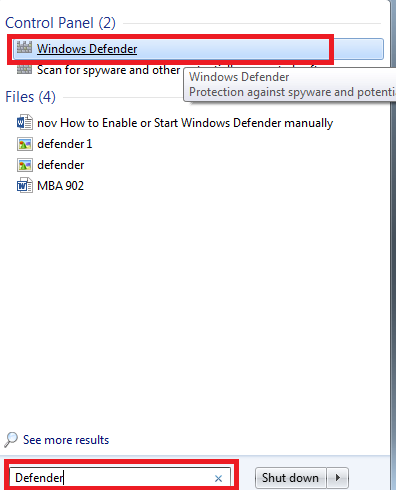 2. From here, you will come to know that Windows Defender has been enabled or disabled. In case it is disabled, then you need to Go to the search menu and type 'Action Center'.
3. Click on the Security tab and the whole list of programs will appear. You can check that which program is managing 'Spyware and unwanted software protection'.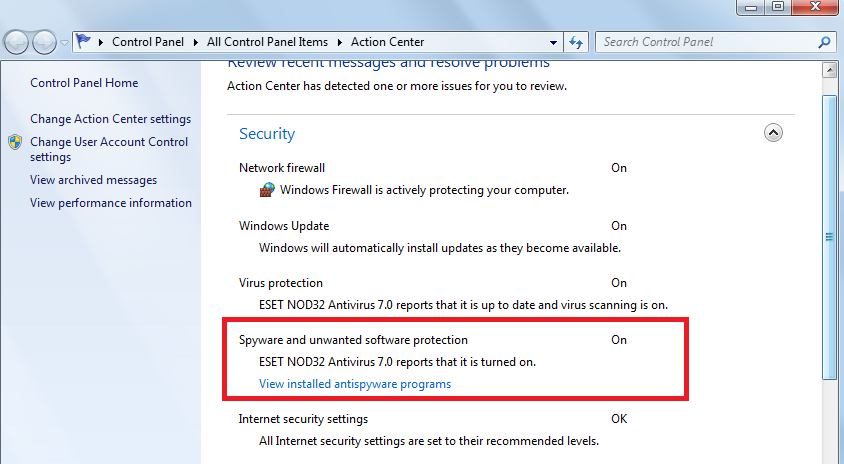 4. In case any antivirus is already functioning you should first uninstall it. For this, Go to the Programs & Features menu in the Control Panel.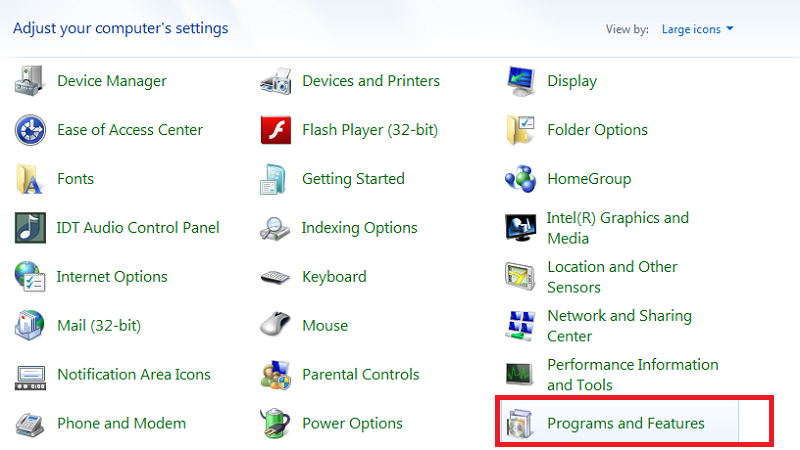 5. Once you have done this, Go to the search menu again, type Defender and open it. A message will pop up saying "Click here to turn it on". Just click the link to enable Windows Defender.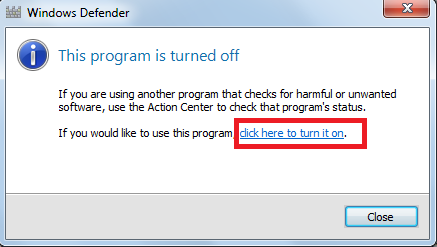 Disabling Windows Defender
Disabling Windows Defender is very easy and just take a minute's time. It is recommended to follow this option only if you have an alternative anti-spyware or anti-virus software. Otherwise, your system goes unprotected and is exposed to various types of viruses.
If you do install a third-party tool, Windows Defender will probably realize it and automatically disable itself. In case it doesn't do so, take a look at the steps of how to disable Windows Defender:
1. Click the Start menu and type "Defender" into the search bar, and click on Windows Defender. Next, click on the Tools menu.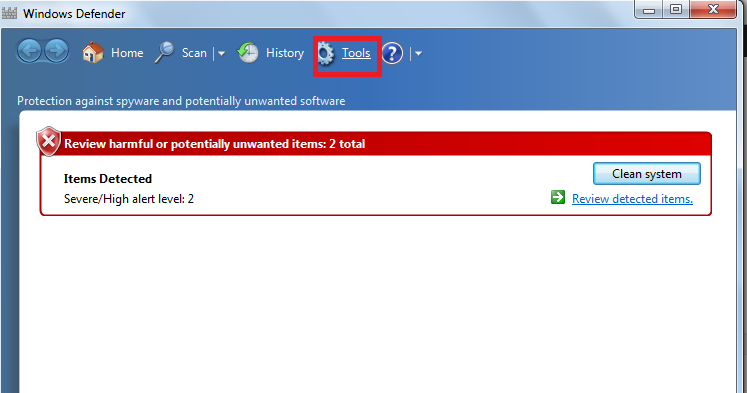 2. Now click on Options.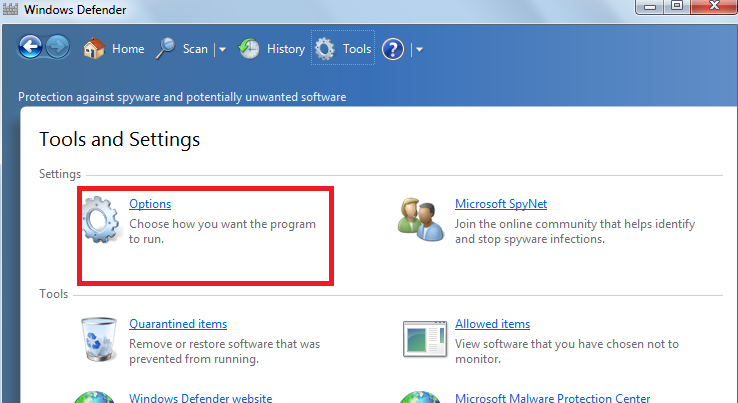 3. On the left- hand side, you will see the last option named Administrator. Click on it. Here you will see the first option 'Use this program'. Just uncheck the box for it.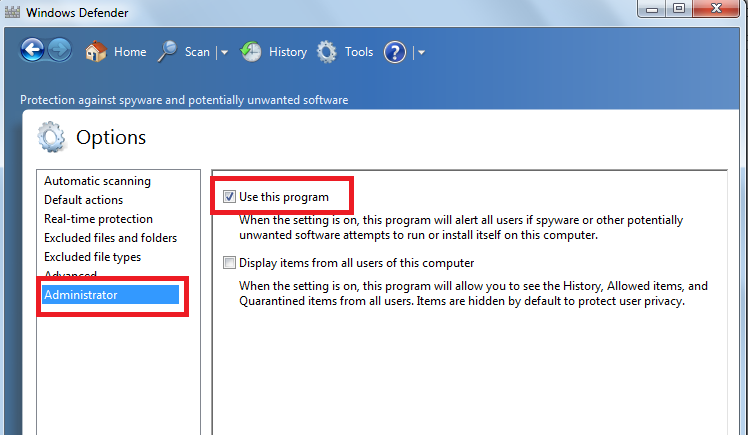 4. Now when you have done it, a message box will appear stating that the program has been turned off.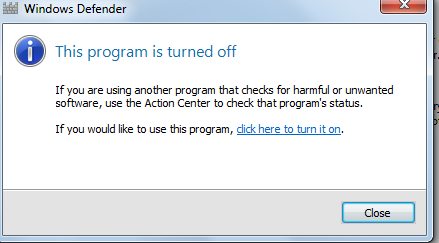 Defender Out-of-Date
When you go to Windows Defender, a lot of time the box displays that the Windows Defender is out-of-date, i.e. it needs to be updated. Take a look at the process:
1. It may happen that you see Defender is out of date. In that case, click on the Updates button, and follow the steps to install the latest Defender updates.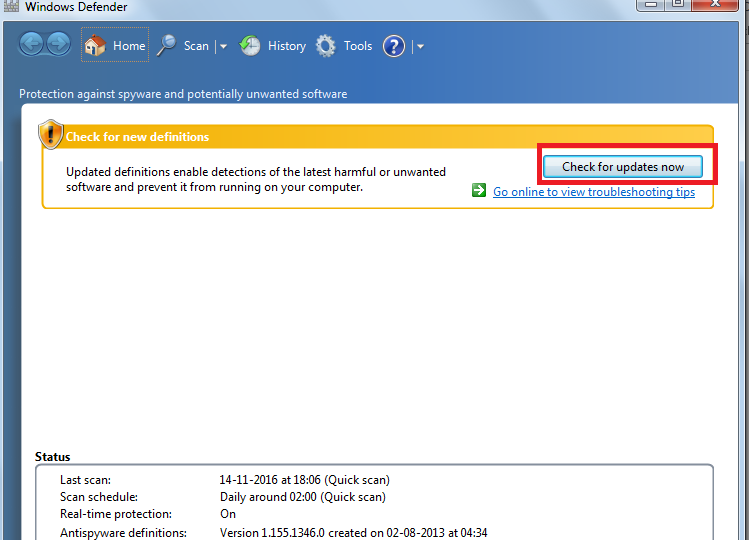 2. Once you do so, you will see a bar stating that your program is running up-to-date and your computer will be protected.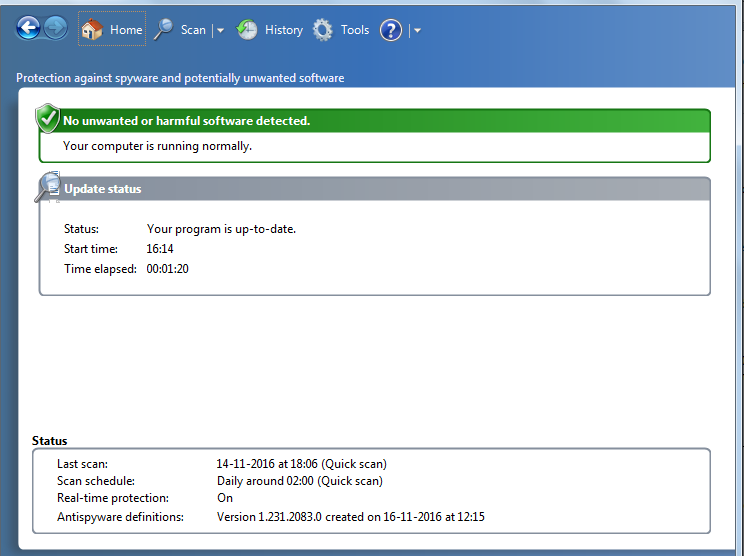 Tips to Follow
Despite the above process, a lot of people face issues while enabling and disabling Windows Defender. Take a look at some tips and make sure that you follow them before the enable/disable process:
1. Go to the Search menu. Type Windows Defender and open it. Click Tools & Settings. Go to the real-time protection tab and make sure there is a checkmark on Turn on real-time protection recommended.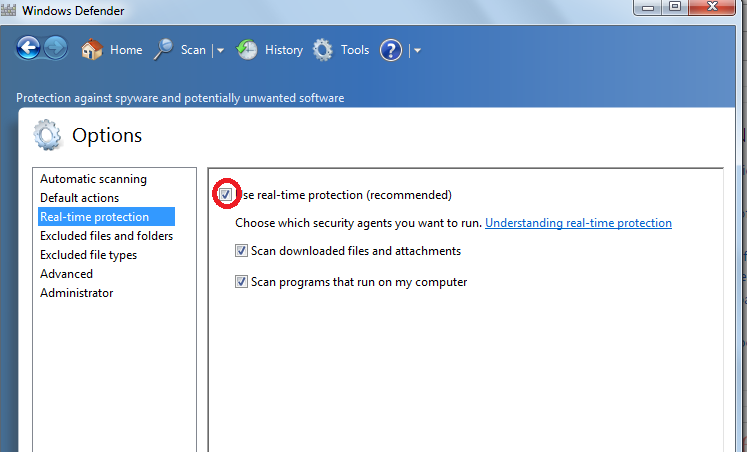 2. Set your Windows date and time properly. Incorrect time and date could create a hassle in the smooth functioning of the process as the Windows system work on date and time. So make sure that time and date are correct on your system.
3. Windows and Windows Defender are correlated and linked together. Make sure that your Windows are updated to the latest updates. Make sure Windows Defender updates are also in place.
4. You can always download Windows Defender Offline Tool and it is preferred to undergo a complete scan of your system.
Conclusion
So, this was all about How to turn on Windows Defender and how to turn off Windows Defender. It is not one of the greatest protection software available, but with time they are improving. The best part is it won't cost you a dime, as it comes for free.
The defender comes installed with all versions of Windows. The best part about Windows Defender is that it is remarkably easy to use. It displays your update status, details of when your last scan was carried out and lets you immediately run a quick, full or custom scan.
In Vista and Windows 7, Windows Defender is limited as far as its usefulness is concerned. But, with Windows 8 and Windows 10 it has expanded its uses and functionality. If you use Windows 7 or Vista, better you disable it, as malware protection is weak if you compare it with the competition.
Undoubtedly, Windows Defender is a very useful native security suite that comes in as part of the operating system. But, you can always choose between Windows Defender and a third-party tool. The choice is yours!