Locker means a safe place where you can put your personal or important things hiding from others. We all have some things which we don't want to share with others same as in the computer you have any important data that you want to hide from the outside world. For that, there are many software available over the web and as well as well-known by you so no need to describe it.
But if you want to lock your Hard Drive partitions without any software then? In that case, Microsoft has provided one wonderful tool known as "BitLocker" in Windows Vista, 7 and 8 for encrypting your entire Hard Drive partitions. Using BitLocker you can lock any volume on the computer even the one you boot from. But a question arises in your mind that How to use it, right? So, I will show you two different modes to use BitLocker on your computer. If you wanted to Defrag the Hard Drive, you should see that.
1. "How to use BitLocker on a normal/data volume"
2. "How to use BitLocker on Boot volume"
Let's see the first mode:
1. How to use BitLocker on a normal/data volume?
A simple way to enable BitLocker – right click on any volume and select "Turn BitLocker on" to start the locking process. After clicking a window will pop-up (as shown in the figure below) asking to enter a password to use with the drive – you will also ask to say a copy of the recovery key somewhere at safe place and then it will begin encrypting your drive.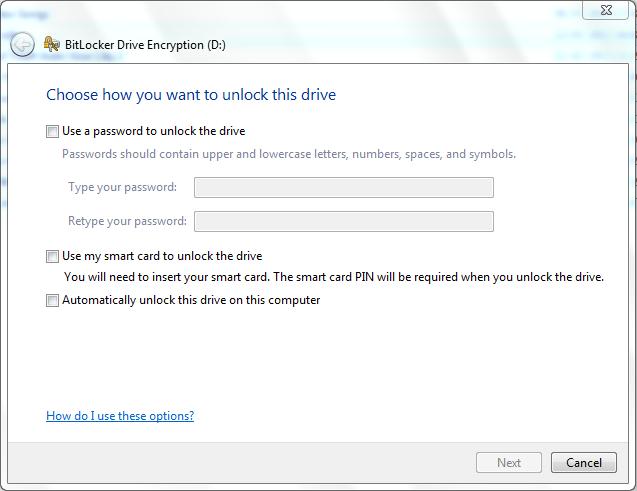 By this method you can lock all the drives on your computer except "C:/ drive" or "Boot partition".
Now, the second mode:
2. How to use BitLocker on Boot volume
Yes, it is true that you can encrypt the main operating system drive, but this has some special requirements since the drive has to be unlocked before boot. First of all this requires that Windows has a seperate boot partition that isn't encrypted; in case if you don't have then create a separate boot partition. The second requirement is that your system include a TPM (Trusted Platform Module).
If you try to encrypt your boot volume without satisfying the above to requirement then it will give an error as shown in the figure below.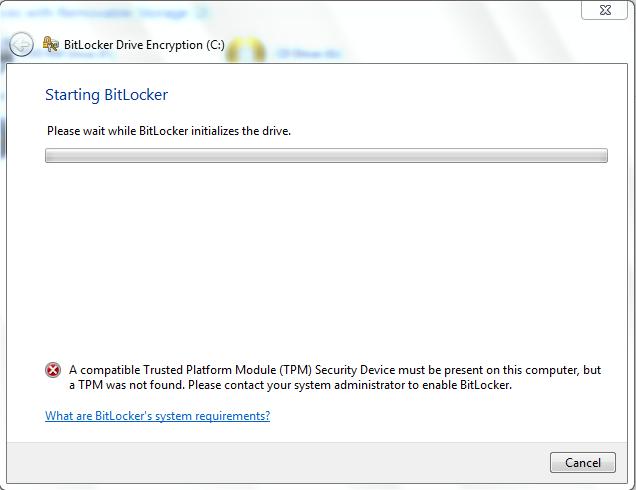 So, in that case you will need to configure your system to use BitLocker with a TPM. Here is how you can do that.
Press [win + r] and type "gpedit.msc" in it and press enter to launch the Local Group Policy Editor
Now, browse to – "Computer Configuration > Administrator Templates > Windows Components > BitLocker Frive Encryption > Operating System Drives
In the right panel. double click the setting "Require additional authentication at startup" and select "Enabled"
In that please check the below options that "Allow BitLocker without a compatible TPM…" is checked.
Then, Click Ok – you are done.
Now you will able to start the BitLocker process on your system drive, and will have the option to either enter a password on startup or insert a USB drive to boot.
If you have any problem regarding "BitLocker" then put your comments below so that I can surely help you to get rid out of your problem. Hope this guide helped you to understand how to use BitLocker.
PC taking more startup time? Change the Startup program to boost the startup process in windows 7.