The responsive finger-controlled screen is not only convenient but redefines the whole iPhone user experience. They can make certain tasks a lot faster. Gesture-based navigation shortcuts are the talk of the town and with this How to use gestures on the iPhone is a question gaining prominence.
Gestures are either discrete or continuous. A discrete gesture only occurs once like a tap, while continuous gestures occur over a period of time, like the pinch gesture.
Usually, people don't know about a lot of gestures or the fact that they can even create their own custom gestures. Now, for people who didn't know about these gestures are really missing out on a useful feature. But, then no need to worry. iPhone is so intuitive and simple that you will figure this gesture feature in no time.
Take a look at how you can do the same:
Activating Assistive Touch
Once you have activated assistive touch iPhone you don't have to press the Home button to access the Home screen of your device. Assistive touch adds a touch of convenience to your whole iPhone operating experience. Take a look at the steps on how it can be activated:
1. Tap the Settings tab on the menu bar. Click on General and then click on Accessibility.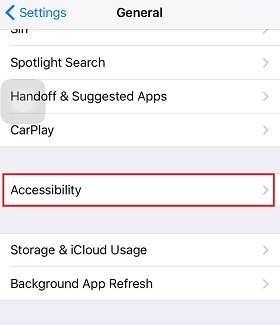 2. Then, scroll down and tap on Assistive Touch.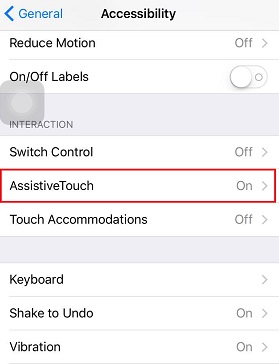 3. Toggle the switch to the "On" position.
How to use gestures on the iPhone
After you have activated the Assistive touch, you will see an icon will appear. Take a look at how you can use various gestures with help of Assistive touch icon:
Open Assistive Touch icon and you will see various options like Notification Center, Device, Control Center, Home, Siri, etc.
Tap on Device.
You will see various options. Tap Lock Screen, Rotate Screen, Volume Up, Volume Down, Mute or More to perform the action.
When you tap "More," a third menu list will pop up. And herein you will see various options. One of them will be gestures. Click on it to view and use various gestures.
How to create Assistive Touch custom gestures
Once Assistive Touch is activated, you can add custom gestures to it. In fact, not only you can add custom gestures, you can even customize the top-level menu as per your needs and zone of convenience.
Take a look at how to create custom gestures in iPhone:
1. Open Assistive Touch
2. Tap on create the new gesture option.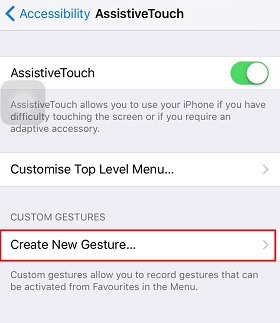 3. Tap or swipe to create the custom gesture. Click on Save.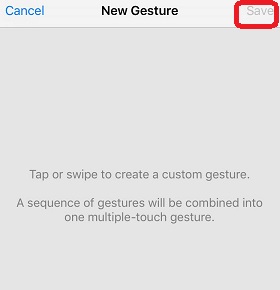 4. A pop-up box will open up. Name the new gesture in that box.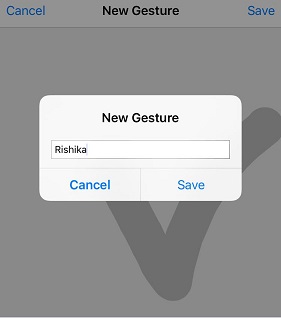 5. Now, open iPhone Assistive Touch again by tapping on its icon. Under custom gestures, you can see the new gesture created by you.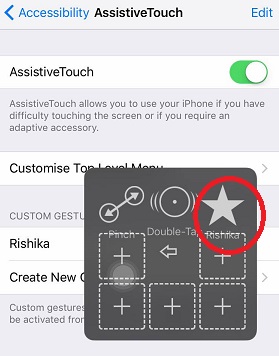 6. Click on it. You'll see a small arrow will appear on-screen. Tap on it and simply drag it around the screen. This will be a replica of Multi-Touch gesture. You can create any gesture like flick and swipe, pinch, etc.
Types of Gestures and its Techniques
Now, you might be wondering what is this pinch and flick-swipe all about. These all are basically types of gestures that you can create. Let's understand them in detail:
1. Tap- This is the basic gesture that serves numerous uses. Just tap on the application to open it or tap on a song or video to play it. Double tapping will enlarge or zoom the image.
2. Flick and Swipe- It is one of the easiest and the most used gestures. The flick is used to scrolling through content, while swipe is used for navigating through screens or photos.
Under this, a user quickly swipes a finger across the screen in one direction. Once you flick or swipe, the object will move even after you lift your finger, thus you can easily navigate through the remaining content.
How faster the content will scroll or move depends on the speed at which you flick, i.e. faster you flick, faster the movement and vice versa.
3. Pinch- This gesture is a great way to zoom into photos, maps or web pages by using only one finger. Place any two fingers and pinch them together to make the images smaller on-screen or spread your fingers apart to enlarge the images.
In simple words, the gesture you apply while viewing photos on the Photos app wherein you zoom in or out is pinch gesture.
4. Rotate- This function is to rotate an image. It is a two-fingered gesture. Just put your fingers on the screen and make a circular gesture, clockwise or counterclockwise.
Drag down from the top of the screen- This is a gesture that will display the Notification Center. Press your finger on top of the screen and drag it downwards.
Customizing the Top Level Menu for Assistive Touch
1. Click on Settings from your Home screen and Tap General. Scroll down and click on Accessibility.
2. Tap Assistive Touch and click on Customize Top Level Menu.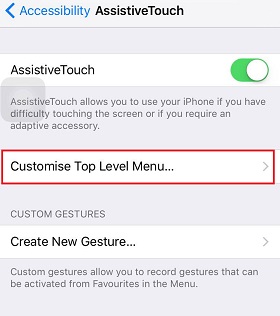 3. Tap on any of the existing icons or click on the addition sign to add more buttons.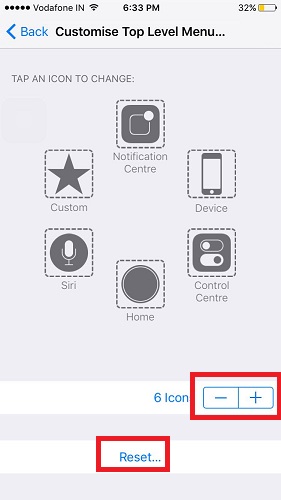 4. Select the function you want to add and tap Done in the top right corner.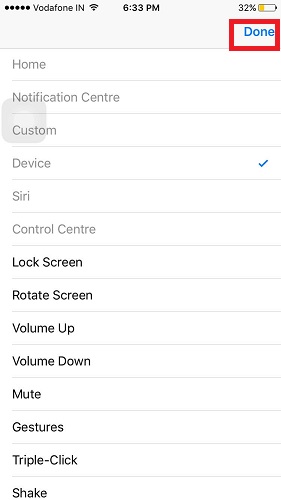 Using the addition and subtraction signs, you can add or subtract buttons. You can have as many as eight icons and as few as one. In case you are not satisfied with the present changes and need some modification, just tap Reset at the bottom of the page.
Conclusion
Gestures are basically what you are doing with your fingers, on your iPhone touchscreen to operate or get the work done. Some gestures are obvious, but others may be completely new to you. But, once you get hold of them they are really simpler to use.
As the saying goes, that shortcuts can be really good if you develop and practice them. With a little practice, you can master these gestures in no time as they are not at all challenging and are really simple to use.
So, keep on exploring all the new gestures and savor the iPhone touch with these amazing shortcuts and get the general things done faster and more easily than ever before.