Apple is well known for its innovation; it gives utmost importance to music. Songs sound amazingly clear and crisp on any Apple device. The iPhone users are truly blessed to have such an awesome device that can perform multiple features all with ease.
If you are a music lover, then you should definitely have an iPhone as it is the best smartphone that takes your listening experience to a new level. However, that being said, there have been a lot of users who see their iPhone stuck in headphone mode.
Though this is not a common issue that every iPhone user faces, it is quite annoying when something like this happens to your favourite phone. There can be many reasons as to why you are facing such an issue.
In this article, we will discuss what are the things that are causing the issue and how to go about fixing the same.
You will sometimes face this kind of issue when you keep plugging in and removing the headphone from the headphone socket.
You can give this method a try to see if it helps you solve the issue. Just try to connect the headphone and check if the audio seems to be working.
Once you figure that out, you can slowly unplug the headphone from the jack. There are good chances that it might start working.
If it does not, repeat the process for a few more times to see if it works. If it doesn't, then we will have to move on to the other options.
You might have a software problem contributing to this issue. In such cases, it is best to switch off your phone and then restart it.
There might be chances when your phone does not quickly read even after the headphones are plugged out of the device.
Therefore, restarting your iPhone can help you identify if it was because of the software issue. There is nothing to fret about as these kinds of issues can be fixed quickly. You just have to be patient when you are trying to fix it.
How To Fix iPhone Stuck In Headphone Mode?
After restarting your phone, in case you still see your iPhone stuck on the headphone mode then you will have to see for other options to get this issue sorted.
There have been many cases when people complain that "iPhone says headphones are in when they are not."
If the phone is not clean and neat, you can face this problem as a lot of dust particles could possibly enter your phone and damage it. We will discuss some solutions that can help you.
Take some time off and have a clear look at the phone. Just take cotton and a cleaning liquid to clean the surface of your phone. Once you do this, you can have a neat look at what is inside the headphone socket.
Use a candle or light an LED torch and look inside the headphone socket. There might be a lot of dust particles accumulated there over a period. Therefore, it will be a good idea to clean it.
Use an earbud to clean the surface and the inside of the headphone socket. Once it is clean, you can use a vacuum cleaner if you have one to take off all the dust from the headphone socket.
This should help in a great way. Now try switching off your phone and then restarting it to see if your phone is back to normal. In case your issue is still not resolved, you can take a safety pin and fiddle the headphone socket.
There might be some sort of connection issues. You can also plug in the headphone and then gently unplug it to see if the phone can detect if your headphone is detached from the phone.
If you have a small vacuum pump, you can actually clean the headphone socket and make it completely dust-free.
Even if water enters your jack, there is every possibility that your phone stops recognizing if the headphone is plugged in or not. Therefore, water can be a problem too.
You will have to dry out the device completely and see if the phone is back to normal and if it is working all fine.
There are a lot of videos on YouTube that help you fix these issues. If you are unclear on how to go about it, it is better to take it to an Apple service center.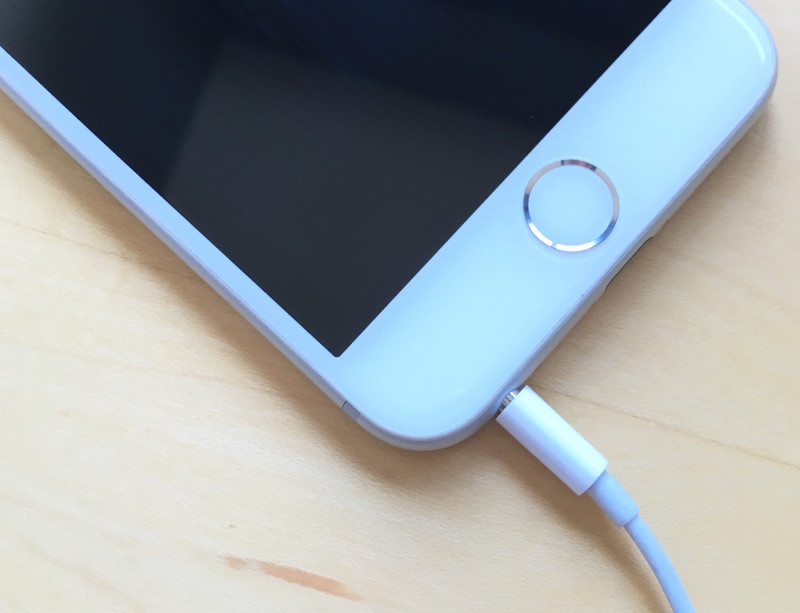 iPhones generally do not have any problems with its devices as it is manufactured by one of the most reputed phone makers that we having the world. However, a lot of people face this issue and they get stuck not knowing what to do when they see their iPhone stuck in headphone mode.
It just takes a while to understand how your phone functions. Sometimes, it is just a restart that is needed to restore your phone's functionalities to normal.
There might be times when your iPhone thinks headphones are plugged in as the phone is unable to detect the headphone being unplugged; in such cases, a restart might probably help. It is quite irritating when you have such issues with your favorite phone.
Try out the above-mentioned methods and check if it helps you solve the issue. In case you still see the iPhone stuck on headphone mode, then it is best to take the phone to the nearest Apple store.
Apple service centers will definitely help you sort out the problem once and for all. If your phone is under warranty, then you might as well get a new phone as a replacement. However, this is very rare.
If your phone is not under warranty, then you might have some challenges like paying a high price for the service as these service centers might even ask you to change the entire part if they feel it is not working.