Lead generation and optimizing your SEO ranking are best accomplished with a landing page-based website. Offerings or deals can be done on landing pages that serve one and only one purpose. In the market, OptimizePress is one of the most effective landing page builders. The plugin is one of the most popular and oldest on the market.
It's important for marketers to design high-converting sales pages, launch funnels, and landing pages that will enhance their business. With a WordPress plugin like OptimizePress, you can accomplish this easily today.
Review of OptimizePress 3.0 includes new features and pricing.
What is OptimizePress?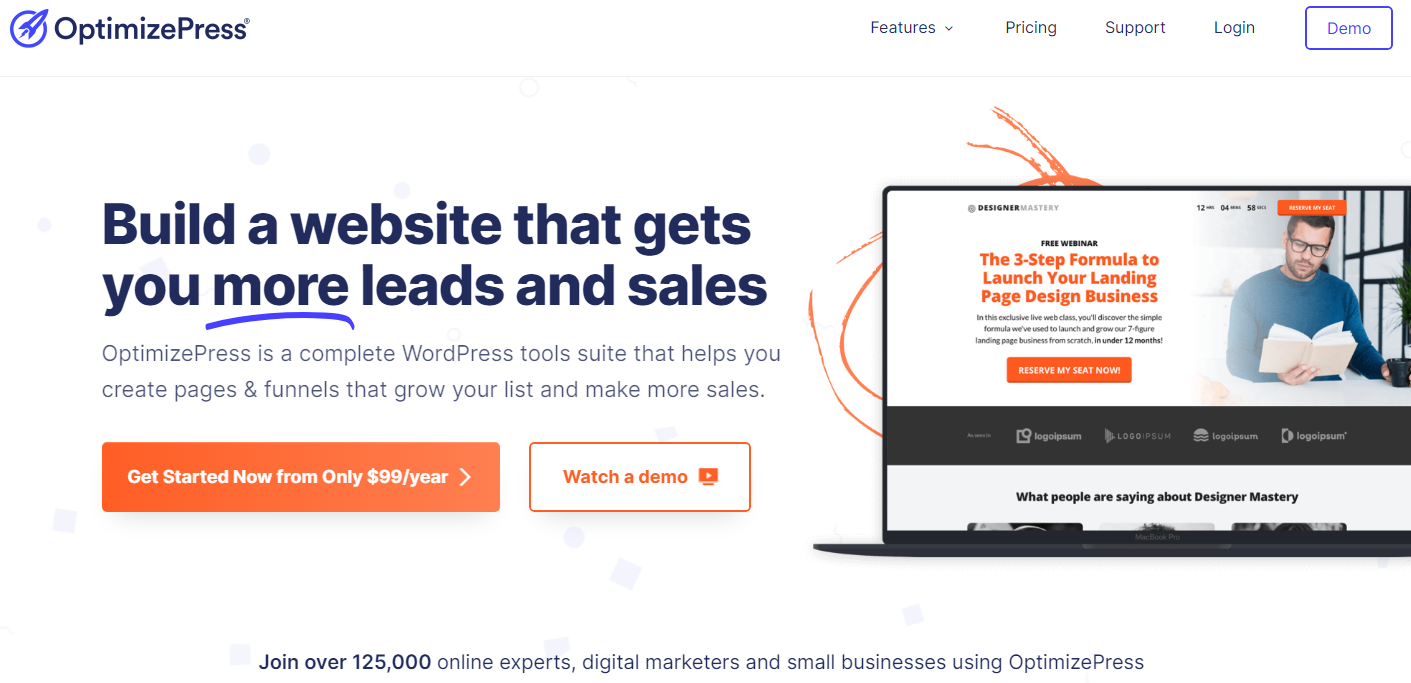 This user-friendly website tool allows users to set up high-converting landing pages, membership sites, sales pages, launch funnels and blogs that allow businesses and individuals to build their online presence.
Optimize Press provides more than 40 built-in templates, including feature boxes, text boxes, and buttons. MailChimp, iMember360, and Google Analytics are just a few of the many apps Optimize Press integrates with. CRM and analytics are also integrated.
What can you build with OptimizePress?
A comprehensive set of tools is provided by this tool to help you grow your audience. Using landing pages is one method of delivering content. Optimize Press allows you to drag and drop elements to create landing pages. Our responsive templates include more than 30 options.

This tool allows you to create the following:
1. Subscriber List

Conversion-oriented landing pages can help you build an email list. Offering vouchers, eBooks, and gifts on these pages allows you to collect user information such as name and e-mail.
A simple drag-and-drop method can be used to create opt-in forms. Integration with any CRM tool will allow you to save your subscribers' data. Your desired message can be conveyed through complete customization of the pages.
2. Pages and sales letters

Creating a page that looks good for your business can be done using a fully responsive design. When you pick a template for your campaign, you can customize it to include online courses, sales letters, coaching funnels, and event pages.
Using the live editor, you can publish your campaign page once you've completed it. 
3. Membership Portals

A page builder tool like OptimizePress does not offer features such as membership portals.
Login forms, module listing pages, and breadcrumb trails can be designed to accomplish this. The pages of OptimizePress can be entirely customized, unlike many membership plugins. It is possible to control the design of the login page, module listing, and other elements.
4. Sales Funnel
Various funnel types are available based on the type of launch you want. Choose the color scheme or brand that best suits your niche to make your page look attractive. Using automated funnel linking technology, you can design customized funnels.
5. Checkouts and Payments
Payment collection is an important function of any business. Hence the OptimizeCheckouts plugin was developed by OptimizePress.
With this tool, you can use Stripe to process payments directly from your WordPress site.
Using the plugin's integrated checkout and download elements, you can easily deliver a secure download after purchase.
Features of OptimizePress
Flexible Editor
Editing templates in real time is a great feature. For a closer look at your design, you do not have to refresh the page or reload it. With Optimize Press's visual editor, this was a breeze.  You only need to drag to adjust the top and bottom padding, not the column widths. The page can be edited live by pointing and clicking anything on it.
Marketing Features
With OptimizePress, you can choose from a lot of pre-designed, conversion-optimized templates that can be easily customized. In addition, you don't need to know HTML, and no designer or developer is required to help. With this tool, you can edit simply by clicking on a link.
Separators can be added to the top and bottom of section headers to catch your customer's attention and captivate your reader. Over 100+ templates are available, such as opt-in pages, webinar pages, etc.
Responsive Templates
OptimizePress can baffle you when it concerns selecting the design template. That's because there are a variety of straightforward themes to use as well as each of which has some unique layouts.
If you slip into the OptimizePress marketplace, you will find that each of the pages has obtained different layouts as well as layouts. There are over 300 layouts that can be imported straight to produce your website.
Live Editor
This is a brand-new addition to the most up-to-date upgrade or OptimizePress. With an increasing variety of page home builders as well as a variety that is practically the very same with their functionality, OptimizePress has actually done something special by introducing the live editor.
With the online editor, you do not require to freshen or sneak peek at the page time and again. The editor shows the adjustments when each of the components is added or eliminated from the web page. This might really conserve up a lot of your time.
Page Elements
The editor has actually got a variety of components that can be used to build an impressive page. OptimizePress has over 40 elements in the collection and also each of them has actually got different features to play.
Quick Links
Pricing of Optimize Press
A support and usage license for one website is included in OptimizePress's Essential plan, which costs $99 per year.
A set of all core features is provided as well as the creation of an unlimited number of pages.
$149 per year is the cost of a business license.
Users can access courses and support five websites with this plan. It includes more usage and support. Unsplash integration gives you access to over one million pictures. In addition to priority email support, users can take advantage of this plan.
Suite plans are priced at $199 per year for the most popular plan. Using OptimizeFunnels, you can build marketing funnels for each of its 20 websites. The package also includes OptimizeLeads-hosted opt-in software.
Customer Support
No doubt, OptimizePress is such a reputed page-building contractor, as well as it, is a lot more than the web page home builder, you would certainly need help and face problems while utilizing this device.
The consumer assistance group for OptimizePress is very responsive and also they wouldn't keep you waiting for long. This device has a comprehensive web page that makes sure that you understand every facet of the touchdown web page home builder.
They have additionally developed quick overviews and also supply documentation on every subject such as the motifs, membership websites, and others. Besides this, the business offers a life once-a-week webinar as well as a deep knowledge base.
What's the final verdict?- OptimizePress Review 2023
Using OptimizePress has become easier with the latest release. It is better and more attractive to use the templates.
For a membership site that offers a high conversion rate, choose Optimize Press, but if you're looking for a more simple builder, you may opt for other options.
With its beautiful templates, the live editor is very easy to use. Plugins for membership sites are very secure.
Using your website, you can collect emails. For newsletters and other distributions, you can collect email addresses and personal information through landing page templates.
Optimize Press plugin includes excellent pre-designed templates that make updating landing pages and sales pages very easy.
The OptimizePress landing page builder is another of the cheapest web-based tools available, starting at $99 per year.
Click Here to Read Full OptimizePress Review.