How to Schedule Your Posts in WordPress? That's what you're looking for? Then this is where your quest ends, cause that's exactly what I'll be explaining in detail (with some other details as well!)
All of us on this page either have a WordPress site or are soon going to have one, right? Or else you wouldn't be reading this piece right now!
And then maybe you thought to ask the question of How to schedule upcoming posts in WordPress, to maybe explore the features of WordPress, right?
What is Scheduling WordPress Posts?
Scheduling WordPress posts are simply the feature that lets you publish an article just at about anytime, automatically after you write it.
Let's say you write a piece today but you want it automatically published on the new year's eve, you can just set the date and the time, and the article goes live then.
I personally use this feature when I've more posts in my drafts section than I need, in that case publishing all of them at the same time isn't really wise, so what I do is I just schedule the posts to be published a day after another each, and so I automatically keep my website updated without even login in to the dashboard.
What are the Benefits of Scheduling WordPress Posts?
Yeah if you're investing your time in reading this piece and I'm investing mine in writing this on How to Schedule WordPress Posts, there must be some advantages to it, right?
Of course, there are, and I"' just list them down for you:-
Automatic Website Updates:- My personal favorite use of this feature is the automatic website updates I get. It helps me maintain my rankings because the "frequency" of updating and article is totally a ranking factor!
Readers' Engagement:- On my personal site, I have a big header saying I publish a new article on every Tuesday, Thursday and Sunday, now what happens is my readers know that's when a new article would come up, and scheduling helps me keep up that promise, no matter when I wrote a certain post or If I'm out of station.
Increase Returning Visitors:- You wouldn't believe if I told you that by knowing simple solutions to How to Schedule and Publish Posts, you could actually increase the number of returning visitors you're getting! How? Here's a simple strategy I use, I publish a great, detail guide on "How to Build Backlinks", but what I do is, I don't give it all away, I only publish half of it and let my readers know that the second half would be coming on a certain date, now that increases their excitement and wait and hence I get a massive surge of returning visitors on the day when I publish my second part!
How to Schedule Your Posts in WordPress:-
Alright so we've had enough of the chit-chat, right? Why not get down to the real deal! I'll just show you how to schedule Your WordPress Posts right here.
What you Need to Schedule Your WordPress Posts:-
No Third-Party Plugin.
No "premium" Account.
No Paid Tool.
So basically, you don't need ANYTHING special in order to know how to Schedule your Posts in WordPress. In fact, it's all built-in, the feature is a built-in feature of WordPress, and in fact, it's so damn awesome that you don't even need to move away from the page where you're writing your article to Schedule your WordPress posts.
So okay, get to your "New Post" page, meaning where you write a new post or article on your WordPress. Once you're there, just take a look at the right sidebar under the "publish" section and find the "publish" option.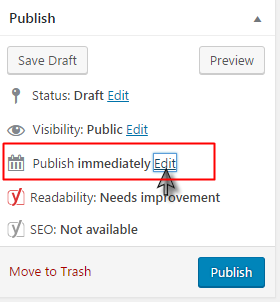 Just click on "edit" and it would bring up a date and time format for you.
I'm guessing you already know what to do now! Yeah, you just got to set the Date and Time for when you want your article to go live and click on "OK". Once you set the date & time, you will see, "Publish" Button being replaced with the "Schedule" button. Just click on Schedule and you are done.
Done! Well, let me show you how a "scheduled" post looks like on your WordPress Dashboard.
See? There it's saying clearly that the post is scheduled, hence? Mission Accomplished!
Other Methods to Schedule Your Posts in WordPress:-
The one other method worth mentioning here is, integrating your WordPress account with IFTTT! Now IFTTT does a lot more than just schedule your WordPress Posts, basically, it's a whole automation solution.
But then again, it's pretty complicated and needs lots of integrations and logic settings, so my advice? Just stick to this procedure, it's just as simple as it gets!
I just listed the procedure here in case the above method isn't working and you're desperate to schedule your WordPress posts, in that case, you can retreat to this option!
Final Words:-
So yeah that was all I had on How To Schedule Your Posts in WordPress guys!
I'm pretty sure your problems are solved, I mean there wasn't anything complicated, right? In fact, it's even easier than creating a Facebook account! (Probably that's the reason why WordPress is being used by over 25% of the internet!)
So anyway, if this piece helped, I'd seriously appreciate your feedback in the comments section! And I'm sure you can't find a simpler way to schedule WordPress posts, but if you did, I'd love to hear about them too!
Also, I wouldn't mind if you hit the share buttons, who doesn't like being shared, right?