Viber for iPhone is an application that has been a boon to the users allowing them to send text messages, location, and photos and make phone calls to the other Viber users for free.
This amazing application allows all its users from around the world to connect and is also accessible from other compatible iOS gadgets. The sound quality for the HD quality phone calls or video calls that happen over 3G or Wi-Fi is the best aspect of this application.
Once you download Viber, it instantly synchronizes with the contacts of your iPhone and shows you who among them uses the same app. This way, you need not search for your contacts to find who uses it.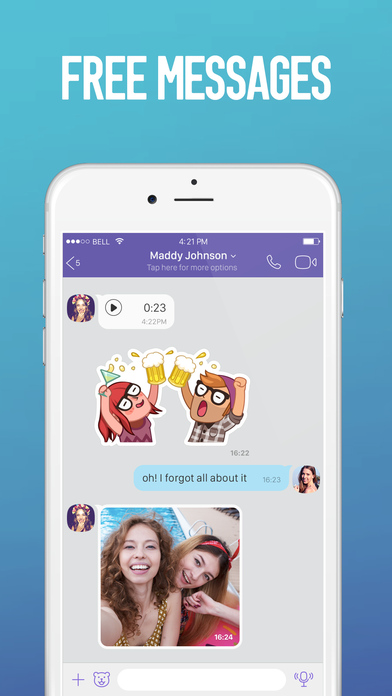 What makes Viber more attractive is that it's free of charge and it doesn't include any kinds of adverts. Moreover, its developers are continuously trying to add more interesting features and enhancements to it to make it more innovative.
For Viber on iPhone, users don't have to register their phone number with the ID as the app automatically syncs with the mobile contacts list. Users can also make calls to landline and non-Viber mobile numbers at low rates with Viber Out.
Viber Wink is another exciting feature of this app that allows users to send messages, which vanish once they are viewed. Here are some more interesting features of Viber:
Group chats with up to 200 friends
Share locations
Integrated application games
Get push notifications to your desktop
Use emoticons and tags and download animated and static stickers from Sticker Market for a fun-filled messaging experience
Send messages with attached files like presentations or documents
Support for Apple Watch
Follow public chats
Support for the desktop version of the app on Mac, Windows, and Linux
iCloud access
With such a vast collection of fascinating features, it doesn't come as a surprise that Viber is one of the most sought-out applications among iPhone users.
They can opt for free Viber download and use it to their heart's content. If those features are appealing to you and urging you to download the app, read on to find out how to get Viber for iPhone.
Download Viber for iPhone
So, are you all set to get Viber for iPhone? Follow these steps for Viber free download.
Go to the App Store on your iPhone and search for the Viber app.
Once you find it, download it to your device.
After you've downloaded and installed the app, find Viber on your iPhone and open it.
Click on 'Continue' on the app's welcome screen.


The app will request you to permit access to the address book of your device. Choose 'Allow'.
Choose your country from the menu. Type your contact number.


Viber will send an SMS to your phone number with an access code.
Enter this access code in the setup screen for Viber and choose 'Enter'.
You can now either log in with your Facebook account or enter your details to sign in.
Finally, go to Settings and enable Viber notifications.
That's it! Your Viber user account is now enabled and active. With the iPhone Viber setup process completed successfully, you can now connect to your loved ones freely.
 All the contacts on your iPhone will get automatically synced. You can now easily see who among your contacts are using Viber on the app itself and get in touch with them through Viber.
Now that you're successfully done with Viber download for iPhone, go ahead and start using it. Are you new to the app interface and wondering how does Viber works or how to use it? Here's a quick insight into it.
How to Use Viber?
Now that you've downloaded and set up the Viber app for iPhone, here's how to use it or how it works. It's quite easy and simple to make calls through Viber as it's just a purple edition of the phone app of your iPhone. Similar to most of the other VOIP apps, the quality of calls is remarkably better than the ordinary calls.
When you try to make a Viber call from your iPhone, it first checks to find out if the contact number you are trying to call is also on Viber. If that phone number is also on the Viber list, the call gets established over VOIP.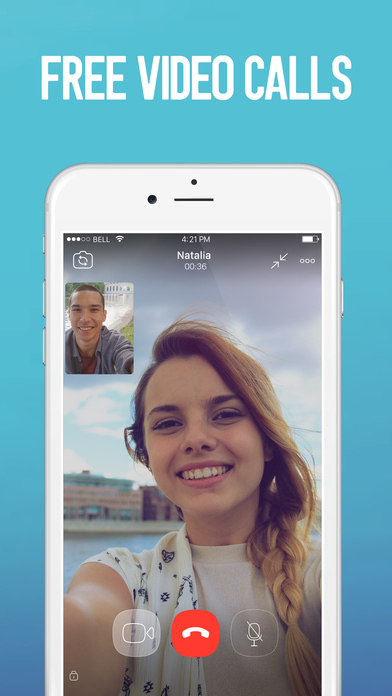 If not, the call automatically gets routed through the phone app of your device. So, you can make free calls to the other Viber users, while the non-Viber calls work just the same way as on your phone app. To initiate a Viber call, all that you have to do is just tap the keypad icon at your screen's bottom.
Users can also send text messages through Viber. To send a message, just click on the messages in the left bottom corner of the screen and select Compose.
Next, you can choose the contact to which you want to send the message to or enter the phone number. To write creative text messages, make use of emoji or stickers to the conversations.
You can also send voice messages by tapping the microphone icon. Once you tap it, hold on to it and begin talking. Release it to send the voice message.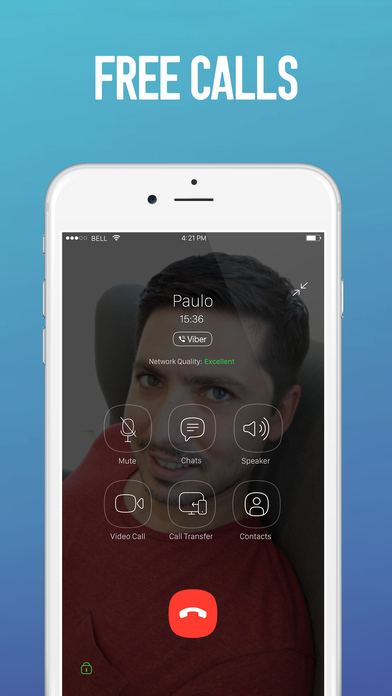 If you want to send a video or photo to any of your contacts, tap on the '+' icon. This can also be used to send location, doodle or voice message. With the push notifications that you get, you don't have to be concerned about missing a phone call or text message.
Overall, you can use Viber pretty easily for sending messages, photos, videos or making calls.
Once you are done with Viber download for iPhone and start using it, you'll soon realize that you had missed out on the benefits of this incredible app all these days.
Now that you've downloaded it make the most out of this iPhone app. If you've any doubts about using Viber, get back to us with your queries in the comments section and we'll solve them.